Being a railroader requires one to be very vigilant and alert at all times not to mention the constant stress that must be dealt with. However, if you are able to land a job in North Carolina at least the weather is not something you will have to worry about most of the time. Generally, the state's climate is pretty mild to warm, even during the winter months (unless you are based in the western mountains). In any event, if you are pretty unfamiliar with the railroad industry it would definitely be worth your time to read more about it and what it takes to be a railroader. Class I railroads almost always offer the best pay although it requires you to be on call nearly 24/7 at any hours of the day.  Lastly, if you attend college it may be worth your time to check out both the career pages of the Class Is listed below and those which are not. Most of these large railroads offer management internship and/or graduate programs for potential applicants during the summer months (some even offer scholarships).  Finally, I cannot 100% guarantee the accuracy of the information listed below although it is updated to the best of my knowledge.
Short Lines
Aberdeen, Carolina & Western Railway: The AC&W dates back to 1987 when it took over a former Norfolk Southern branch between Aberdeen and Star. Two years later it leased more of the Class I's trackage between Charlotte and Gulf, and today has remained about the same size.

Aberdeen & Rockfish Railroad: The A&R is a historic shortline dating back to the late 19th century. Today, the railroad's system runs from Fayetteville to Aberdeen and it remains a wholly family-owned operation.

Alexander Railroad: This historic railroad (also known as "The Junebug Line," dates back to 1946 when it was started to take over an abandoned Southern Railway branch, operates about 20 miles of track between Statesville and Taylorsville, North Carolina.
Aberdeen, Carolina & Western GP16 #1721 pulls a cut of hoppers long-hood forward across the diamond at Baldwin Lake near Whitney, North Carolina on the evening of April 10, 2010. The Geep began its career as Seaboard Air Line GP18 #408 in 1960.
Atlantic & Western Railway: The A&W is another short line owned by Genesee & Wyoming, and operates just 11 miles of track between Sanford and Cumnock.

Caldwell County Railroad: This shortline operates 17 miles of track connecting Hickory and Lenoir. To contact the railroad about possible job openings; 5725 Giles Farm Road, Morganton, North Carolina 28655.

Carolina Coastal Railway: Operated by Main Line Rail Management, this shortline operates nearly 160 miles of unconnected rail lines between Raleigh and Plymouth, and also between Belhaven and Pinetown.

Carolina Southern Railroad: This railroad, located between Whiteville, North Carolina and Conway, South Carolina operates nearly 100 miles of track formerly owned by CSX.

Chesapeake & Albemarle Railroad: The C&A is owned by Genesee & Wyoming (which operates an extensive list of shortlines), and operates a large section of the original Norfolk Southern Railway main line between Norfolk, Virginia and Edenton, North Carolina.

Clinton Terminal Railroad: To contact the railroad; 368 Melvabrook Road, Clinton, North Carolina 28328-0690.

High Point, Thomasville & Denton Railroad: This historic railroad, owned by the Winston-Salem Southbound Railway (jointly owned by CSX and NS), operates between High Point and High Rock. To contact the Winston-Salem Southbound; 4550 Overdale Road, Winston-Salem, North Carolina 27107.

Laurinburg & Southern Railroad: The historic Laurinburg & Southern Railroad dates back to 1909 and today connects Johns, Laurinburg, and Raeford. The railroad is currently owned by Gulf & Ohio Railways.

Morehead & South Fork Railroad: Another Gulf & Ohio property this terminal railroad serves the Port of Morehead.

Nash County Railroad: Yet another G&O shortline, this railroad connects Rocky Mount with Nashville and interchanges with CSX. 
North Carolina & Virginia Railroad: The NC&V is another RailAmerica shortline and operates 135 miles of track between Tunis, North Carolina and Boykins, Virginia and a connection with CSX. 
Thermal Belt Railway: This shortline operates just about nine miles of track between Bostic and Spindale with a connection to CSX at Thermal. To contact the railroad; 5725 Giles Farm Road, Morganton, North Carolina 28655.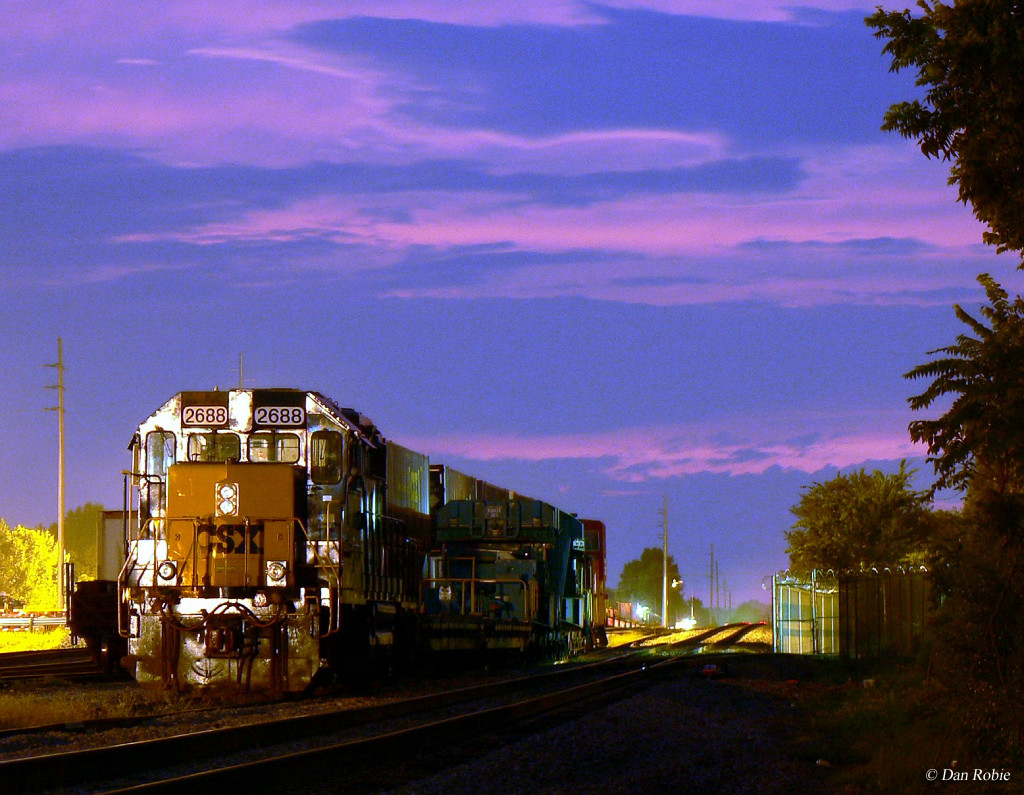 Norfolk & Western Class A #1218 is seen here negotiating the wye at Front Royal, Virginia during May of 1988 as the big steamer prepares a return trip to Alexandria.
Virginia Southern Railroad: The Virginia Southern Railroad is owned by the North Carolina & Virginia, operating between Oxford, North Carolina and Burkeville, Virginia. To contact the railroad please see the NC&V's web page listed above.
Wilmington Terminal Railroad: This terminal railroad serves the Port of Wilmington and is operated by the Genesee & Wyoming. Overall the railroad owns about 17 miles of track.

Yadkin Valley Railroad: This railroad is another G&O property that owns 93 miles of track between Mount Airy and North Wilkesboro.