The North Carolina Railroad

Along with Amtrak, state passenger railroading operations are gaining support and receiving increased attention and funding, particularly as highways become increasingly congested. Perhaps the two most noted states that are giving passenger railroading serious attention include North Carolina (part of which is the North Carolina Railroad) and California. Both are doing a magnificent job developing passenger rail corridors in their respective states, particularly North Carolina.
North Carolina DOT F59PHI #1755 and GP40P-2 #1792 head up the "Piedmont" near Greensboro as they pass under historic signals at Aycock on an overcast October 27, 2007.
While the State of North Carolina does not technically have a true commuter service operation (other than its new CATS light rail service in Charlotte) it does subsidize state-wide passenger rail operations from Morehead City to Goldsboro, west to Greensboro via Raleigh, and finally on to Charlotte called the North Carolina Railroad (or NCRR). Over this route, which spans 317 miles, North Carolina contracts out freight service to Class I carrier Norfolk Southern and passenger operations to Amtrak. As passenger operations have steadily increased since the NCRR's creation in 1989 today North Carolina is a proactive leader in passenger railroad services and hosts or subsidizes no less than five different Amtrak trains.
The North Carolina Railroad was created in 1989 and fully purchased by the State of North Carolina in 1998 as a privately operated railroad. While the NCRR has no rolling stock or equipment of its own and is mostly just a "paper company" it has been continually upgraded over the last ten years with the latest plans by the state to spend over $20 million to add passing sidings and Centralized Traffic Control (CTC) for freight and passenger operations between Raleigh and Charlotte.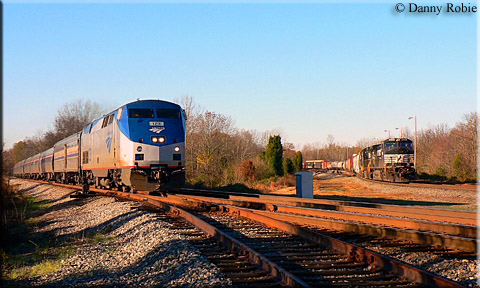 Led by P42DC #123 Amtrak's "Carolinian" passes a waiting Norfolk Southern freight at Linwood on November 22, 2008.
Passenger and commuter rail in North Carolina are, to put it bluntly, a step above the rest of the country. The Tar Heel State is being proactive in recognizing the benefits of rail and has planned accordingly. Not only does the state own the North Carolina Railroad (NCRR), which owns a rail corridor running between Charlotte and Morehead City but also owns significant abandoned rights-of-way in the state that it deems important for possible future rail service.
Today, the NCRR is leased to Norfolk Southern, which handles freight service over much of the route (between Charlotte and Raleigh) and oversees the ongoing upgrades being paid for by the State of North Carolina. The state also subsidizes its own passenger trains over the line. With the help of Amtrak, North Carolina operates the Charlotte-New York Carolinian and Raleigh-Charlotte Piedmont (in addition Amtrak also operates its own Crescent and Silver Service through the state). For a complete map of the passenger services which operate over the NCRR or through the North Carolina please click here.
While the North Carolina Railroad has its owns website which you can visit here, to truly learn about the state's incredible plans of passenger and commuter rail services you need to visit the North Carolina Department of Transportation's dedicated website to such called Bytrain.org. This website not only give you the latest scoop concerning ongoing initiatives and plans relating to North Carolina's railroading operations it also informs about the state's steps to preserve right-of-ways for future rail use and keeping industries planted in its borders by providing rail access. All in all, the entire site is the best resource on the Internet to learn about North Carolina's rail industry, from passenger to freight usage.
---
---
Norfolk Southern eastbound freight #134, led by C40-9 #8884 is about to take the siding to allow westbound train #135 to continue on its way near Claremont on May 17, 2008.
The future of North Carolina's commuter rail operations looks very bright. The state has paid for the restoration of numerous historic depots along its route to be used for daily passenger service and is currently planning operational extensions as far east as Wilmington and as far west as Asheville. And, what's more, North Carolina plans to develop all of this trackage into a high-speed corridor. So, if you're interested in keeping up with the latest goings on with North Carolina passenger and commuter rail operations be sure and frequently visit one or both of the above websites. Hopefully one-day folks will have the option of taking the train from Wilmington, all of the way across the state to Asheville, viewing North Carolina's splendid countryside during the journey.
---
---