Railroading is one of those careers that either becomes a part of you or does not, and for good reason. Railroaders often say that the job is a lifestyle due to the long hours it requires, as one is constantly away from home. Of course, the railroads on which this occurs, Class Is, offer excellent compensation in return. However, it ultimately boils down to a decision. For you, are the long hours and good pay worth the time away from home and family? For some folks it is while others decide it is not. In the end, again, it's something you will have to decided for yourself.   Lastly, I cannot guarantee that the information listed here is completely up-to-date and accurate although it is to the best of my knowledge. Finally, if you are a college student or plan to attend with an interest in the field of business (such as management, accounting, or economics) consider checking out the summer programs some Class Is have available, which include graduate and internship studies (some also offer scholarships).
Short Lines
Dakota, Missouri Valley & Western Railroad: The DMV&W began operation in 1990 and today operates about 89 miles of its own trackage and leases another 435 from Canadian Pacific. Overall, it stretches from north of Bismark all of the way south to Aberdeen, South Dakota. The company also operates an unconnected section of line in northwestern North Dakota.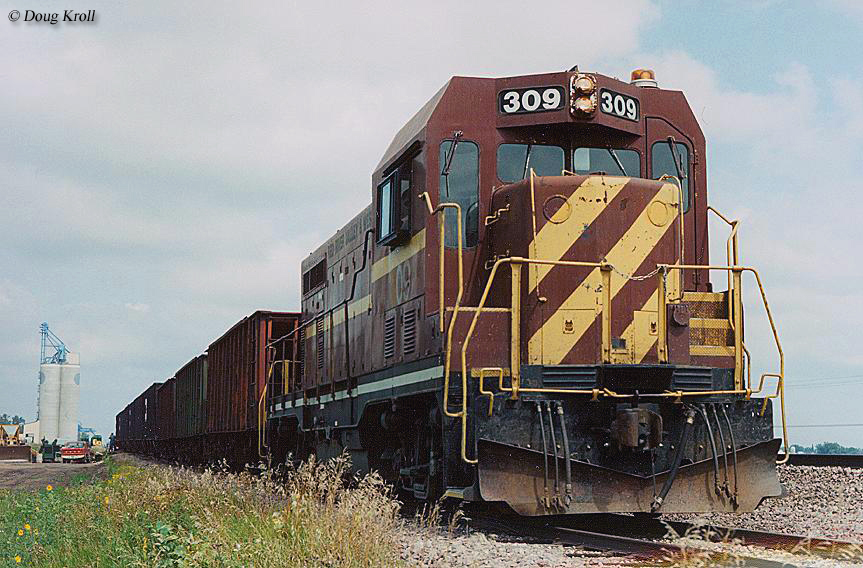 Milwaukee Road GP20s #988 and #958 sandwich a pair of SD10s at Latta Yard in Jasonville, Indiana on July 26, 1980. All four units are company rebuilds from GP9s and SD9s.
Dakota Northern Railroad: This shortline carrier began operation only in the mid-2000s and operates more than 70 miles of trackage in northeastern North Dakota (leased from BNSF Railway) although it is headquartered in Crookston, Minnesota. To contact the railroad; 28997 255th Avenue Southwest, Crookston, Minnesota 56716. Phone 218-281-4704.
Mohall Central Railroad: Owned by the Northern Plains Railroad (another shortline), this railroad operates former BNSF trackage in northern North Dakota and Minnesota. For contact information regarding employment please visit the Northern Plains' website listed below.
Northern Plains Railroad: This large shortline, which debuted in 1997, operates nearly 400 miles of track in northern North Dakota and northeastern Minnesota. It also operates an unconnected line serving the region around Langsford.
Numerous Burlington Northern units are seen here at Northtown Yard in Minneapolis, including early first generation F7s, on May 24, 1980.
Red River Valley & Western Railroad: The RRV&W began operations in the late 1980s after it purchased former Burlington Northern trackage in Minnesota and North Dakota. Today, the railroad operates more than 500 miles of track.

Yellowstone Valley Railroad: This shortline is owned by the Watco Companies and operates more than 170 miles leased from BNSF Railway. The line is mostly located in northeastern Montana stretching from Glendive, north to Scobey, Montana. However, it briefly enters North Dakota at Dore.
---
---
Various Job Types



Brakeman



Conductor



Engineer


Signal Maintainer


Roadmaster


Tie Gang Laborer



Dispatcher


Trainmaster



Yardmaster