The Northeast Regional

Of all of the areas Amtrak serves its Northeast Corridor (or NEC) that stretches roughly from Richmond, Virginia northward to Boston, Massachusetts and connecting all of the major cities in the region along the way has always been the carrier's most popular. Because of this then, it probably comes as little surprise that its Northeast Regional service that connects the NEC is Amtrak's busiest seeing millions of riders annually, which either take the train all of the way through or stop at one of the major cities along the way. The history of passenger trains here can be traced well back into the classic Pennsylvania Railroad era when the once-largest such company to be found in the country dispatched dozens of various named trains along the NEC, which were also quite popular with the traveling public. The future of this route under Amtrak hopes to be expanded further with high speed rail service to Richmond and perhaps even into North Carolina.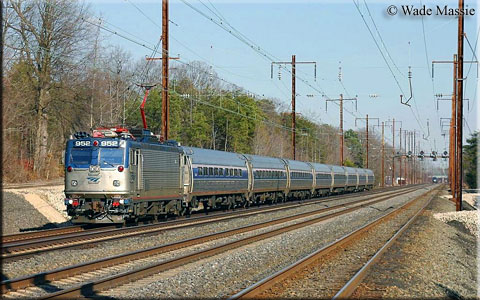 Amtrak AEM-7 #952 has a commuter train at Middle River, Maryland on February 10, 2004.
The history of this route was predominantly owned by two different companies; the aforementioned PRR as well as the New York, New Haven & Hartford (New Haven). The former could boast a through line between New York and Washington, D.C. by around 1907 (mostly by purchasing smaller systems along the way) while the latter, the New Haven, operated a main line between New York and Boston by as early as 1888 (also by buying up smaller railroads). In general these two companies worked together (since they were not true competitors) in providing passengers and commuters with through connections from Boston to Washington. Due to the volume of traffic they carried then, just like now, both also listed dozens of trains, particularly the New Haven. Far too many to mention here the NYNH&H's more well known runs then included names like the Bostonian, Colonial, Merchants Limited, New Yorker, and Yankee Clipper.
For the PRR, it did not offer quite as many named trains but made up for this in the fabulous level of services, which were second to known for simply being a commuter/regional corridor! The Senator was one of the most popular, operating all of the way from Boston to Washington in conjunction with the New Haven. Aside from its lavish accommodations the train could complete the trip in just eight hours, more than two hours faster than today's trains offered by Amtrak! There was also the Congressional service, a very fast commuter train running from Washington, D.C. and New York. It also offered a vast array of amenities to passengers and was powered by the iconic GG-1 electric, which could complete a trip in less than four hours; again, much faster than Amtrak. Another sometimes forgotten regional commuter train serving this region was the Crusader operated by the Reading Railroad.
AEM-7 #913 hustles through Elizabeth, New Jersey with a commuter train on June 20, 1993.
This commuter-like streamliner connected Philadelphia with Jersey City on a 90-mile corridor that was also popular with commuters and businessmen for its services that were right up there with the PRR. Sadly, as they say, all good things must come to an end and as the public abandoned trains for cars and planes the Northeast Corridor lost many of these trains while those that remained were mere shells of their former selves. Upon the start of Amtrak on May 1, 1971 some of these runs were retained (although the once-popular Congressionals were retired later that decade) and surprisingly survived for many years. Names like the Yankee Clipper and Federal survived under the Amtrak banner for decades before finally being retired in the mid-1990s. With the release of the carrier's October 28, 1995 timetable all of these services became known as NortheastDirect.
These new trains, which all operated under that banner served the entirety of the Northeast Corridor connecting Boston, Springfield (Massachusetts), New York, Philadelphia, Baltimore, Washington, Richmond, Newport News, and Lynchburg. With Amtrak's April 7, 2008 timetable the name was again changed to today's Northeast Regional. Overall, the service now serves a total of 50 stations with electrified operations ending south of Washington. Train numbers used include 66, 67, 82-88, 93-95, 99, 110-111, 121, 123, 125-127, 129-141, 143, 145-148, 150-190, 192-199, 401, 405, 432, 450, 460, 463-465, 467, 470, 475-476, 479, 488, 490, 493-495, and 497. The entire corridor is 630 miles in length and if one were to ride it the entire length would require 12.5 hours. Because the Northeast Regional is just that, a regional service, services aboard train are fairly light consist of Amfleet cars offering standard coach and business classes as well as a cafe/snack car.
---
In another view of AEM-7 #952 the motor hurries its commuter train across the Susquehanna River near Havre de Grace, Maryland on March 4, 2006.
Power above Washington for the trains consists of either the reliable AEM-7 Swedish electrics (in service for nearly 30 years now) or the much newer HHP-8 motors used for the Acela Regional. South of the nation's capital Amtrak employs its standard General Electric Genesis series diesels. The future of the Northeast Regional service looks interesting as the carrier is attempting to work with the Virginia and Congress in obtaining funding to electrify the line to Richmond and provide through service to Norfolk via Class I Norfolk Southern's trackage. If this happens and the state is able to complete its project with North Carolina to offer high speed rail service to Charlotte, the Piedmont, and Wilmington one can ride a fast train from Boston into the heart of the South.   To learn more about Amtrak's Acela Regional service please click here to visit their official website.
Related Reading

Adam Burns, Site Author