New York Museum of Transportation
The New York Museum of Transportation, located near Rochester focuses on not only the State of New York's rail history but also its transportation history in general as well. Its exhibits range from railroading equipment and trolley cars to historic vehicles and carriages. In terms of their on-site rail equipment, they have mostly preserved rare interurban cars, some of which are operational and the museum provides rides aboard them. Whatever you may be interested in there's a good chance you will find it at the museum. Along with train rides (including trolleys) they have available the museum also features a large operating HO layout, gift shop, and other events ongoing throughout the year.  The New York Museum of Transportation is open year-round. However, if you're interested in catching a ride to the nearby Rochester & Genesee Valley Railroad Museum these trips, which cover a distance of just under two miles, are only available during the summer season between May and October.
Along with track car rides the museum also offers rides on its two restored trolley cars, #161 and #168, originally owned by the Philadelphia & Western Railroad. These trips cover about a 1/4-mile of track and can be taken as many times as you would like during your visit.  Interurbans and trolleys were most successful from the late 19th century through the 1930s and can best be characterized by the "Dot Com" boom of the late 1990s and early 2000s, they flourished for a moment and then died out. Being regional and local in nature trolleys and interurbans simply could not compete with the automobile once it debuted in the early 20th century and then was aided by the development of better highways and roads. By the 1950s most interurbans were out of business due to high capital costs and low ridership, although some were able to hang on until the early 1960s.
Aside from the two operating interurban cars the New York Museum of Transportation's fleet of railroad equipment includes a gasoline-powered Plymouth locomotive, a Whiting trackmobile, an ex-Philadelphia Rapid Transit Company snow sweeper, two ex-Rochester Railway Company interurban cars, an ex-Northern Texas Traction Company interurban car, an ex-New York State Railways interurban car, an ex-Elmira, Corning & Waverly Railway interurban car, a 0-4-0T steam locomotive, a former Delaware, Lackawanna & Western Railroad caboose, and several various rail "speeders".  The New York Museum of Transportation began life in the early 1970s to preserve former Rochester interurban equipment, which was in need of a home after a museum in Pennsylvania closed its doors. The collections slowly began to grow and the museum was able to acquire unused rails and ties from the former Rochester subway system to use on the grounds.
Through the 1980s restoration work continued and by 1993 the museum had completed a small two-mile stretch of track connecting it with the Rochester & Genesee Valley Railroad Museum. Both facilities now greatly benefit from this new connection, which has become a popular attraction within itself.  Later in the 1990s the museum was able to acquire three interurban cars, two of which were still in operation. Those two which are still in operation, #161 and #168, regularly ferry visitors back and forth on the restored 1/4-mile electrified track on the museum's grounds. While the museum does not carry a large collection of "traditional" railroading equipment such as freight cars or locomotives it does have a fine collection of interurban equipment if you are a historian or interested in such. The bottom line is that it is quite impressive what the New York Museum of Transportation has been able to accomplish when it began life as little more than a means to save a few interurban pieces back in the 1970s.
The only surviving EMD E7A is preserved at the Railroad Museum of Pennsylvania; PRR #5901 built in September of 1945.
Whippany Railway Museum
The Whippany Railway Museum, located in Whippany, New Jersey, has its beginnings dating all of the way back to the mid-1960s. Today the museum's main focus is to preserve the history of New Jersey's railroading past while also recognizing our country's rail history in general. Being that the museum has over 40 years of history it certainly has an interesting past and in that time has collected quite an eclectic and interesting collection of equipment from Alco and GE switchers to Alco 0-6-0 #4039 which the museum is currently in the process of restoring to operation. If you are interested please consider helping out the museum in restoration process of this engine, steam locomotives are certainly a rare commodity today in our country and seeing them in operation is truly like nothing else.
In its earliest form, before officially becoming a museum in 1985, the Whippany Railway Museum was home of the Morris County Central Railroad, which was a steam-powered tourist line that began operations in 1965. Soon after those who operated and kept the MCCRR in service formed the Morris County Central Railroad Museum, which then used part of the nearby Morristown & Erie Railway freight depot to house artifacts and memorabilia for the museum. The M&E itself is a historic company, dating back to 1902 and today operates a freight system covering nearly 160 miles.
Because of its location and ability to provide a tourist train the museum had become a popular area attraction by the mid-1970s although to better accommodate the growing interest the operation was moved to Newfoundland, New Jersey by 1974.  Once the museum, renamed the Pequannock Valley Transportation Museum, had moved to Newfoundland it no longer had the luxury of a freight depot, or building at all, to house its equipment and set up shop in a converted refrigerated rail car. Unfortunately, the tough economic times of the 1970s did in the tourist line which shut down in 1980. However, the museum carried on and was able to find a home in a former museum building in Whippany, ironically also owned by the Morristown & Erie Railway. This building was a former M&E freight depot, which by the 1980s the railroad no longer had any use for.
As such, the museum group thought it would make a wonderful addition to their collection and was successful in saving the building from destruction, working for more than five years restoring it for use as a museum. Finally in October of 1985 the group was open for business and had renamed the organization the Whippany Railway Museum, which along with their equipment had two restored M&E freight depots on site to showcase and use for display and excursion purposes.  In terms of its relation to the Garden State the Whippany Railway Museum today, offers one of the best collection of historic equipment preserving New Jersey's railroad history (and it shows through the thousands of visitors the organization sees pass through its gates annually). The museum once more offers a wide range of excursion trips (including seasonal specials, such as the Easter Bunny Express, Pumpkin Festival, and Santa Claus Special) and features a growing collection of equipment which is listed below.

Wilmington Railroad Museum
The Wilmington Railroad Museum, based in Wilmington, North Carolina highlights the city's railroading past, which was home to the Atlantic Coast Line (ACL) Railroad (the railroad most featured). If any of you from the Southeast and are old enough to remember passenger trains with purple and silver colors (and gold for trim) this was the ACL railroad. Although I am not too familiar with the ACL I always thought that their colors were one the most stunning, just something different about that livery. Trains still travel in and around Wilmington but today they are operated by CSX Transportation, a company formed through mergers by the ACL and many other railroads, and the Atlantic Coast Line has been gone as an independent, operating railroad since the 1960s. Having visited the Wilmington Railroad Museum once back in the 1990s they do a very nice job for a small organization at keeping alive the city's history with trains.
The history of the Wilmington Railroad Museum began a long time ago and its earliest roots can be traced to 1960. That year, the Atlantic Coast Line Railroad elected to move its main headquarters, which had always been based in Wilmington, to Jacksonville, Florida. In doing so the railroad moved more than 1,000 employees by rail, over 450 miles. After this point the large southern Class I had only a minimal presence in Wilmington, save for serving the city's local port. On July 1, 1967 the ACL disappeared forever when it merged with the Seaboard Air Line to form the Seaboard Coast Line system.
The Wilmington Railroad Museum itself had humble beginnings in 1979 by a group of local women who was interested in preserving not only the ACL's history to the city but also southern railroading in general. They started their small museum with just a handful of ACL memorabilia although for several years they had no place to showcase these pieces. That changed in 1983 when they purchased a former ACL office building (built around 1900) in downtown Wilmington. When I visited the museum this was the only building under their direction which by that point included a fairly nice collection of pieces housed inside.
Outside, the museum also had a small collection of freight equipment which included an old steam locomotive (manufactured by Baldwin Locomotive Works it is an original ACL unit, 4-6-0 #250 that saw a lot of use in and around Wilmington), a boxcar (a former Richmond, Fredericksburg & Potomac 50-footer), and caboose (also of ACL lineage). It would have been great to see the city's railroad station also preserved but it was torn down long ago. In any event, with the addition of these outdoor pieces the Wilmington Railroad Museum has furthered its goal of keeping alive the South's railroad heritage.  In 2007 they were able to nearly double their size when they purchased the ACL's former freight depot built in 1883 also located in Wilmington. It took much work to restore the structure (also built of brick) but it enabled the museum to house much more of their historic rail pieces, which the original building could no longer hold.
Between their two locations one can spend a lengthy amount of time visiting the artifacts and learning about the region's rail history. They have also set up a small model railroad at their new location to entertain the young ones, or anyone with an interest in modeling. It's rather interesting that for such a small operation with such quiet beginnings the Wilmington Railroad Museum has grown into its current size seeing thousands of visitors annually. So, if you are in the area vacationing at a nearby beach (where I can often be found during the summer months) or just would like to check another railroad museum off your list I hope you decide to stop by as its well worth a visit.

(My deepest thanks to the Wilmington Railroad Museum's staff, especially Sadie Ann Hood and Bill Bryden, for providing much of this information.)
L&N 4-6-2 #152 simmering beside Chesapeake & Ohio Class K-4 2-8-4 #2716. The "Kanawha" sits on static display and was built by Alco in 1943.
Heart of Dixie Railroad Museum
The Heart of Dixie Railroad Museum, located in Calera, Alabama, is one of the older operating museums in the country having been established in the mid-20th century and today is the State of Alabama's official railroad museum with a far-reaching collection of equipment, although it has an many more pieces stored and awaiting restoration than those which have been properly preserved. Along with the railroads fine collection of rolling stock and railroad artifacts it also has an operating tourist train on the grounds (which operates on a few miles of track) with special trains operated throughout the year like the Cottontail Express, Mother's Day Limited, Father's Day Limited, Santa Special, The Polar Express, and the wildly popular Day Out With Thomas.
The Heart of Dixie Railroad Museum has its beginnings dating back to the Heart of Dixie Railroad Club, which moved to Calera in the 1980s after it attained ownership of a large tract of land to house its growing collection of donated railroad equipment and artifacts today which is, of course, known as the Heart of Dixie Railroad Museum. Interestingly, the organization has become Alabama's official state railroad museum Along with the museum's collection of equipment there is also an operating tourist train on site, the Calera & Shelby Railroad which currently runs trains on over five miles of ex-L&N trackage, that once served a local ironworks in the area.  After CSX attained ownership of the line it quickly set to abandoning it. While the museum was able to obtain 11 miles of the former right-of-way CSX had torn up the trackage and since its purchase the museum has set to relaying the rails with 5 1/2 finished so far. It should also be noted that the William Penn Dinner Train also operates on the line, owned by private individuals and uses an ex-Pennsylvania Railroad Budd parlor car, diner, and coach (leased from the museum) for equipment.
The museum's train typically operate during the warmer months of the year, between March and December and along with its standard-gauge trains they also run a small two-foot gauge live steam engine locomotive which traverses a small quarter-mile loop around the grounds. Known as the Shelby & Southern it was purchased from the Birmingham Zoo. To the delight of youngsters the train was refurbished and put in operation in 2002. It's actually become a fairly popular little attraction itself. Aside from the operating trains the museum also has attained quite a collection of static rolling stock (all of which is listed below) and is definitely worth checking out. Hopefully, in the coming years they can have some of this equipment restored, or least placed under sheds and out of the weather.  Additionally, the museum has two former depots located on their property, both of which are restored: one is the former Southern Railway building from Wilton, Alabama while the other is the Louisville & Nashville's depot from Woodlawn (near Birmingham).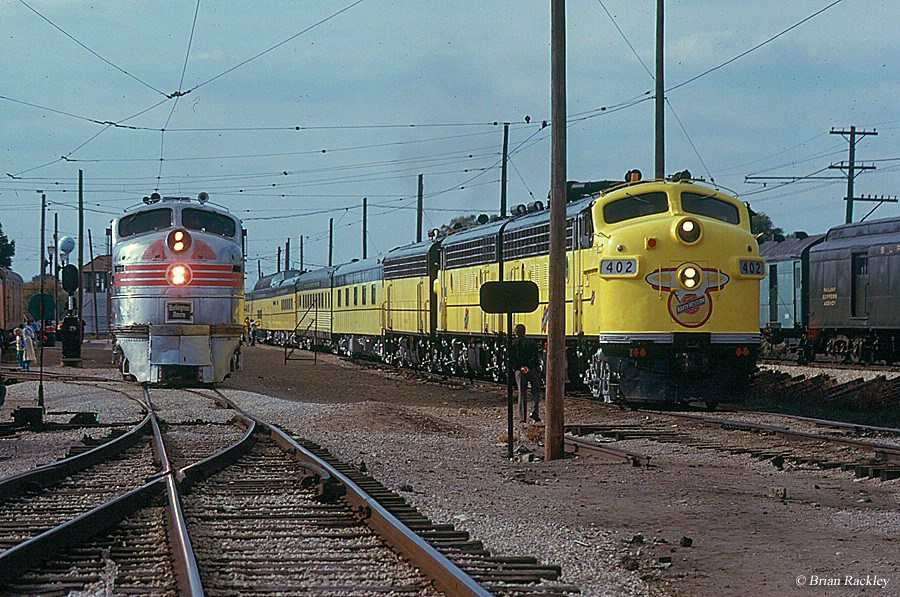 The Chicago & North Western's business train made a stop at the Illinois Railway Museum on October 8, 1988 led by F7A #402. To the left is preserved Burlington E5A #9911A with its "Nebraska Zephyr" consist.
Indiana Railway Museum
The Indiana Railway Museum is a small museum located in French Lick, Indiana. Along with the equipment their equipment the museum also operates a small tourist railroad, the French Lick Scenic Railway, on the property and operates over 10 miles of railroad, although they own a total of 16 miles. The Indiana Railway Museum looks to promote Indiana's railroading history but also the industry's history in general. Indiana railroading has a rich history dating back to the 1830s and historically has not only been home to the important market of Indianapolis but also a key through route to other important markets like St. Louis (the third busiest gateway behind Chicago and Kansas City) and Chicago. Today, Indiana is home to four of the seven Class I systems and has numerous shortlines, museums and tourist railroads operating with its borders.
The history of the Indiana Railway Museum dates back to 1961 when it was founded by a group of locals in the town of Westport, operating primarily as a small tourist line using a diesel locomotive for power and three passenger coaches. The museum moved operations in 1971 to Greensburg and again moved in 1978 to French Lick when the Southern Railway offered the museum sixteen miles of a former branch line between West Baden and Dubois (passing through French Lick along the way). Today, the museum operates about 10 miles of this line between French Lick and Cuzco. All of the organization's tourist trains depart from the restored Monon Railroad depot in French Lick, which is also their base of operations including where you can find displays indoors and a gift shop.
Along with its tourist line the Indiana Railway Museum also features more than 65 pieces of historic railroad equipment on its grounds, over 400 members, volunteers and paid staff, and more than 25,000 annual visitors. Still, the organization is best recognized, and known by visitors for its tourist railroad operations. While they operate a standard excursion between the months of April and November they also run numerous special events such as hosting The Polar Express during the holidays, The Easter Bunny Express in the spring, train robberies, and Halloween trains. They also operate the popular Dessert Train during the summer months during June, July, and August. All of their trips last approximately two hours passing through the Hoosier National Forest and magnificent Burton Tunnel which is roughly 2,200 feet in length.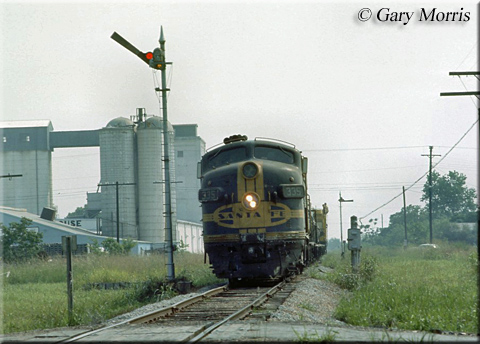 Santa Fe F7A #335 has a MOW weed spraying train at Eagle Lake, Texas as it nears a rural grade crossing during June of 1976. Known as the "Cane Belt" this line connected Sealy and Matagorda, and has since been abandoned. Note the classic semaphore.
Here we see the "California Zephyr" near Hearst, California led by FP7 #804-A and an F7B during March of 1970.
The Dessert Train is hosted aboard their Spirit of Jasper excursion and includes restored heavyweight cars that are painted in a handsome green and gold livery with the interiors just as nicely decorated.  Along with the on board desserts they also offer a cash bar. Finally, the museum also offers other activities such as caboose rentals, special charters for groups (which the museum states must include at least 40 individuals to do so), and cocktail trains.   Lastly, for the railfan or train enthusiast the organization also operates a for-profit shortline known as the Dubois County Railroad which runs between Huntingburg and Dubois, Indiana (about 16 miles, the same Southern Railway branch which the tourist trains use). According to the DCRR's website the freight trains operate three to five days a week as needed and interchange with Norfolk Southern at Huntingburg.  

Related Reading You May Enjoy