The Ohio Central System

The Ohio Central System, now a part of the Genesee & Wyoming family of shortlines, once based out of Coshocton, Ohio was actually a combination of small shortline systems under one banner, deliberately set up in this manner to allow the communities which each serves to feel more like they have a railroad to call their own. The railroad dated back to 1988 when former owner Jerry Jacobson acquired a single segment of railroad in central Ohio and grew into one of the largest Class II, regionals in the country.  The OC, operated almost exclusively in Ohio System (they also have a presence in western Pennsylvania) was broken down into three divisions, which include the Southern Lines, Youngstown Division and Pittsburgh Division.

During the OC's era of offering steam-powered excursions, 4-6-2 #1293 leads a chartered special through Jewett, Ohio and under the rusting PRR signal tower on October 7, 2006. The locomotive was originally manufactured by the Canadian Locomotive Company in 1948 as a Canadian Pacific Class G5d.
Within these three divisions were no less than ten individual shortlines. While these small railroads operated mostly as paper companies many carried its very own livery giving them a local feel to the communities they serve. In 2008 Mr. Jacobson decided to sell off his major asset to the shortline conglomerate Genesee & Wyoming, in the process becoming a multimillionaire.   While the OC is no longer independently operated, the former owner gave the railroad historical movement one of its greatest assets when he completed his multimillion dollar "Age Of Steam Roundhouse" complex in 2012.  The property is not open to the public and will operate as a full-service maintenance facility.  However, it is a meticulous replica of an original 18-stall roundhouse and for now will house his vast collection of steam locomotives.  Perhaps one day we the public will be lucky enough to tour this magnificent facility.  Below is a list of the railroad's former divisions and shortlines operating within them:
Southern Lines
The Ohio Central Railroad (OHCR)
The Ohio Southern Railroad (OSRR)
The Columbus & Ohio River Railroad (CUOH)
Clad in the OC's maroon, yellow, and grey three Geeps led by GP40 #3217 roll through Jewett, Ohio with their freight on October 17, 1995.
Youngstown Division

The Mahoning Valley Railway (MVRY)
The Ohio and Pennsylvania Railroad (OHPA)
The Warren and Trumbull Railroad (WTRM)
The Youngstown and Austintown Railroad (YARR)
The Youngstown Belt Railroad Company (YB)
Pittsburgh Division
The Pittsburgh and Ohio Central Railroad (POHC)
The Aliquippa and Ohio River Railroad (AOR)
While the freight trains paid the bills perhaps what the OC was best known and recognized for among railfans and the public was its large and continually growing steam fleet. The railroad just recently acquired former Nickel Plate Berkshire #763 (sister to famous #765) from the Virginia Museum of Transportation and plans are to still in place to one day return it to operation, which will certainly be a sight to see!  Aside from the big Berk, the OC's collection of steam locomotives included 2-8-0 #33, 4-8-4 #6325, 4-6-2 #1293, 4-6-0 #1551, 2-8-0 #13, 0-4-0 #3, 4-6-2 #1278, and 2-6-0 #96.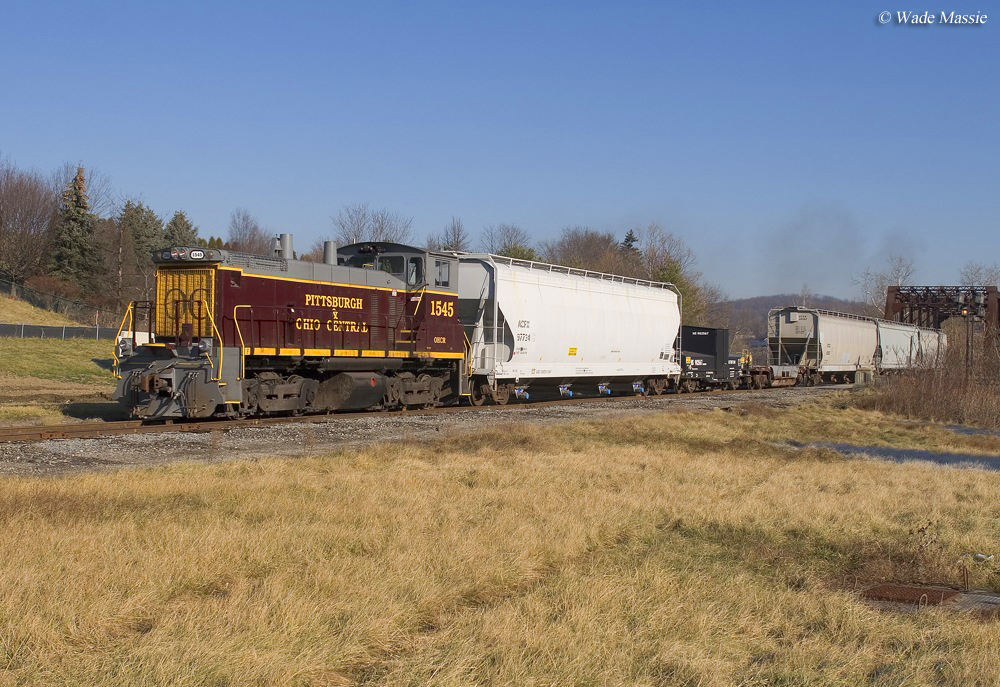 An SW1500 of OC subsidiary Pittsburgh & Ohio Central pulls a cut of freight cars through Morganza, Pennsylvania on December 20, 2006.
After the G&W takeover of the railroad it was announced that founder Jerry Jacobson "will retain rights to operate his steam locomotives and passenger cars on the property. Sources say he will build a roundhouse near his home in Sugar Creek, Ohio to stable the steam locomotives" according to Trains Magazine.  As mentioned above, that of course has now become a reality.  To visit Jerry's "Age Of Steam Roundhouse" website please click here.   While the Ohio Central has become yet another fallen flag the G&W has pledged to continue the high quality of service the railroad was known for. So, if you are near Ohio's Amish country or anywhere else in northeastern Ohio or western Pennsylvania you should certainly look up one of the OC's former lines, it was certainly a very interesting railroad.
---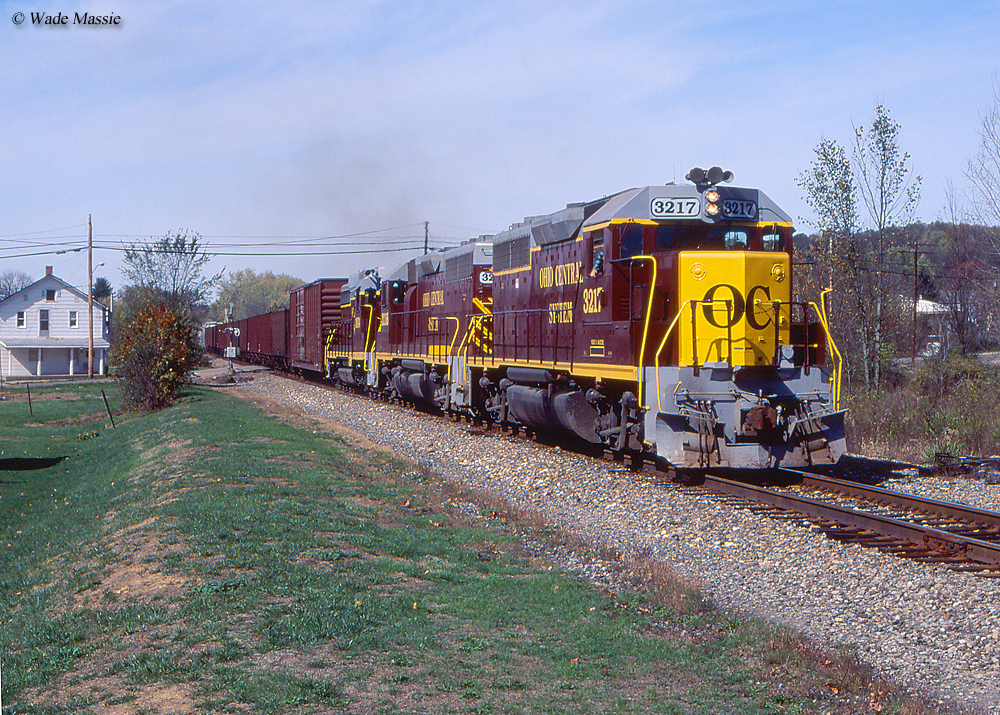 The same train as pictured above, GP40 #3217 is traveling through Scio, Ohio along the Pennsylvania Railroad's former Panhandle line on October 17, 1995.
Also, if you are photographer now is the time to get your shots of locomotives in OC paint before they disappear into G&W's orange, yellow and black.  Finally, for more on fallen flag railroads like the Ohio Central consider one (or all) of Mike Schafer's Classic American Railroads books (listed below is the first in the series). He has published three thus far covering virtually all of the most well known fallen flags. I have all three in my collection and highly recommend them, the photography is excellent along with learning a general history of each railroad. If you're interested in perhaps purchasing this book please visit the link below which will take you to ordering information through Amazon.com, the trusted online shopping network.