If you are interested in becoming a railroader my first advice would be to take the time and really learn the inner details about the industry before diving into a career as such. This is simply to give you a heads up about what to expect if you are unfamiliar with railroads, or at least what a job working for one is like. On Class Is, especially, 12-hour work days are almost normal and days off are often unusual. While smaller regional and shortline railroads do offer a better schedule, Class Is offer unmatched pay, benefits, and retirement. For instance, engineers can easily clip an annual salary at, or over, six-digits.  Overall, it comes down to whether you feel the pay is worth the time away from home and family as railroading is not for everyone.   Please keep in mind that while I try to keep this information as updated as possible I cannot guarantee that it is always entirely accurate. In any event, if you are pursuing a bachelors or advanced degree in the field of business, management, or related subject (such as economics or accounting), you might want to take the time to peruse the programs some Class Is have to offer, which include internships and graduate programs.

Short Lines And Regionals
Indiana & Ohio Railway: The I&O is now part of Genesee & Wyoming's  large family of railroads and operates through Ohio, mostly west of Columbus. Overall the company owns nearly 600 miles of unconnected lines and interchanges with all of Ohio's Class I railroads.

Wheeling & Lake Erie Railway: The W&LE dates back to the 1870s, originally envisioned to serve Lake Erie ports with the coal fields of northern West Virginia, northeastern Ohio, and northwestern Pennsylvania. The original company was dissolved by Norfolk Southern in 1989 but was reborn a year later when the Class I spun off almost all of the original W&LE, Pittsburgh & West Virginia, and Akron, Canton & Youngstown trackage giving the new Wheeling & Lake Erie nearly 600 miles of wholly owned property. Today, with trackage rights the W&LE operates nearly 1,000 miles of railroad and connects with all of Ohio's Class Is and a number of smaller lines.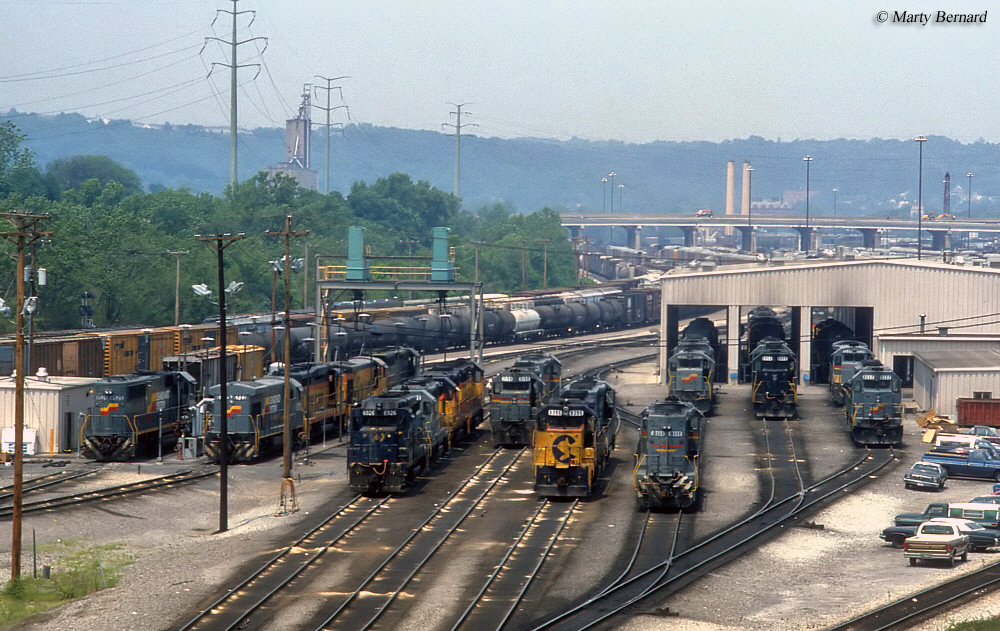 It's the early CSX era and lots of different paint schemes are now converging at the Chessie System's former Queensgate Yard in Cincinnati, Ohio on May 28, 1987.
Akron Barberton Cluster Railway: This shortline has been in operation since 1994 and operates about 73 miles of track serving the Akron region. To contact the railroad; 43 2nd Street, Barberton, Ohio 44203.

Ann Arbor Railroad: This historic short line, now a Watco property, dates back to the late 19th century and its peak connected Toledo with Frankfort, Michigan. However, today, the reborn Ann Arbor system only serves Ann Arbor and Toledo.
Ashland Railway: This shortline operates two lines radiating northward from Mansfield, with one reaching West Salem and the other serving Willard. Overall, the railroad operates nearly 60 miles of track.

Ashtabula, Carson & Jefferson Railroad: This six-mile shortline serves the area around Jefferson and also provides summertime excursions for the public.

Camp Chase Industrial Railroad: This terminal railroad serves western Columbus, switching a number of industries in the area.

Central Railroad of Indiana: This shortline, also owned by G&W, is mostly situated in southeastern Indiana although it also reaches Cincinnati. Overall the railroad operates nearly 100 miles of track.
Chicago, Fort Wayne & Eastern Railroad: The CFW&E is yet another G&W short line operating over 300 miles of railroad in northern Indiana and Ohio connecting Tolleston (near Chicago) with Crestline.

Cleveland Commercial Railroad: This small shortline serves industries near the city of Cleveland. To contact the company; 7632 Bond Street, Cleveland, Ohio 44139-5351.
Columbus & Ohio River Rail Road: This large short line, a G&W property, serves central and eastern Ohio operating nearly 250 miles of track between Mingo Junction at the border of West Virginia with Columbus.

Flats Industrial Railroad: The Flats Industrial Railroad, which has been in operation since 1996, also serves the industries surrounding Cleveland. To contact the company; 1757 Columbus Road, Cleveland, Ohio 44113.

Indiana Eastern Railroad: The Indiana Eastern Railroad operates former C&O trackage between Richmond, Indiana and Fernald, Ohio with a connection to both CSX and Norfolk Southern.
Indiana Northeastern Railroad: The Indiana Northeastern Railroad has been in operation since 1992 and today serves the corners of three states; Ohio, Michigan, and Indiana. The railroad connects to Norfolk Southern in Montpelier, Ohio and operates a system covering about 120 miles.

Lake Terminal Railroad: This shortline is a Transtar property and operates a switching railroad serving industries located near Lorain based along Lake Erie.

Lorain Northern Railroad:  2199 East 28th Street, Lorain, Ohio 44055.
Mahoning Valley Railway: This railroad is owned by Genesee & Wyoming and operates just a short, six-mile section of track near Youngstown with connections to both CSX and NS.

Napoleon, Defiance & Western Railroad: This historic short line between Woodburn, Indiana and Toledo, Ohio but today only reaches as far east as Liberty.   It is now a Pioneer RailCorp subsidiary.

Newburgh & South Shore Railroad: This historic railroad, now an OmniTRAX company, once served the steel mills located near Cleveland. However, today, it operates about five miles of track hauling a wide range of freight (including steel).

Northern Ohio & Western Railway: The NO&W is another OmniTRAX property operating 25 miles of railroad between Tiffin and Woodville with connections to both CSX and NS.

Ohi-Rail Corporation: This small shortline operates former New York Central branch lines between Minerva and Hopedale with connections to Norfolk Southern, W&LE.

Ohio Central Railroad: Today, the Ohio Central system is part of Genesee & Wyoming operating 70 miles of former Pennsylvania Railroad trackage in central Ohio between Zanesville and Brewster.

Ohio Southern Railroad: Another Genesee & Wyoming shortline the railroad connects Zanesville with New Lexington and Glenford. The company has interchanges with both CSX and Norfolk Southern.

Republic N&T Railroad: This short line has been in operation and leases trackage owned by Norfolk Southern near Canton. To contact the company; 2633 8th Street Northeast, Canton, Ohio 44704-2311.

R.J. Corman Railroad: RJ Corman operates a variety of rail-related businesses, including shortlines. It currently owns to lines in Ohio including a 55-mile section between Warwick and Uhrichsville, and another 51-mile section between Lima and Portland, Indiana.

US Rail Corporation: US Rail operates several shortlines in the eastern United States, including three lines in Ohio near Cleveland, Jackson, and Hamilton.

Warren & Trumbull Railroad: The W&T is another Genesee & Wyoming shortline, that operates just four miles of track east of Warren with connections to both CSX and Norfolk Southern.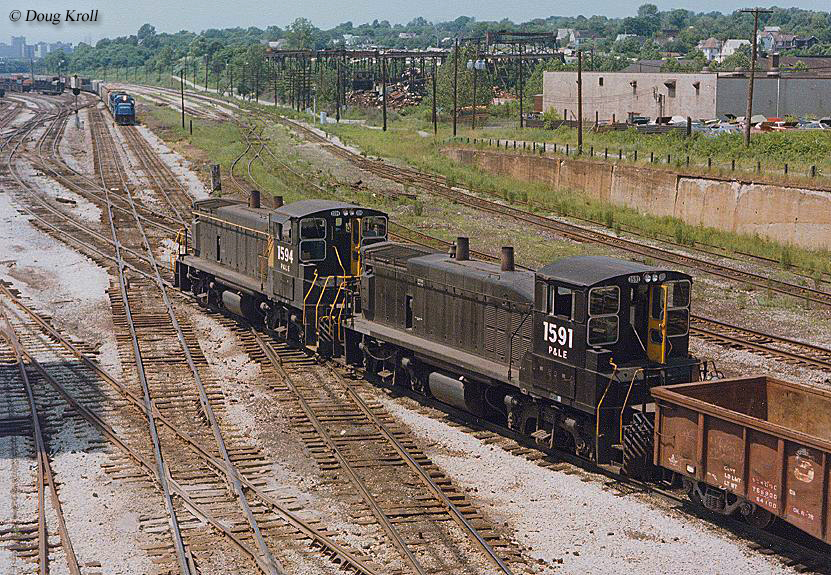 Pittsburgh & Lake Erie MP15DCs #1594 and #1591 ease through the Center Street interlocking at Youngstown, Ohio performing regular switching chores while a Conrail freight waits for the main to clear on June 26, 1983.
Youngstown & Austintown Railroad: Another Genesee property, the Y&A is also quite small operating just five miles near Youngstown and also connecting to both NS and CSX. 
Youngstown Belt Railroad: This short line is Genesee & Wyoming's largest in northeast Ohio operating 13 miles of railroad between Ravenna and Youngstown with connections to several railroads including NS and CSX.

Youngstown & Southeastern Railroad: The Y&S is owned by the Indiana Boxcar Corporation and has been in operation since 2006 running between Youngstown, Ohio and Darlington, Pennsylvania.
---
---
Various Job Types



Brakeman



Conductor



Engineer


Signal Maintainer


Roadmaster


Tie Gang Laborer



Dispatcher


Trainmaster



Yardmaster