Passenger Railroading, Travel By Train

Far before passenger railroading operations and travel by train was even conceived, the United States, and the rest of the world, had little other means of moving people and goods than horse and watercraft (sailing ships, river boats, etc.) as steam power would not become available in our country until roughly sixty years after the signing of the Declaration of Independence. This was essentially the way things always were throughout human history and changed little until the 19th century.
However, all of this changed after 1804 when the first steam locomotive was built by Richard Trevithick and Andrew Vivian for the narrow gauge Penydarren Tramway in Wales and later first tested in America on the Baltimore & Ohio Railroad in 1829, now known famously as the Tom Thumb (while the locomotive actually lost the race with the horse [just barely!], it more than proved its ability as a reliable source of mechanical transportation). With this new technology, thus began the age of steam and a better, more efficient, means of transportation. Not only that but the steam locomotive was also a major driving force in settling America west of the Appalachian Mountains.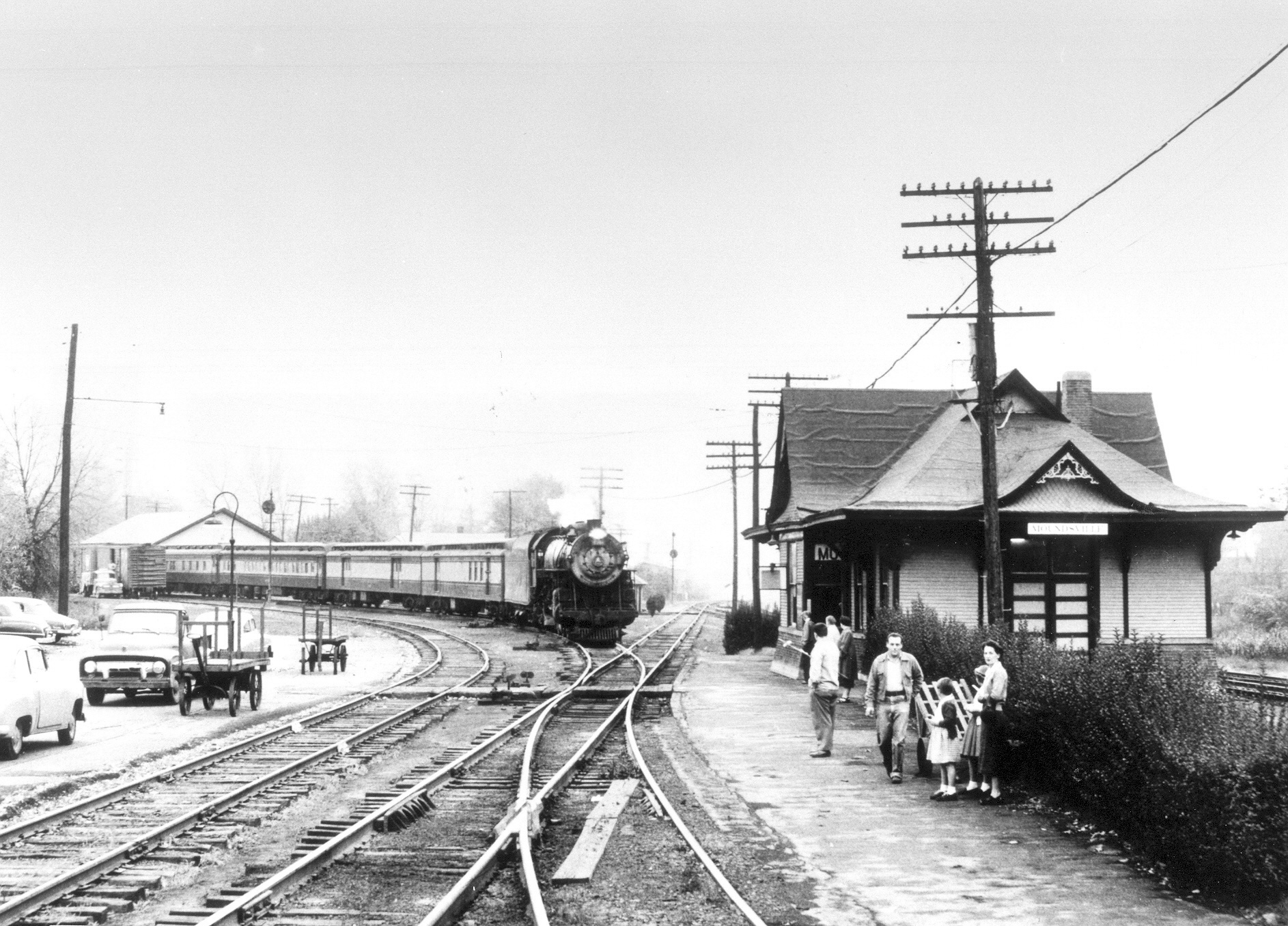 Westbound B&O passenger train #343, led by Class P-7 4-6-2 #5300, comes off of the Old Main Line from Grafton, West Virginia as it is about to stop at the Moundsville depot in the spring of 1956. This line was abandoned long ago but the Ohio River Subdivision remains in operation by CSX today.
While steam allowed for faster, and a more efficient means of transportation this did not necessarily translate into a safer way to travel. Our country's first railroads like the B&O, Albany & Schenectady, and South Carolina Canal & Railroad used mostly trial and error to learn what worked and what did not which, unfortunately, sometimes resulted in injuries or deaths. It also did not help that shoddy construction practices as railroads raced to build new rail lines also caused numerous deaths and injuries in the 19th century. For instance, early railroad roadbed practices involved using simple large stones to support the track structure, which would soon sink and foul the track alignment causing derailments.  Also, the early rail designs of iron strap rails on wooden track (which were placed on top of the wooden track) caused deadly "snake heads" when they worked loose, disintegrating the wooden floors of passenger cars, sometimes killing the occupants inside.
As the years progressed so too did the track structure and equipment. In 1831, Robert L. Stevens, of the Camden & Amboy Railroad developed the common "T-rail," which is the design still used exclusively today as railroad rail. First made of iron it was later produced using much stronger, steel. Railroads also found that stone gravel (known as ballast) acted as a stronger support base that did not give way like the large stone blocks (it also was much more forgiving). When railroads first began the equipment they used, naturally, was quite primitive with passenger cars mostly simple stagecoaches with wheel axles attached to the bottoms. Technologies quickly improved with two-axle trucks becoming standard by the 1830s and the passenger coach (a long, corridor-like car with seating to either side and an aisle in the center) also arrived during the same decade.
However, as equipment improved traveling by rail became more comfortable, efficient, and faster. These included specialized cars like diners, sleepers, club cars, parlor cars, and observations. Likely the most famous passenger cars to ever grace the rails were those built by George Pullman and his Pullman Palace Car Company, which began building cars in 1867 (later reorganized as just the Pullman Car Company).  Its base of operations was Pullman, Illinois and its cars would become legendary by the peak of passenger rail travel between the late 19th century through the early/mid-1940s. While the company is perhaps most famous for its sleepers it also built other types such as parlor cars and diners.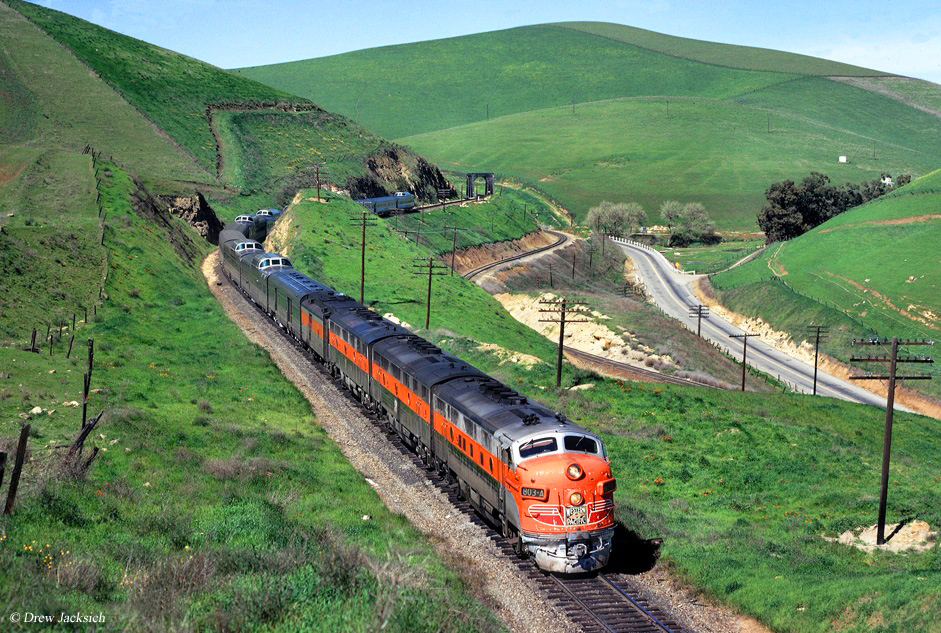 An A-B-B set of Western Pacific F3s, led by F3A #803-A, power the California Zephyr along the rolling countryside of Altamont, California during February of 1970. The SP line just below is now abandoned.
By the turn of the century passenger equipment was becoming very specialized with comfort and luxury the order of the day as both continually improved. From 1900 through the 1920s "heavyweight" passenger equipment (its name given due to the heavy materials, like steel and iron, used in its construction) was built until the 1930s.
It was during the 1930s that lightweight materials, like aluminum, began to be used in car construction. Not only did this make the car lighter which was easier on the track structure (and less difficult for a locomotive to pull) but also streamlining became widely popular during this time and aluminum was light and flexible enough to be used as shrouding to streamline both cars and locomotives.
During the early years of Amtrak's Reno Fun Train, a westbound run with FP7 #111 travels along the Yuba Gap near Cisco, California during March of 1976.
One of the first, and perhaps most famous streamlined trains was the Burlington's Zephyr 9900 trainset, built in 1934. Sleek, fast, and comfortable (for instance, it broke the speed record for traveling between Denver and Chicago, covering the 1,000+ mile distance non-stop in only thirteen hours and five minutes) it paved the way for an entire generation of streamlined trains. Famous passenger trains to follow included names like the Milwaukee's Hiawatha, the NYC's 20th Century Limited, PRR's Broadway Limited, and the Great Northern's Empire Builder.
However, following WWII passenger traffic began to drop significantly and would not recover, even while some railroads began to update their passenger fleets with new equipment through the 1950s. A decade later, in the 1960s, industry losing significantly with its passenger operations (while passenger trains are rarely profitable, before the 1950s railroads were earning enough that their freight revenues could easily offset the losses) and desperately wanted out.
The Early Years, Through the End of the 19th Century
The Beginning of the 20th Century and the Golden Years
The Hard Fall and Formation of Amtrak
Decline of the "Golden Age" and Formation of Amtrak
The Early Years of Amtrak
Amtrak Today and the Resurgence of Rail Travel
The Future of Amtrak and Passenger Rail
Relief would finally come in the way of the National Railroad Passenger Corporation, or Amtrak, which began operations on May 1st, 1971. Government-controlled and funded, Amtrak operates almost exclusively over the private freight railroads, save for the Northeast where it owns the [mostly] PRR's former Northeast Corridor (NEC), a four-track main line operating between Washington, D.C. and Boston.  When Amtrak began it used private equipment donated by the participating railroads (although, it should be noted, that not all of the major Class Is elected to initially join Amtrak) and while it was originally setup to become financially self-supporting this was completely an illusion (passenger trains are almost never profitable and requires some sort of subsidy to operate).
---
A very late Capitol Limited rolls through Dawson, Pennsylvania on its way to Connellsville led by P42DC #63 during the early morning of May 30, 2006.
Even though Amtrak, over the years, has operated almost entirely on "life support" with just enough funding to survive year to year support for the carrier has increased, particularly in the post-9/11 era (the railroad, just in 2007, broke an all-time ridership record). Along with Amtrak, state operations are gaining support and receiving increased attention and funding, particularly as highways become increasingly congested and gas prices skyrocket. Perhaps the two most noted states that are giving passenger trains serious attention include North Carolina and California. Both are doing a magnificent job at developing passenger rail corridors in their respective states, particularly North Carolina. As transportation issues are gaining in support the future of rail travel looks very bright, as everything from local trolley systems to large state-supported commuter rail operations are being planned and developed. Below is a more detailed history of our nation's passenger trains, from its early beginnings through today.