Pecos Valley Southern Railway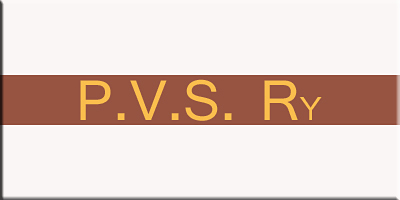 You will be hard-pressed to find a more humble and quaint shortline operation than that of the Pecos Valley Southern Railway. If it were not for ingenuity this little line would likely shutdown and in many ways it is surprising it hasn't already. The PVS is a historic system that has served West Texas since the early 20th century. The road was founded on the hope of completing a 100+ mile line that would run from Pecos to the Mexican border. Unfortunately, money ran out and only about a quarter of the route was ever completed. The shortline has had an interesting and turbulent history over the years, threatening to be abandoned more than once by various owners. During its heyday the Pecos Valley served several customers although today that number has dwindled to just a few. Currently, the company is a subsidiary of a non-railroad aggregate business (and leased to Watco) and its power consists of a single locomotive although it once operated a small fleet of switchers.
MoPac GP38-2 #2038 along with two other Geeps lead an eastbound merchandise freight across the Huey P. Long bridge in New Orleans, Louisiana during April of 1977.
The history of the Pecos Valley Southern Railway begins on May 29, 1909 when it was chartered by local business interests with intentions of constructing a route from the town of Pecos (where connections were made with the Texas & Pacific Railway main line as well as a Santa Fe branch, which extended southward from its main line at Clovis, New Mexico) to Presidio along the Rio Grande River and Mexican border. The railroad would have stretched more than 150 miles and by May 1, 1910 was completed 40.3 to the small hamlet of Toyahvale. Unfortunately, while the cost of construction was cheap thanks to the relatively flat, desert-like region of West Texas money ran out to continue building any further south. For a number of years proceeding plans continued to be made in pushing the railroad further to its intended destination but these never materialized.
The hope by the builders of the Pecos Valley Southern was in serving the region's growing agricultural industry that included grain, cotton, cantaloupes, cattle, and corn. This followed new farming techniques after 1900, related to irrigating the dry, dusty soil into practical uses that could grow various types of crops. Prior to the coming of the railroad the farmers between Pecos and Toyahvale had no other method in moving their product to market except by traditional horse and buggy, which proved impractical in the unforgiving heat of the summer months that regularly topped 100 degrees. Power during this early era consisted of two, second-hand 4-4-0 Americans #1-2 (it later added three former Texas & Pacific 4-6-0s, #4-6). Unfortunately, the agricultural interests never developed quite as intended (certainly not enough to maintain a railroad's profitability) and with little other means of traffic available, except for local passengers, abandonment lay in the line's future that was not even 20 years of age.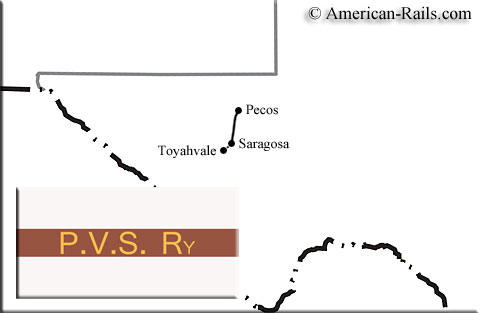 The road's first saving grace, however, occurred in 1927 thanks to foresight by the Texas & Pacific which purchased it, seeing promise in the line as a freight feeder and that the local economy it served would rebound. The Class I, however, could not have known that the Great Depression would hit two years later in 1929 and the PVS continued to post annual deficits. Then, in the mid-1930s another boost came in the way of lucrative crude oil, which allowed the railroad to regain a level of profitability. It was further helped by the onset of World War II seeing several hundred carloads per month serving the newly established Pecos Army Air Base. Then, after the war ended it was as if the tap was shutoff and traffic again plummeted. By 1948 the T&P had had enough of the ebb and flow nature of the PVS and opted to abandon the property.
And yet again, fate stepped in to save the little shortline. A local gravel company, Trans-Pecos Materials, stepped in and purchased the line in 1952 realizing that shipping its material by rail was far cheaper than truck (at that time the interstate system had yet to reach West Texas). In the late 1940s the company gave up on passenger services, which were only yielding a few thousand dollars of annual gross income (provided by a few motor cars, #10-11). Things remained slow for the Pecos Valley Southern Railway during the early 1950s but later that decade prosperity returned in the way of agriculture and other freight; cotton mills, fertilizer, grain, asphalt, onions, carrots, cabbage, cattle, drilling mud and of course aggregates began to move in prodigious numbers, which continued through the 1960s.
Then came the 1970s, and the PVS slowly saw its more than two dozen shippers disappear, preferring a cheaper alternative that trucks offered thanks to Interstate 10 being built through the area during the early part of that decade (albeit the project did provide the company with significant carloads during construction). The highway system was contemplating how to span the railroad's right-of-way near Belmorhea when it was decided to simply abandon the property south of Saragosa in 1971, which cut the PVS down to 29.3 miles that remains in operation today. While traffic continued to dip through the 1980s it had mostly stabilized by the 1990s, which is still the case with the railroad; currently, traffic consists of sand, gravel and barite ore (yielding between 3,000-4,000 carloads annually). As of August 10, 2012 the PVS was leased to Watco, which plans to operate the road on a long-term basis from Capitol Aggregates. Interestingly, the future of the shortline may be looking up exponentially; just as oil was once a major traffic source for the road it appears to be so again as Watco has built several oil-loading facilities along the system. For a short collection of photographs of the Pecos Valley Southern Railway please click here.
Pecos Valley Southern Railway Diesel Locomotive Roster
| Builder | Model Type | Road Number | Notes | Quantity |
| --- | --- | --- | --- | --- |
| GE | 70-Ton | 7-8 | Acquired new: July, 1949 and January 1953. Out of Service. | 2 |
| EMD | SW900 | 9 | Ex-Lehigh Valley NW1. Purchased new 1938, rebuilt for LV as an SW900 in 1957. | 1 |
(
Thanks to David Lustig's "Pecos Valley Southern: The Loneliest Short Line In Texas" from the July, 1998 issue of
Trains
as a primary reference for this article.
)
---
---
Missouri Pacific SD40 #3005 and lots of other power run light through the Port Terminal North Yard in Houston, Texas during September of 1980.
For more reading regarding the history of Texas railroads you might want to consider picking up a copy of Railroads of Western Texas: San Antonio to El Paso by author Doug Braudaway from Arcadia Publishing's "Images of Rail" series. One other noted book is The Railroads of San Antonio and South Central Texas by author Hugh Hemphill which highlights the history of railroading in the southern and central regions of the Lone Star State. If you're interested in perhaps purchasing either (or both) of these books please visit the links below which will take you to ordering information through Amazon.com, the trusted online shopping network.
---
---