During the heyday of these trains the Pennsy offered the very finest of services such as full course meals, lounge cars, reclining seat coaches, and the friendliness staff. Additionally, trains operated at such high speeds that a run from New York to Pittsburgh required less than eight hours, which is a far cry from today's nearly 10 hours aboard Amtrak. As the 1960s progressed, however, these services rapidly declined with railroads becoming increasingly disinterested in passenger trains which were dragging down the companies' bottom lines. The public was simply no longer in love with trains. After the Penn Central merger this decline only accelerated. After Amtrak began operations on May 1, 1971 the Duquesne was retained briefly. However, with the arrival of the carrier's first official timetable on November 14, 1971 it was renamed as the Keystone, trains #42 and #43.

Fortunately, the Keystone survived only a year until June 10, 1972 as Amtrak's budget continued to force the company into scaling back its services. One way it did this was to cancel the New York-Pittsburgh market altogether, leaving only the Broadway Limited and Keystone Service (New York-Harrisburg). However, thanks to the state funding support from Pennsylvania the route was reborn and on April 27, 1980 and became known as the Pennsylvanian. Initially, this train connected only Philadelphia and Pittsburgh with connecting service to New York available through the now defunct Philadelphian. It was a daytime-only train with one trip operated in each direction along the Keystone Corridor with F40PHs usually the preferred power and Amfleet cars for equipment.
However, during the 1980s a lot of changes occurred as Pennsylvania tried to decide just how much funding it wished to devote towards passenger rail. In 1981 the Fort Pitt was operated in tandem with the Pennsylvanian to serve Pittsburgh-Altoona. However, dismal ridership saw this end just two years later in 1983, which was also due to funding cuts by the state. In 1984 the state again pushed for more service to Pittsburgh but Amtrak was not in financial shape to do so. In the proceeding years a number of changes came to the train such as extensions to Chicago and Cleveland. However, these were all temporary. After January 27, 2003 it has remained on a routing that serves Pittsburgh and New York.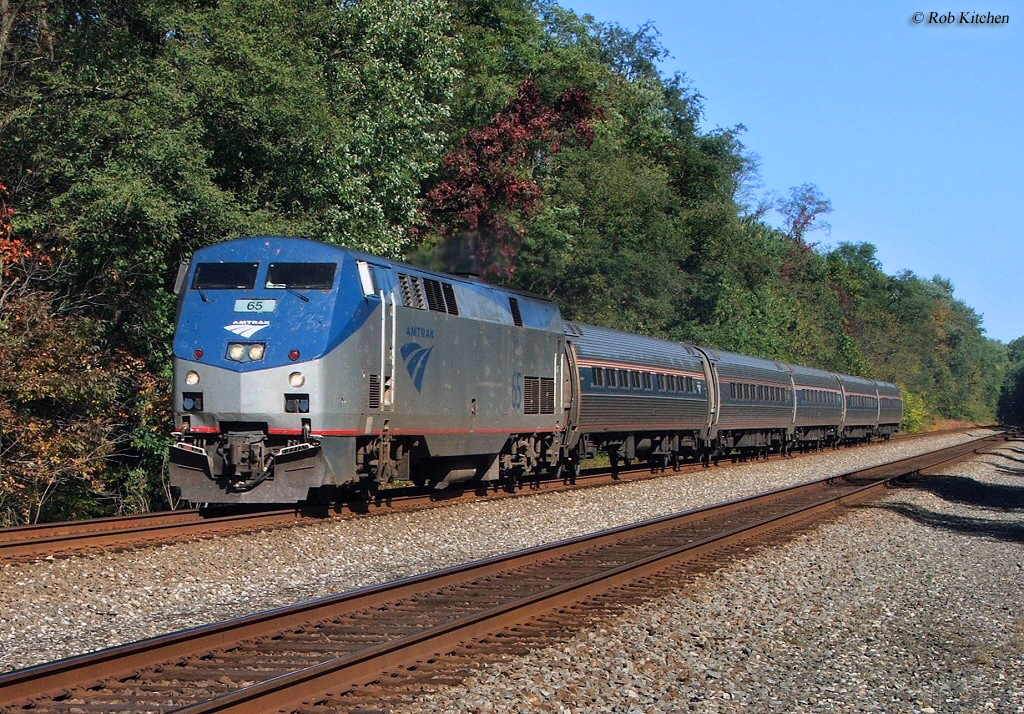 P42DC #194 leads an Amtrak run through Woodbridge, Virginia on August 2, 2005.
As of today, the train continues to use dated Amfleet cars for equipment which offer passengers both standard and business class accommodations as well as snack car services. Power is typically provided by a GE Genesis series diesel locomotive. The current corridor is 444 miles in length and a trip one-way requires nearly 9.5 hours (much longer than the PRR's Duquesne). Despite few amenities and a slower schedule than during the Golden Age of rail travel the train continues to see healthy ridership with more than 200,000 patrons riding annually. As Amtrak's notes on its website the scenery is sometimes a forgotten trademark of this train with views of the Amish "Dutch Country", Monongahela and Ohio Rivers, Allegheny Mountains, and Pennsy's famous Horseshoe Curve.

Related Reading You May Enjoy


Home

›

Amtrak

› Pennsylvanian