Railroad Careers Guide and Information

Indiana Northeast Railroad GP30 #2230 is tied down down at the Edon Co-op grain elevator in Edon, Ohio between switching chores on October 9, 2008.
As mentioned before, if you are not really sure what type of career or position you would like in the railroad industry but are just curious what is available please take a moment to visit the websites below to see what openings are available among the major Class I railroads (Union Pacific, CSX Transportation, Kansas City Southern Railway, Norfolk Southern Railway, Canadian Pacific Railway, and Canadian National Railway) as well as the smaller Regionals (Class IIs) and shortlines (Class IIIs). The big Class I systems have very nice career page websites where you can apply for positions or submit your resume while the smaller railroads, which have websites, usually ask you to contact them by phone or submit your application/resume by mail.
Class Is
Regionals
Providence & Worcester Railroad
New York Susquehanna & Western Railway
Montreal, Maine & Atlantic Railway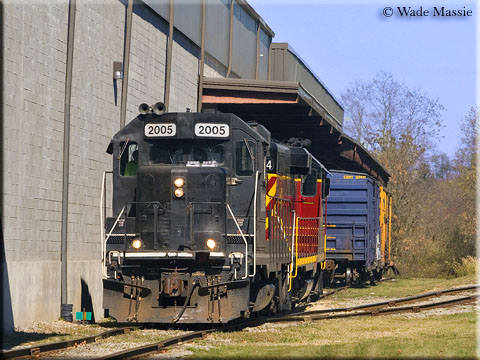 Allegheny Valley Railroad GP11 #2005 and a mate ease over the International Paper's plant spur at Gambles, Pennsylvania as the units pick up a few loaded boxcars on October 23, 2008.
Short Lines
Please check the shorline railroad guide to contact a Class III system near you to see about openings. If you need help in finding contact information for a particular railroad please let me know and I will see what I can do.
Miscellaneous
Also included here are schools and organizations which hold classes to obtain such skills as railroad conductor and engineer certifications. Please note that Class Is typically require you to complete their own engineer training to operate their locomotives and trains although certifications through the Modoc Railroad Academy, for instance, can allow you to be hired on directly as such.
National Academy of Railroad Sciences
CSX Railroad Education & Development Institute (REDI)
Dakota County Technical College
Eastern Lackawanna County Agricultural and Technical University
Canadian Programs
Northern Alberta Institute of Technology
British Columbia Institute of Technology
Lastly, if you're interested in searching for railroad careers in your area please feel free to use the search box below from Indeed.com, one of the leading online career resource guides.
---
---
A pair of Norfolk Southern C40-9Ws with #9618 in the lead eases downgrade with an empty consist of coal hoppers near bucolic East View, Pennsylvania on October 19, 2008.
As time goes on I will continue to update this list with other railroads, schools, and/or related organizations. Also, if you happen to know of a school or organization which offers railroad-related courses and classes please let me know so that I can add it to this list. Again, if you are not even sure if a career in railroading is right for you but would like to learn more about what it takes to work in the industry you might want to consider the book Working on the Railroad from noted author Brian Solomon. Solomon's book details the history of working in the railroad industry and the difficulties and hardship employees faced back then as well as today. After reading this book you should have no doubts about whether working in the industry is something you are truly interested in. In any event, if you're interested in perhaps purchasing this book please visit the link below which will take you to ordering information through Amazon.com, the trusted online shopping network.
---
---