Railroad Glossary, Definitions and Meanings

Interested in a railroad glossary to learn about industry jargon, specific terms and exactly what they mean?  Included here are several pages providing just such information on this subject.  The railroad industry, like most of others, has amassed an interesting and often times confusing laundry list of meanings and slang that can typically trip up even seasoned railfans and enthusiasts.  My hope here is to be of at least some help in shedding light on many of these terms (I can certainly understand that, especially with those new to the hobby you can become lost and confused when it comes to attempting to understand these terms).  It has taken me years to learn and understand the vocabulary I now have, which is far, far from them all.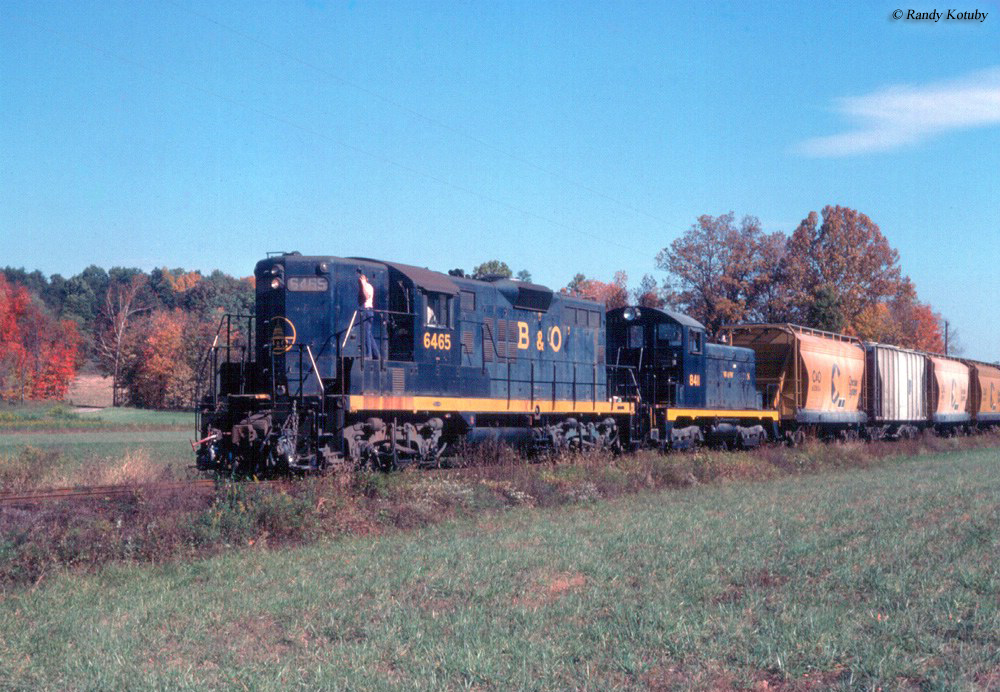 A B&O GP9, #6465, as well as a former SW1 now owned by the Winchester & Western but still in blue paint travels through the beautiful Virginia countryside bound for Gore during the fall of 1977.
Due to the fact that railroads have been around for nearly 200 years now it comes as little surprise that in that time a whole dictionary of words and meanings have sprung up describing everything about the industry from locomotives and rolling stock to tools and infrastructure. Over time and as technologies have changed new terms have come while others have went.  For instance, while tell-tales are no longer in use (devices place along the right-of-way, usually made of light chain, to warn brakeman working the rooftops that an impending obstacle was ahead) the FRED (Flashing Rear End Device) gained used in the 1980s as a replacement for the venerable caboose. Overall, however, today there are hundreds and hundreds describing every aspect of railroads from railroad ties to knuckle-couplers (something found almost exclusively in North America).
Unfortunately, there are currently no books available (which I am aware of) in publication that cover the general subject of railroad terms.  My goal and hope here is to not only provide definitions to understand their meaning but also break them down into subtopics so as to make it easier for study. Of course, I also cannot take credit for being able to cite all of these terms right off the top of my head (not even remotely possible!). While I do know a number of them many others come from friends and other resources, which I most certainly must thank for all of the help with (this "dictionary," if you would like to call it that, would in no way be possible without their help).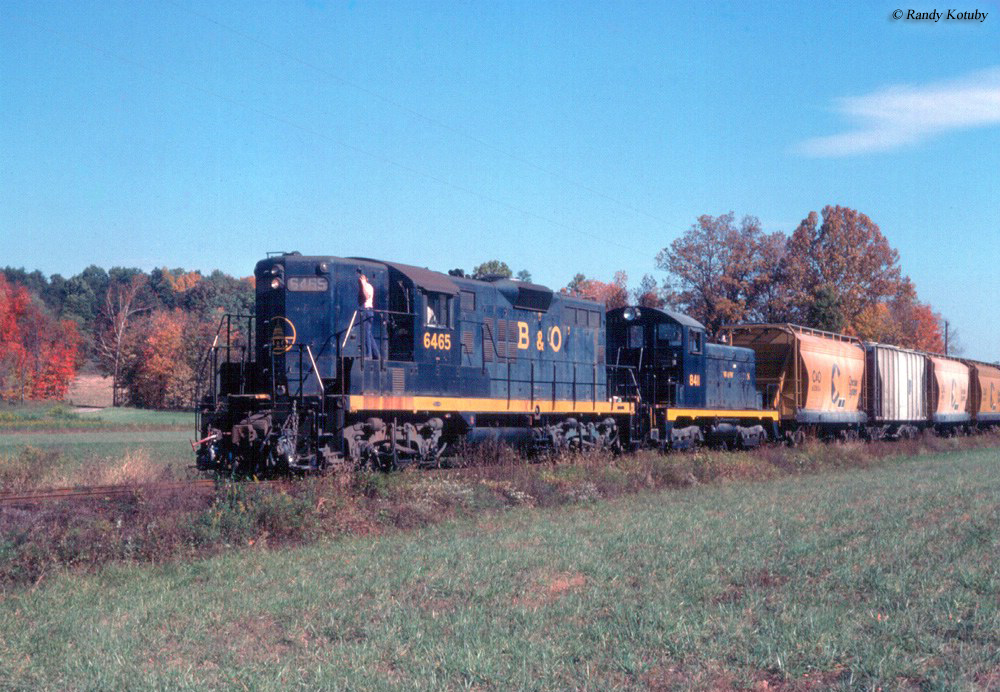 The Daylight livery adorning Southern Pacific 4-8-4 #4449 is quite striking as it returns home to Portland during May of 1989 heading through northern California. The steam locomotive had participated in the 50th Anniversary celebration for Los Angeles Union Passenger Terminal.
Below, I have tried my best to breakdown these terms and meanings into various topics to make them easier to find and understand; these include infrastructure, locomotives/equipment, and other general definitions.  Each page provides a great deal of information on each subject and typically includes hundreds of individual definitions.  Also, please keep in mind that if you are interested in learning more about some of the actual topics covered such as locomotives, signals, and infrastructure there are entire sections of the website which delve much deeper into those areas.  Finally, to learn more about railroad terms and meanings please visit this page at the Trains website.  They, themselves also have an entire library of meanings included there.
General Terms
Black Beetle, NYC's TurboJet Train

The First Aid Kit, A Brief History
Infrastructure and Property Terms
The pages below will link you to terms and definitions on things like frogs, diamonds, lineside structures and other railroading property and infrastructure.
General Railroad Infrastructure and Property Terms
Locomotive and Equipment Terms
The pages below will link you to terms and definitions on things like different locomotive types (steam, diesel, switchers, etc.), freight car types, and other related railroading equipment.
Other Railroad-Related Terms and Meanings
The pages below will link you to "general" terms and definitions that are not really covered in any of the categories above.
Railroad Organizations and Related Companies
---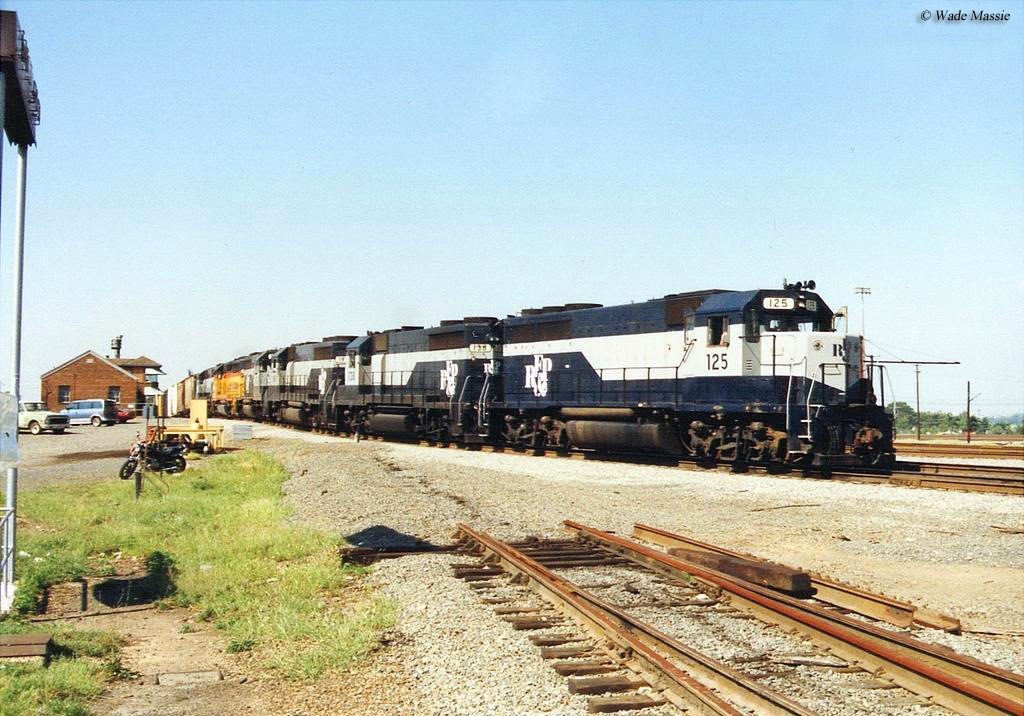 Six Geeps, including five Richmond, Fredericksburg & Potomac units and one from CSX/Chessie System roll over the old hump mechanism at Pot Yard located in Alexandria, Virginia during the summer of 1988.
If you are perhaps interested in further reading about railroads in general you may want to consider the book The Great Railroad Revolution: The History of Trains in America by author Christian Wolmar.  The book is a massive title spanning nearly 450 pages and has received numerous accolades since its release in 2012 for its well-written, detailed, and in-depth look at the railroad industry from its earliest history through today.  More importantly, however, Mr. Wolmar discusses how important trains were in the development of the country during the 1800s as well as their slow decline during the 20th century.  If you're interested in perhaps purchasing this book please visit the link below which will take you to ordering information through Amazon.com, the trusted online shopping network.