Railroad Stock Cars

Railroad stock cars, also known as cattle cars (although they hauled much more than just cattle), were once a common staple of freight trains. Before the advent of efficient highways and trucks railroads were able to derive considerable profit from hauling livestock thanks to its high priority status and time sensitive nature.  While cattle are most often thought of in this capacity other animals were also moved by train such as pigs and chickens.  As trucks gained a larger market share after World War II moving livestock (railroads were simply not as fast and animals normally did not move in large enough quantities at a time to make it efficient for the customer) this source of traffic became less and less desirable. As the 20th century wore on stock cars became a less and less part of freight trains and by the 1980s were rather rare. Today, livestock traffic is virtually non-existent and the stock car, like the caboose, has become an obsolete piece of equipment.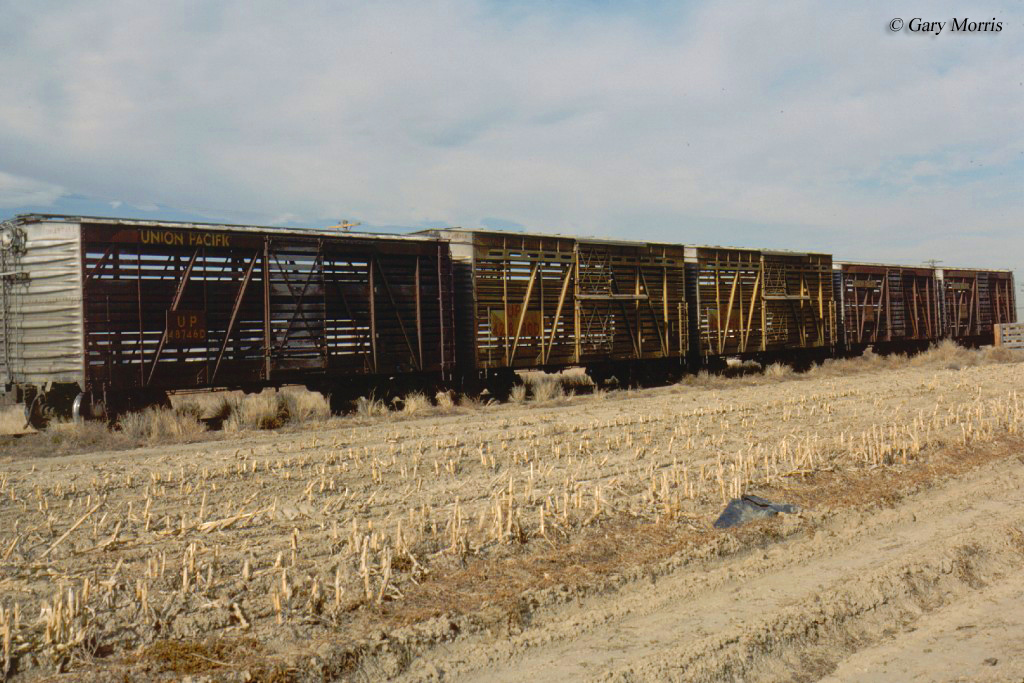 A string of Union Pacific stock cars are tied down on a siding in Greely, Colorado during November of 1976.
Railroad stock cars can trace their roots as far back as the beginning of the industry itself when animals first began to move by rail in the 1830s. During those early days there was no dedicated stock car as railroads simply used whatever was available to move livestock, usually early boxcars (with slats so the animals had fresh air) or open gondolas. It wasn't until the early 1860s that the stock car itself was introduced (during the early to mid-19th century many of the now common railroad freight cars were developed), using a standard design that did not change dramatically for the next 120 years.
The car was essentially a boxcar with a covered roof save for slated sides to allow for proper ventilation. The car was also equipped with a sliding door to, obviously, allow for ease of loading and unloading (some early cars also featured a removable upper deck to allow for different types of smaller animals to be transported more efficiently together, such as pigs and sheep). During the latter half of the 19th century through the 20th century railroad stock cars changed little in appearance save for their size and the materials used to build them. For instance, early stock cars could only carry around 20,000 pounds of livestock. However, by the early 1900s the cars could haul three times as much livestock, around 30 tons. During this time the car also came equipped with its only notable feature, more hospitable living quarters for the animals with the addition of water and feed troughs.
Newer Union Pacific stock cars roll through Cheyenne, Wyoming loaded with pigs in November of 1974.
As the 20th century progressed perhaps the only other notable change to the stock car was the material with which it was built. For the first nearly 100 years of its use the railroad stock car was built mostly or entirely of wood. However, during the mid-1900s all-steel construction became the norm and wooden cars became less and less common.  As railroads began to lose market share in livestock transport to trucks at a much more rapid pace following World War II, due to the development of the better highways (like the Interstate system) and more meatpacking plants (which continually reduced the distance from farm to market), they became increasingly disinterested in hauling animals.
By its very nature, livestock transport by rail was a time consuming and expensive operation as it not only took large amounts of land and personnel but also stock cars had to be positioned directly behind the locomotives in the train. The purpose of this was to not only give the animals the smoothest ride possible and allow for them to be quickly and easily fed, watered, and rested but also to most efficiently get the cars swapped in and out of the train. By the 1980s railroad stock cars had become mostly a novelty as farms switched to trucks to transport their livestock the now much shorter distance to market. Today, there may be a few holdouts but the stock car has become virtually extinct as the profit is just no longer there to move livestock by rail.
---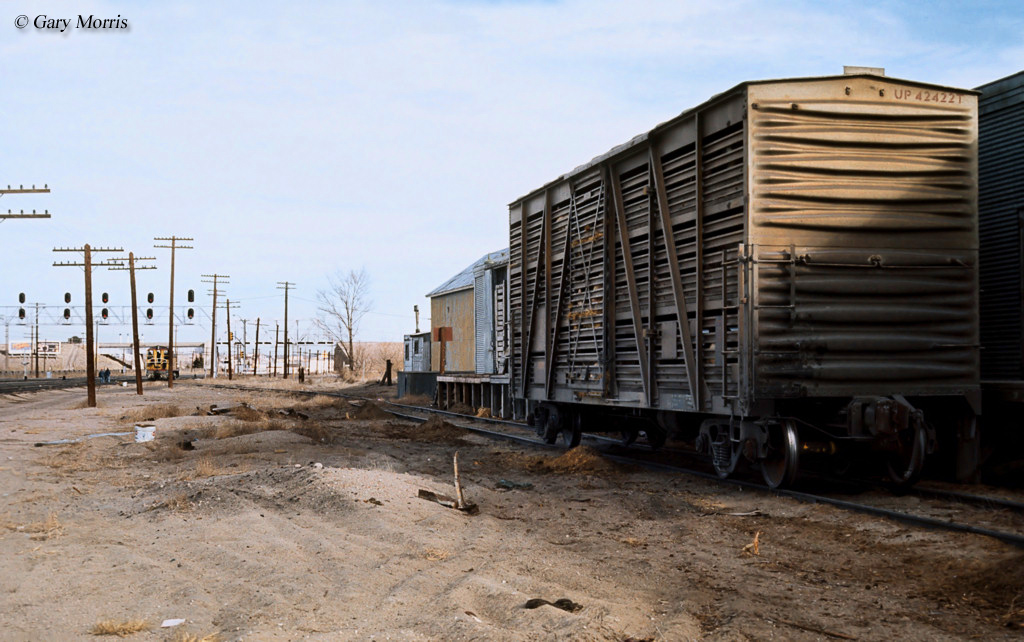 A single UP stock car loaded with pigs is about to be picked up at a customer siding near Cheyenne in November of 1974.
For more reading about railroad stock cars consider the book, Freight Train Cars, from Mike Schafer, one of the leading authors covering all corners of the railroad industry (from its history to present day operations). The book gives an excellent general history and overview on all of the common railroad freight car types and if you are interested in learning more about them, or you are simply looking to better understanding their history and development you should very much enjoy Mr. Schafer's book. If you're interested in perhaps purchasing this book please visit the link below which will take you to ordering information through Amazon.com, the trusted online shopping network.