Railroad Yardmaster

If you're interested in the position as a railroad yardmaster it is a little similar to that of the trainmaster position, except that you usually will not be directing the movements of inbound and outbound trains. However, like a trainmaster, the yardmaster's job can also be quite stressful and unpleasant at times. While the technologies have greatly improved over the years the yardmaster basic role has essentially remained unchanged, to oversee a railroad yard's operation. In essence the general responsibilities include issuing train orders, guiding trains through yard switches, overseeing hump operations (if the yard is equipped with such) and staying in constant contact with personnel on the ground.
CSX SD35 #4553 and a Family Lines unit run light through the yard in Hamlet, North Carolina on March 28, 1989.
The yardmaster essentially carries a smaller role than a trainmaster. While the position does not hold as much responsibility as a trainmaster (who must coordinate and direct all train movements in to and out of a yard), he or she still has a lot of responsibility in overseeing the direction of rail cars within the yard and assisting with the re-blocking of trains. This means that as yardmaster you must help in uncoupling individual cars, or sections of cars, moving them around the yard and reclassifying/rebuilding them into another train, which will then transfer the cars to the next terminal (unless it is a unit train).
Here is what the U.S. Department of Labor says about the position of the railroad yardmaster:
Yardmasters coordinate the activities of workers engaged in railroad yard operations. These activities, which are also performed by conductors, include making up or breaking up trains and switching inbound or outbound traffic to a specific section of the line. Some cars are sent to unload their cargo on special tracks, while others are moved to different tracks to await assembly into new trains, based on their destinations. Yardmasters tell yard engineers or other personnel where to move the cars to fit the planned train configuration. Switches many of them operated remotely by computers, divert trains or railcars to the proper track for coupling and uncoupling.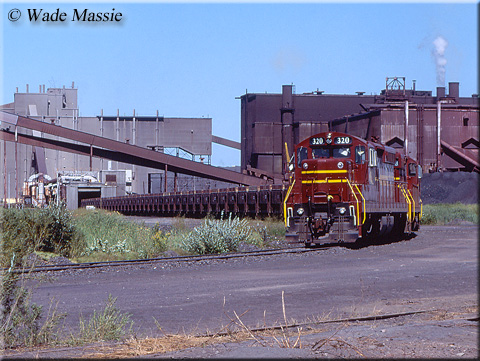 Duluth, Missabe & Iron Range SD9M #320 and a mate back a string of ore jimmies loaded with taconite into the Fairlane Plant at Forbes, Minnesota on August 15, 1994.
More information about the railroad yardmaster position can be found here from the Federal Railroad Administration.
As I have often said before, please be sure that before you enter the railroad industry you are fully aware just what you are getting into. Railroading is a lot different than most other industries, requiring long hours on the job working in all types of weather at any of time day. While working in the field can be very labor intensive at times perhaps the hardest aspect of the job itself is fighting fatigue, which is a constant issue train crews deal with.
Aside from this, however, the work can also be hard on family life as you are regularly away from home. Please be sure to keep this in mind when making your decision. I have both spoken with and read about several folks who have mentioned all of the activities they missed and wished they had not. Some even talked about how the work eventually led to divorces. In the end, its a personal decision you must make either by yourself or with loved ones.
On the flip side working in the railroad industry has plenty of benefits including great pay, excellent benefits, and a very good retirement (railroaders pay into their own retirement and not Social Security).
It should be noted that conductors are also called upon to do the work of a yardmaster so background training as such is required. For more information about railroad conductors please click here. In any event, if you're interested in searching for yardmaster and conductor positions in your area please feel free to use the search box below from Indeed.com, one of the leading online career resource guides.
---
---
A pair of CSX SD40-2s, #8187 and #8169, roll past D Tower at the Grafton, West Virginia terminal as they move empty coal hoppers westbound on June 12, 1996.
Again, if you are not even sure if a career in railroading is right for you but would like to learn more about what it takes to work in the industry you might want to consider the book Working on the Railroad from noted author Brian Solomon. Solomon's book details the history of working in the railroad industry and the difficulties and hardship employees faced back then as well as today. After reading this book you should have no doubts about whether working in the industry is something you are truly interested in. In any event, if you're interested in perhaps purchasing this book please visit the link below which will take you to ordering information through Amazon.com, the trusted online shopping network.
---
---