---
---
Roadmaster

The position of roadmaster is one of seniority and almost always require years to obtain. However, while the position holds stature it also comes with much responsibility. As roadmaster you are assigned a territory of track on the railroad to maintain and see that it is kept up to whatever standards the railroad has set forth regarding it. You also are over all maintenance personnel in the assigned territory and must see that they are where they're supposed to be. Likewise you must coordinate with surrounding roadmasters and territories, and no train can pass through your assigned territory without your approval. If you enjoy the responsibility of overseeing and leading a large group of workers than the position of roadmaster would be a very good fit for you.
(To search for potential railroad careers directly please use the search box below from Indeed.com, one of the leading online career websites.)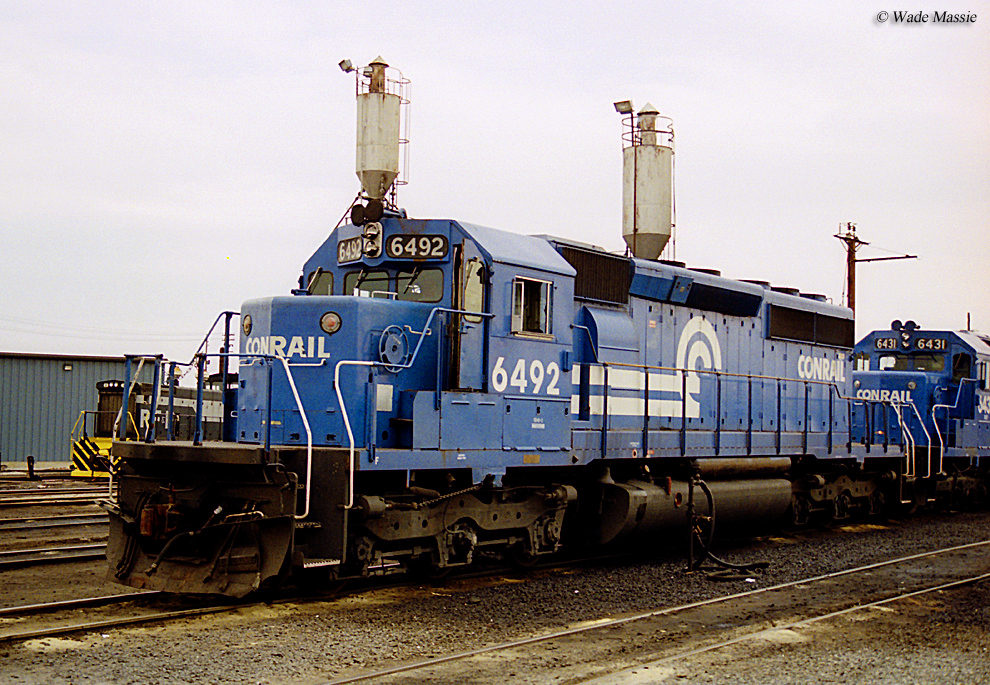 A pair of Conrail SD40-2s rest at Potomac Yard in Alexandria, Virginia some time during 1989.
As you may have already guessed the roadmaster is not a train crew position, he or she oversees a large section of main line and has authority over it. In simpler terms the roadmaster is essentially a management position as they hold the ultimate say regarding the territory they oversee. It should be noted that if you are interested in railroad management positions, roadmaster is another step up the latter and (I believe) it is one of the last "field" positions before taking a more permanent desk/office job. However, while the roadmaster is a management position, it still requires one to spend many hours working.
Remember, as a manager (in general) it's your responsibility to make sure that everything is operating smoothly along your section of railroad. For instance, here is what one railroad (BNSF Railway) requires for the position of assistant roadmaster:
Duties And Responsibilities

Responsible for various track maintenance support functions on territory/division in support of the overall field activity; including but not limited to: management of scheduled manpower activity, capital plan coordination and oversight, material management, claims management, recollectible activity management, safety management, resolution of community issues, coordination of meetings and training programs, World Class Maintenance and PARS process management, vehicle fleet management, roadmaster relief including weekend and night coverage.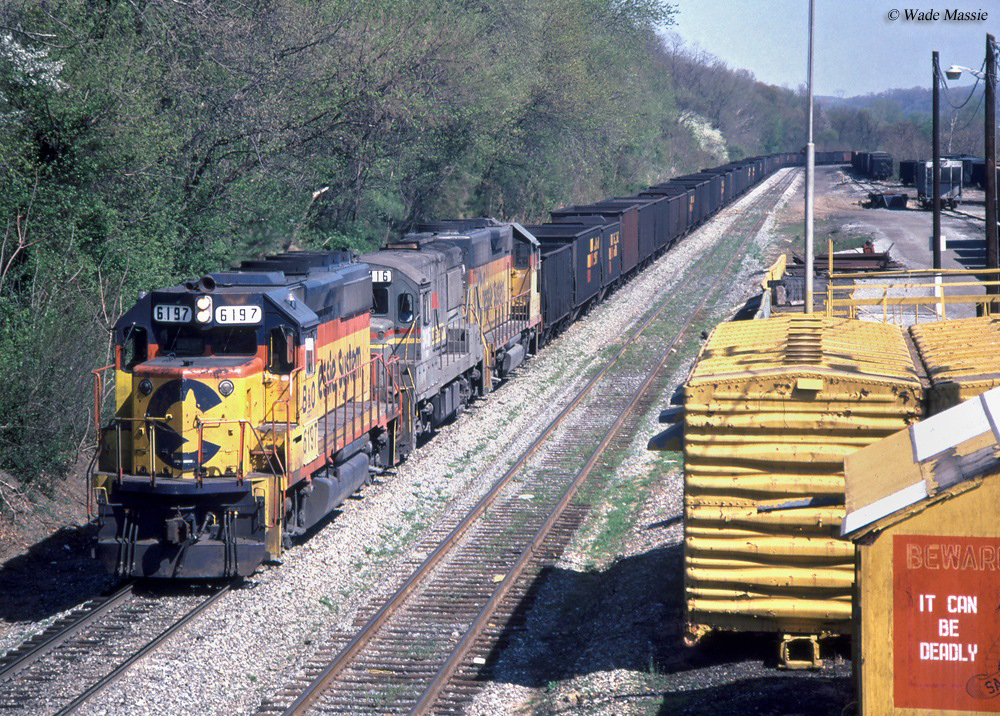 Chessie System/B&O GP40-2 #6197, a Seaboard U25B, and another Geep power a string of empty coal hoppers through Brunswick, Maryland during the spring of 1988.
Qualifications

Working knowledge of BNSF Engineering Instructions, Federal Railroad Administration Track Safety Standards and MOW Operating Rules. Working knowledge of BMWE Labor Agreements. Must be self-directed, motivated and have strong organization, interpersonal and communication skills. Must be safety conscious and able to support and contribute to a strong safety process.
Being that the job of roadmaster is still essentially a "field" position and requires one to be on call at any time of day (or night) your work schedule is basically whenever you are needed. However, being a seniority position also means that you have already held other positions (such as road foreman) and are quite likely already used to such sporadic and long hours.
In any event, if you are not aware railroading in general is very hard work and not everyone is capable of making a career of it due to the fact that it simply requires so much of your time and can make it hard on trying to juggle a family life. Perhaps more than any other factor [on the job], fatigue is what most railroaders have the hardest time with working 12 hours a day, seven days a week. Naturally, working so much makes it quite difficult for one to remain sharp and focused at all times while on the job.
Please Click Here To Return To The Main Jobs Page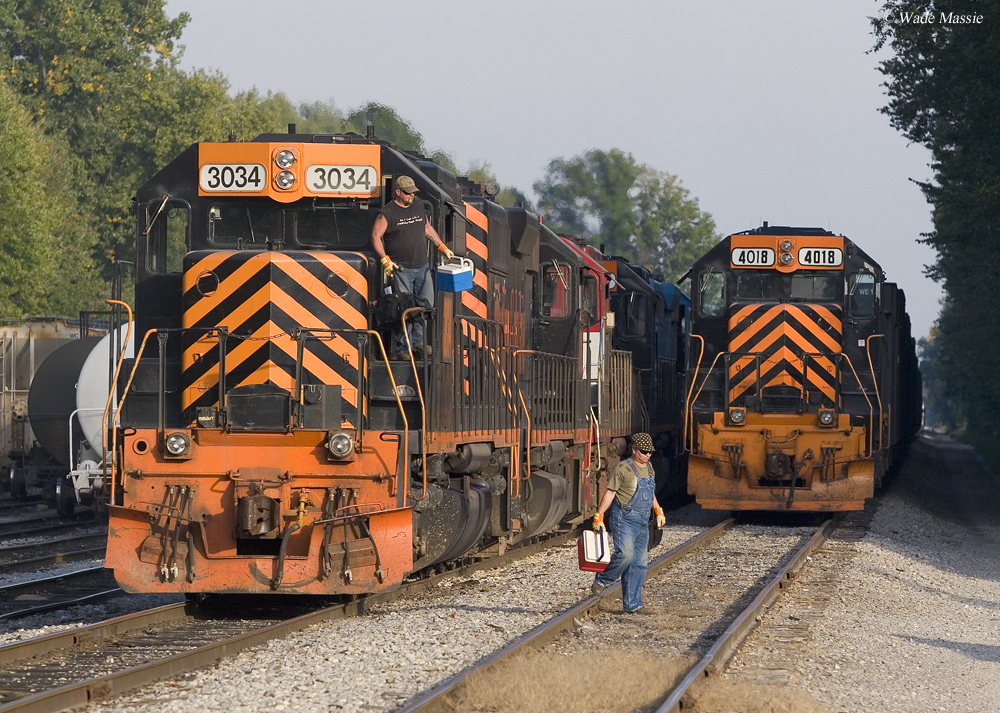 The crew of a Wheeling & Lake Erie freight, led by SD40-3 #3034, has "lawed out" and heads to the yard office in Hartland, Ohio on the evening of September 21, 2007.
As with most other railroad positions, the job as roadmaster can be very demanding and stressful due to all of the responsibility that is required of you. However, it can be very rewarding as well (especially if you enjoy managerial work) and the pay, as usual, is excellent on Class I railroads. Again, if you are not even sure if a career in railroading is right for you but would like to learn more about what it takes to work in the industry you might want to consider the book Working on the Railroad from noted author Brian Solomon. Solomon's book details the history of working in the railroad industry and the difficulties and hardship employees faced back then as well as today. 
Class I And Amtrak Career Information



Amtrak



BNSF Railway



Canadian National



Canadian Pacific



CSX Transportation



Kansas City Southern


Norfolk Southern


Union Pacific
Well-Known/Common Railroad Job Types



Brakeman



Conductor



Engineer


Signal Maintainer


Tie Gang Laborer



Dispatcher


Trainmaster



Yardmaster