The hot gases are then carried into the smoke box where they are funneled into the smoke stack and out of the locomotive. A quick note about the "modern" steam locomotive smoke stacks, most carry grating or some other type of screening to help reduce the amount of cinders (especially in the case when wood was used as fuel) which are projected into the air and can cause brush fires.  The roundhouse's primary function was for storage and maintenance of steam locomotives. However, since most steamers operated in only direction, forward, turntables were placed front and center of the roundhouse. So the building not only performed light maintenance duties but also allowed the locomotives to be turned if needed and the semi-circular design made things that much easier.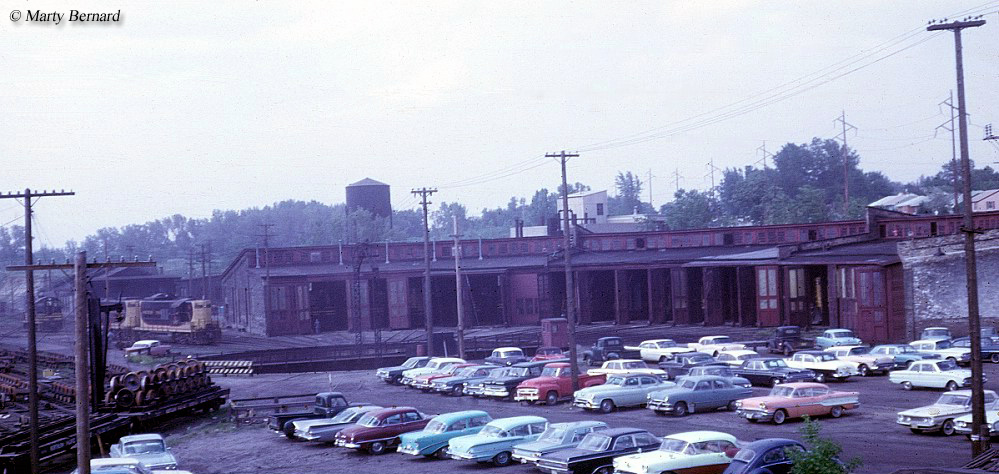 Unfortunately, the roundhouse was a very costly maintenance expensive since steam locomotives had to stop often to refuel and required many more man-hours to maintain than diesels. Because of this virtually every yard across the country contained a roundhouse of some size to provide general locomotive maintenance and turn them if needed.  However, by the dawn of reliable diesel locomotives in the late 1930s and early 1940s it was clear that not only steam was on the way out but also their homes, the roundhouse.While the building continued to be used through the 1950s, '60s, and even '70s by the 1980s it was more of an endangered species than an everyday aspect of railroading.
Since diesels required much less maintenance and could operate in either direction there was little need for a dedicated maintenance facility and turntable every 100 miles or so. When required, railroads found it much easier and less expensive to turn locomotives by using a "wye", or a "Y" shaped track that branched from a spur or main line and allowed the unit to be facing the opposite direction once it had returned back to the track from where it had started.  Today, you can still find not only preserved or standing roundhouses but also "new" versions of them. Railroads still use the building's function as means to get locomotives out of the weather and for minor maintenance issues but today they are more commonly known as engine houses and can be just a single stall or a large warehouse-type building on Class I systems. For Class Is they are usually based within a major engine terminal so as to consolidate as much maintenance into one confined location as possible.
If you are interested in fallen flags and classic systems before the modern merger movement took hold I would suggest purchasing one, or all three volumes of Mike Schafer's Classic American Railroads series of books. The publications feature a wealth of information and are loaded with coloredphotographs covering names like the Baltimore & Ohio, Santa Fe, Pennsylvania, Milwaukee Road, and lots more. If you have any interest in most famous bygone railroads which once operated in the U.S. I would strongly recommend picking up one, two, or even all three of Mr. Schafer's book. I truly cannot say enough just how enjoyable and fun they are to read and peruse through. 


Home

›

Railroad Infrastructure

› The Roundhouse