Shore Line East, Serving Connecticut

Shore Line East is the Connecticut Department of Transportation's (ConnDOT) commuter rail system, which connects New Haven with New London, Connecticut. Since the service's inception more than 20 years ago it has become a very successful operation, which is one reason it was saved from an attempted shutdown by one-time governor Lowell Weicker. For railfans, however, what makes Shore Line East's operations so unique and interesting is its nod to history. Because SLE operates over the ex-New Haven Railroad's main line, which connects Boston and New York City, it has painted its locomotive fleet in the road's famous "McGinnis" livery of eye-catching orange, white, and black.
An SLE commuter train is in push mode, powered by an unseen GP40-2H as it crosses the Shaws Cove swing bridge near New London, Connecticut on June 13, 2002.
A relatively newer commuter operation, Shore Line East dates back to 1990 when it was created by the Connecticut Department of Transportation to serve Union Station in New Haven and a connection with Amtrak at New London. Connecting services at the system's two determination points also allow riders to reach further points like Boston and New York City. Even the Shore Line East's name is a nod to the New Haven as the section of line the commuter service operates on was originally called the Shore Line by the NYNH&H.
The New Haven Railroad, its complete name the New York, New Haven & Hartford Railroad, was a mid-sized Northeastern carrier that is best remembered for moving more people than freight (interestingly it derived a good portion of its revenues from commuter services). At its peak the New Haven Railroad stretched across most of New England (even owning the Maine Central and Boston & Maine) and served its largest cities from Boston and Providence to New York City. In the end, however, poor management would cost the railroad by the mid-20th century and forced it into bankruptcy by the 1960s.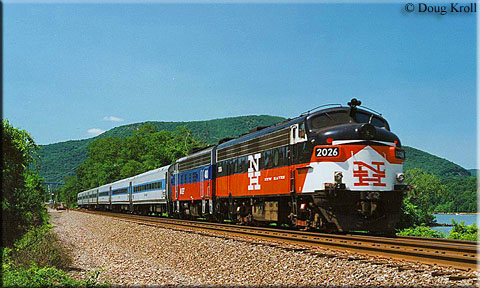 Resplendent in the old New Haven's "McGinnis" livery is a former NYNH&H FL9 leading a Shore Line commuter run near Manitou, New York on July 25, 1999.
In an interesting twist as a condition of the merger the NH was forced into the ill-fated Penn Central Corporation and disappeared into Conrail in 1976 after PC and the entire Northeastern rail market collapsed.  The New Haven's strength was in its ability to haul thousands of passengers and commuters along its high speed main line between New York and Boston (which continues to this day), and points in between. While the railroad did have a strong presence hauling freight, especially during the early 20th century, it also had a very strong passenger/commuter market because of the fact that it offered the only direct Boston-New York rail connection (and it naturally marketed this quite heavily).
Since 1990 SLE has steadily been growing and today serves 11 different stations operating its trains in the "push-pull" fashion using diesel locomotives for faster operations (thus saving time). The idea behind push-pull operation is instead of having to run the lead locomotive around the train to be on the head-end once it completes it journey it simply pushes the train from behind (thus making the last car the head-end). While this may seem unsafe the FRA has concluded that there has been no evidence to prove such and you are just as safe riding in push mode as you are in pull mode (this following the deadly Metrolink accident in California in 2005 when a fool parked his SUV on the tracks causing a horrendous crash among three different trains).
---
On an overcast and drizzly May 22, 2004 a newer P32-9DM, #229, is near Beacon as it pushes a southbound commuter train towards New York City.
The future for the Shore Line looks even brighter. Now that Amtrak has electrified its Northeast Corridor between New York and Boston the commuter line is seriously contemplating purchasing electric locomotives to replace its diesel fleet, which should allow for even faster transit times (if they do purchase electrics this will do away with the push-pull operations). So, even after 30+ years since the New Haven pulled its last commuter train, most of its routes, especially its New York-Boston main line, continue to be a vital link for commuters heading to work all along the New England coast. If you would like to learn more about the Shore Line East or are perhaps considering using the system please click here to visit their website.