Sierra Railroad, Hollywood Movie Star

The Sierra Railroad, located in the north-central part of California, operates within the Sierra Mountain Range as its name implies. The railroad is also one our nation's oldest that remain in service, originally founded in 1897. The company has been a shortline carrier (Class III) for all of its life and during much of that time hauled mainly timber and lumber products between Keystone and Oakdale, California with several branch lines radiating off its main line (recently the railroad also gained a new source of traffic in hauling propane, something it has not done for several years). Today, the company is perhaps best known for being a popular tourist destination but it also continues to haul freight via fully-owned subsidiary Sierra Northern Railway.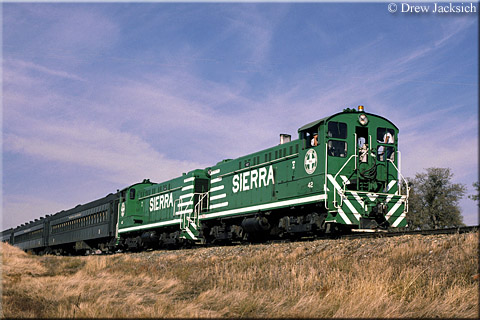 Sierra's only two new Baldwin S12s, #40 and #42 purchased in 1955, host an excursion near Keystone, California on October 26, 1985. Sadly, #40 was scrapped in February of 2008 while #42 remains stored, serviceable.
In the mid-1990s the railroad was nearly sold off and most likely would have been scrapped but fortunately was purchased by a new owner, which in turn rebuilt and rejuvenated the struggling company. After being merged in the late 1990s with the Yolo Shortline Railroad, today the Sierra Railroad is famous for the many movies it has starred in along with its freight division, which is known as the Sierra Northern Railway and interchanges with both the Union Pacific and BNSF Railway. The little shortline does not roster many locomotives although it does have a few Geeps and rare Baldwin S12s.   In an attempt to bring more awareness to the railroad in the late 1970s the Sierra Railroad began operating the country's first dinner train service. Known as the Supper Chief it was an instant success and the idea quickly caught on with other tourist railroads, including some shortlines, around the country as it gave an added dimension to the services they offered.  
Sierra GP20 #50 pulls a string of empty centerbeam flats near Oakdale, California on July 7, 2009. This Geep began its career on the Santa Fe as #1130 in 1961.
In 1982 the Supper Chief was discontinued when the railroad was sold by the Crocker Family. However, this was the least of the railroad's troubles. Struggling to stay afloat by the late 1980s it was purchased by Mike Hart in 1995 and has had a much more stable footing ever since.  Hart purchased new equipment and rehabilitated a right-of-way that was desperately in need of repair. Today the Sierra Railroad continues to haul freight between Oakdale and Keystone and with its popularity as a mecca for movie-making (over 300 movies, commercials, and other TV spots have been done on the railroad) and the business prowess, thanks to Mike Hart, the Sierra has been quite successful over the last decade.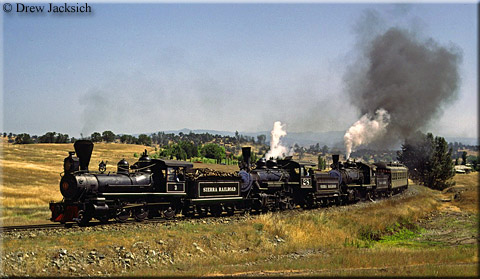 During the era when steam excursions were quite common on the Sierra, this fabulous scene shows a triple-headed run with 4-6-0 #3, 2-8-0 #28, and 2-8-2 #34 at rural Chinese Camp, California on May 27, 1979.
Today, the Sierra Railroad offers all types of tourist trains, from the rejuvenated Skunk Train to dinner trains. In 2003 it was merged with the Yolo Shortline and while the entire tourist and freight operations as a whole are still known as the Sierra Railroad the freight division is now known as the Sierra Northern Railway. For more information about the Sierra Railroad please click here to visit their official website, which includes full information about their excursion train services.
Sierra Railroad Locomotive Roster
| Builder | Model Type | Road Number | Notes | Quantity |
| --- | --- | --- | --- | --- |
| Lima | 3-Truck Shay | 2 | Purchased new, 1922. Currently Operational. | 1 |
| Rogers Locomotive And Machine Works | 4-6-0 Ten-Wheeler | 3 | Purchased new, 1891. Under restoration. | 1 |
| Baldwin | 2-8-0 Consolidation | 28 | Purchased new, 1922. Operational. | 1 |
| Baldwin | 2-8-2 Mikado | 34 | Purchased new, 1925. On Display. | 1 |
| Baldwin | S12 | 40, 42, 44 | Purchased new, 1955, except for #44, bought in 1966 from Sharon Steel (originally #10). | 3 |
| EMD | GP9E | 46 | Ex-SP GP9 #5731 | 1 |
| EMD | GP7 | 47 | Ex-Reading #607 | 1 |
| EMD | GP20 | 48, 50 | Ex-Santa Fe | 2 |
| EMD | GP9 | 131-133 | Ex-SP/T&NO/SSW | 3 |
| EMD | GP7u | 134, 136 | Ex-Santa Fe GP7s | 2 |
| Alco | MRS1 | 546, 612-613 | Ex-U.S. Army | 3 |
| Whitcomb | RS-4-TC | 1265 | Ex-U.S. Army | 1 |
---
Sierra 2-8-2 #28 and McCloud Railroad #18 are seen here at the wye near Oakdale, California on November 4, 2007. The author notes that #18 will make the return trip to Warnerville while #28 will run light back into Oakdale.
The only widely-printed book known to thoroughly look at California's history with railroads is Railroads of California by noted author and historian Brian Solomon.   Through 160 pages the book gives a general overview of the state's railroads through the years.  Additionally, it also covers today's museums and tourist lines found there from the California State Railroad Museum to the Napa Valley Wine Train.  And, as with every one of Mr. Solomon's books it is filled with rich, vibrant photographs.  If you're interested in perhaps purchasing the book please visit the link below which will take you to ordering information through Amazon.com, the trusted online shopping network.