Its greatest exterior feature was a grand 280-foot clock tower as well as towering Romanesque arches.  On the interior the terminal featured a 65-foot vaulted ceiling in the Grand Hall with stained-glass windows (manufactured by St. Louis firm Davis & Chambers).  The inside was split into three main sections; the Headhouse (where the Grand Hall was located featuring mosiacs/frescoes by Healy & Millet [also of St. Louis], gold leaf details and scagliola surfaces); the Midway (which was the main concourse measuring at 610 feet long by 70 feet wide); and finally the 600-foot wide Trainshed (designed by engineer George H. Pegram) which featured 32 tracks on nearly 12 acres of ground.  As construction and design plans came together the Terminal Railroad Association of St. Louis was formed in 1889, jointly owned by the the original tenants (MP, StLIM&S, Wabash, O&M, L&N, and the Big Four). 
The station would ultimately combine 31 different rail lines and at its height served 22 different railroads (some of which later joined the association).  Several of the very best trains ever put into service passed over the TRRA's rails including the B&O's National Limited and Diplomat; the NYC's Knickerbocker and Southwestern Limited; the Missouri Pacific's Missouri River Eagle, Missourian, Ozarker, Southerner,Sunflower, Sunshine Special, and Texan; Gulf, Mobile & Ohio's Abraham Lincoln; the L&N's Humming Bird; Pennsylvania's Spirit Of St. Louis and Penn Texas (joint with MP); and about all of the Wabash's named trains like the Bluebird and the Wabash Cannon Ball (there were many more).   Today the TRRA railroad is still in operation as a freight carrier owned by BNSF Railway, CSX Transportation, Canadian National Railway, Norfolk Southern and Union Pacific.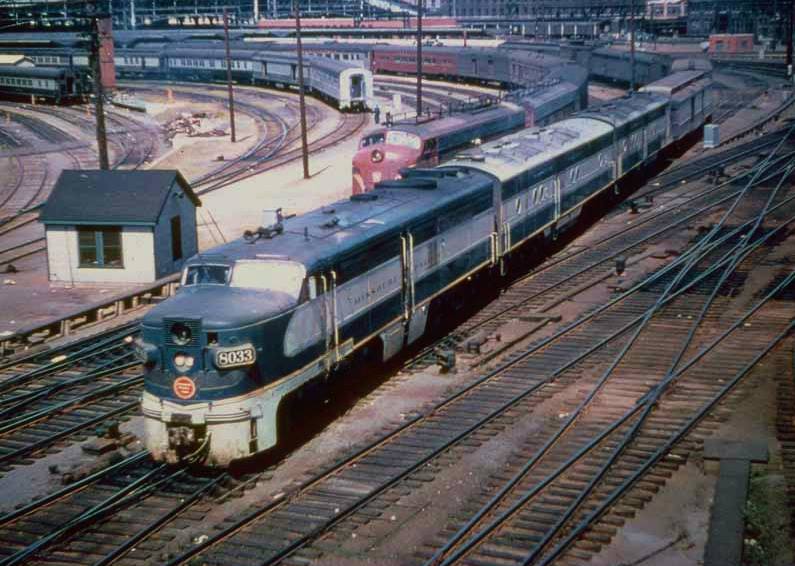 ---
---
St. Louis Union Station opened to the general public amid great fanfare on September 1, 1894 at a cost of $6.5 million.  It was one of the earliest malls in the country with stores lining the arcade behind the Grand Hall and sporting an open, light, and airy atmosphere.  After fewer than 10 years of service it was overhauled in 1903 to accommodate the many visitors for the upcoming 1904 World's Fair held in the city that year.  It saw one final update in the 1940s, mostly revolving around the interior and then slowly declined during the 1950s and 1960s as the traveling public abandoned trains for highways and airlines.  On May 1, 1971 Amtrak took over most intercity rail services across the country and Union Station was left with only three trains still calling at its trainshed.  Finally, on October 31, 1978 the last train departed, the Inter-American (Chicago - Laredo, Texas).  However, unlike many of its counterparts the building soon found a new life when it was purchased by Oppenheimer Properties for $5.5 million.

The new owners quickly set about a major overhaul of the structure, envisioning a popular entertainment venue albeit without long-distance rail service.  It reopened to the public during August of 1985 after a restoration of $150 million.  Today, Saint Louis Union Station is perhaps in better condition than it ever was under railroad ownership.  The interior's lavish decorations and restored rooms have transformed it into one of the city's preeminent destinations. You can find more than two dozen places to dine inside as well as numerous shops and specialty stores. In 2011 the station finished a major restoration and upgrade by Marriott Hotel in the building's main terminal, moving several stores to the next door train shed. This has allowed it to provide even more luxurious accommodations for travelers and visitors.  While it has been discussed recently to remove the four remaining tracks serving the station, today service is still available via Metro Link.


Home

›

Stations And Depots

› St. Louis Union Station