South Dakota Railroads and Railfanning In "The Mount Rushmore State"

South Dakota are not what they once were as the state has seen its mileage plummet since it spiked during the industry's heyday of the 1920s. Today, both Class Is BNSF Railway and Canadian Pacific continue to have a significant presence in the Mount Rushmore State along with one Class II, regional and just a few shortlines. Part of the reason South Dakota has lost so many miles of railroad is the result of numerous branch lines that tapped grain elevators and other agricultural business in the state's eastern regions, which by the 1950s was either switching to other modes of transportation or could no longer support so many railroads in the granger region. Western South Dakota in the mountains of the Black Hills used to include much trackage serving numerous mines although today only include the CP and BNSF's line to Wyoming's lucrative Power River Basin coal region (it remains to be seen as to whether the Canadian road will ever complete the DM&E extension into this area).
Chicago & North Western GP9 #1730 and GP7 #1597 rest at the engine terminal in Proviso Yard at Melrose Park, Illinois near Chicago on July 9, 1966.
South Dakota railroads date back to 1872 when the original Dakota Southern Railroad completed its main line between Vermillion and Sioux City, Iowa a distance of roughly 37 miles. Interestingly, the idea for the railroad began in January of 1872 and by early fall that same year it was completed and in operation. The Dakota Southern would eventually become part of the Chicago, Milwaukee & St. Paul Railroad (predecessor to the company today commonly known as the Milwaukee Road). Following the Dakota Southern the Mount Rushmore State would find itself home to well-known Midwestern railroads like the Milwaukee Road, Chicago & North Western Railway, CB&Q and CRI&P. To learn more about these lines please check out the links below.
Chicago, Rock Island & Pacific
While what remains of South Dakota's rail network is mostly owned by BNSF and CP there are several smaller companies in operation there as well. These include regional Dakota, Missouri Valley & Western Railroad and shortlines D&I Railroad, the new Dakota Southern Railway, Ellis & Eastern Railroad, Sisseton Milbank Railroad, Sunflour Railroad, and the Twin Cities & Western. To learn more about these railroads please click here to visit the state's career page. While the page is meant for job seekers it also lists brief descriptions of all of the smaller companies operating in the state as well as available contact information.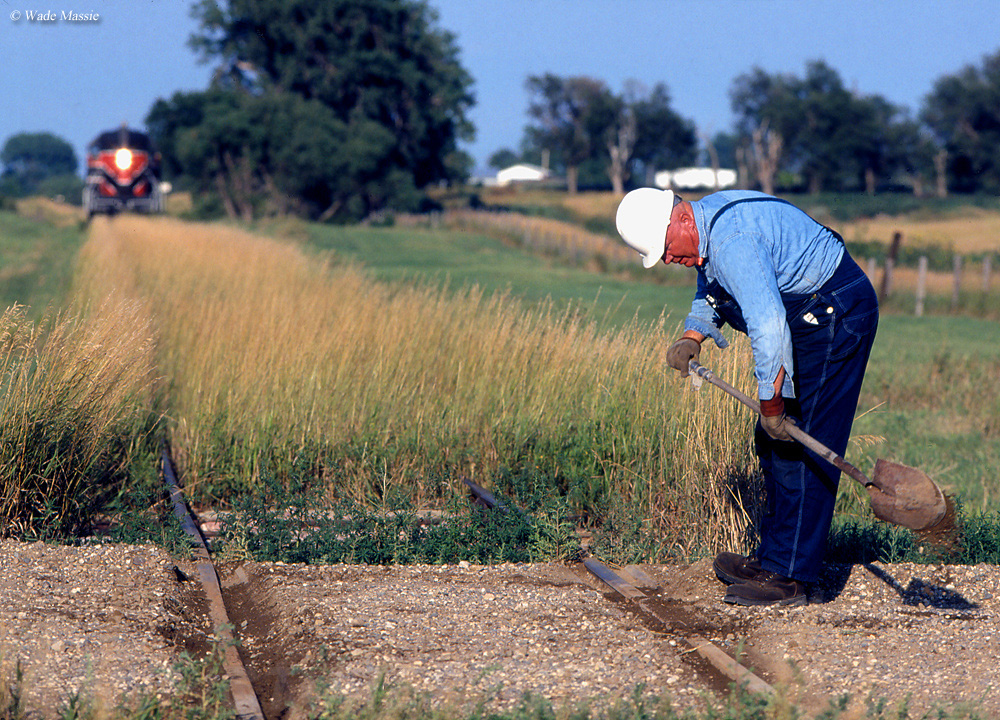 Dirty Rock Island GP35 #301 and a mate roll past the depot at Tomball, Texas (not far from Houston) with a northbound freight along the Fort Worth & Denver during August of 1977.
South Dakota railroads today operate just 1,800 miles of a network that once featured more than 4,200 miles. Having lost 57% of its railroad infrastructure since the 1920s the state is far above the average declined during that time for most states which ranges between 45% to 50%. Much of this loss can probably be explained by the fact that agriculture has always played such a large role for the state's economy and railroads began to lose a lot of this business following World War II. For a more in-depth look at the state's rail mileage over the years please take a look at the chart above.  While South Dakota railroads do not include many museums or tourist railroads they do feature the famous Black Hills Central Railroad which operates the last running Mallet, a 2-6-6-2T type.

As for passenger train services, historically only the Milwaukee Road's transcontinental Olympian Hiawatha traveled through South Dakota while competitors Great Northern and Northern Pacific traveled through North Dakota with their important streamliners. Unfortunately, today, Amtrak provides no services in the state. For more history of South Dakota railroads please check out the link below.
Surviving South Dakota Train Stations
In all, South Dakota railroads include some interesting and unique operations on a beautiful backdrop setting of our country's Northern Plains region. While railroading here is not as prolific as it once was you will quite likely enjoy seeing that which remains, from main line railroading to local shortline operations.
---
This photo illustrates well how important railroads remained even through the declining years of the 1960s; at center is a Burlington freight rolling under the signal bridge as it nears Montgomery Tower in Illinois on September 10, 1964 led by F3A #133-D, F3B #133-C, and a GP30. However, also note all of the spur tracks serving nearby industries, such as Lyon metals to the right and the rails leading into the grain elevator behind the tower and depot to the left.
If you enjoy the state's history with trains you might like the book South Dakota Railroads by authors Mike Wiese and Tom Hayes.  The title comes from Arcadia Publishing's "Images of Rail" series and primarily features a collection of historic photos through 128 pages.   Although they do not contain much text I have several of Arcadia's titles from this series in my collection and have thoroughly enjoyed all of them for the pictures alone (all of which are featured in black and white).  If you're interested in perhaps purchasing the book please visit the link below which will take you to ordering information through Amazon.com, the trusted online shopping network.