The WGNR began as a request by the Lake Superior Railroad Museum to have a dinner train operated by the Duluth & Northern Minnesota Railway, a hoped-for freight line owned by Greg Vreeland and Kent Rengo that never materialized. In early June of 1996 the company debuted the dinner train on trackage owned by the museum and pulling two restored cars, a Duluth Missabe & Iron Range solarium coach dating to 1938 and a diner for food service. With the success of the first season in the summer of 1996 Vreeland and Rengo wished to start their own dinner train operation, incorporating the Wisconsin Great Northern Railroad on April 1, 1997 to operate seven miles of the ex-Chicago & North Western trackage near Spooner.
With the original Chicago, Minneapolis, St. Paul & Omaha Railroad (a C&NW predecessor) freight and passenger depots still standing the two buildings made for a perfect boarding/de-boarding location for passengers. After much work to rehabilitate the line and update the depots the WGNR's first train departed Spooner on June 13, 1997, and has remained in continuous operation since that time.  While the Wisconsin Great Northern Railroad currently takes you on a sightseeing journey through northwestern Wisconsin the hope for the railroad is to not only operate passenger trains but to one day resume freight service as well. In any event, in the meantime your trip between Spooner and Springbrook offers not only beautiful scenery but also a great meal aboard the train.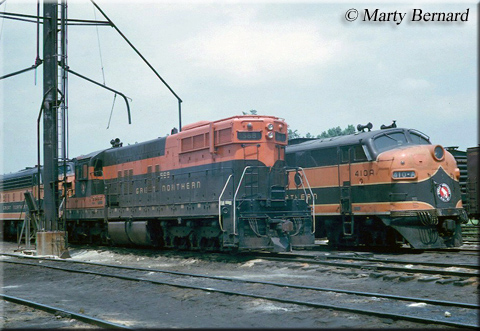 Great Northern power lays over in Minneapolis on June 8, 1964. Pictured is an F7A, SD7 #568, and FTA #410-A.
Costs for the trip are very reasonable considering you are being provided a full-course meal on board and they do offer family packages and children discounts.  For the train itself you will ride in vintage heavyweight passenger cars that range in age from 83 to 96 years. All have been rebuilt into either coaches or diners and offer a pleasant riding experience during trips. For power you will ride behind either a streamlined EMD F7 diesel-electric locomotive or an EMC SW1 diesel-electric switcher locomotive, which have been painted in a resplendent version of the Great Northern Railway's passenger livery (dark green and orange).  Other features offered on the railroad include charters of cabooses and if you have a group of 200 persons you can even charter the entire train itself! 
In any event, a trip aboard the WGNR is most certainly a memorable experience with the fine food served during your trip and the passing scenery. So, if you're ever in northwestern Wisconsin or just interested in something different to do consider taking a ride on the railroad, if nothing else it is a great way to relax. And, as railroad president Greg Vreeland says himself, "I hope that you will drop in and take a ride on our railroad if you're ever in Northern Wisconsin."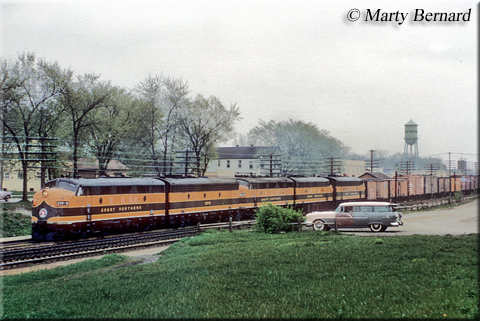 An A-B-A-A-A mix of F3s and F7s led by F3A #259-A lead a long string of boxcars past the depot in Westmont, Illinois on a rainy and overcast spring day in late March of 1962.
To learn more about the Wisconsin Great Northern please click here to visit their website. It provides much more information about everything they have to offer from large group and school charters to special events and trains operated throughout the year (they now host wedding trains as well).  Finally, their site also offers a complete annual operating schedule/calendar as well as directions of how to reach the railroad.   If you are perhaps interested in learning a little more about the Chicago & North Western please click here. Also, for more information about excursion trains like the Wisconsin Great Northern Railroad you might want to consider the book Tourist Trains Guidebook, which is put together by the editors of Kalmbach Publishing's Trains magazine.