State Railroad Operations, From North Carolina to California

State-by-state railroad operations can be as varied in the traffic they generate as the differing topography. Likewise, in eastern rail traffic has traditionally been a short-haul game (although that has begun to change in recent years with the mega-merger movement) whereas western railroading has been long-haul (the difference is that long-haul traffic usually earns one much more income per ton than short-haul). Also, some states have come to be known for certain things. For example, Illinois is known for its myriad of different railroads and hub of Chicago; Texas and the Gulf Coast for its petroleum industry; California and Washington for their large and ever-growing seaports (where container traffic has exploded); and West Virginia and Wyoming for their large reserves of coal.  From a general standpoint, let's break down state operations into eastern and western sections, the types of commodities and traffic usually found within each, why they offer long-haul and short-haul traffic, and from a railfan perspective what makes each appealing.
Eastern Operations
To begin, let's look at the eastern half of the country. Obviously, eastern railroads are where our nation's industry has its birthplace. While there were scattered private rail operations already in place in the early 19th century it was the Baltimore & Ohio, founded in February of 1827, that kicked off the common carrier systems. Eastern railroading is where you will also find the oldest main lines and those that carry the classic and bucolic stone bridges such as the B&O's well-known Thomas Viaduct in Maryland and the Pennsylvania Railroad's famous Rockville Bridge in Pennsylvania, a massive structure that spans the Susquehanna River and once carried four railroad tracks.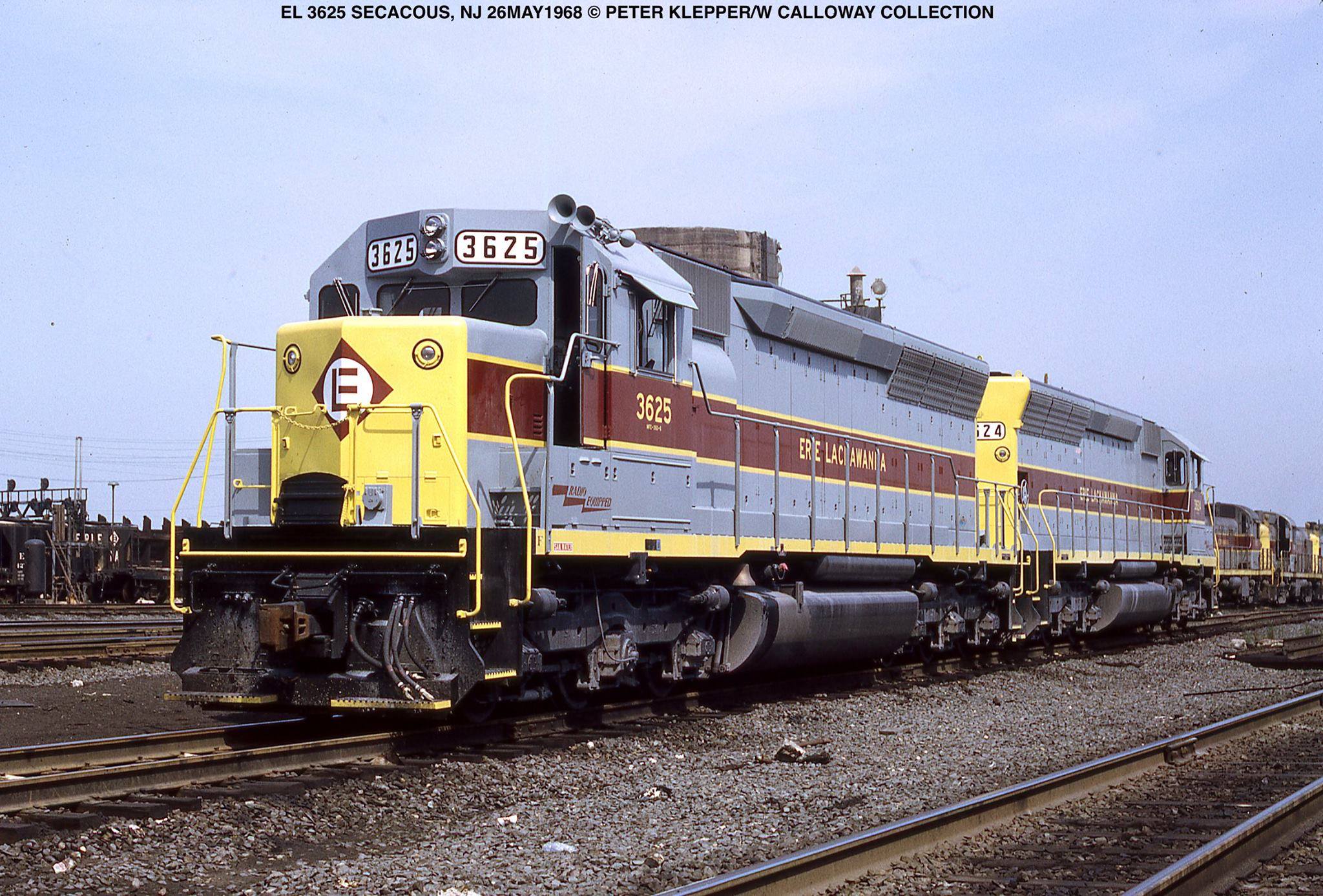 Kansas City Southern GP38-2 #4016 and several other Geeps are awaiting a crew change for their westbound train at Station, Mississippi on April 15, 2000.
Eastern railroading is also riddled with tunnels, low and tight clearances, and a lot of single-tracked territory (as the cost of double-tracking some of these mountainous main lines has simply been too expensive). One need only look at the B&O's former St. Louis main line to understand all three of these concepts. This line was by far the steepest and toughest of the original trunk lines (those serving the large East Coast and Midwest markets). Almost its entire line between Baltimore/Washington and St. Louis was single-track territory and its battles over Cranberry Grade in eastern West Virginia were legendary. Couple this with its Parkersburg Branch between Clarksburg and Parkersburg, West Virginia where clearances were very tight and one has a better understanding as to why the B&O had such a tough time competing with the larger New York Central and PRR.
The reasons behind eastern railroads being stuck with the less profitable short-haul traffic are fairly straightforward. In the east large cities are much closer in proximity to one another than in the west (where they are typically hundreds of miles apart) and trains sometimes only took a few hours to deliver their goods (such as the Boston-New York and Baltimore-Washington corridors, just to name a few). Before the days of better automobiles, trucks, and highways (like the Interstate system) this short-haul traffic was of little concern for railroads as they had a near 100% control of the intercity transportation market (both freight and passenger). However, as automobiles improved and the Interstate came into existence this short-haul and less-than-carload (LCL) traffic began to not only disappear but also became much more expensive to haul as railroading equipment became larger, more sophisticated, and overall more expensive to operate. As such, this problem was most apparent in the Northeast where well over a dozen large Class I railroads were fighting for an ever-shrinking traffic base, particularly after World War II.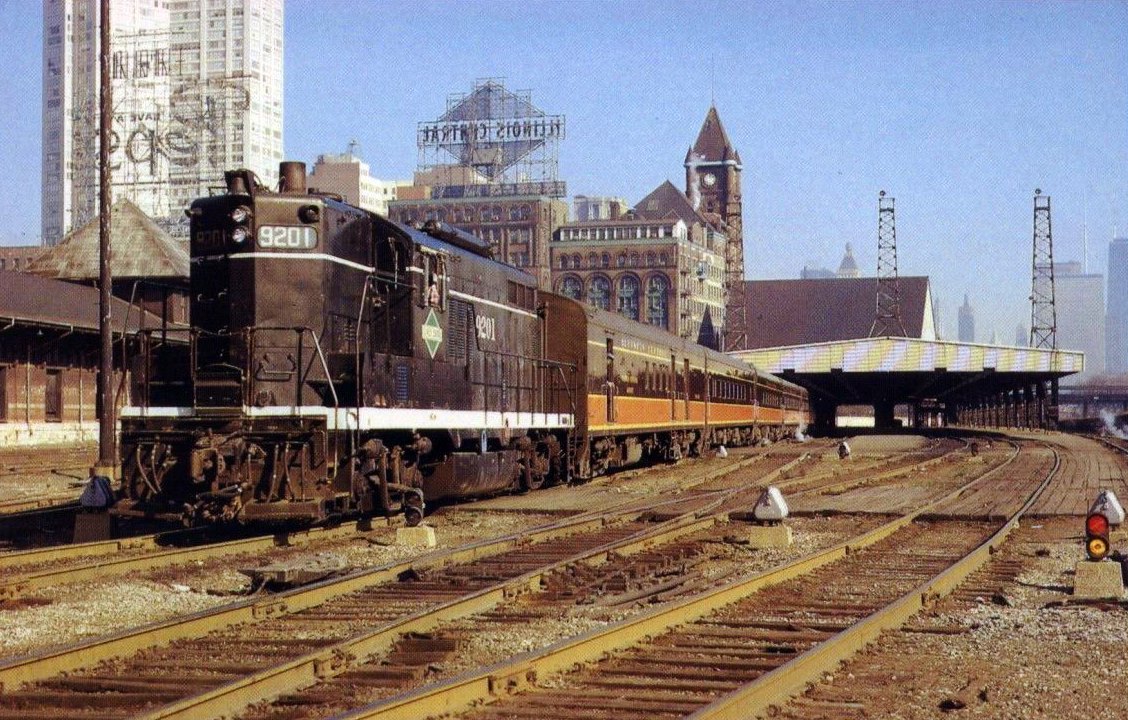 Several Great Northern Geeps and a U25B head up their train through Mid Canon, Montana on June 10, 1964.
Obviously, there was no hope of all these railroads surviving on such meager earnings and the meltdown of the ill-fated Penn Central Corporation (the result of no traffic and stifling regulation) in the 1970s started a chain reaction that drove the rest of the Northeastern railroads into bankruptcy and the entire region's transportation network into chaos.  However, with the coming of Conrail following the northeastern and the creation of CSX and Norfolk Southern in the 1980s (and then the splitting of Conrail amongst themselves in 1999), along with the Staggers Act of 1980 that partially deregulated the railroad industry, eastern operations have become much more profitable as the railroads have gained longer hauls and been able to find their place within the transportation network.
Two Milwaukee Road Little Joes and a Geep power the eastbound priority freight #264 through Bonita, Montana during June of 1964. The Little Joes still sport their passenger livery for the Olympian Hiawatha which was canceled a few years before in May of 1961.
Traditionally eastern railroading traffic has been made up of things like coal, wood products, aggregates, scrap, and chemicals although in more recent years (roughly beginning in the 1970s) TOFC and COFC service has become a large stable as well, as products arriving from China to western ports makes their way to eastern markets.
From a railfan perspective there are several areas/operations in the east that are appealing whether because of their large volume of trains or geological/historical wonders. These include places like Horeshoe Curve and Sand Patch in Pennsylvania; the very steep Saluda Grade in North Carolina; anywhere along the Northeast Corridor between roughly Washington, D.C. and Boston, Massachusetts; famed Cumberland, Maryland a hub of B&O operations and current home to the Western Maryland Scenic Railroad; Strasburg Railroad in Pennsylvania where steam has always remained king; and Cass Railroad in Cass, West Virginia where the Shay geared-steam locomotive rules.
Western Operations

Norfolk Southern F9A #4271 leads the railroad's OCS eastbound through Altoona, Pennsylvania on July 5, 2009.
Western operations are defined by beautiful, open, panoramic views of flat plains (such as Kansas and Iowa), the Rocky Mountains (Colorado and Wyoming) and flowing trains of containers. This was not always the case, however. When railroads first began building west of Mississippi River in the 1840s much of their traffic was simply moving people and goods to growing western towns and cities. As the decades passed and markets began to become more diversified the petrochemical industry began to appear along the Gulf Coast regions of Texas and Louisiana, manufacturing centers along the West Coast in California (today almost completely gone), and farming in the Plains states (where the commonly known granger roads got their nickname).
In the last thirty years or so the Ports of Seattle and Long Beach, and Powder River Basin coal reserves in Wyoming and Montana have become extremely important bases of traffic for railroads like Union Pacific and BNSF Railway. These two railroads have feverishly been adding capacity in the last decade or so trying to keep up with the ever growing demand of this traffic as the low-sulfur, cleaner burning coal of the Powder River Basin is a highly demanded commodity for power plants seeking to reduce emissions and abide by ever-stringent EPA environmental regulations. Similarly, the Ports of Seattle and Long Beach are also rapidly growing trying to keep up with the demanded goods from China, Japan, and other western markets which either head to eastern markets of the U.S. or to our eastern ports to continue their journey by ship across the Atlantic Ocean.
UP SD90MAC #8294 leads an empty unit coal train near Provo, Utah on June 11, 2004.
In any event, below you can find more information about each state's railroading operations, listed in alphabetical order:
As previously mentioned, the ability of western railroads to ship traffic over long distances kept profits up and bankruptcies low during the tumultuous years of the 1960s and 1970s (unlike the case for eastern railroads). This was due to the length between markets, which allowed for even greater profits for the larger railroads like Southern Pacific, Milwaukee Road, Union Pacific, and Missouri Pacific whose main lines stretched from the West Coast to, sometimes, the Midwest (in the case of the Milwaukee Road, with trackage rights included, it stretched from Louisville, Kentucky all of the way to Seattle, Washington!). The ability of such long route, reaching large markets like St. Louis, Chicago, Los Angeles, Dallas/Fort Worth, Kansas City and Seattle with fewer competitors was far less straining than in the east.
---
CSX AC4400CW #376 treads lightly along the street trackage in LaGrange, Kentucky with an autorack train on March 21, 2008.
As mentioned before, western operations is often defined by beautiful, open, and panoramic views often not afforded in the east where rolling hills and deciduous forest obstruct such scenes, which is one reason many railfans are drawn to the railroads west of the Mississippi. As for the railroads and engineering feats that define the West some include fabled Tehachapi Loop, Tennessee Pass, the Feather River Canyon route of the Western Pacific, the Denver & Rio Grande Western's historic narrow-gauge operations in Colorado, Santa Fe's famous Cajon Pass, and the late St. Paul Pass, in Idaho, and Snoqualmie Pass, in Washington State, operated by the Milwaukee Road.