Twin Cities & Western Railroad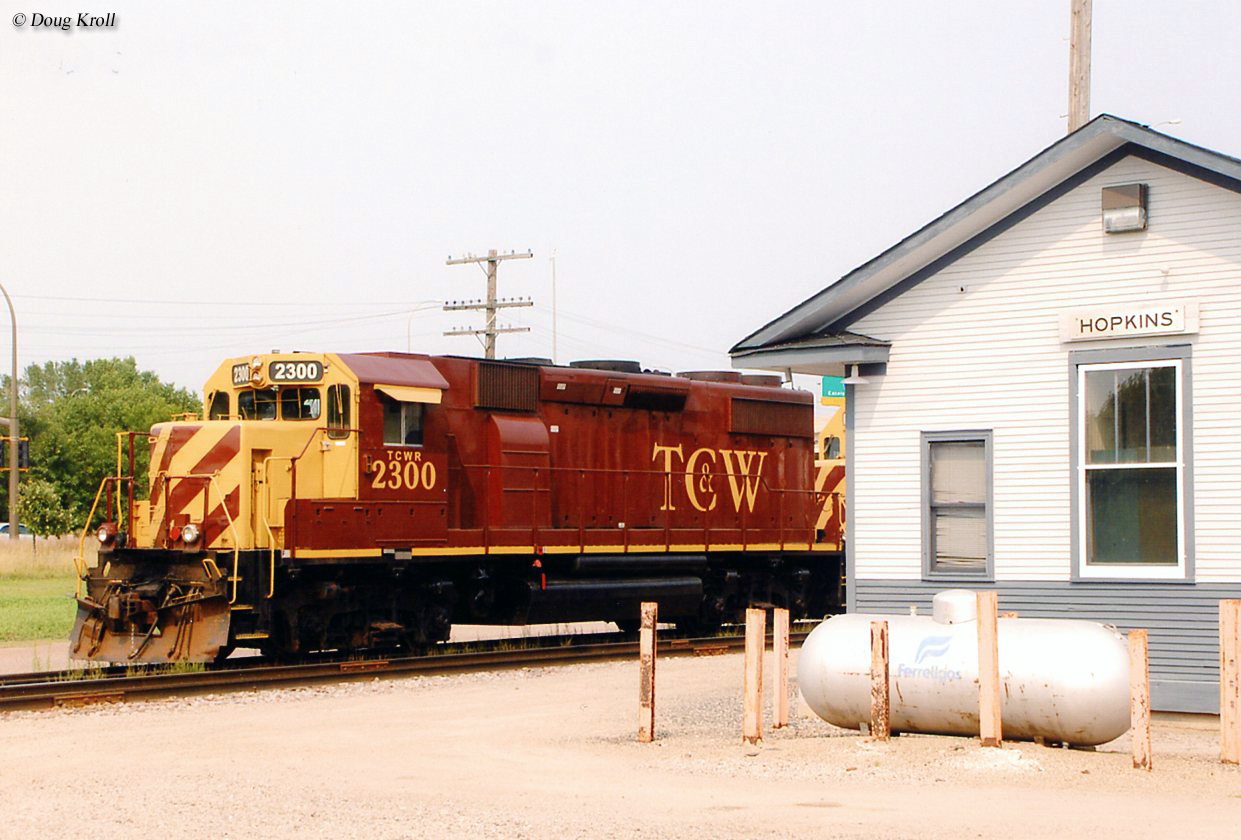 The Twin Cities & Western (reporting marks TCWR it is owned by the same company which operates the Red River Valley & Western) is a Class III, shortline headquartered in Glencoe, Minnesota and operating along the former Chicago, Milwaukee, St. Paul & Pacific (Milwaukee Road) Pacific Northwest main line through Minnesota. The railroad began operations in 1991 taking over the Soo Line Railroad's former "Ortonville Line", the section of Milwaukee Road main line it had acquired through its 1985 purchase of the railroad. Today, the TC&W has connections with four Class I railroads and handles a wide variety of freight traffic from food-based products to chemicals and fertilizers. Because the shortline also connects with the Twin Cities, operates a subsidiary railroad (the Minnesota Prairie Line), and a has a sound management team (which has made its sister line, the RRV&W successful) its future looks to be very healthy.
The history of the Twin Cities & Western Railroad began in the mid-1980s when the floundering Milwaukee Road system, once a massive railroad which stretched from Kentucky to Washington state was purchased by the much smaller Soo Line railroad. By this point the Milwaukee had significantly reduced its system and no longer operated west of eastern Montana. After the Soo's purchase in 1985 it began selling off or abandoning large sections of the Milwaukee it deemed either unprofitable or not valuable (part of which was due to the fact the Milwaukee carried so much debt and bad track that the Soo was forced to do this).
By the early 1990s the Soo was looking to sell part of the Milwaukee's main line west of the Twin Cities, turning over the line to the Twin Cities and Western Railroad on July 27, 1991. Additionally, the TC&W would pick a 94-mile section south and west of Norwood, which it operated as the Minnesota Prairie Line (the track itself is owned by the Minnesota Valley Regional Railroad Authority). With trackage rights included the TC&W stretches from extreme eastern Minnesota at the Twin Cities (where it interchanges with BNSF Railway, Canadian Pacific, Union Pacific, and Canadian National) to eastern South Dakota at Milbank (where it again connects with the BNSF and shortline Sisseton Milbank Railroad).