Tennessee Railroad Jobs

While the state's terrain is quite rugged being in the heart of Appalachia Tennessee was blessed with a sound railroad system given that so many large cities popped up within its borders such as Memphis, Nashville, Chattanooga and Knoxville. While the state has lost nearly 1,500 miles from its peak network of just over 4,500 miles Tennessee is still plays a vital role for the indusry. If you are interested in Tennessee railroad jobs the state is home to six of the seven Class Is (four of which only reach Memphis including the Kansas City Southern Railway, Union Pacific, BNSF Railway, and Canadian National) and more than a dozen shortlines. Despite its location in Appalachia, coal is not a major producer of originated freight tonnage for Tennessee. Instead, it is quite diversified from chemicals and timber products to food and intermodal. If you are interested in learning more about Tennessee's railroad network and the freight which passes through its borders please click here.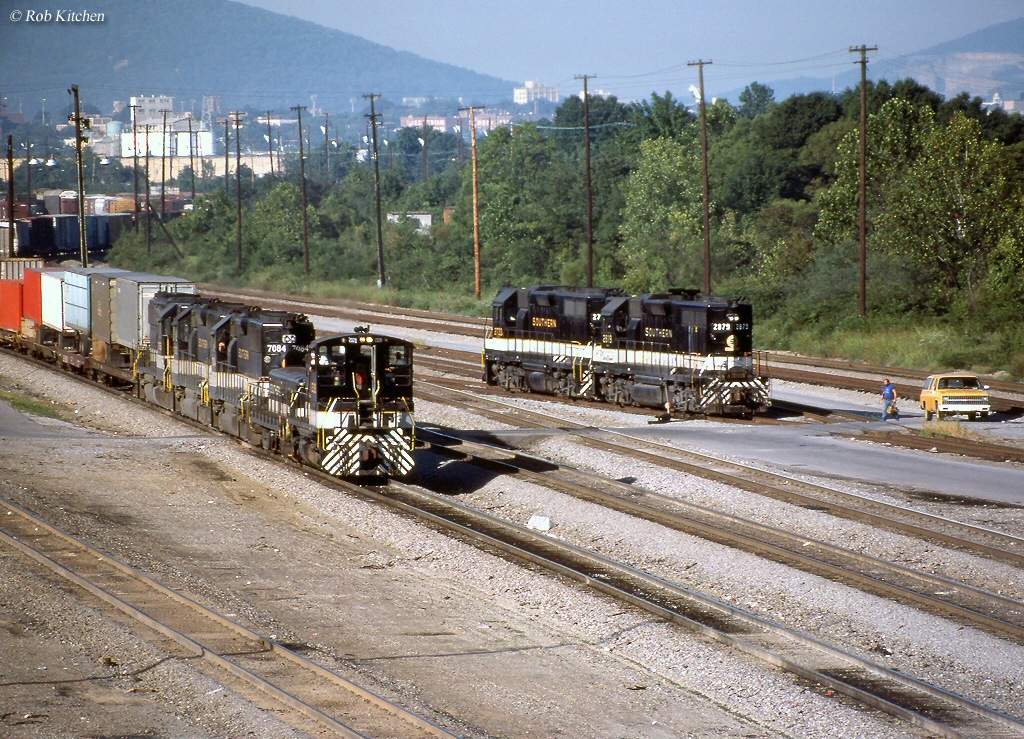 It's the early Norfolk Southern era but Southern power still dominates the yard at Chattanooga in this scene during August of 1984.
A career in the railroad is certainly something which I would recommend taking your time to research beforehand, particularly if you are not all that familiar with the industry. Working for a Class I in the fields of transportation or maintenance offers excellent pay, retirement, and benefits. However, it requires incredibly long hours, on-call whenever you are needed, and a schedule that is completely unpredictable. As such, some realize it's not for them as it's very difficult trying to juggle a family life while constantly being out on the road. If you are lucky enough to hire on with a smaller railroad this may be the way to go if you truly want to work in the industry. While the pay not be quite as good the hours and schedule are usually much more predictable (for instance, many shortlines only operate Monday through Friday).
In any event, for more information regarding Tennessee railroad jobs, please visit the links below or the railroad's individual contact information concerning possible openings. Please be aware that while I try to make sure everything listed below is completely updated I cannot 100% guarantee that this is always the case. Finally, if you are attending college and looking for an internship or graduate program in the field of business during the summer months please check out the career pages of the Class Is listed here, many offer such.
Lastly, to search for Tennessee railroad jobs directly please use the below search box from Indeed.com.
Class I Railroads
Shortline, Class III Railroads
Caney Fork & Western Railroad: The CF&W, owned by Ironhorse Resources, Inc., is shortline connecting Tullahoma (where it has a connection with CSX) with Sparta, a distance of about 61 miles. To contact them concerning possible job openings please click here to visit their website.
Chattooga & Chickamauga Railway: The C&C is part of Genesee & Wyoming's vast collection of shortlines and operates between Berryton Georgia and Chattanooga, on a system that stretches about 50 miles. To contact them please click here.
East Chattanooga Belt Railway: This terminal/switching railroad serves the local area of Chattanooga owns about 4 miles of track. The railroad is operated by the Tennessee Valley Railroad Museum. To contact them about employment please visit the TVRM's website.
East Tennessee Railway: Another Genesee & Wyoming property this shortline operates a 14-mile section of line between Johnson City and Elizabethton. To contact them please click here.
Heritage Railroad: This small shortline is owned by Energy Solutions, LLC and operates about a 12-mile section of railroad near Blair serving local industries. To contact the railroad concerning employment please click here.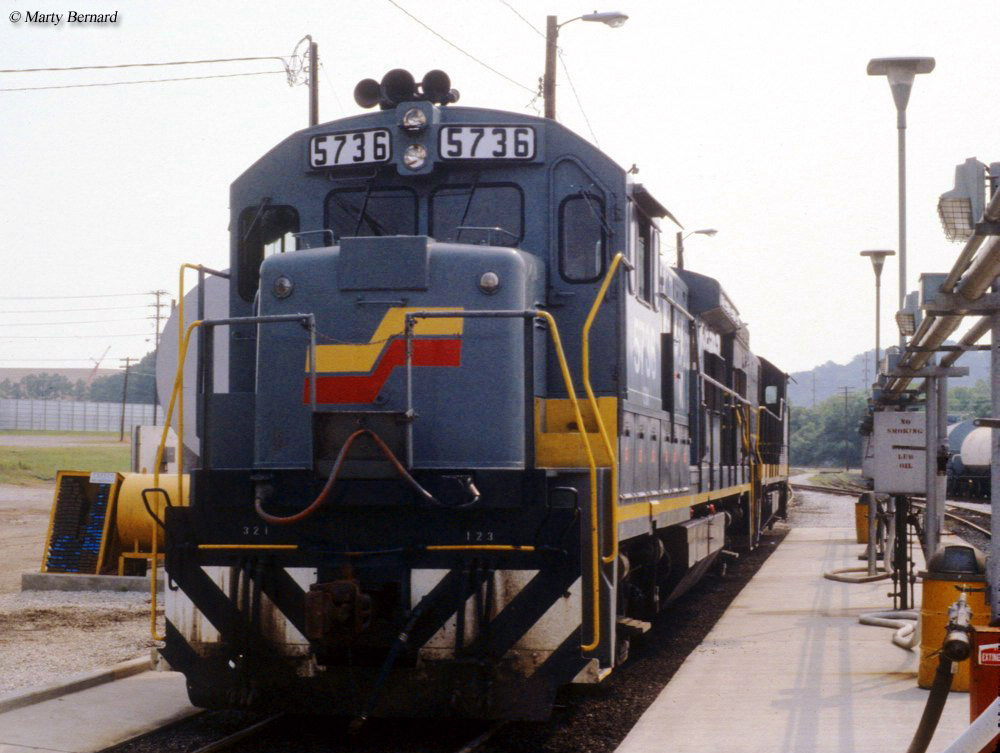 CSX/Seaboard U36B #5736 and a mate sit at the fuel racks in Knoxville on May 23, 1987.
Knoxville & Holston River Railroad: This shortline is one of Gulf & Ohio's family of railroads, operating about 20 miles of trackage near Knoxville where it connects with both NS and CSX. To contact the railroad please click here.
Kentucky West Tennessee Railway: The KWT Railway operates two unconnected section of track, totaling just about 70 miles, in northwestern Tennessee that also reaches Murray, Kentucky. To contact the railroad please click here.
Mississippi Central Railroad: This shortline is one of Pioneer Rail Corporation's railroads, operating mostly in northern Mississippi but also reaches Grand Junction, Tennessee. To contact them about employment please click here.
Nashville & Eastern Railroad: The NERR began operations in the mid-1980s and today operates about 130 miles of track between Nashville and Monterey. The railroad also hosts occasional excursion trains as well as the recently started Music City Star, a commuter train serving Nashville. To contact the railroad concerning job openings please click here to visit their website.
Nashville & Western Railroad: The Nashville & Western is owned and operated by the Nashville & Eastern. Please visit their website above.
R.J. Corman Railroad: RJ Corman operates several rail-related businesses, including shortlines in a number of eastern states. One of these is the Tennessee Terminal which operates between Memphis, Tennessee and Olive Branch, Mississippi. To contact them regarding job openings please click here.
Sequatchie Valley Railroad: This shortline operates between Bridgeport, Alabama and Jasper, Tennessee. To contact the railroad; P. O. Box 296, Bell Buckle, Tennessee 37020-0296. Phone 931-695-5066.
South Central Tennessee Railroad: For contact information; P. O. Box 259, Centerville, Tennessee 37033. Phone 931-729-4227.
Tennessee Southern Railroad: This railroad is owned by the Patriot Rail Corporation and operates nearly 150 miles of track between Columbia and Pulaski, and also reaches Florence, Alabama. To contact the railroad about employment please click here to visit Patriot Rail's website.
Tennken Railroad: For contact information; 1200 Cherry Street, Dyersburg, Tennessee 38024-4135. Phone 731-286-2530.
Walking Horse & Eastern Railroad: This eight-mile shortline serves the communities of Shelbyville and Wartrace with an interchange to CSX. To contact the railroad; 559 Minkslide Road, Shelbyville, Tennessee 37160. Phone 931-684-6368.
West Tennessee Railroad: The West Tennessee Railroad dates back to 1984 operating ex-Illinois Central Gulf trackage between Corinth, Mississippi and Fulton, Kentucky that reaches into western Tennessee. The railroad is headquartered in Jackson. To contact them; 1061 James Buchanan Drive, Jackson, Tennessee 38301. Phone 731-423-4304.
For more information about shortline railroads that serve Tennessee please click here to visit the American Short Line and Regional Railroad Association's website.
---
---
Norfolk Southern GP59 #4615 and a pair of SD40-2s pass through the interlocking at Chattanooga with a heavy coal drag on September 26, 1993.
Finally, if a career in railroading is right for you but you would like to learn more about what it takes to work in the industry you might want to consider the book Working on the Railroad from noted author Brian Solomon. Solomon's book details the history of working in the railroad industry and the difficulties and hardship employees faced back then as well as today. After reading this book you should have no doubts about whether working in the industry is something you are truly interested in. In any event, if you're interested in perhaps purchasing this book please visit the link below which will take you to ordering information through Amazon.com, the trusted online shopping network.
---
---