Massachusetts Bay Transportation Authority, MBTA
The Massachusetts Bay Transportation Authority, better known as simply the MBTA (or just "The T" by local residents), offers multiple modes of transportation for those living in and around Boston. These modes include commuter rail, bus, trolley, light rail, subway, and ferryboat just to name a few. For purposes of this site we'll focus on the MBTA's rail operations including the subway, light rail, and commuter rail operations. While the MBTA itself has only been in operation since the 1960s some form of commuter rail transport has been in place around Boston since the late 19th century and today remains just as important to folks heading to and from the workplace as it was during the days before the automobile.
The Massachusetts Bay Transportation Authority was formed in 1964 to manage and oversee all commuter operations in and around the greater Boston region, which for rail operations included the commuter rail, light rail, trolley, and subway systems. Combined these rail systems see over 760,000 travelers during the workweek making the MBTA one of the busiest commuter systems in the country.  The MBTA's commuter rail system operates 12 different railroad lines, serving 123 different stations, radiating away from downtown Boston all of which connect to either North Station or South Station. In all the system stretches throughout most of eastern Massachusetts and also connects Providence, Rhode Island. Below is a brief overview of each line:
· Fairmount Line: Connects South Station with Readville to the southeast.
· Fitchburg Line: Connects North Station with Fitchburg to the northwest.
· Framingham/Worcester Line: Connects South Station with Worcester/Union Station to the west.
· Franklin Line: Connects South Station with Forge Park to the southwest.
· Greenbush Line: Connects South Station with Greenbush to the southeast, along the coast.
· Haverhill Line: Connects North Station with Haverhill to the north.
· Kingston/Plymouth Line: Connects South Station with Kingston and Plymouth to the southeast.
· Lowell Line: Connects North Station with Lowell to the north.
· Middleborough/Lakeville Line: Connects South Station with Middleborough/Lakeville to the south.
· Needham Line: Connects South Station with Needham Heights to the west.
· Newburyport/Rockport Line: Connects North Station Rockport to the northeast along the coast.
· Providence/Stoughton Line: Connects South Station with Providence, Rhode Island to the south.
The subway, light rail, and trolley services are lumped together as just the subway system by the MBTA. They are recognized, however, by their "line" color. For instance, the true subway systems are designated as the Red, Orange, and Blue Lines while the light rail and trolley lines are designated as Green Line, Silver Line, and the Ashmont-Mattapan High Speed Line (which is part of the Red Line). All in all, if you are commuting to or from work and live in the greater Boston region at some point you have probably used "The T" at some point and with over one million riders using the entire railroad system daily it is a crucial part of the area's transportation network.

Lining up to say "cheese" are F40PHs #104 and #105 along with F40PHM-2 #213 at Blue Island, Illinois on October 6, 1996.
Metra
Metra (technically known as the Northeast Illinois Regional Commuter Railroad Corporation) is the Chicago region's long established commuter rail system fanning out from the downtown area to serve seven different counties. The system's history dates back to several Class I railroads that once served the area including the Chicago, Milwaukee, St. Paul & Pacific (the Milwaukee Road); Illinois Central; Chicago & North Western; and the Chicago, Rock Island & Pacific (Rock Island). Metra itself began to take shape as early as the 1970s when the Regional Transportation Authority (RTA) was created to provide assistance to the private railroads operating commuter operations in the region (during this time nearly all of the private freight railroads still provided commuter services to local regions and cities).
It was after the fall of the Rock Island, which was shutdown in 1980 that Metra truly began to take shape. In the wake of the Rock Island collapse the RTA acquired ownership of its lines and operations around Chicago and in 1984 Metra was born. Over the years the system continued to grow purchasing the ex-Illinois Central electrified commuter lines in the late 1980s and today operates commuter services over several Class I systems. In total the system operates 11 different corridors fanning out south, north, and west of Chicago that connect suburban areas with four stations; LaSalle Street Station, Union Station, the Ogilvie Transportation Center, and Millennium Station. From north to south the agency's lines include:
Union Pacific District North Line: Connects the Ogilvie Transportation Center with Kenosha.
Union Pacific District Northwest Line: Connects the Ogilvie Transportation Center with Harvard.
Milwaukee District North Line: Connects Union Station with Fox Lake.
North Central Service: Connects Union Station with Antioch.
Union Pacific West Line: Connects the Ogilvie Transportation Center with Elburn.
BNSF Railway Line: Connects Union Station with Aurora.
Heritage Corridor: Connects Union Station with Joliet.
SouthWest Service: Connects Union Station with Manhattan.
Chicago to Joliet Suburban Service: Connects LaSalle Station with Joliet.
Chicago to University Park Suburban Service: Connects Millennium Station with 93rd Street, Blue Island, and University Park.

Milwaukee District West Line: Connects Union Station with Elgin and Big Timber Road.

One important note about Metra that must be mentioned. While the operation appears as its own self-contained and operated commuter rail service (with both matching locomotives and commuter cars), outside of the former Illinois Central commuter operations and a few other lines owned by the NIRC this is not the case as.  Commuter services operated over Union Pacific and BNSF Railway lines are dispatched, crewed, and fully maintained by their respective railroads receiving annual subsidies by Metra to provide commuter rail services to the region.  One of the most popular commuter rail services in the country today it operates nearly 500 route miles, sees nearly 300,000 daily riders, and already has several future expansions on tap to further serve the communities surrounding Chicago.

F59PH #868 heads away from downtown Los Angeles near Glendale on the afternoon of August 2, 2007.
Metrolink
Metrolink is one of California's many regional commuter railroad operations serving southern areas of the state, particularly Los Angeles. While the commuter service is a relatively new system it has become very popular since it began operations in the early 1990s (especially now as gas prices continue to shoot skyward). Today, it sees over 42,000 daily boardings on a system that stretches over 500 miles serving six different counties. So, if you live in the Southern California/Los Angeles region and looking for another means of commuting work you may want to seriously consider using their services, which continues to grow and expand.    The system began operations in the fall of 1992 operating over trackage originally owned by the Atchison, Topeka & Santa Fe Railway, Southern Pacific, and Union Pacific railroads today of which is part of Union Pacific and BNSF Railway. In total the system operates 512 miles on seven different lines serving 55 stations. Below is a brief overview about each line:
Ventura County Line: Connects downtown Los Angeles (Union Station) with Ventura (70 miles).
Antelope Valley Line: Connects downtown Los Angeles (Union Station) with Lancaster (76 miles).
91 Line: Connects downtown Los Angeles (Union Station) with Riverside-Downtown (61 miles).
Inland Empire-Orange County Line: Connects San Bernardino with Oceanside (100 miles).
Orange County Line: Connects downtown Los Angeles (Union Station) with Oceanside (87 miles).
Riverside Line: Connects downtown Los Angeles (Union Station) with Riverside-Downtown (76 miles).
San Bernardino Line: Connects downtown Los Angeles (Union Station) with San Bernardino/Riverside-Downtown (56 miles).
As you can tell almost all of these routes serve the famous Los Angeles Union Station, originally known as the Los Angeles Union Passenger Terminal (LAUPT). Los Angeles Union Station is the last of our great railroad stations designed in California's traditional mission-style architecture and completed at a cost of $11 million in 1939, having been financed by the Union Pacific, Santa Fe, and Southern Pacific railroads.   While the station was built and completed towards the end of the railroad industry's heyday of passenger rail travel it was still very busy and saw over 7,000 folks daily through the facility in the 1940s. The station also saw its three builders' most prominent passenger trains with names like the Super Chief (Santa Fe), Daylight (Southern Pacific), and City of Los Angeles (one of the Union Pacific's famous fleet of City trains). Before 2005 Metrolink (technically known as the Southern California Regional Rail Authority or SCRRA) was operated by Amtrak and today is under contract to Veolia Transportation, where it continues to grow and become more popular.

A pair of Metro North FL9s, led by #2017, load passengers at the station in Danbury, Connecticut on October 23, 1999.
Metro-North Railroad
The Metro-North Railroad is the commuter railroad system operated and maintained by the Metropolitan Transportation Authority (MTA) of New York State (which also includes other transit services like subway and buses). Like New Jersey Transit which serves communities to the south of New York City, Metro-North serves communities to the north of the city using five different rail lines. For the past 25 years the Metro-North has been providing reliable and efficient commuter rail services to northern New Jersey, southern New York, and the southern coast of Connecticut and without it many commuters would have a difficult and time-consuming effort getting to work.  The Metro-North began operations in 1983 to take over commuter services originally provided by the New York, New Haven & Hartford and New York Central Railroads.
Following the collapse of the Penn Central Corporation in the early 1970s, which eventually led to the formation of Conrail in 1976, the Metropolitan Transportation Authority took over commuter operations north of the New York City region in 1972 to serve the suburbs and towns located there, which eventually led to the Metro-North's creation.  While the New York Central had extensive operations in the area, no railroad is better remembered, particularly in the New England region, for its commuter operations than the NYNH&H. The New Haven Railroad was a mid-sized Northeastern carrier that is best remembered for moving more people than freight (interestingly it derived a good portion of its revenues from commuter services).  Today the Metro-North serves five different lines, all of which eventually terminate at either Hoboken Terminal or Penn Station and Grand Central Terminal located in downtown Manhattan:
Port Jervis Line: In conjunction with NJ Transit connects Hoboken Terminal and Penn Station with Port Jervis, New York.
Pascack Valley Line: In conjunction with NJ Transit connects Hoboken Terminal and Penn Station with Spring Valley, New York.
Hudson Line: Connects Grand Central Terminal with Poughkeepsie, New York along the Hudson River.
Harlem Line: Connects Grand Central Terminal and Harlem with Wassaic, New York.
New Haven Line: Operating over the ex-New Haven main line connects, New Haven, Danbury, and Waterbury, Connecticut in conjunction with Shore Line East with Grand Central Terminal.
Today the NYNH&H main line continues to be an important link to both freight and passengers between Boston and New York, especially Amtrak where the line is part of the carrier's Northeast Corridor (or NEC for short). All in all, if you live in any of these communities and work in New York City or somewhere along the Long Island Sound you may want to consider using the Metro-North Railroad, especially in this day of ever-rising gas prices.
While these trains appear to be going the same direction they are actually passing one another; GP40PH-2 #4108 is pushing its eastbound run while counterpart #4107 leads its consist westbound through Seacacus, New Jersey on May 24, 2006.
New Jersey Transit
New Jersey Transit, or NJ Transit as it is commonly called, is the largest commuter-railroading agency in the country stretching from New York City to Philadelphia and serving many of the suburban areas near the two cities. NJ Transit has been in operation since 1979 and was set up by the New Jersey Department of Transportation to provide reliable and efficient transportation to the New Jersey region. While NJT also offers bus services over its system it is best known for its commuter and light rail train services, which includes an incredible twelve commuter and three light railroad lines serving three different states!
When NJT began operations in 1979 it relieved then Conrail of its commuter burdens, which had previously been operated by Conrail predecessors including the Pennsylvania Railroad, New York Central, Erie Lackawanna, and Reading Railroad. With better funding and more reliable service NJ Transit has become a very popular mode of transportation today for commuters heading to work in and around New York City and Philadelphia. Today, the commuter agency offers fifteen different rail lines of service with many more either planned or in the works. They are all briefly mentioned below:
Commuter Rail 
Northeast Corridor (NEC) and Princeton Branch: Between Trenton, New Jersey and New York City's Penn Station NJT operates over Amtrak's NEC, as well as serves a branch connecting Princeton, New Jersey.
Morris & Essex Lines: Heading west from NYC's Penn Station these lines split near New Providence, New Jersey where one, the Morristown Line heads northwest to serve Hackettstown and another, the Gladstone Branch heads due west to serve Gladstone.
Raritan Valley Line: Connects Newark Penn Station with High Bridge, New Jersey.
Main Line: The Maine Line is the ex-Erie Railroad main line connecting Hoboken with Suffern, New York.
Bergen County Line: Connecting virtually the same two points as the Maine Line this route splits off for a time at Secaucus and heads north, paralleling the Maine Line to the east until Glen Rock where both lines merge.
Montclair – Boonton Line: Connects NYC's Penn Station with Hackettstown.
Pascack Valley Line: Heads north from NYC's Penn Station and connects Spring Valley.
Atlantic City Line: Connects the resort town of Atlantic City, New Jersey with 30th Street Station in Philadelphia.
North Jersey Coast Line:  Connects Bay Head, New Jersey with Lackawanna's former Hoboken Terminal.
Light Rail (LRT)
Hudson-Bergen Light Rail: The HBLR line runs 21 miles connecting Hoboken Terminal, Bayonne, and North Bergen.
River Line: A 20-mile line connecting Trenton and Camden, New Jersey.
Newark Light Rail:  Totals over 5 miles connecting such points as Newark and Bloomfield.
As New Jersey Transit continues to gain popularity it has several future extensions or proposals on tap. These include direct New York City – Atlantic City service (a 3-year trial that began in 2006); a light rail project connecting Newark and Elizabeth, the double-track Trans Hudson Express Tunnel that will serve its lines connecting NYC's Penn Station; the Sparta Branch which will serve communities northwest of downtown Manhattan; and most famous of all the currently defunct Lackawanna Cutoff, which was purchased the NJT in 2001 in hopes of connecting Scranton, Pennsylvania with Hoboken Terminal (a 7-mile section is in the works to be reopened as we speak). All in all, without New Jersey Transit not only would thousands of daily commuters have a difficult time finding a way their workplace but also its serves help to keep highways less clogged than they already are.

Rail Runner MP36PH-3C #103 heads southward with its train not far from Los Lunas, New Mexico on September 11, 2008. This commuter service is one of the few to offer spectacular scenery as as noted by the Manzano Mountains in the background.
New Mexico Rail Runner
The New Mexico Rail Runner commuter railroad system is a very new operation having just been inaugurated in July of 2006. However, the service has far exceeded its expectations and in late June of 2008 celebrated its one-millionth rider! Today, the Rail Runner system connects Albuquerque (the largest city in New Mexico) with the cities of Belen to the south and Sandoval County/US 550 to the north. Eventual plans will have the system connecting Albuquerque and Santa Fe, which is projected to double daily ridership from around 1,400 to nearly 3,000. All in all the New Mexico Rail Runner service has more than exceeded expectations and plans are already in the works for future extensions and upgrades.
The Rail Runner system dates as far back as 2003 when governor Bill Richardson finally proposed to begin a commuter railroad operation that would one day serve New Mexico's two largest cities, Santa Fe and Albuquerque. The service, which was dubbed Rail Runner in honor of the state bird the roadrunner, became reality in 2005 and plans to build stations and operate over BNSF Railway trackage began taking shape. - From a historical perspective the tracks which the commute railroad operates over were originally built and owned by the Atchison, Topeka and Santa Fe Railway (distinctively known as the Santa Fe), which is likely not only this country's but also the world's most recognized and famous railroad.
For the first few months riding Rail Runner was free of charge to gauge interest and opinions by the general public, and it quickly became apparent that the trains were well liked. For instance, two unique features to the service include the classic Looney Tunes roadrunner "beep beep," which is heard when passenger car doors are closing and a livery that features the roadrunner itself running down the length of the train. At its peak the free service saw over 6,000 daily riders and although ridership has fallen since fares went into place interest for the trains is still above projections.  After fares were introduced the New Mexico Rail Runner service was broken down into three zones with the cost to ride the trains dependent on how many of those zones you would be traveling through.

· Sandoval Zone: Serving Sandoval County/US 550 and downtown Bernalillo.
· Bernalillo Zone: Serving Los Ranchos, Albuquerque, and International Sunport/Bernalillo County with future stations at Sandia Pueblo and Isleta Pueblo.
· Valencia Zone: Serving Los Lunas (opened in December of 2006) and Belen (the extension to Belen was opened in the winter of 2007).
F59PHI #908 is tied down with its consist at Freight House Square in Tacoma on a rainy July 21, 2007.
Sound Transit
Sound Transit's Sounder commuter railroad system has been a huge success for the Seattle/Tacoma region since it began operations in just 2000 and expanded in 2003. While the Sound Transit agency in total covers several forms of mass transit, for purposes of this site we will highlight its commuter rail operations. The system has become so popular in the region, particularly its rail operations, that future plans are already being made to extend service into South Tacoma. A big reason why the operation has been so successful is due to its excellent reliability, clean services, and an alternative to driving.  Sound Transit itself dates back to the early 1990s with the fist commuter rail service, which connects Seattle with Tacoma, Washington 39 miles to the south (known as, commonly enough, the South Line), began in 2000. 
As popularity for Sounder soared after its initial opening in 2000, it added a northern extension which opened in 2003 called simply the North Line. This route extends to Everett, about 35 miles north of Seattle. In all, Sounder extends 74 miles north and south of Seattle, operating over BNSF Railway trackage, although it does own its own locomotives and equipment. All of the system's lines terminate at Seattle's historic King Street Station.   Of note, along with the commuter rail operations Sound Transit also operates a short, but popular, light rail transit system which connects Tacoma Dome Station with South 25th Street, runs north along Pacific Avenue to Union Station, further north to the Convention Center, and finally terminating at the Theater District. In all, this new mass transit operation, of which rail has only been in place for less than 10 years has been a resounding success.

SEPTA LRV #127 zooms through Upper Darby, Pennsylvania on October 20, 1990. Essentially, these cars are newer versions of the classic interurban and streetcars.
Southeastern Pennsylvania Transportation Authority, SEPTA
The Southeastern Pennsylvania Transportation Authority, also known as SEPTA, was created in the early 1960s by the State of Pennsylvania to serve the Philadelphia region which includes (along with Philadelphia) the counties of Bucks, Chester, Delaware and Montgomery as well as New Castle County in Delaware and Mercer County in New Jersey. While SEPTA is most popularly recognized for its commuter, light rail, and trolley services it also offers bus and tram services. In all SEPTA operates over 450 miles of railroad lines and carries just under one million commuters every day, one of the nation's largest commuter systems!  The Southeastern Pennsylvania Transportation Authority was created in 1963 from two former transit systems and was able to mostly relieve the ailing Pennsylvania and Reading Railroads from their commuter services in and around Philadelphia.
The purpose of SEPTA was not to only provide transportation services for the region but to also do so more reliably and effectively than the PRR and Reading, which were losing so much money on commuter operations that they simply wanted out (and as a result service levels suffered). The railroads leased their commuter operations to SEPTA, which continued under successor Conrail until 1983 when everything was sold to the authority relieving the freight railroad entirely of the rail lines.  After SEPTA took over the Philadelphia Suburban Transportation Company (famously remembered as the Red Arrow Lines) and the Philadelphia & Western Railroad in the early 1970s it operated a system stretching as far south as eastern Delaware (where it connects with Amtrak); as far north as Trenton, New Jersey (where it connects with New Jersey Transit); as far north as Doylestown; and as far west as Thorndale (where it connects with Amtrak).   Aside from these main line routes SEPTA also offers five different local lines of service (which mostly serve the great Philadelphia area only). These lines include:
· Broad Street Line: Connects Pattison with Fern Rock.
· Market-Frankford Line: Connects 69th Street Terminal with Frankford.
· PATCO Line: Connects 15th and 16th Streets with Lindenwold.
· Route 100: Connects 69th Street Terminal with Norristown.
· Route 101 and 102: Trolley services connecting 69th Street Terminal Media and Sharon Hill (via Drexel Hill Junction).
The Southeastern Pennsylvania Transportation Authority also offers trolley service near downtown Philadelphia which stretches from near 13th Street to near 40th Street. Also of note is that Philadelphia is served by New Jersey Transit via RiverLINE that stretches as far south as Camden, New Jersey just across the river from downtown Philly.  In all, SEPTA has been providing fast, reliable, and affordable transportation service to the Philadelphia region for over 40 years now, a far cry from the final days of service under the Pennsylvania and Reading, which as private transportation companies they simply did not have the available capital to offer such dependable service. Today, according to SEPTA it serves over 300 million commuters annually and covers a service area of 2,200 square miles. As gas prices continue to rise and folks look for a cheaper way to make it to the workplace it is very likely that SEPTA's ridership numbers will continue to increase in the future.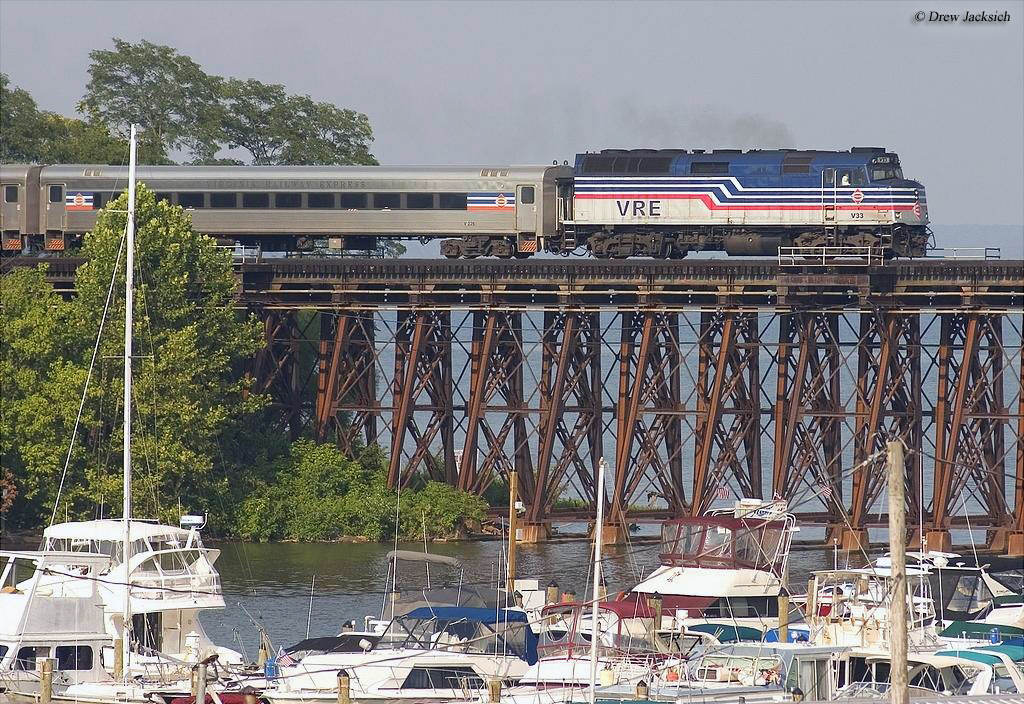 A former Amtrak F40PH, now VRE #V33, leads a commuter run across the Neabsco Creek Bridge in Neabsco, Virginia on August 2, 2005.
Virginia Railway Express
The Virginia Railway Express, or VRE, is a relatively new commuter agency, which is based in northern Virginia and serves Washington, D.C. VRE currently owns none of its own track, instead operating over CSX, Norfolk Southern, and Amtrak although it does own its passenger cars and locomotives. The service has steadily grown over the years and today averages nearly 15,000 commuters between its two rail lines and serves 21 different stations. For commuters which live in northern Virginia and work in Washington the commuter service has been a great means of transportation and according to the VRE's latest numbers its popularity is steadily growing, which may mean increased services offered in the future.  The Virginia Railway Express began in 1992 and is managed by the Northern Virginia Transportation Commission (NVTC) and the Potomac and Rappahannock Transportation Commission (PRTC).
Departing from Washington D.C.'s Union Station VRE commuter trains use one of two railroad routes: the Manassas Line which serves 9 stations, L'Enfant Plaza, Crystal City, Alexandria Union Station (also served by Amtrak), Backlick Road, Rolling Road, Burke Center, Manassas Park, Manassas, and Broad Run; and the Fredericksburg Line which serves 11 stations L'Enfant Plaza, Crystal City, Alexandria Union Station (also served by Amtrak), Franconia-Springfield, Lorton, Woodbridge, Rippon, Quantico, Brooke, Leeland, and Fredericksburg.  VRE's current equipment, which can handle between 135 and 150 seats, includes mostly standard, single level commuter railroad cars although they do have a small fleet of duel-level railroad cars. For power the commuter agency uses all EMDs, most of which have been rebuilt from four axle, GP40s including GP40H-2s, an F40PH, F40PH-2, RP40-2C, and RP39-2C.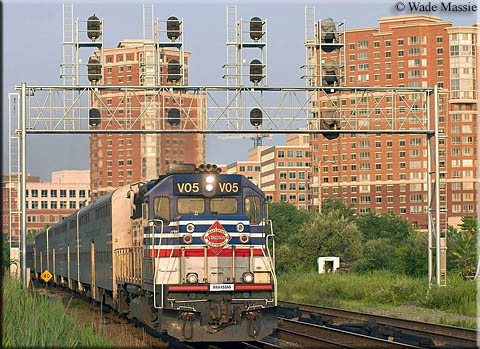 Virginia Railway Express RP39-2C #V05 rolls under the signal bridge and nears AF Tower in Alexandria, Virginia with its train on the evening of August 1, 2005.
While at first it was unclear just how successful the idea of starting a commuter railroad operation to serve northern Virginia would be, over the last 14 years results have spoken for themselves. Between 1997 and 2011 daily ridership has jumped from around 6,000 patrons to nearly 20,000 today! Part of VRE's success has been due to its flexibility. For instance, for commuters heading in the opposing direction they can switch from MARC trains to VRE trains and vice versa. VRE's mission statement claims that it will provide safe, cost-effective, accessible, customer-responsive, reliable, rail passenger service as an integral part of a balanced, intermodal regional transportation system, and from the results of how the service has performed over the last 14 years I think one can safely say that the commuter agency has very much lived up to that proclamation.