Trolleys and Interurbans, Classic American Streetcars

Trolleys and interurbans were once common throughout the country and could be found in cities both large and small. An interesting and unique part of railroading history traction systems were fondly remembered, particularly by those lines which served local towns and communities. Unfortunately for the trolley, while it offered flexibility and affordable fares it was mostly a money-losing operation as it was slower than traditional railroads, usually only served a local area, could never make a profit hauling passengers like railroads and lost out to more efficient modes of transportation as they became available. Today, though, these electrified operations are making a comeback (known as light rail transit or LRT) as folks look for alternatives to increasingly crowded highways.
Yakima Valley Transportation steeple cab #298 trundles through the streets of Yakima, Washington as it heads towards the Nob Hill and Congdon Orchards during August of 1971.
Classic streetcar systems have their roots dating back to the beginning of electrified railroad lines in the 1870s when Gramme and Siemens developed the first reliable and successful motors and dynamos. Over the next decade experimental electric locomotives (or "motors") cropped up around the country. However, it wasn't until Frank Sprague developed an electric motorcar in 1886 for the New York Elevated Railway whereby the motor(s) were situated within the axle, along with the trolley pole and multiple-unit control that the common trolley was born.
Another important developer of interurbans was Sidney Howe Short who invented a double-reduction and gearless motor along with learning that overhead catenary was usually the best means of obtaining power for motorcars (i.e., trolleys). Short also invented the contact "shoe". By the time main line electric applications were introduced in 1895 on the Baltimore & Ohio the technology was quite advanced.  In 1885 there were only 48 miles of trolleys in the United States but by the end of the 19th century in 1899 this number had jumped to over 2,000 miles. At the peak of such operations the mileage had topped out at over 15,000 miles.
While this number may seem small most only served a local region, city or community and did not span more than a few miles in length.  They became an extremely popular mode of transportation due to their reliability, ease of use and cheap fares. They operated over their own, dedicated rights-of-way although these were typically located next to or along traditional, heavy railroads or within public streets/roads (the classic portrait of a trolley is, of course, a motorcar traveling down the center of a city street).
MUNI PCC #1149 is about to head into the East Portal of Twin Peaks Tunnel in San Francisco during August of 1967. The tunnel and trackage are long gone today.
For power most interurbans used overhead catenary (energized electric lines attached to line-side poles), which was usually rated at about 600 volts. Although some used third-rail for power this was the exception. To produce the electricity for the operations interurbans either constructed their own substations or purchased the power outright.  While most streetcar lines were small, local operations this was not always the case. Some, which were able to subsidize their passenger operations with freight were able to grow quite large. Some of these systems include the Chicago SouthShore & South Bend Railroad, Illinois Termimal, Pacific Electric and Iowa Traction (as it is known today). Since these systems were able to produce profits through freight service in conjunction with passenger operations they were able to outlive many of their brethren.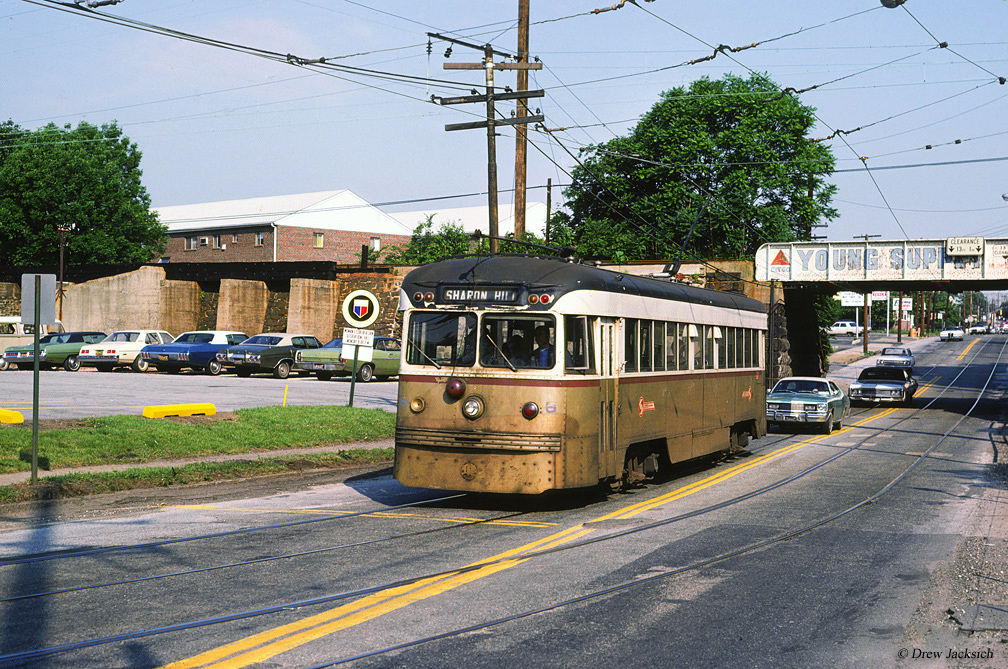 SEPTA Brilliner #6 rolls down Springfield Road at Clifton, Pennsylvania headed towards Sharon Hill in May of 1976.
Trolleys were most successful from the late 19th century through the 1930s and can best be characterized by the "Dot Com" boom of the late 1990s and early 2000s, they flourished for a moment and then died out. Being regional and local in nature they simply could not compete with the automobile once it debuted in the early 20th century and then was aided by the development of better highways and roads. By the 1950s most interurban railroads were out of business due to high capital costs and low ridership, although some were able to hang on until the early 1960s.  Those able to survive did so only after recognizing that passenger service was a money-losing operation that must be scrapped and concentrated solely on freight traffic. Of course, to do so the system had to be large enough to offer enough such service to be profitable, such as was the case with the Illinois Central and Chicago South Shore.
Notable Interurbans
Chicago, Aurora & Elgin Railroad
Chicago, North Shore & Milwaukee, "The North Shore Line"
Chicago, South Shore & South Bend, "The South Shore Line"
Fonda, Johnstown & Gloversville
Fort Dodge, Des Moines & Southern Railway, "The Fort Dodge Line"
Waterloo, Cedar Falls & Northern Railway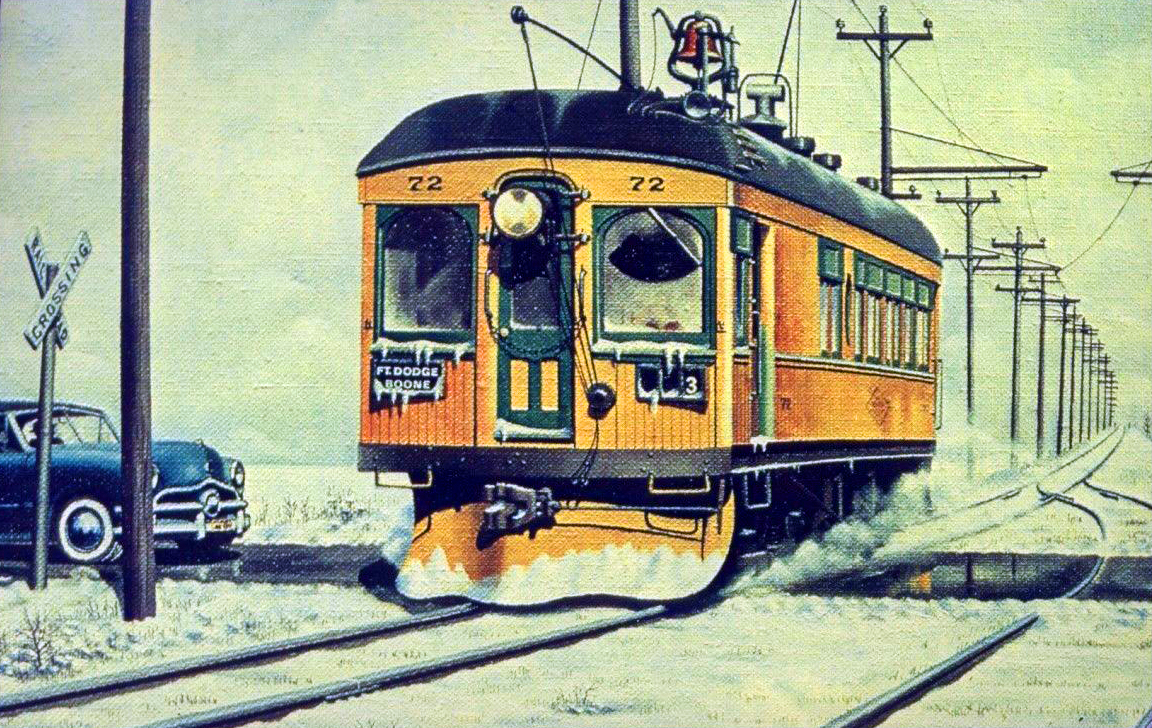 MUNI PCC #1008 works its way along busy First and Mission Streets in San Francisco during April of 1970.
Car Builders
Niles Car & Manufacturing Company
Notable Car Designs
Presidents' Conference Committee Streetcars, PCCs
For more information about traction roads not listed above please click here.  Finally, for a state-by-state history please click here. While the classic trolleys are mostly a thing of the past they are not entirely gone. SEPTA (Southeastern Pennsylvania Transportation Authority) operates a section of original traction lines in Philadelphia and the South Shore Line's operations remain in use, operated by the Northern Indiana Commuter Transportation District (NICTD). And that is not all, as highways become more cramped and overcrowded small, true trolley lines are beginning to pop up in cities across the country, even small ones!
---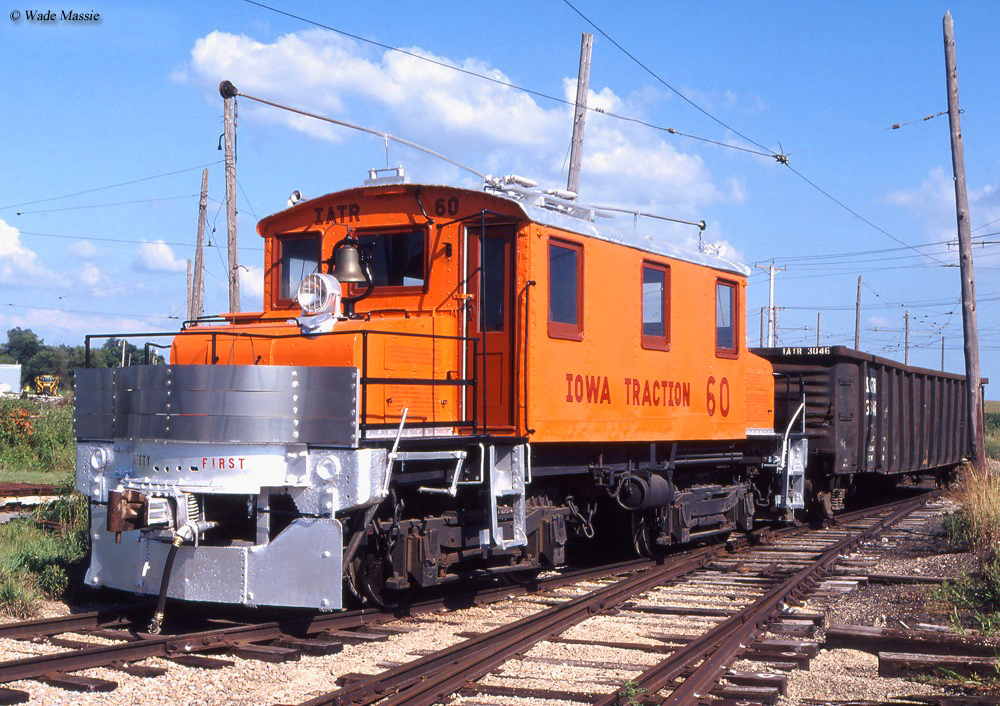 The last surviving interurban still operating electrically, Iowa Traction's Baldwin-Westinghouse #60 totes a single gondola through Emery, Iowa on August 6, 2003.
However, the more common form of trolleys in use today are known as light rail transit, or LRT, routes. Using LRVs (light rail vehicles) or some other new motorcar powered by overhead catenary or third-rail these systems are becoming increasingly popular due to the reason mentioned above. LRTs are not true commuter railroads, like the Long Island Rail Road, Metrolink or New Jersey Transit as they do not operate traditional locomotives and commuter cars, only light motorcars (sometimes with coaches) hence the term "light rail". For more reading on commuter lines, please click here.  It's rather interesting that the classic trolley is making a comeback. Aside from wanting to escape the hustle and bustle of the highway we apparently just like trolleys. As one regional transportation authority has noted: "There is no real reason why folks like steel rails over rubber tires but they do, it is a simple fact of life."