UP 3985 4-6-6-4 "Challenger"

The UP 3985 is a 4-6-6-4 "Challenger"-type steam locomotive and the largest such locomotive still operating anywhere in the country. The Union Pacific Railroad once owned more than one-hundred of these locomotives but today only two remain preserved. Interestingly, unlike sister steamer #844, UP 3985 did not always remain on the railroad's roster. It sat, retired for many years in Cheyenne before a volunteer effort by Union Pacific employees brought the locomotive back to life in the early 1980s. Today, both #844 and #3985 call the Cheyenne roundhouse their home and make annual excursion trips around the Union Pacific system.  While the famous Northern sees regular outings across the railroad the much larger Challenger is not put into service as often given its immense size and expense to operate.  When she is out of her stall, however, the big locomotive is quite a site to see in operation!
The largest steam locomotive still operating in the U.S., UP 4-6-6-4 Challenger #3985 is heading for Cheyenne as it rolls through Golconda, Nevada during July of 1992. The massive steamer had just taken part in the NRHS Convention at San Jose, California.
The Challenger-type has its beginnings due to a need by the Union Pacific for a more powerful locomotive that could handle trains more efficiently over the stiff grades of the Wahsatch Mountain Range in western Utah. Working with the American Locomotive Company (Alco) the Union Pacific (with significatn help coming from the railroad's chief mechanical engineer of the time, Otto Jabelman) came up with the 4-6-6-4 wheel arrangement that proved to be a great blend of power and speed and worked well for the railroad. After the initial #3900 proved its worth the UP went on to purchase a total of 105 of the Challenger Type with 252 in all built.  The Challengers were extremely powerful locomotives. UP 3985 was one of the last batch of 4-6-6-4s the railroad took delivery of from the American Locomotive Company, which built all of the railroad's Challengers.

As such it came equipped with the latest in steam locomotive technology, was heavier than its earlier sisters, and could produce more tractive effort at 97,350 pounds. These final models were also more than ten-feet longer than earlier designs at nearly 122 feet!  Union Pacific classed their Challengers oddly; the first forty locomotives were classed CSA-1s and CSA-2s and were built between 1936 and 1937. However, when UP returned for more 4-6-6-4s, beginning with road numbers 3950-3969 (which were delivered in 1942) the railroad assigned them a new class, 4664-3 with the final two classes following numerically; 4664-4 and 4664-5. Still, this new classification was very simple with the "4664" designation simply stating the locomotive's wheel arrangement. In any event, for more information about UP's Challegers please refer to the chart below.
Union Pacific's "Challenger" Steam Locomotives
| Class | Road Numbers | Date Built | Builder | Quantity |
| --- | --- | --- | --- | --- |
| CSA-1 | 3800-3814 (Second Numbering) | 1936 | Alco | 15 |
| CSA-2 | 3815-3839 (Second Numbering) | 1937 | Alco | 19 |
| 4664-3 | 3950-3969 | 1942 | Alco | 20 |
| 4664-4 | 3975-3999 | 1943 | Alco | 25 |
| 4664-5 | 3930-3949 | 1944 | Alco | 20 |
Union Pacific #8444 and #3985 doublehead a special excursion on its way to Railfair '81 at Sacramento, California. The train is seen here heading upgrade through the Truckee River Canyon along Southern Pacific's Donner Pass near Boca during April of that year. At this date the big Challenger had just recently been returned to service.
As was the case with many late model main line steam locomotives operating on other railroads, the Union Pacific's Challengers had a short operating life. The railroad's 4-6-6-4s saw only between 13 and 21 years of use before most were retired from active service in the late 1950s.  UP 3985 was officially in 1962 after it had remained in storage at Cheyenne, Wyoming since 1957. After retirement Union Pacific continued to keep the locomotive at the roundhouse until 1975 when it was placed outdoors beside the Cheyenne depot. However, it did remain here long. In 1977 UP offered to restore the locomotive with the stipulation that the work must be a volunteer effort.
By 1981, with several UP workers helping with the project, one of the largest steam locomotives ever built again was moving under its own power.  To celebrate UP 3985's restoration the railroad sent the locomotive to Railfair 1981 at the California State Railroad Museum, along with sister #844. Since the 4-6-6-4 has been used in regular excursion service across the UP system as part of the railroad's heritage collection, which is housed at the Cheyenne roundhouse although the Challenger does not see as much use as sister #844. In 1990 the 4-6-6-4 was converted from a coal-burner to using oil as its primary fuel source.
---
---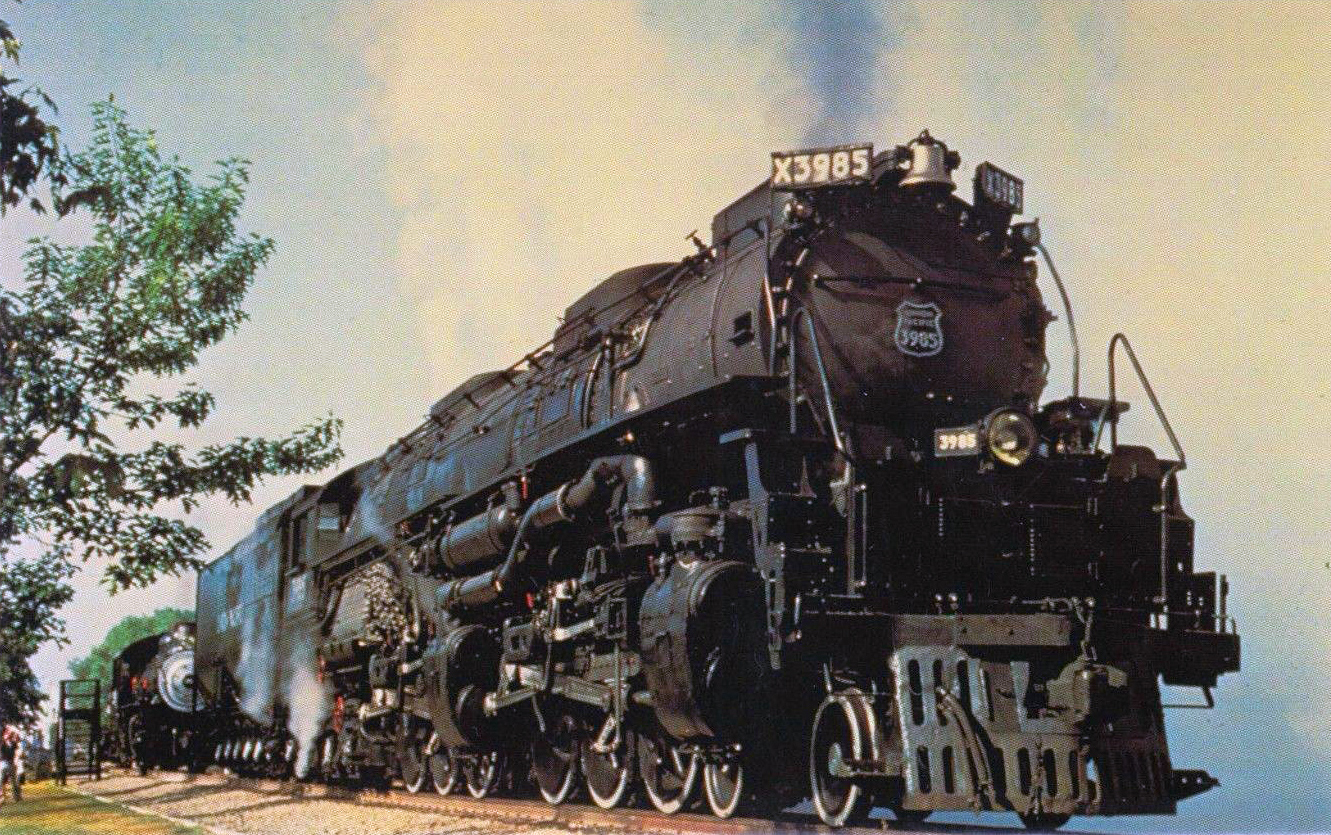 For more information about UP 3985 and all of the railroad's 4-6-6-4s please click here. For more reading on the Union Pacific you might want to consider Union Pacific Railroad from authors Joe Welsh and Kevin Holland. Of course, being that the Union Pacific is so well known and has been around for so many years, hundreds of publications (many quite good) have been written about it detailing various subjects of the railroad. However, this book will at least give you a general overview and history of the UP (filled with many, excellent, historical and colorful photographs) at which point you can decide if you are interested in further books of study on the railroad. Even if you are a historian of the UP and have not seen this book I'm sure you will enjoy it! One other book of interest is Union Pacific's Streamliners, also from Joe Welsh. The book gives an in depth look at the railroad's famed streamliners, notably its City fleet. In any event, if you're interested in perhaps purchasing either (or both) of these books please visit the links below which will take you to ordering information through Amazon.com, the trusted online shopping network.
---
---