A career in railroading can be a pretty daunting and unrelenting job, particularly on a Class I system which require their conductors and engineers to be on constant and regular call at any hours of the day. While Vermont is not home to any of the larges railroads, please know that, as history has dictated being a railroader can be quite challenging requiring one to be at least somewhat physically in shape and able to endure all types of weather (especially in Vermont which is known to have nasty winters). If you are able to land a job with one of Vermont's small railroads you will probably also be called upon to do whatever may be needed, even if it is not your specific job (remember that these companies don't have the resources like the Class Is which means that their employees usually carry multiple job titles).  Lastly, I strive very much to make sure the information presented here is entirely accurate although I cannot fully guarantee such at all times.

Short Lines And Regionals
Pan Am Railways: The largest Class II, regional in the Northeast Pan Am Railways took over Guilford's system in 2006 (which owned historic lines like the Boston & Maine and Maine Central), which spans across Maine, southern New Hampshire, Massachusetts, and eastern New York. The railroad also operates unconnected lines serving central Connecticut as well as a line reaching St. Johnsbury, Vermont.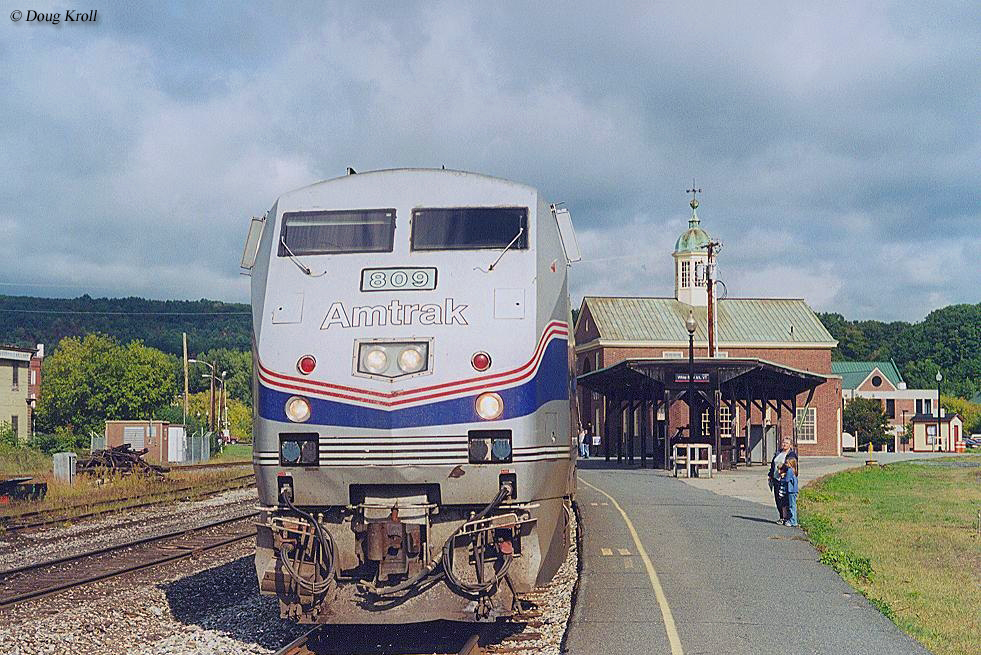 Amtrak P40DC #809 is power for today's "Vermonter" as the train makes a station stop at White River Junction, Vermont on a chilly September 28, 2002.
Central Maine & Quebec Railway:  Formerly known as the Montreal, Maine & Atlantic which took over the bankrupt and historic Bangor & Aroostook lines in 2003.  The new road is currently owned by Fortress Investment. Much of the regional's trackage is located in Maine and southern Quebec, however, it does serve the Vermont towns of Newport and Richford. Overall, the railroad operates over 500 miles of track.
Claremont Concord Railroad: The historic Claremont Concord Railroad dates back to the mid-19th century and today operates between Claremont and Lebanon, New Hampshire along the Vermont border.

Clarendon & Pittsford Railroad: The C&P is part of the Vermont Railway operating between Rutland and Whitehall, New York. The railroad also has a small stretch of trackage near Florence. Please visit the Vermont Railway's website listed below for employment opportunities.
New England Central Railroad: The New England Central Railroad is a very large shortline operating nearly 400 miles of track between northern Vermont and southern Connecticut. The company is currently owned by Genesee & Wyoming.
New Hampshire Central Railroad: The New Hampshire Central Railroad is located entirely in northwestern New Hampshire (operating former B&M trackage) but does run along the border with Vermont.

St. Lawrence & Atlantic Railroad: The StL&A is owned by Genesee & Wyoming and operates more than 150 miles of track between Portland Maine and Norton, Vermont.
A trio of New England Central GP38s with #3846 in the lead hustle northbound freight #323 through Westminster, Vermont on July 1, 2000.
Vermont Railway: The state's largest system, the Vermont Railway today operates 230 miles of former Rutland Railroad trackage and staffs more than 100 employees. The railroad began in 1967 and its lines are also popular with the general public in the summer months.

Washington County Railroad: Another property operated by the Vermont Railway, this shortline connects the towns of Newport and White River Junction on a system covering more than 80 miles. Please visit the Vermont Railway's website for potential job opportunities.
---
---
Various Job Types



Brakeman



Conductor



Engineer


Signal Maintainer


Roadmaster


Tie Gang Laborer



Dispatcher


Trainmaster



Yardmaster