Virginia Railway Express
The Virginia Railway Express, or VRE, is a relatively new commuter agency, which is based in northern Virginia and serves Washington, D.C. VRE currently owns none of its own track, instead operating over CSX, Norfolk Southern, and Amtrak although it does own its passenger cars and locomotives. The service has steadily grown over the years and today averages nearly 15,000 commuters between its two rail lines and serves 21 different stations. For commuters which live in northern Virginia and work in Washington the commuter service has been a great means of transportation and according to the VRE's latest numbers its popularity is steadily growing, which may mean increased services offered in the future.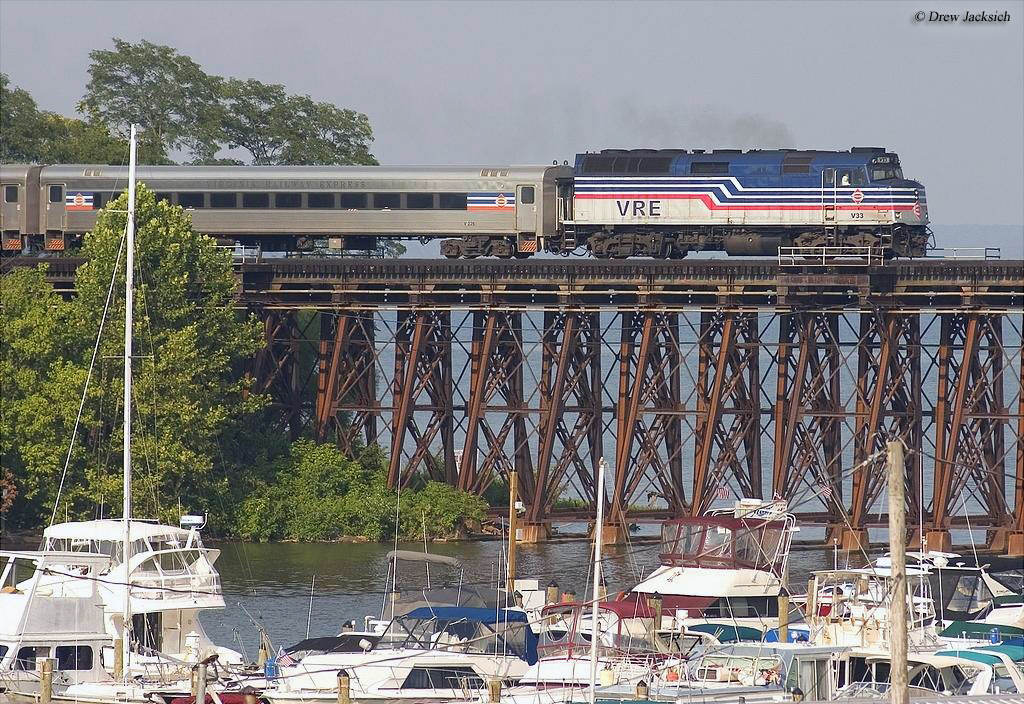 A former Amtrak F40PH, now VRE #V33, leads a commuter run across the Neabsco Creek Bridge in Neabsco, Virginia on August 2, 2005.
Along with Amtrak, state passenger railroading operations are gaining support and receiving increased attention and funding, particularly as highways become increasingly congested. Perhaps the two most noted states that are giving passenger railroading serious attention include North Carolina and California. Both are doing a magnificent job developing passenger rail corridors in their respective states, particularly North Carolina. If you are interested in seeing how a passenger rail network should be properly implemented, planned, and carried out have a look at what the Tarheel State is doing.
However, North Carolina and California are not the only two states that have a well-developed network already in place. Other states including Washington, Florida, Virginia, Texas, New Jersey, Pennsylvania, Maryland, Massachusetts, New York, New Mexico and others all have commuter rail networks either in place or planned for the future. Amtrak also runs trains in conjunction with certain states like Washington's Sounder service and North Carolina's Piedmont.
The Virginia Railway Express began in 1992 and is managed by the Northern Virginia Transportation Commission (NVTC) and the Potomac and Rappahannock Transportation Commission (PRTC). Departing from Washington D.C.'s Union Station VRE commuter trains use one of two railroad routes: the Manassas Line which serves 9 stations, L'Enfant Plaza, Crystal City, Alexandria Union Station (also served by Amtrak), Backlick Road, Rolling Road, Burke Center, Manassas Park, Manassas, and Broad Run; and the Fredericksburg Line which serves 11 stations L'Enfant Plaza, Crystal City, Alexandria Union Station (also served by Amtrak), Franconia-Springfield, Lorton, Woodbridge, Rippon, Quantico, Brooke, Leeland, and Fredericksburg.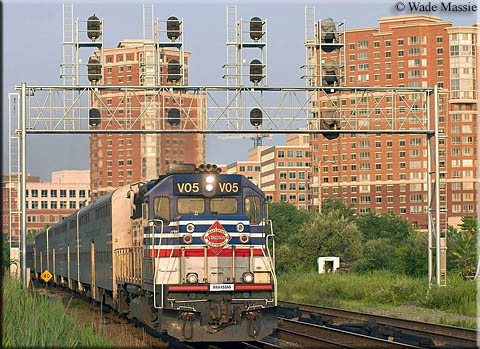 Virginia Railway Express RP39-2C #V05 rolls under the signal bridge and nears AF Tower in Alexandria, Virginia with its train on the evening of August 1, 2005.
VRE's current equipment, which can handle between 135 and 150 seats, includes mostly standard, single level commuter railroad cars although they do have a small fleet of duel-level railroad cars. For power the commuter agency uses all EMDs, most of which have been rebuilt from four axle, GP40s:
· GP40H-2 (3, Rebuilt from GP40s)
· F40PH (1, Ex-Amtrak)
· F40PH-2 (5, Ex-Amtrak)
· RP40-2C (2, Rebuilt from GP40s)
· RP39-2C (10, Rebuilt from GP40s)
While at first it was unclear just how successful the idea of starting a commuter railroad operation to serve northern Virginia would be, over the last 14 years results have spoken for themselves. Between 1997 and 2011 daily ridership has jumped from around 6,000 patrons to nearly 20,000 today! Part of VRE's success has been due to its flexibility. For instance, for commuters heading in the opposing direction they can switch from MARC trains to VRE trains and vice versa.
---
In this view, RP39-2C #V03 crosses the Aquia Creek Bridge in Aquia, Virginia during the afternoon of August 4, 2005. This will be one of just many trains to come during the evening rush.
For a complete statistical look at Virginia Railway Express's numbers and growth over the years please click here. VRE's mission statement claims that it will provide safe, cost-effective, accessible, customer-responsive, reliable, rail passenger service as an integral part of a balanced, intermodal regional transportation system, and from the results of how the service has performed over the last 14 years I think one can safely say that the commuter agency has very much lived up to that proclamation. If you would like to learn more about the VRE or are perhaps considering using the system please click here to visit their website.  Lastly, American-Rails.com is a partner with the major hotel website, HotelTravel.com. If you will be using the Virginia Railway Express to travel to the nation's capital for any reason and will be in need of Washington, DC hotels for accommodations, please visit their website.