Classic American Railroads Volume III, By Mike Schafer
In Classic American Railroads Volume III Mike Schafer continues his coverage of well known fallen flag systems just as he did in the earlier Classic American Railroadsand More Classic American Railroads. The latest in the series was released in 2003 by MBI Publishing (who also released the previous two versions) and to date there have been no follow-up books written. In some ways this is too bad as all three are excellent, which I highly recommend purchasing for either yourself or a loved one (especially if you have a child with an interest in trains). This last book features several of the smaller lines and even covers one of the most well known interurbans that survived all of the way through the early 1980s. In any event, for history's sake there were more than 100 classic lines once operating in this country and Mr. Schafer's series has only highlighted less than 40% of these. So, if he has the time, interest, and energy Mike could probably write three more books if he so chose.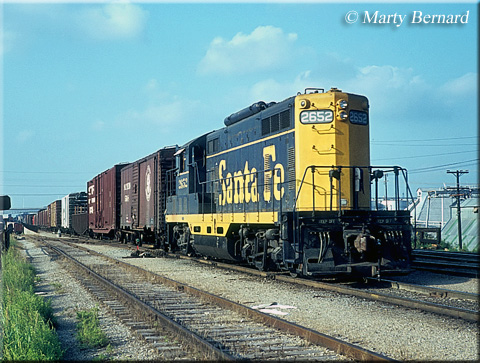 Santa Fe GP7 #2652 runs long-hood forward as it works hard by itself with an endless string of freight cars moving through Oklahoma City on September 10, 1966.
In Classic American Railroads Volume III, Mike Schafer introduces thirteen more companies including (in alphabetical order as they are presented in the book) the Atlantic Coast Line, Canadian National, Clinchfield Railroad, Delaware Lackawanna & Western (Lackawanna), Duluth Missabe & Iron Range (Missabe Road), Illinois Terminal, Maine Central, Monon Route (the Chicago, Indianapolis & Louisville Railway), Norfolk & Western, Reading, St. Louis-San Francisco Railway (Frisco), Soo Line (the Minneapolis, St. Paul & Sault Ste. Marie Railway), and the Spokane Portland & Seattle. For those with more knowledge on the industry's history you can probably tell that several smaller and/or less well-known lines are covered in the latest, which first began with the second book More Classic American Railroads.
Perhaps more than any book in the series Mr. Schafer gives especial notable recognition within the acknowledgements section of those who not only helped him put together the title but also wrote some of the articles directly. Of the six authors that contributed their work to Classic American Railroads Volume III, five are rather well known rail historians; Kevin Holland (wrote the articles highlighting the Canadian National and Maine Central); Jim Boyd (covered the Clinchfield and Spokane, Portland & Seattle); Joe Welsh (featured the Atlantic Coast Line and Norfolk & Western); Mike Del Vecchio (wrote the history of the Lackawanna along with Tom Taber and Mr. Schafer); Steve Glishinski (highlighted the Missabe Road, Soo, and Frisco); and Tracy Antz (featured the Reading). It should also be mentioned that a number of these individuals also contributed their photographic collections to the book.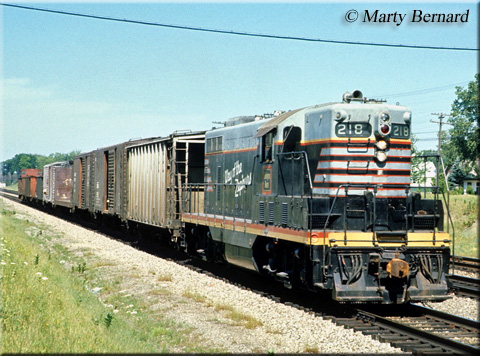 One of the Burlington's so-called "way freights" (the railroad's term for a local) meanders through Westmont, Illinois led by GP7 #218 on July 15, 1966.
The book's foreword and introduction are also the most extensive in the series. The former is provided by Kevin Keefe, one-time editor of Trains magazine, discussing not just the history of classic railroads but those which you will read about in the book. Additionally, he gives mention to all of the historians that helped bring the book together and their contributions, in general, to telling the history of the industry. Finally, in the latter Mr. Schafer discusses what it has been like to write all three books. He also talks about what is in the book and how he went about choosing particular companies with some of the criteria being their time in business, how well they were known, their impact on the industry and the public, and finally location (all three books feature lines that served all of the different regions of the country).
Of all the lines covered in Classic American Railroads Volume III perhaps the most interesting is one of the smallest, the Illinois Terminal a company that began life as a Midwestern interurban serving central Illinois. The history of the IT dates back to a line with the same initials, the Illinois Traction owned and operated by William McKinley. While interurbans by their nature were not very successful McKinley was a visionary that expanded his system across Illinois and concentrated heavily on freight operations. Schafer's overview of the IT is quite interesting providing a look at the lines making up the IT as well as its contemporary operations as a main line railroad after it abandoned electrified operations for diesel locomotives.
In the article, Mr. Schafer provides a section including a table that lists the IT's mileage, locomotive/rolling stock fleet, main lines, and primary passenger trains as well as an original system. This is one of the true gems of the entire series, every railroad includes such information and it for myself, it has been a valuable resource when doing research, even today. While it is probably an unlikely idea to believe Mike will put together any further books highlighting fallen flags considering it has been several years now since the last title was released hopefully one day he will given how wonderful the first three have been.
A trio of Richmond, Fredericksburg & Potomac Geeps along with an E8A ease through Potomac Yard in Alexandria, Virginia on the foggy morning of April 29, 1970 with a northbound freight in-tow.
As I mentioned above all three of Mike Schafer's books covering fallen flags and other classic railroads remains an important resource tool within my collection. Whether you are interested in the history of the railroads themselves or just want a book of interesting photographs of the nostalgic days of the industry Classic American Railroads Volume III is a great title. Also, if you have a young child, family member, or loved one with an interest in trains they are sure to enjoy either this particular title or the entire series. In any event, if you're interested in perhaps purchasing this book please visit the link below which will take you to ordering information through Amazon.com, the trusted online shopping network.
Related Reading You May Enjoy