Appalachian & Ohio Railroad: The A&O is currently owned by Four Rivers Transportation, a CSX subsidiary. It operates on CSX-owned trackage between Grafton and Cowen, a former B&O line, that spans nearly 160 miles.  Visit the A&O website regarding career information.
Beech Mountain Railroad: This tiny short line, dating back to 1890, ebbs and flows from dormancy and active status as it serves a local coal mine near Alexander and Palace Valley. Most likely they do not have any openings (they are currently active). However, they may be contacted at; 1005 Glenway Avenue, Bristol, Virginia 24201.
Durbin & Greenbrier Valley Railroad (Oversees freight operations on the West Virginia Central Railroad): The WVC provides freight service on the Western Maryland Railway's former trackage south of Elkins. The railroad also operates excursion trains during much of the year.  For contact information please click here.

Elk River Railroad: This railroad operates part of the B&O's former Charleston to Grafton line although it is currently inactive aside from storing rail cars at its yard in Gassaway.
Little Kanawha River Railroad:  This little short line began operations in 1989 when it took over a short 1-mile spur in Parkersburg from CSX, formerly owned by the B&O to serve local industries.  It remains in service today utilizing a pair of switchers to shuffle cars around their property.  Visit their website for contact information.
R.J. Corman Railroad: RJ Corman operates a multifaceted rail-related business from operating shortlines to selling locomotives. The company's operations in West Virginia currently include a former C&O branch located near Thurmond and a connection with CSX.  For all career inquiries please visit RJ Corman's main website.
Please Click Here To Return To The Main Jobs Page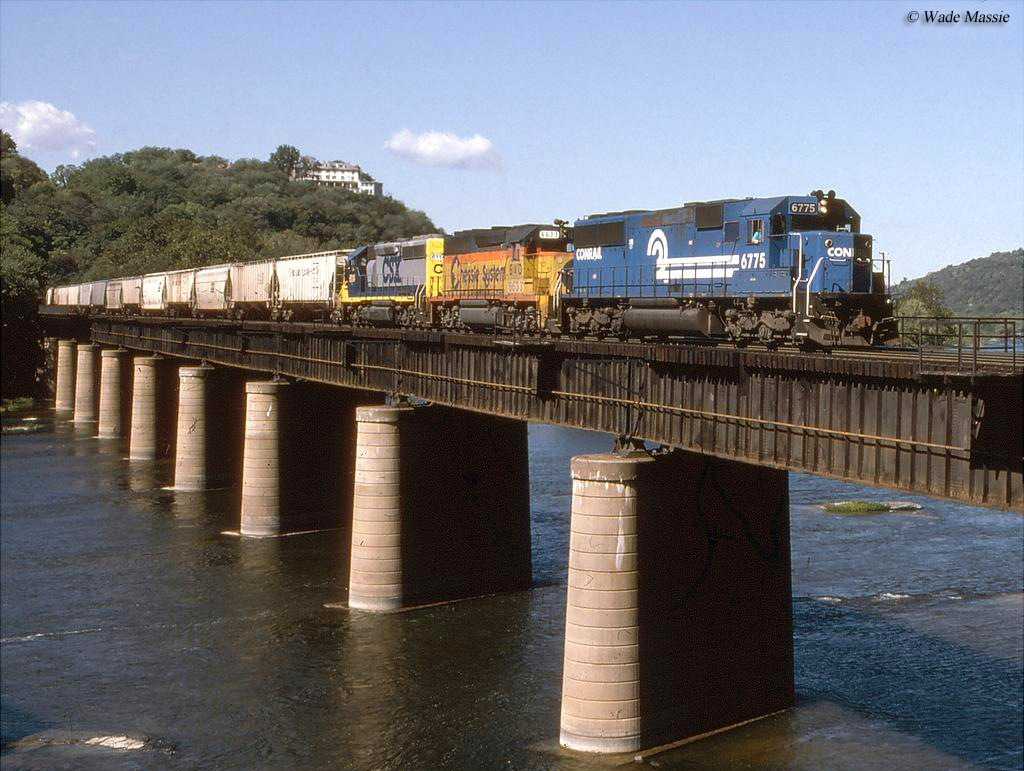 Conrail SD50 #6775 leads a barely-patched Chessie System/B&O Geep and a CSX unit as all three locomotives hurry an eastbound grain train over the Potomac River at Harpers Ferry, West Virginia on the afternoon of October 3, 1993.
South Branch Valley Railroad: The SBVR is operated by the West Virginia State Rail Authority on state-owned tracks spanning just over 52 miles between Petersburg and Green Spring. The property was originally owned by the B&O and also hosts excursions during the summer months.   Address:  120 Water Plant Drive, Moorefield, West Virginia 26836.
Winchester & Western Railroad: The W&W operates a 54 mile system between Gore, Virginia (just south of Winchester) and Hagerstown, Maryland. Along the way the railroad passes through the Eastern Panhandle of West Virginia reaching Martinsburg. To contact the railroad; P. O. Box 264, Winchester, Virginia 22604.
Related Reading You May Enjoy