The Whippany Railway Museum

The Whippany Railway Museum, located in Whippany, New Jersey, has its beginnings dating all of the way back to the mid-1960s. Today the museum's main focus is to preserve the history of New Jersey's railroading past while also recognizing our country's rail history in general. Being that the museum has over 40 years of history it certainly has an interesting past and in that time has collected quite an eclectic and interesting collection of equipment from Alco and GE switchers to Alco 0-6-0 #4039 which the museum is currently in the process of restoring to operation. If you are interested please consider helping out the museum in restoration process of this engine, steam locomotives are certainly a rare commodity today in our country and seeing them in operation is truly like nothing else.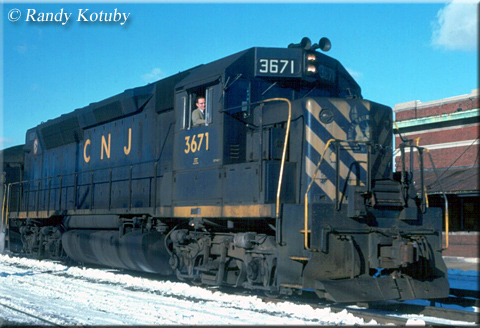 Jersey Central GP40P #3671 has a commuter run at Bound Brook, New Jersey on December 26, 1976.
In its earliest form, before officially becoming a museum in 1985, the Whippany Railway Museum was home of the Morris County Central Railroad, which was a steam-powered tourist line that began operations in 1965. Soon after those who operated and kept the MCCRR in service formed the Morris County Central Railroad Museum, which then used part of the nearby Morristown & Erie Railway freight depot to house artifacts and memorabilia for the museum. The M&E itself is a historic company, dating back to 1902 and today operates a freight system covering nearly 160 miles.
Because of its location and ability to provide a tourist train the museum had become a popular area attraction by the mid-1970s although to better accommodate the growing interest the operation was moved to Newfoundland, New Jersey by 1974.  Once the museum, renamed the Pequannock Valley Transportation Museum, had moved to Newfoundland it no longer had the luxury of a freight depot, or building at all, to house its equipment and set up shop in a converted refrigerated rail car. Unfortunately, the tough economic times of the 1970s did in the tourist line which shut down in 1980. However, the museum carried on and was able to find a home in a former museum building in Whippany, ironically also owned by the Morristown & Erie Railway.
A quartet of Lehigh Valley C420s led by #408 have a pig train crossing the Delaware River at Easton, Pennsylvania on an overcast and rainy October day in 1975.
This building was a former M&E freight depot, which by the 1980s the railroad no longer had any use for. As such, the museum group thought it would make a wonderful addition to their collection and was successful in saving the building from destruction, working for more than five years restoring it for use as a museum. Finally in October of 1985 the group was open for business and had renamed the organization the Whippany Railway Museum, which along with their equipment had two restored M&E freight depots on site to showcase and use for display and excursion purposes.
In terms of its relation to the Garden State the Whippany Railway Museum today, offers one of the best collection of historic equipment preserving New Jersey's railroad history (and it shows through the thousands of visitors the organization sees pass through its gates annually). The museum once more offers a wide range of excursion trips (including seasonal specials, such as the Easter Bunny Express, Pumpkin Festival, and Santa Claus Special) and features a growing collection of equipment which is listed below. Finally, for more information about the Whippany Railway Museum please click here to visit their website which lists their hours and dates of operation, available exhibits, and excursion train schedules.
* Central Railroad of New Jersey Coach Car (Operated on the Bluecomet.)
* Morristown & Erie Alco RS1
* Delaware & Hudson Railway Caboose
* Morristown & Erie Railway Caboose
* Morristown & Erie Railway Railbus
* New York, Susquehanna & Western Railway Whitcomb Diesel Switcher
* Pennsylvania Railroad Caboose
* Rahway Valley Railroad GE 70-tonners #16 and #17
* Soo Line Railroad Caboose
* US Army Corp of Engineers 0-8-0 Steam Locomotive
---
Penn Central GP38-2 #8093 and former Reading GP35 #3627 hustle an eastbound freight through Clark, New Jersey during August of 1976.
For more reading about New Jersey railroading I would suggest Railroads of New Jersey: Fragments of the Past in the Garden State Landscape, by author Lorett Treese, which gives a general history of the Garden State's railroading past from its beginnings in the early 19th century in helping to shape the state's future to today's tourist lines and rail/trails, and pretty much everything in between! If you have any interest in New Jersey railroading and the railroads which operated there you are almost sure to enjoy the book.  Also, for more information and reading about excursion trains and railroad museums you might want to consider picking up Tourist Trains Guidebook from the editors of Kalmbach Publishing's Trains magazine. The book lists and reviews over 400 excursions and museums found throughout the country and is an excellent resource if you're looking for one to visit. In any event, if you're interested in perhaps purchasing either (or both) of these books please visit the links below which will take you to ordering information through Amazon.com, the trusted online shopping network.