The Western Maryland Railway was once an important eastern carrier, connecting Baltimore, Maryland with points to west including, in Maryland, Hagerstown and Cumberland. It reached as far as Connellsville, Pennsylvania where it connected to the Pittsburgh & Lake Erie and Pittsburgh & West Virginia (the railroad also served other Pennsylvania towns including Shippensburg, Gettysburg, and York). To the south the WM connected to Elkins, West Virginia, a city which became the railroad's central hub for the coal mines it served in the area (at Durbin it had an interchange with the Chesapeake & Ohio).
As for its place amongst eastern carriers, the WM was part of the famed "Alphabet Route", which included a number of smaller Class Is (aside from the WM it included the Nickel Plate Road, P&WV, W&LE, Reading, Central Railroad of New Jersey, Lehigh & Hudson River, and New Haven) that gave shippers an alternate route between Boston and St. Louis/Chicago. These corridors were predominantly controlled by the B&O, NYC, and PRR, and the Alphabet Route lines tried very hard to provide top notch service across their respective routes to gain and retain as many shippers as they could.
The WM's line through the Mountain State was officially known as the Thomas Subdivision, which connected Cumberland with Elkins and was originally built by the West Virigina Central & Pittsburgh Railway, a company sold to the WM in 1905. Today, the state of West Virginia has the WM's entire lines around Elkins operational except its extension from Bemis to Webster Springs (in total these lines comprise exactly 132.13 route miles of railroad). Interestingly, this stretch of out-of-service track, nearly 80 miles in length is the largest part of the line. Hopefully one day the state will have the funds to restore the route, although with no current shippers as an incentive it is unknown when it will actually occur.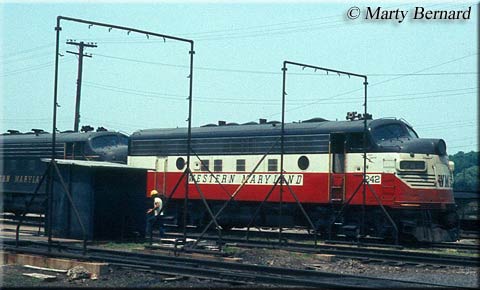 Western Maryland F7A #242 sporing the Circus livery and a mate in the older speed lettering await their next assignments at Harrisburg, Pennsylvania on June 9, 1972.
Currently, I do not know much about the West Virginia Central's freight operations, except for a quarry served near Elkins and another shipper near Dailey. For more information about the West Virginia Central Railroad please click here to visit their official website. The site covers all of their operations, including both their excursion trains as well as available freight services. To the delight of railfans the WVC operates some of the most unique diesel equipment you can find anywhere, including a rare BL2, of original WM heritage. What's more, the West Virginia Central currently has its entire roster painted in WM's original "speed lettering" livery. All in all,the future certainly looks bright for this little shortline in West Virginia!
Related Reading You May Enjoy