Bill Yenne's, Atlas of North American Railroads

Thanks to the good folks at Voyageur Press I have had the fortune of perusing through a few of their books. One of these is Atlas of North American Railroads by author Bill Yenne and as the name states, it is a title filled with historic maps of classic railroads. I was interested in the book for its reference significance and I must say that I'm glad I choose it, the maps are very useful. Even if you have no interest in such a book for referral purposes, being able to visually see where a railroad operated, which you have read about is very helpful (as I have found out myself). Additionally, Yenne's book features maps of all of the classic early "mega merger" lines (such as the Erie Lackawanna and Conrail) as well as present-day Class I system.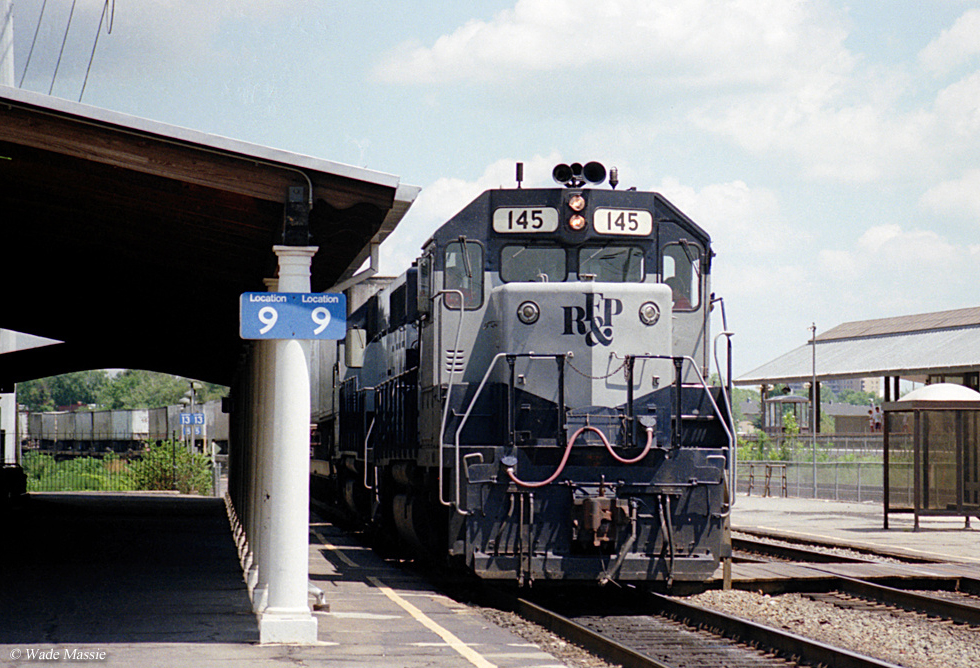 Richmond, Fredericksburg & Potomac GP40-2 #145 and a mate hustle the afternoon piggyback freight out of Potomac Yard and past the station in Alexandria, Virginia during a summer afternoon in 1989.
I should state upfront that if you are after a historical overview of fallen flags, this book is not it (if this is what you are interested in check out Mike Schafer's Classic American Railroad series). Mr. Yenne's title does give a brief history of each company he highlights. However, this is very general, usually just a few paragraphs in length as the main focus on each page our the maps themselves. Most of the maps are original Rand McNally & Company works (the same company that always produced the railroads' maps when the Official Guide was published) thus they are historically accurate.
The Atlas of North American Railroads is not broken down into chapters, per se, but rather railroad-by-railroad listed in alphabetical order. The author does not have all of the best remembered fallen flags listed in his book although he does feature about 80, including the current Class I systems (as well as regional Montana Rail Link). He also mentions some smaller lines of interest as well as the stillborn Santa Fe Southern Pacific (the failed merger of the two massive western railroads in the 1980s). The SFSP is of particular interest as you get an idea of how the two companies would have appeared as a single railroad.
Family Lines GP16 #1766 and a Seaboard System unit roll past the station platform in Wilson, North Carolina with a mixed freight in-tow on March 30, 1989 during the early CSX era.
Before the book actually begins highlighting each railroad it starts off with an Acknowledgment and Introduction for the reader. Essentially, the former is a thank you by Mr. Yenne about everyone who has helped him research and the write the book (including many folks who work for the Class I railroads) while the latter, as the name implies, gives you an idea of what the book will feature. The introduction also gives a general overview and history of the railroad industry, from its earliest beginnings, to the turbulent years following World War II, and finally how the industry has recovered since 1980. Still, this is quite brief and only a few pages in length overall.
As for the maps themselves, their dates are quite varied; some are from as early as the mid-19th century while others cover the present-day Class Is (as mentioned before). Still, in general, most of the maps date between 1920 and 1960 when the classic lines were at their peak size, directly before the mega mergers and abandonments in the 1960s, onward. The book does have one slight error, and that is with its historical footnote of the Milwaukee Road, which is actually fairly common amongst mainstream texts these days.  The prevailing theme, as in Mr. Yenne's book, is that the Milwaukee Road collapsed due to a poor marketing position in comparison to the Great Northern and Northern Pacific. This is not true, as the railroad fell apart due to its own, incompetent senior managers.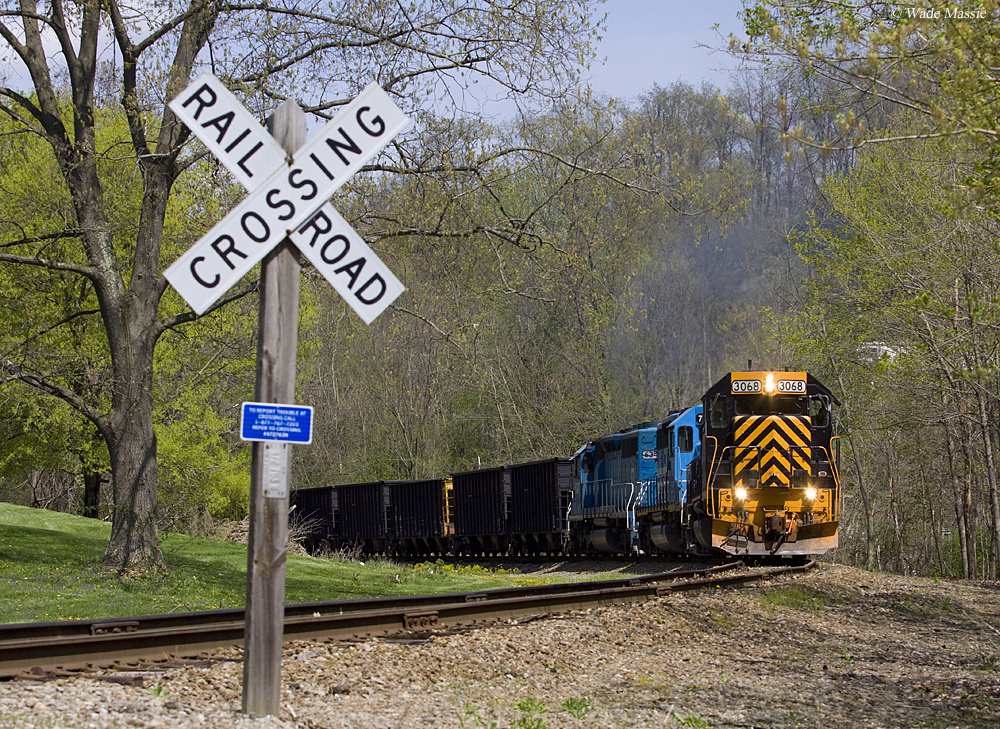 Wheeling & Lake Erie SD40-3 #3068 and two mates muscle their ore train up a short grade near rural Froman, Pennsylvania as they near a grade crossing on a beautiful April 27, 2011.
To read about the true history of the railroad please click here. In any event, all in all I would highly recommend picking up a copy of Atlas of North American Railroads if you do not already have the book in your collection. The maps it features not only, again, make excellent reference material but they also cannot be found anywhere else unless you are fortunate enough to have in your possession a copy of the Official Guide (speaking of which, if do have the opportunity to obtain a copy of the Guide please not do pass it up!). If you would like to order Mr. Yenne's book you can do so by going to any of the major booksellers such as Barnes & Noble, Borders, or Amazon. You can also order it direct through the Voyageur Press website by clicking here. Finally, if you are interested in ordering the book through Amazon you can do so by visiting the link below which will take you to ordering information at their website.