The big news this week is the announcement that Chesapeake & Ohio 2-8-4 "Kanawha" #2716 will be moved from the Kentucky Railway Museum in New Haven to the Kentucky Rail Heritage Center's shop at Irvine/Ravenna where it will undergo a complete restoration. This event will take place from July 26th through July 28th with stops in Frankfort, Midway and Lexington before arriving at its new home. Complete details can be found below.
----------------------
Header Photo: "A Union Pacific company photo featuring a PA-PB-PA set ahead of train #10, the eastbound 'City of St. Louis' (Los Angeles - St. Louis), near Lawrence, Kansas circa 1956. Note the train is not yet a 'Domliner,' missing its dome-lounge-observation."
---
Article Of The Week
The Milwaukee Road Story : How one of America's great railroads was lost due to corporate greed. An in-depth look at the Chicago, Milwaukee, St. Paul & Pacific; from its genesis to final days.
Notable News
Union Pacific Derailment In Nevada Destroys Dozens Of New Vehicles
FRA Issues Grants For 45 Rail Projects
Kentucky Issues Grants For Several Improvement Projects
The Future Of Scrap Metal Traffic
General Rail News
Northern Plains Railroad To Open New Grand Plains Rail Center
Historic Short Line Chicago, South Shore & South Bend Marks Five Years Injury Free
Steel Ties Offer Efficiencies
Northern Plains Rail Breaks Ground On Rail Car Repair Center
Union Pacific To Fine Truckers Who Are Late Or Miss Appointments
Union Pacific Intermodal Traffic Declined In 2nd Quarter
Miner To Supply Components For 3,800 CP, CN Hoppers
Passenger Rail/LRT News
Amtrak Northeast Regional Service Posts May Ridership Increase
The Hoosier State's Final Trip
Railroad History
Bangor And Aroostook Railroad Had Decades-Long History Throughout Maine
Colorado History: Forgotten Railroads — The Denver, Laramie & Northwestern
Trevor's Travels: San Bernardino History And Railroad Museum Is A Blast With A Past
Canton, Ohio's Railroad History Lives On
Midwestern History On Display At Carter Railroad Museum
Look Back: Little Kanawha Railroad A Vital Mid-Ohio Valley Artery
Preservation
Sheridian, Wyoming Mulls Decision On Chicago, Burlington & Quincy 4-8-4 #5631: The Locomotive Has Sat On Display Since 1962

Rail/Trails Throughout Colorado

Uniontown, OR Caboose Departs For Seaside To Become Display

Adirondack Scenic Railroad To Build Maintenance Shop

Cumbres & Toltec Scenic Builds Premium Passenger Cars, Project 50% Complete

Popular Mechanics: Big Boy 4014 Spotlight

Port Of Kalama To Purchase Spokane, Portland & Seattle 2-8-2 #539

Cass Scenic Railroad Climax #9 Expected To Return To Operation This Fall
Station/Depot News
Michigan Central And The Rebirth Of Detroit
Former Delaware & Bound Brook (Reading Railroad) Station In Pennington, NJ Is For Sale
A Look At Marion Union Station
Train Excursions/Museums
Former Silver Meteor Sleeper Hosting Excursions In Galesburg, IL This Fall
Wine By Rail In Colorado
Whiskey, Tall Tales, And A Summer Evening On The Bourbon Train
Spotlight: Kentucky Railway Museum
Lexington Brews Up Event To Celebrate Arrival Of Historic Steam Locomotive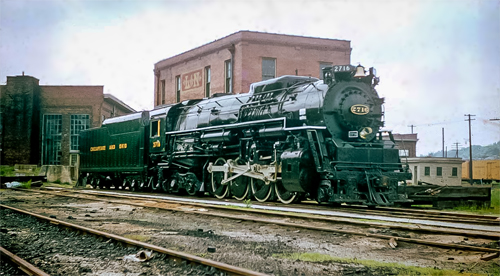 July 15, 2019

Lexington, Kentucky: A locomotive that rumbled down the streets of downtown Lexington more than sixty years ago is making a triumphant return to the bluegrass, and the city of Lexington has literally brewed up an event to celebrate. A mammoth 75-year-old steam engine will roll into town, thanks to the generous cooperation of the R. J. Corman Railroad Group and CSX Transportation. On Saturday, July 27, Chesapeake and Ohio steam locomotive 2716 will be on static display on Manchester Street, across from the Pepper Campus from 3 p.m. to 6 p.m., and the public is invited to get up close and personal with a piece of the past, while sipping on a beer brewed in honor of the historic event.

The 400-ton engine is being transported to Irvine/Ravenna, Kentucky, and is slated to be restored to operation, taking center stage at the The Kentucky Steam Heritage Corporation's Kentucky Rail Heritage Center, a blossoming Eastern Kentucky economic development project based in Estill County.

The Kentucky Steam Heritage Corporation, a 501(c)(3) public charity, is spearheading efforts to help revitalize the regional economy in Appalachian Kentucky with a multi-faceted rail-based initiative. The locomotive's move will be a mobile kick-off for the project, allowing the public to view of a piece of the region's history, and what may be a key part of its future.

Ethereal Brewing, located in the Pepper campus just a few feet away from the display location, has partnered with Mirror Twin Brewing to brew a special steam-style beer in honor of the project. "Back On Track Steam Beer" will be served at the event from beer trucks placed adjacent to the engine, as well as in the taprooms at each brewery. A portion of the sales of each pint will go to help fund the Kentucky Rail Heritage Center project.

Brandon Floan, co-founder of Ethereal Brewing, said his brewery is happy to get in on the action and are having fun co-brewing a beer in a style that happily coincides with the "steam" theme.

"After hearing about the tour of a historic steam-powered locomotive, we (and Derek DeFranco of Mirror Twin Brewing) immediately thought of brewing up a "steam beer" to commemorate the event," Floan said. "This style is also a gem from America's past; it's an easy drinking amber lager featuring classic American hops and brewing techniques."

Derek DeFranco, head brewer at Mirror Twin, said that when initial plans fell through to display the engine in front of their brewery (located on National Avenue), the collaboration with Ethereal came up naturally.

"We had told Kentucky Steam that we would brew the beer, and when the display location needed to be changed, we thought it would be a great idea to partner with another awesome brewery and make this a reality," DeFranco said. "In the end, we are excited to be a part of the event and are glad that the spirit of collaboration that anchors Kentucky Steam's project can continue through the beer we're brewing to honor it."

Downtown Lexington Partnership is co-hosting the festivities, which will kick off with the arrival of the locomotive around 3 p.m. on Saturday, July 27. Ethan Howard, Placemaking and Economic Development Manager, said the city is happy to collaborate with both the Estill County-based non-profit and Lexington area businesses.

"We are pleased to partner with the Kentucky Steam Heritage Corporation as they bring Locomotive 2716 and their exciting project through the Distillery District in Downtown Lexington," Howard said. "We're grateful to the local partners, especially R.J. Corman Railroad Group, for making this event a reality and for their ongoing support of Downtown throughout the year."

The city has elected to open up additional parking, opening the lot at the Lexington Recycling Center, located off Manchester at Thompson Road. The Lexington Fire Department will also contribute to the festivities, displaying multiple apparatuses from past and present operations. Included in the LFD displays will be the first motorized truck purchased by the city in 1911, a 1948-built truck and a modern, state-of-the-art engine.

The entire event has been made possible by groundbreaking support of two large railroad companies. Thanks to CSX Transportation and Nicholasville, Ky.-based R. J. Corman Railroad Group, the vintage locomotive will be transported from the Kentucky Railway Museum, in New Haven, to Estill County from July 26 through 28. Several public viewing stops are planned, and a public excursion on July 26 kicks off the weekend, the proceeds from which will be shared by Kentucky Steam Heritage and the Kentucky Railway Museum, both non-profit entities.

R. J. Corman Railroad Group, LLC President and CEO Ed Quinn said, "The Kentucky Steam Heritage Corporation is working hard for the community of Ravenna, Kentucky, and we are proud to partner with their organization to take part in the historic move of the C&O 2716. Being able to work together with CSX, local businesses and community organizations to help Kentucky Steam Heritage make this move and the surrounding events a reality has been exciting and we are fortunate to be able to participate."

Locomotive number 2716, was built in 1943 and visited the bluegrass region frequently while in service until its retirement in 1956. It was one of the largest locomotives to ever run on the line between Louisville and Ashland. After being retired, it was donated to the Kentucky Railway Museum, now located in New Haven, Kentucky. Kentucky Steam Heritage, an Estill County-based non-profit entity, leased the engine in 2016 with plans to eventually operate it on excursions and use its operation as an educational tool.

The locomotive is slated to be on display in Frankfort in front of the old Capital on Friday, July 26 from 6-8 p.m.; In Downtown Midway on July 27 from 10 a.m. until 1 p.m. and in Lexington July 27 from 3-6 p.m. The weekend will conclude on Sunday, July 28 as 2716 arrives in Estill County; a welcoming ceremony is planned to be held at Veterans Memorial Park in Ravenna, starting at 3:30 p.m. The schedule is subject to change.

Both The Kentucky Railway Museum and Kentucky Steam Heritage will have booths at many of the events, promoting rail tourism on both sides of the state. Also, both CSX and R. J. Corman will be sponsoring Operation Lifesaver tents, a program aimed at promoting rail safety.

A handful of tickets still remain for the "Heritage Highball" excursion on Friday, July 26 at the Kentucky Railway Museum. Tickets are available for purchase online at: Heritage Highball

For up-to-date info about the move, visit Kentucky Steam on the web and on social media:

Kentucky Steam Heritage Corporation

Facebook.com/kentuckysteam

Twitter.com/kentuckysteam

Instagram.com/kentuckysteam
Photo Gallery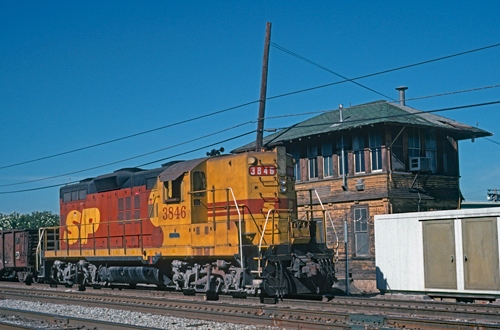 ---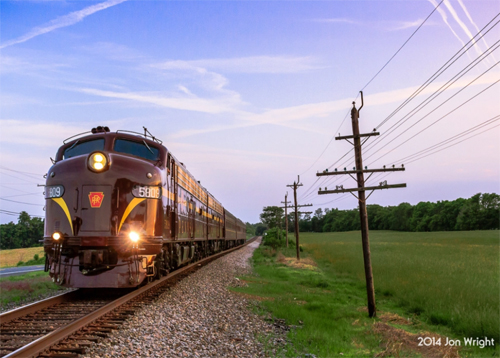 ---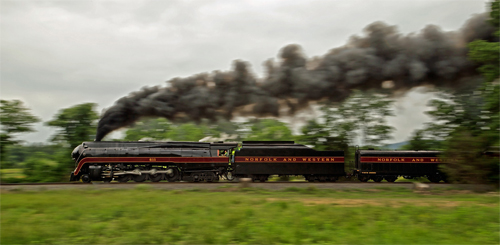 ---