Alabama Railroad Jobs

Last revised: April 28, 2023
As with almost every other state the largest employers for Alabama railroad jobs are the large Class Is.
However, the state also has its share of smaller railroads as well although it is usually much harder to find a position within these companies due to their small size.
Along with Amtrak, four of the seven Class I railroad operate within Alabama's borders including BNSF Railway, Canadian National, CSX Transportation, and Norfolk Southern.
These companies make up more than 70% of the state's rail network with short lines and one regional making up the rest. 
Of note, if you have very little knowledge about the railroad industry and your interest in a position includes transportation or maintenance (such as engineer, conductor, signal maintainer, etc.) the work can be very demanding and require numerous long hours away from home. 
This is especially true for Class I railroads as smaller regional and short lines usually do not have the system size or customer demand.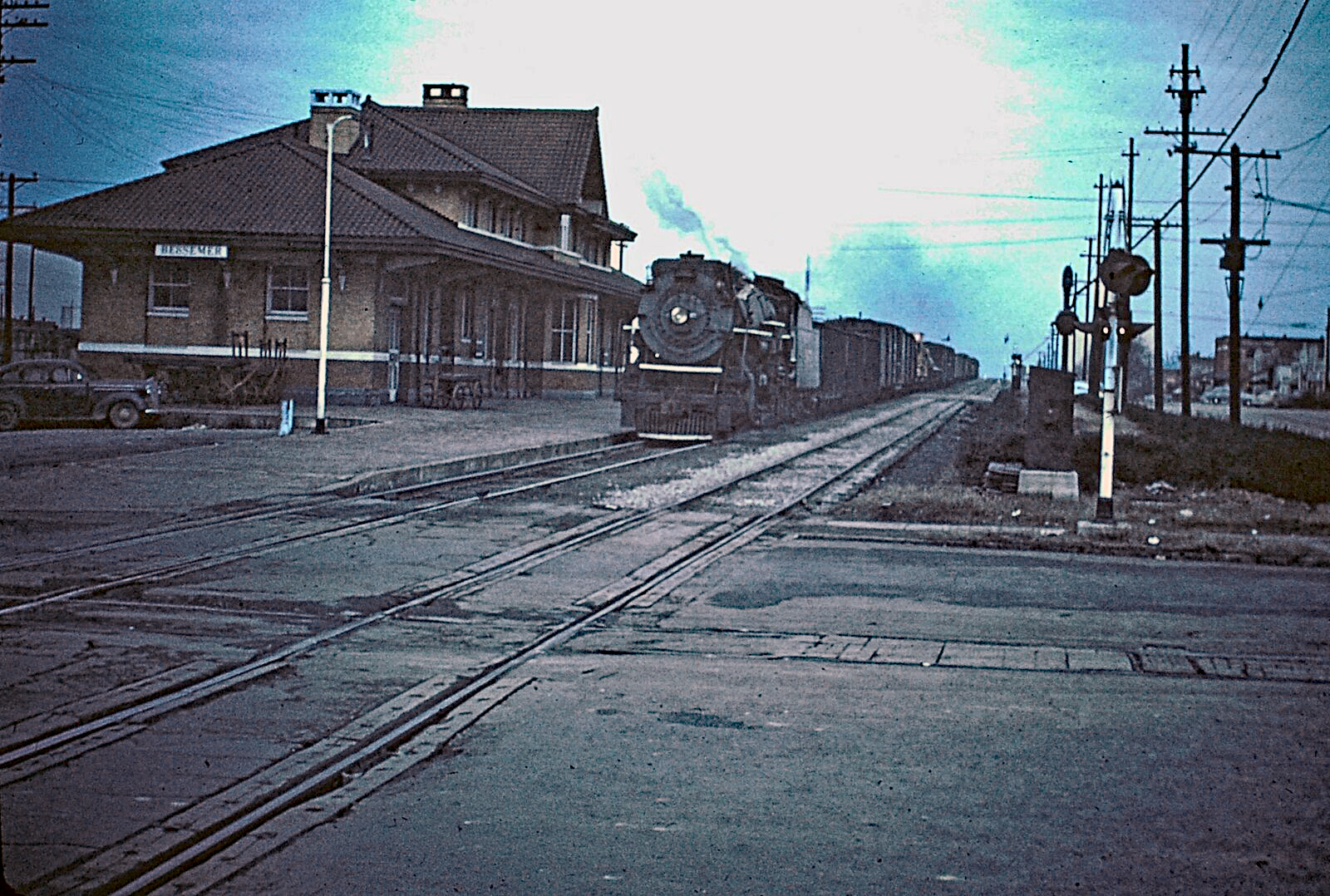 Southern Railway 2-8-2 #6626 (MS-4) steams southbound past the depot at Bessemer, Alabama on subsidiary Alabama Great Southern with a long freight train in August, 1950.
In any event, on Class Is it is not uncommon to work 12 hours at a time. Despite the long hours, pay is excellent as are the benefits and retirement.
I receive a lot of e-mails about this so again, please let me stress that contacting me concerning job information is of little use because there is simply not a lot I can do to help.   
You will need to contact the individual railroad to see about job openings (Genesee & Wyoming, Watco, and Patriot Rail requests that all potential job seekers visit the employment page at their respective websites).
While addresses are often included here for many companies, I cannot fully guarantee that the information is completely up-to-date or accurate (please research, yourself, to be sure).
Finally, if you are interested in working for one of the Class I railroads which operate in Alabama be aware that you probably will not work in the local area, or perhaps anywhere in the state for that matter as, they will place you wherever needed. 

Class I Railroads/Amtrak
Short Lines And Regionals
Alabama & Gulf Coast Railway: The is a G&W property operating nearly 350 miles of track running from eastern Mississippi, through western Alabama, and finally terminating at Pensacola, Florida. 

Alabama & Tennessee River Railway: The A&TR is owned by OmniTrax and has been in service since 2004 after acquiring 120 miles from CSX. Address: 3425 Forrest Avenue, Gadsden, Alabama 35904. 

Alabama Railroad: The Alabama Railroad was a Pioneer RailCorp property, originally operating 60 miles of trackage between Flomaton and Corduroy, Alabama. 
A former L&N branch, the short line began service in 1991.  The property filed for abandonment on April 18, 2019 but was reactivated in 2020 as the Alabama Railroad, LLC.  It currently operates 48 miles from Flomaton to Peterman.
Alabama Export Railroad:  This short line, a division of the Mississippi Export, serves the Mobile waterfront and the Port of Mobile.  It operates a short loop of track from the Mobile River, north of the port, stretching to the northwest, and then reaches the Mobile Bay waterfront at McDuffie Island.   Address: 690 Dekle St, Mobile, Alabama 36602.
Alabama Southern Railroad: This Watco property began service on November 20, 2005 and operates about 85 miles of track between Columbus, Mississippi and Birmingham, Alabama under lease with Kansas City Southern. 

Alabama Warrior Railway: Formerly known as the Jefferson Warrior Railway prior to August 7, 2009, this Watco property operates about 15 miles of track around the Birmingham area. Current freight includes pipe, scrap steel, cement, aggregates, and other traffic. 
Autauga Northern Railroad:  A division of Watco, the Autauga Northern launched in 2011 operating 43.62 miles of leased Norfolk Southern trackage between between Maplesville and the International Paper Company plant near Prattville.
Bay Line Railroad: The Bay Line was historically the Atlanta & St. Andrews Bay Railway which dated back to the early 20th century. It is currently a Genesee & Wyoming property operating more than 100 miles of trackage between the Florida Panhandle and southern Alabama. It has been owned by Genesee & Wyoming since 2005 and transports a wide range of freight. 

Birmingham Terminal Railway: Formerly known as the Birmingham Southern, this 76-mile system is owned by the Watco Companies. It operates west and south of Birmingham connecting Bessemer and Port Birmingham. The road has its own mechanical and locomotive shop. 

Chattahoochee Bay Railroad: The Chattahoochee Bay is a 25-mile short line serving Dothan and points east. It is owned by the Genesee & Wyoming (since 2006) with primary products including chemicals, forest products, and food and feed products. 

Conecuh Valley Railroad: The Conecuh Valley is another G&W-owned property operating 12 miles of track from Troy to Goshen. 

Eastern Alabama Railway: The East Alabama was a longtime RailAmerica property, which operated former L&N trackage sold to Kyle Railways by CSX on November 26, 1990. It was purchased by RA in 2002, which was then acquired by Genesee & Wyoming in 2012. 

Georgia Southwestern Railroad: This large short line, a Genesee & Wyoming property, is primarily based in western Georgia but also extends into eastern Alabama at Eufaula. The road operates more than 230 miles of track and handles more than 13,000 carloads annually among a wide range of freight. 

Huntsville-Madison County Railroad Authority: This locally owned short line operates on about 14 miles of former L&N track between Huntsville and Norton acquired from CSX in 1984. Address: 119 Woodson Street NW, Huntsville, Alabama 35801. 

Luxapalila Valley Railroad: This short line operates about 38 miles of track from Columbus, Mississippi to Belk, Alabama handling forest and waste products. It is another Genesee & Wyoming line with interchange connections including NS, KCS, and Columbus & Greenville. 

Meridian & Bigbee Railroad: The historic Meridian & Bigbee has been in service since the 1930s and still operates its original route from Montgomery, Alabama to Meridian, Mississippi. It is currently owned by Genesee & Wyoming and handles a wide range of freight. 

Mississippi Central Railroad:  This trackage was originally an independent short line known as the Redmont Railway that had operated since 1995 over about 41 miles of track on former Illinois Central trackage. 
In 2013 it was acquired by the Mississippi Central Railroad and is now operated as its Redmont Division.
RJ Corman/Childersburg Line:  This unique property is actually owned by the United States government, running 13.32 miles between Childersburg, where connection is established with Norfolk Southern, and a CSX connection to the north.  RJ Corman took over operations in September, 2019. 

Sequatchie Valley Railroad: This railroad just penetrates Alabama's northern region and is mostly located in Tennessee running from Kimball, Tennessee to Bridgeport, Alabama. Its origins can be traced back to a carrier by the same but was for many years leased by the NC&StL. It handles about 1,500 carloads annually with freight including plastics and lumber. Address: P.O. Box 296, Bell Buckle, Tennessee 37020. 

Terminal Railway-Alabama State Docks: This terminal railroad is based in Mobile and has been in service since 1928. The railroad has a total of 75 miles of track and serves the local port moving everything from coal and scrap steel to automotive products and chemicals. Address: 126 Industrial Canal Road, Mobile, Alabama 36602. 

Tennessee Southern Railroad: This short line is owned by Patriot Rail and operates primarily in Tennessee from Natco and Pulaski as well as southeasterly to Florence, Alabama. It operates about 118 miles in all handling several thousand carloads annually. 

---
Three Notch Railroad: Another G&W property, the Three Notch operates about 34 miles of track from Georgiana to Andalusia on trackage once owned by the L&N. It handles slightly more than 1,000 carloads annually which includes chemicals, polypropylene, fertilizer and agricultural products.  

Wiregrass Central Railroad: This Genesee & Wyoming line is located in southern Alabama operating 20 miles between Waterford and Enterprise. Its history dates back to the Atlantic Coast Line and was originally sold to Gulf & Ohio in 1987 by CSX.