The Ann Arbor Railroad has had an up and down history, mostly being owned by other railroads or entities. Perhaps the railroad is best remembered for its car float operations which originated at Frankfort, Michigan and sprawled out north and west to the UP of Michigan and eastern Wisconsin across Lake Michigan.  The history of railroads that would later comprise the classic Annie can be traced well back into the 19th century.  However, it was not until James M. Ashley (he as a governor and congressman before entering the railroad industry) arrived that true progress began.  With several major Midwestern systems spanning from east to west (like the Pere Marquette, Wabash, and Michigan Central/New York Central) Ashley believed that a profitable and viable railroad could be established to not only move interchange traffic from these lines but also carferry movements along Lake Michigan.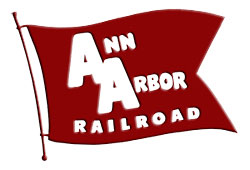 He also believed that these carferry movements would act as a much faster bypass around the busy, and growing railhub of Chicago.  And so, he set off on his new venture in 1876 by acquiring the defunct Toledo, Ann Arbor & Northern Railroad (TAA&N), a line chartered in 1871 but never built between Alexis (Toledo), Ohio and Ann Arbor due to the 1873 Financial Panic.  He quickly renamed the company as the Toledo & Ann Arbor Railroad (T&AA) opening the 45.2-mile corridor between the two cities by 1877.  In 1884 Ashley organized the Toledo, Ann Arbor & North Railroad (TAA&N) to consolidate the T&AA and Toledo, Ann Arbor & Grand Trunk (organized and built in 1880 to reach Pontiac, it was later partially sold with the rest eventually abandoned).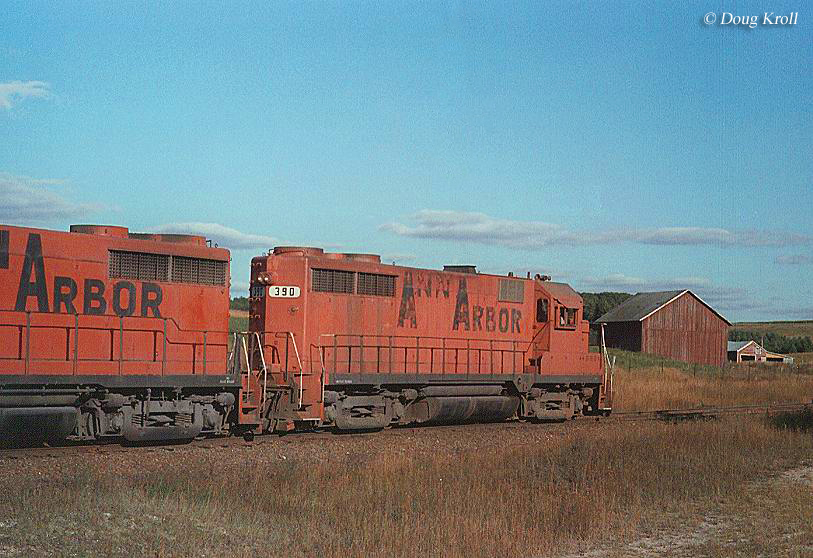 By 1885 his railroad pushed another 40 miles to the north reaching Owosso and St. Louis by 1885.  Following the completion of this section of the system things moved along rather quickly despite the fact that Ashley often chose the worst alignments in which to build his line, such as choosing swampy ground in which to lay rails or incorporating needless sharp curves into the railroad (these were later improved with better alignments following new ownership).  Also in 1885 Ashley formed the Toledo, Ann Arbor & Cadillac (TAA&C) to complete the 60 miles between Mt. Pleasant and Cadillac, and followed this with the creation of the Toledo, Ann Arbor & Lake Michigan (TAA&LM) to complete the line to the port town of Frankfort opening in 1888.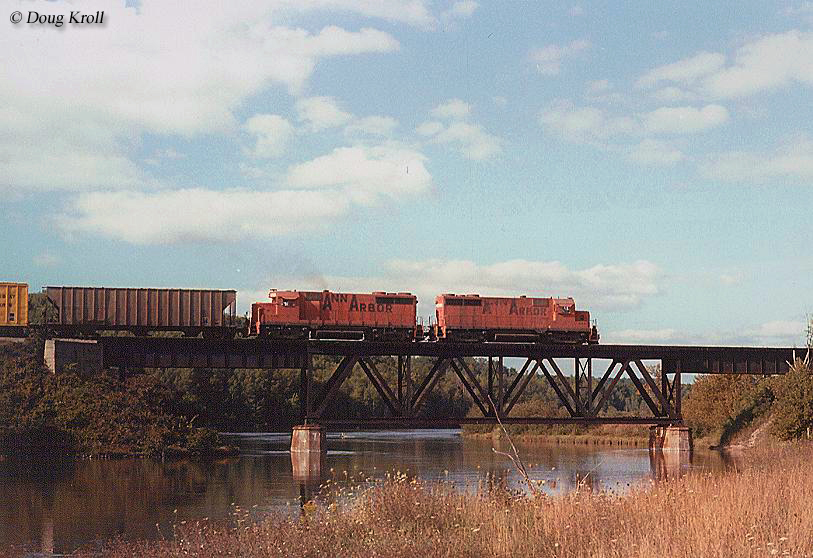 Unfortunately for Ashley, his role in the railroad ended just a few years following the line's completion due to the Financial Panic of 1893, a company strike, and poor business decisions.  It was during this bankruptcy that the railroad saw alignment changes and updates to the property, afterward boasting a main line of 290.7 miles between Toledo and Frankfort, according to its timetable.  On September 21, 1895 the property was reorganized as the Ann Arbor Railroad to take over the bankrupt operations of the TAA&N.  However, even the new AA struggled to find a stable, steady, and healthy flow of freight traffic.  In 1911, in an effort to grow its business the railroad purchased the small Manistique & Lake Superior Railroad (M&LS), which operated on the Upper Peninsula between Manistique and Munising. 
---
The M&LS provided the AA primarily with timber-based traffic and added an additional carferry run from Frankfort to Manistique (the other three ran to Kewaunee and Manitowoc, Wisconsin along with a connection to Memominee, Michigan where the Annie interchanged with the Chicago & North Western, Milwaukee Road, Green Bay & Western, and Soo Line).  In 1925 independent operations ended for the Ann Arbor as it came under the control of the Wabash Railroad that year.  During this time the Annie saw another bankrtupcy in 1939 due to the ongoing depression from which it emerged as the Ann Arbor Railway.   Additionally, passenger operations were shed quite early with the final run occurring on July 19, 1950.

Ann Arbor Carferry Fleet
| Builder | Date Built | Number/Name | Notes |
| --- | --- | --- | --- |
| Craig Ship Building | 1892 | SS Ann Arbor #1 | 24-Car Capacity |
| Craig Ship Building | 1892 | SS Ann Arbor #2 | 24-Car Capacity |
| Globe Iron Works | 1898 | SS Ann Arbor #3 | None |
| Globe Iron Works | 1906 | SS Ann Arbor #4 | None |
| Toledo Ship Building Company | 1910 | SS Ann Arbor #5 | None |
| Great Lakes Engineering Works | 1917 | SS Ann Arbor #6 | Rebuilt in 1952 as "MV Arthur K. Atkinson" |
| Manitowoc Shipbuilding Company | 1925 | SS Ann Arbor #7 | Rebuilt in 1965 as "MV Viking" |
| Toledo Ship Building Company | 1927 | SS Wabash | Rebuilt in 1962 as "SS City of Green Bay" |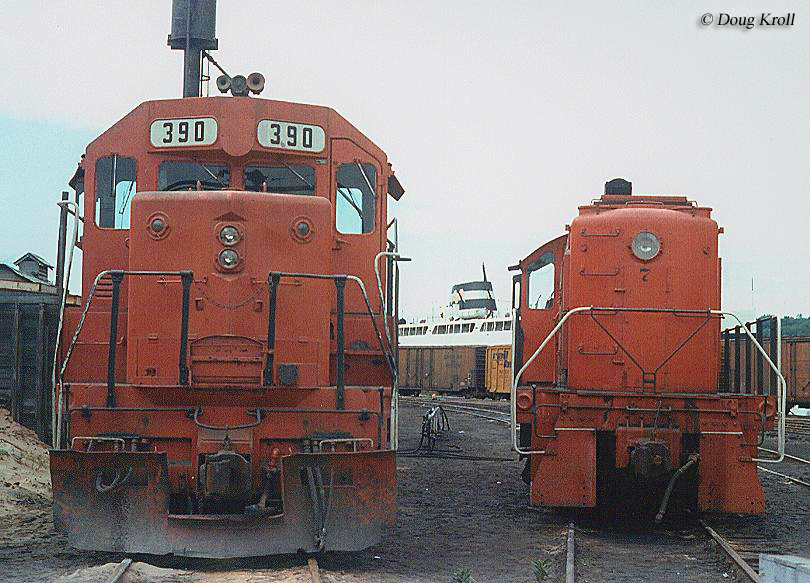 The AA remained an extension of the Wabash until 1963 when, due to declining traffic tonnage the Wabash sold the property to the Detroit, Toledo & Ironton.   The railroad did not fair much better under DT&I ownership as it saw its M&LS abandoned in 1968 because of falling freight traffic.  The DT&I was, in turn, owned by the Pennsylvania Railroad and when the PRR and NYC decided to merge in 1968 the Ann Arbor's future looked rather bleak. In 1974 the AA entered bankruptcy and because of its affiliation with the PC debacle it became part of Conrail in 1976.  For the Ann Arbor's sake, fortunately this is when its luck changed.
Original Ann Arbor Locomotive Roster
| Builder | Model Type | Road Number | Date Built | Quantity |
| --- | --- | --- | --- | --- |
| Whitcomb | 44-DE-22 (44-Tonner) | 1 | 1941 | 1 |
| Alco | S1 | 2-3 | 1944 | 2 |
| Alco | S3 | 4-7, 10 | 1950 | 5 (#10, Ex-M&LS) |
| Alco | RS1 | 20-21 | 1950 | 2 |
| Alco | FA-2 | 50-56, 50A-56A | 1950 | 14 |
| Alco | RS2 | 301, 303 | 1950 | 2 (Ex-GB&W) |
| EMD | GP35 | 385-394 | 1964 | 10 (Trade-In Trucks From FA-2s) |
In an attempt to ensure the line's stability and future, the State of Michigan stepped in and purchased the entire Ann Arbor Railroad in 1976 (it also added its car float operations in 1980 although they were discontinued in 1982).  Unfortunately the designating operator, Michigan Interstate, went bankrupt in 1983 and the remaining portion of the AA between Ann Arbor and Toledo was operated by the Ann Arbor Acquisition Corporation for many years (the remaining AA between Ann Arbor and Yuma is operated by the Great Lakes Central Railroad while much of the right-of-way from there to Frankfort is now part of the Betsie Valley Trail).  In early 2013 Watco Companies completed their purchase of the Ann Arbor and now owns the line.   The Ann Arbor has had quite an interesting history to say the least but it continues to survive and proudly serve its state, giving customers along its an added rail option when shipping their products.  

Related Reading You May Enjoy


Home

›

Short Lines

› Ann Arbor Railroad