Canadian Pacific Jobs

Last revised: January 24, 2023
By: Adam Burns

The Canadian Pacific Railway is its country's oldest and first transcontinental system.  Unlike rival Canadian National, CP was not established as a government-owned, public entity (and has never been so).  

However, in an effort to see its route completed the government did aide in its initial construction similar to the United States' efforts to see its first transcontinental line completed.
The railroad was originally established in the early 1880s, more than three decades before CN, although both have long since grown into respectable corporations.  
Today, CP operates a network comprising more than 14,000 route miles across Canada's southern provinces as well as the Upper Midwest of the U.S.  
Please let me stress that this website is neither a hiring service nor has positions for hire; the information provided here is to help job searchers in the process of finding employment.
The railroad industry has always offered excellent pay and benefits; among Class I's entry level positions as part of the train crew (conductor) typically start out in the $50,000's while an engineer can make considerably more.  
After one has worked for a number of years it is not uncommon to earn at, or over, $100,000 annually. Senior-level and skill positions (such as trainmaster, roadmaster, and signal maintainer) also routinely make six-digits or close to that figure.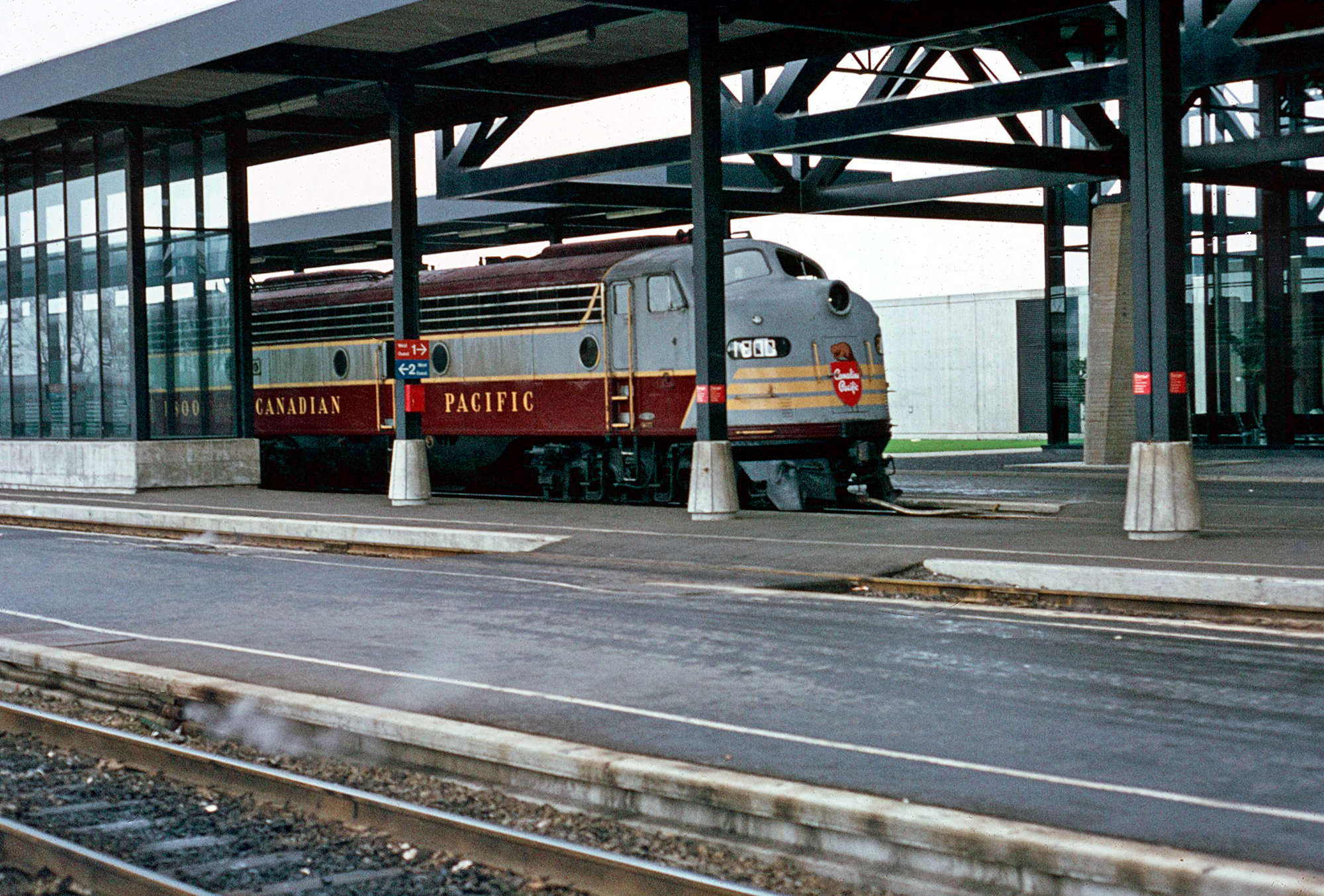 Canadian Pacific E8A #1800, one of three the railroad rostered, is stopped in Ottawa, Ontario during November, 1968. American-Rails.com collection.
Canadian Pacific is not nearly as large as CN, with its network largely concentrated within southern Canadian.  
While today's CP system is by and large made up of lines it has historically owned outright, more recent acquisitions have included classic American companies Soo Line, Milwaukee Road, and Delaware & Hudson (much of the D&H has since been sold to Norfolk Southern).
To provide you with a very brief background of CP it was formally incorporated on February 16, 1881 after political bickering delayed its completion by more than a decade.  
As early as 1871, and following the opening of the United States' coast-to-coast network, the government proposed a transcontinental railroad of its own linking the Pacific Coast provinces with those near the North Atlantic seaboard.  
Finally, during the mid-1870s the eastern segments of CP were underway while the western extension, officially launched from Bonfield, Ontario, commence in 1881.
More Reading...
Canadian Pacific's Careers Page

Other Class I/Amtrak Careers
Amtrak 

BNSF Railway 

Canadian National 

CSX Transportation 

Kansas City Southern 

Norfolk Southern 

Union Pacific

Not surprisingly, its construction through this region was difficult, particularly when reaching western Alberta and British Columbia, home of the Rocky Mountains.  
Despite this, the work was finished in a relatively short period of time with the last spike driven at Craigellachie, British Columbia on November 7, 1885.
One reason for its quick completion was thanks to the government's help in allocating $25 million (Canadian) in loans and 25 million acres of land grants.  
Interestingly, CP never actually reached the East Coast and even today does not extend eastward beyond Montreal via its own rails (trackage rights do provide it access into southern New England).  
Today, the railroad is headquartered in Calgary, Alberta and employs a workforce of more than 13,000.  
As of 2019 it reported annual revenues of $7.792 billion, ranking it sixth of the seven Class I carriers across North America (Kansas City Southern is the smallest in this regard).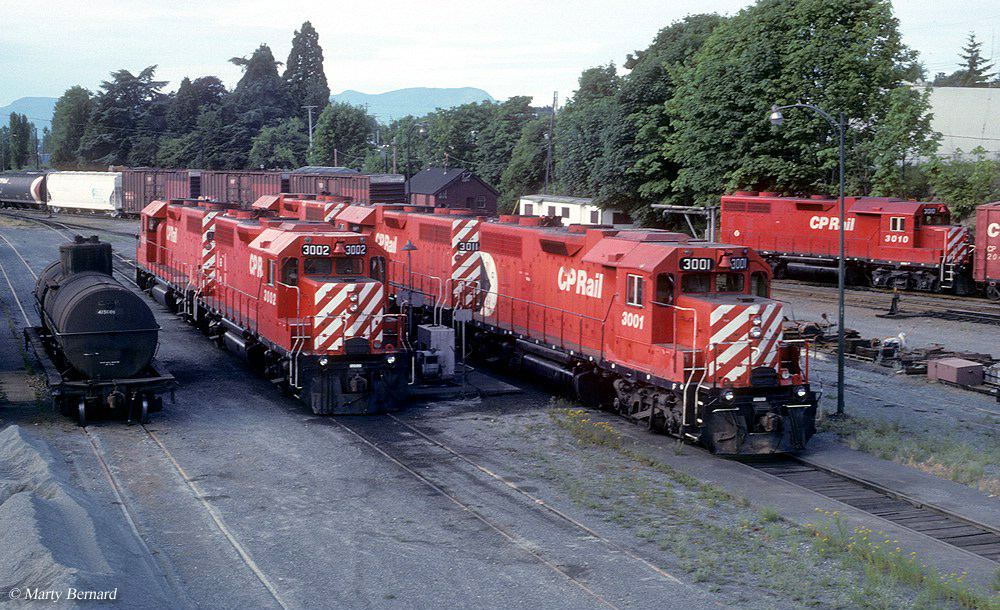 Please keep in mind that if you have an interest in working for CP's maintenance or transportation departments (meaning, out in the field along the main line) it essentially has separate American and Canadian crews.  
As such, Americans can work along its lines in the Northeast or Midwest while Canadians operate the railroad's Canadian territories.
The Canadian National is one of just a very few other such North American railroads that do this as train crews will switch places at the border.  
To give you an idea of just what it means for a railroad to be termed a "Class I," it is essentially a designation by the Association of American Railroads (AAR) to classify those companies which bring in the most profits within the industry.
Aside from CP these companies now include Canadian National, CSX Transportation, Kansas City Southern, Union Pacific, and Norfolk Southern.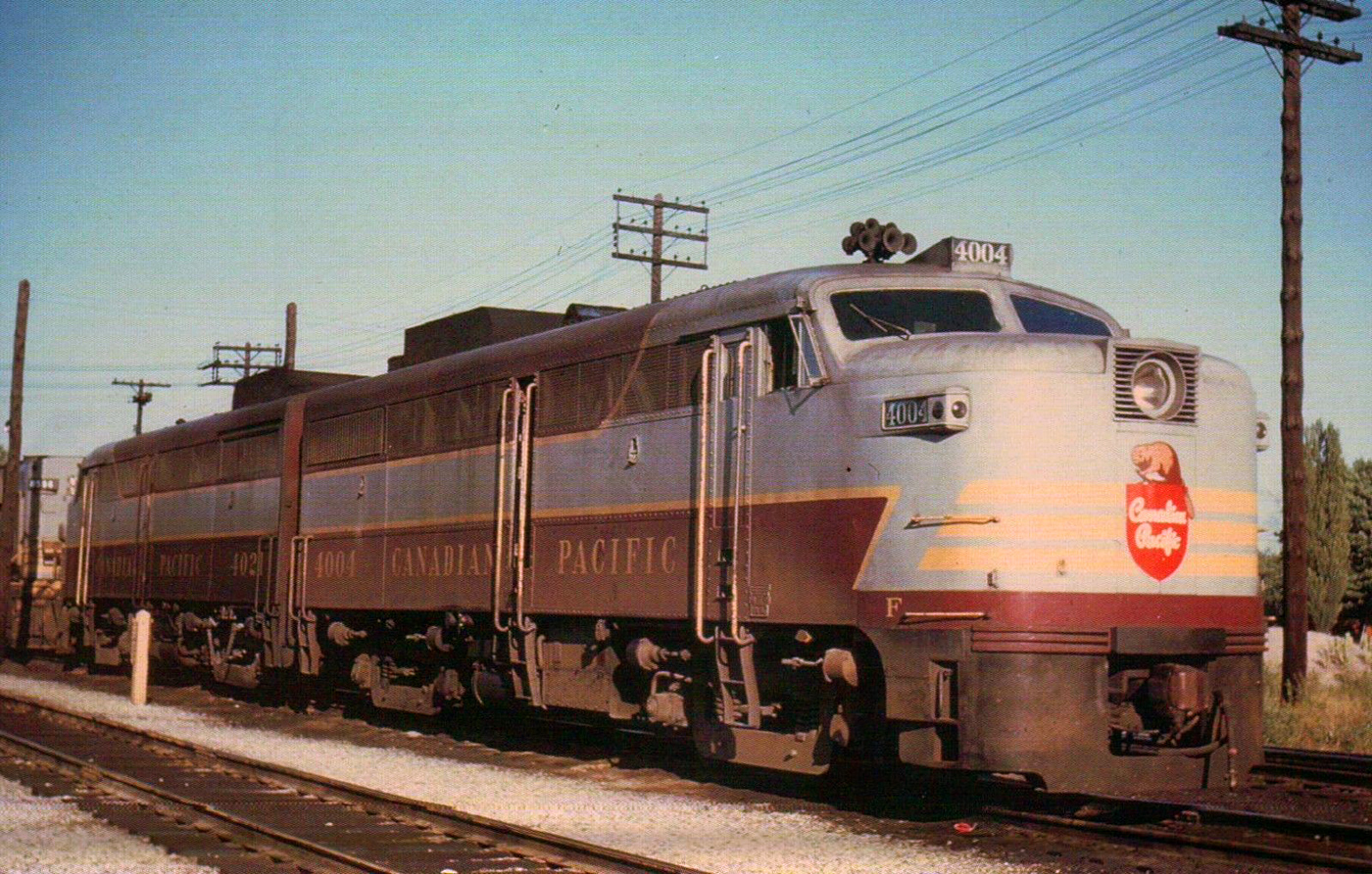 Today, like most other Class I's CP maintains an informative, robust careers web page as part of its online presence.  
In addition to offering general background information about the company, and the benefits of the industry (here you can learn about CP's foundations, compensation packages, and more), the railroad breaks down specific job fields into two sections, Operations and Professional/Salaried. 
Finally, if you are a military veteran (U.S. or Canadian) be sure and check out their military programs (information is provided from their website).  
Railroads are lauded for their military-friendly stance towards veterans and CP is no different.  With the industry's excellent pay and benefits a career within the industry is worth considering!
Operations
Canadian Pacific lists most of its field positions under this section; broken down among five headings they include Conductors, Engineering​, Police Service​, Mechanical, and Transportation Operations/Customer Support​.
The conductor sector is the one in which most are probably familiar.  This position is a member of the train crew and as such you are responsible for everything about your freight train; where it's going, what it's carrying, and that it safely arrives at its destination.  
A conductor is in charge of his/her train, including the engineer.  However, the engineer is the senior position and is only attained after one has worked as a conductor and then later qualifies as an engineer.  
Today, most Class I's have dual-qualified crews for the purpose of redundancy and safety.
What CP describes as its engineering field is actually a combination of several different positions pertaining to infrastructure maintenance.  
Under this sector it lists seasonal track laborers, signal helpers, signal maintainers, general track maintenance, and work equipment maintainer.  
Under the mechanical field employees maintain the railroad's fleet of locomotives and rail cars, as well as company vehicles.  
The one office-based sector is that of Transportation Operations/Customer Support where various positions include customer support, train dispatcher, and rail traffic controller.  
Finally, there is CP's police department.  Today, all Class I's maintain a law enforcement division to protect their assets and most have full policing powers, including arrest and carrying a sidearm.  
If you have worked in this area or might be interested please visit CP's careers page for more information.

---
Professional/Salary
If you have a college education and/or have worked in the business sector of development, finance/accounting, information technology (IT), marketing, law, corporate affairs, etc. you may be interested in this arena.
The professional field of any large corporation can be a hectic, fast-paced, and stressful career.  However, it also has its rewards as part of the team pushing the company forward.  
In addition, if you are fresh out of college or looking for a career change CP also offers entry-level positions.  A few, final general thoughts concerning railroading if you are seriously interested in working within the industry, particularly if you plan to go into transportation or maintenance.
It can very tough work and requires one to be away from home many hours every day with a schedule that can be very unpredictable.
As such, please be sure to take this into consideration before making a decision.  For more information about Class I railroads please click here to visit the section of the website which covers the subject in more detail.