The Cape Cod Central Railroad

The rails which host the Cape Cod Central Railroad (reporting marks, CCCR) today have had an uncertain fate since Conrail took over operations in 1976 (which was originally part of the Old Colony Railroad, later the New York, New Haven & Hartford Railroad, and finally Penn Central). However, since its last reorganization in 1999 to its present name the tourist line has become a very popular operation and tourist attraction, taking passengers on a beautiful route that skirts the New England and Massachusetts coastline between Hyannis and Buzzards Bay (for instance, seeing whales in the Cape Cod Bay is not uncommon).
The Cape Cod Central Railroad today is a very popular tourist attraction due to not only the great scenery but also its many different dinner trains and other specials. However, this was not always the case. After Conrail took over operations from Penn Central in 1976, much of the rail property along Cape Cod was purchased by the State of Massachusetts with freight service taken over by shortline Bay Colony Railroad in 1982 (something that continues to this day). That same year the Cape Cod & Hyannis Railroad began as a tourist line to give visitors a chance to see the spectacular coastal scenery by rail. However, it fell through in 1988. A year later the Cape Cod Railroad was formed to also operate a tourist train but it went bankrupt in 1997.
Then in 1999 the Cape Cod Central Railroad was formed and through dedicated service and determination it has become one of the most popular dinner trains in the country. Today, while the railroad offers standard excursion service along its line it also offers several different dinner trains from a traditional meal to luncheon and brunch trains. The railroad also offers family dinner trains and a murder mystery special that includes a meal and show (a feature that has become quite popular on many tourist lines across the country).
For those interested in such, the Cape Cod Central Railroad's locomotive roster is all diesel power bedecked in a beautiful original livery of maroon and black with yellow trim (the passenger cars also fully match the locomotives). Two locomotives, EMD GP7s, are of Atlanta & St. Andrews Bay lineage while a third, an Alco RS-3 (since "chop" nosed, or given a low hood and re-designated an Alco RS-3M), is of New York Central heritage and re-powered with an EMD prime mover.
Historically, the route the Cape Cod Central Railroad now uses was the New Haven's long branch line connecting Brockton to Provincetown along the state's extreme eastern peninsula (the route actually reached all of the way back to Boston). The tourist line today operates just a little over 20 miles of this branch with its owner, Cape Rail, operating freight service along the line under its subsidiary the Massachusetts Coastal Railroad (which also operates lines all along the southeastern region of the state).
For more information about the Cape Cod Central Railroad please click here to visit their official website. Finally, if you would like to learn more about the historic New Haven system please click here. If you are seriously considering a visit to the railroad I would strongly recommend checking out their website, which details all of their available rides, specials, and events via their online calendar. The site also provides a bit of history about the line and a current roster. They also have a Facebook page if you have an account with the social media giant.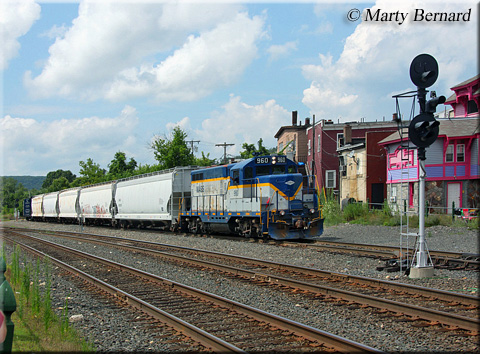 For more information about excursion trains like the Cape Cod Central Railroad you might want to consider Tourist Trains Guidebook, which is listing put together by the editors of Kalmbach Publishing's Trains magazine. The guide below is the latest in the publisher's series, released in just April, 2011 that now includes more than 470 museums and tourist trains found throughout the country (every state has at least one facility listed). In any event, if you're interested in perhaps purchasing this book please visit the link below which will take you to ordering information through Amazon.com.
Home

›
Tourist Train Information
› Cape Cod Central Railroad