The San Francisco World's Fair, also known as the Golden Gate International Exposition, was a special celebration held by the city primarily to highlight its new bridges, the San Francisco - Oakland Bay Bridge opened in 1936 and the Golden Gate Bridge completed a year later.  It was held over a two year period, first from February through October of 1939 and then again from May through September of 1940.  During that era the SP had only fielded its legendary Daylights for a few years.  However, with four routes to Frisco travelers had plenty of ways to reach the fair over The Friendly Southern Pacific.  This included, and presented in the advertisement, the Shasta Route (Portland, Oregon), Overland Route (Chicago, via Union Pacific and Chicago & North Western), Sunset Route (New Orleans), and the Golden State Route (via the Southwest and over the Rock Island to Chicago).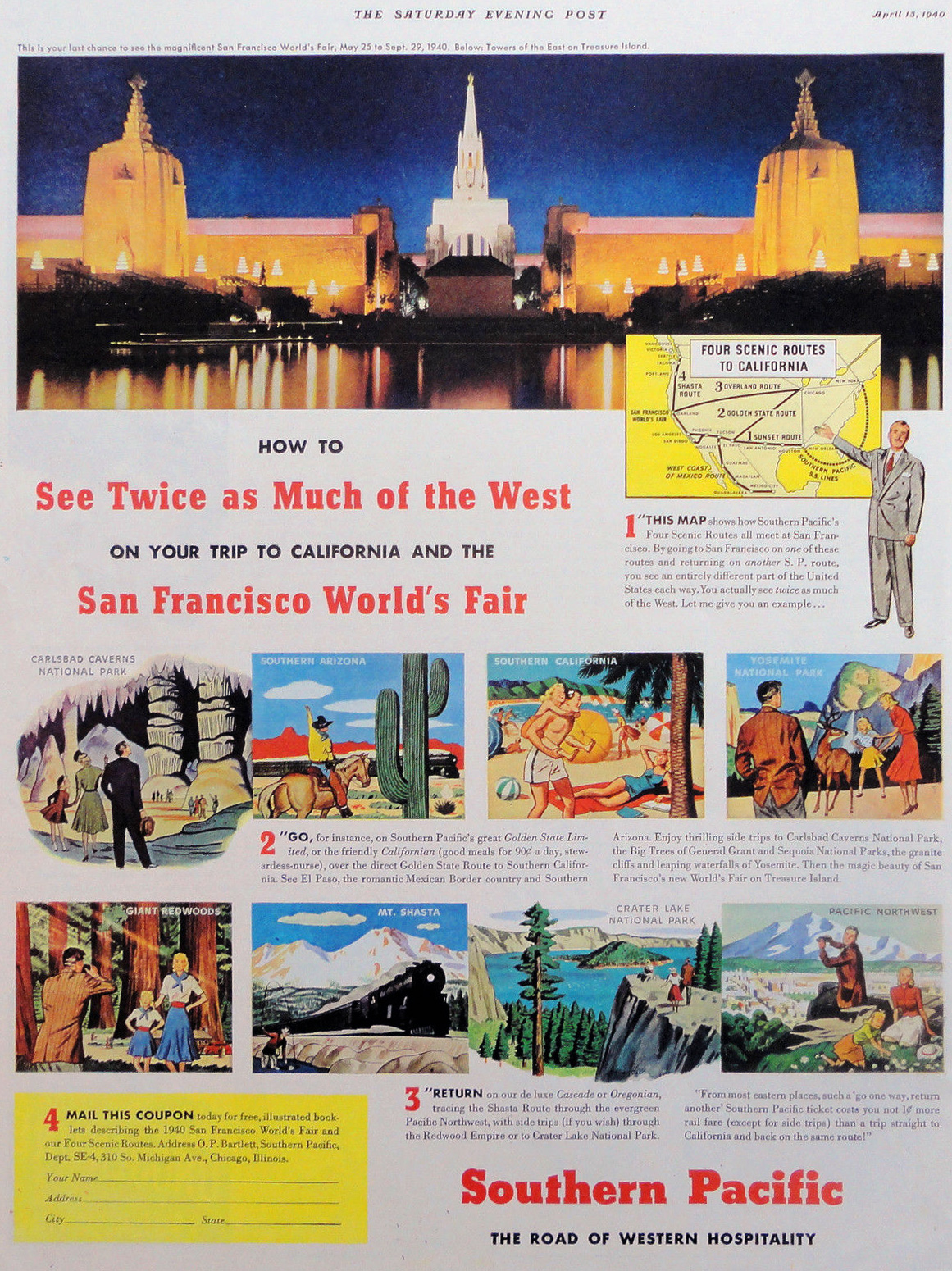 "How To See Twice As Much Of The West On Your Trip To California And The San Francisco World's Fair"
"1.  This map shows how the Southern Pacific's Four Scenic Routes all meet at San Fransisco.  By going to San Francisco on one of these routes and returning on another S.P. route, you see an entirely different part of the United States each way.  You actually see twice as much of the West.  Let me give you an example...
2.  Go, for instance, on Southern Pacific's great Golden State Limited, or the friendly Californian (good meals for 90¢ a day, stewardess-nurse), over the direct Golden State Route to Southern California.  See El Paso, the romantic Mexican Border country and Southern Arizona.  Enjoy thrilling side trips to Carlsbad Caverns National Park, the Big Trees of General Grant and Sequoia National Parks, the granite cliffs and leaping waterfalls of Yosemite.  Then the magic beauty of San Francisco's new World's Fair on Treasure Island.
3.  Return on our de luxe Cascade or Oregonian, tracing the Shasta Route through the evergreen Pacific Northwest, with side trips (if you wish) through the Redwood Empire or to Crater Lake National Park.  From most eastern places, such a 'go one way, return another' Southern Pacific ticket costs you not 1¢ more rail fare (except for side trips) than a trip straight to California and back on the same route! 
4.  Mail this coupon today for a free, illustrated booklets describing the 1940 San Francisco World's Fair and our Four Scenic Routes.  Address O.P. Bartlett, Southern Pacific, Department LE-3, 310 Southern Michigan Avenue, Chicago, Illinois.
"Southern Pacific, The Road Of Western Hospitality"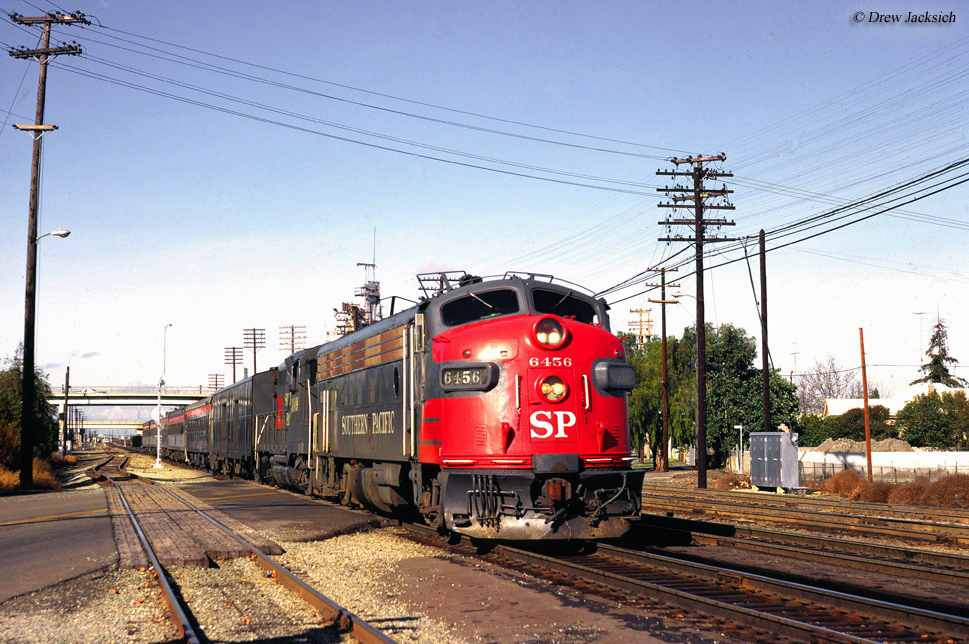 During and after the fair ended Southern Pacific continued growing its streamliner fleet adding trains like the Coast Daylight, Shasta Daylight, San Joaquin Daylight, Lark, Sunbeam/Hustler, and many others.  It's interesting that at the time SP was one of the pioneers in the growing streamliner craze and its Daylights continue to be talked about to this day decades after they were canceled.  However, as rail travel declined in the face of other and faster modes of transportation such as better automobiles, the Interstate System, and sleek jetliners the company became disenchanted with its trains.  Less than three decades after launching its first streamliner SP was severely cutting back its operations by the 1960s ending many very quietly even before Amtrak took over in 1971.

Related Reading You May Enjoy


Home

›

Fallen Flags

›

Southern Pacific

› The San Francisco World's Fair