The GE B30-7 (read B30 "Dash" 7) looked very similar to four-axle Universal models, such as the U30B, which it replaced. The carbody was virtually identical with simple, boxy lines with the most striking difference the addition of the rear flared radiator on the design, a trademark of GE locomotives. While the "Dash 7" line was a variation in how GE labeled its models the letters and numbers still held the same meanings as under the Universal classification. For instance, in regards to this model the "B" denoted the model was a four-axle unit (or featured a B-B truck setup), "30" listed the power rating (3,000 horsepower), and "7" simply referred to the unit as part of the "Dash 7" line. As always, the GE B30-7 came equipped with the company's 4-cycle model FDL16 prime mover utilizing the company's latest traction motor the model 752AF that could produce 64,700 pounds of starting tractive effort and 63,250 pound continuous.
By the late 1970s GE's traction motors were becoming increasingly well-liked due to their durability, a trait that carries through with today's models. Upon request, General Electric also manufactured a variant of the design, the B30-7A. This locomotive was externally identical to the original with the only difference being it used of a 12-cylinder FDL prime mover, which allowed for increased fuel savings. The Missouri Pacific was the only road to purchase this model while the Southern bought another slight variant, the B30-7A1. Finally, the Burlington Northern, which found the locomotive very much to its liking purchased 120 cabless "B" examples.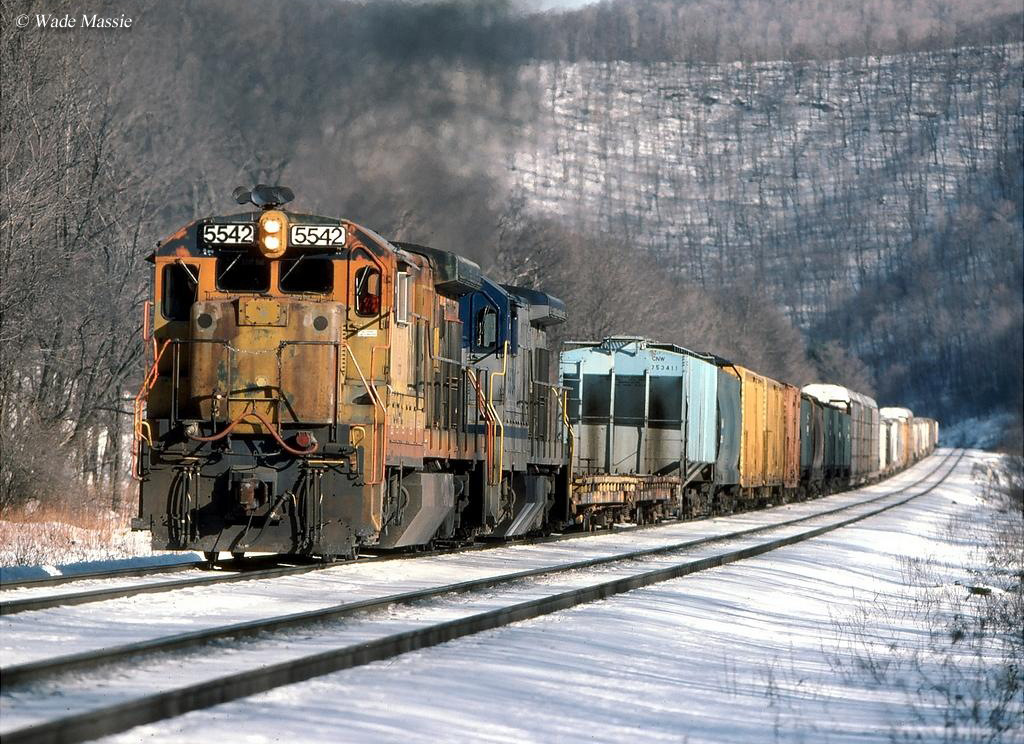 By the time the GE B30-7 began production in December, 1977 many were becoming increasingly pleased with the company's locomotives. To date GE's best model was the C30-7, still in production at the time and it would sell more than 1,100 units. While the locomotive was a four-axle design it still sold relatively well even though it's direct competition, EMD's GP40 series, sold nearly ten times as many units. When GE ended production on the B30-7 in May, 1982 the company had sold 279 units to eight different railroads (including the variants), with the Burlington Northern purchasing the most, 120 B units mentioned above. Other railroads included the C&O/Chessie System, Frisco, Louisville & Nashville, Cotton Belt/SP, SCL, and Southern Pacific.  Today, you can still find a handful of model operating on both short lines and Class Is (notably CSX).  Lastly, for more information about the design and all of the builder's "Dash 7" models please refer to the chart below.
GE B30-7 Production Roster
| Owner | Road Number(s) | Quantity | Date Built |
| --- | --- | --- | --- |
| Burlington Northern | 4000-4119 (B30-7A Cabless "B" Units) | 120 | 1982-1983 |
| Chesapeake & Ohio | 8235-8298 | 64 | 1978-1981 |
| Missouri Pacific | 4800-4854 | 55 (B30-7A) | 1981-1982 |
| St. Louis San Francisco Railway (Frisco) | 863-870 | 8 | 1977 |
| St. Louis Southwestern Railway (SP) | 7774-7799 | 26 | 1980 |
| Seaboard Coast Line | 5500-5516 | 17 | 1980 |
| Southern Pacific | 7800-7883 | 84 | 1978-1979 |
| Southern Railway | 3500-3521 | 22 (B30-7A1) | 1982 |
For more reading about General Electric diesel locomotives there are a few books written by noted historian Brian Solomon worth mentioning which highlight the history and background of the company.  First, is GE Locomotives, a title that provides a thorough history of its locomotive line from the earliest days of building electrics and experimental diesels to the latest models built through the early 2000s.  Second, is GE And EMD Locomotives: The Illustrated History, which generally highlights the history of both company's designs.  As with virtually all of Mr. Solomon's you can expect well-written titles with large, crisp, and sharp photographs featured throughout. 


Home

›

Diesel Locomotives

› B30-7