Georgia Railroad Jobs

If you are interested in Georgia railroad jobs the state is home to several companies outside of Class Is CSX and Norfolk Southern. Furthermore, if you land a position within the state you can at least expect mild/warm temperatures year-round due to Georgia's near sub-tropical climate. While the big players make up most of the state's rail network (around 70%) there also nearly two-dozen short lines operating there as well including historic lines like the St. Marys Railroad and Sandersville Railroad. Amtrak, the nation's passenger rail carrier, also operates through the state on its way to Florida. 
The information provided here offers job searchers information regarding those railroads currently operating within the state.  For reasons that are outside of my control I cannot provide direct links to those companies here or their career pages.  However, by doing a quick web search using the Google Search Box below you can find both on the web.  

---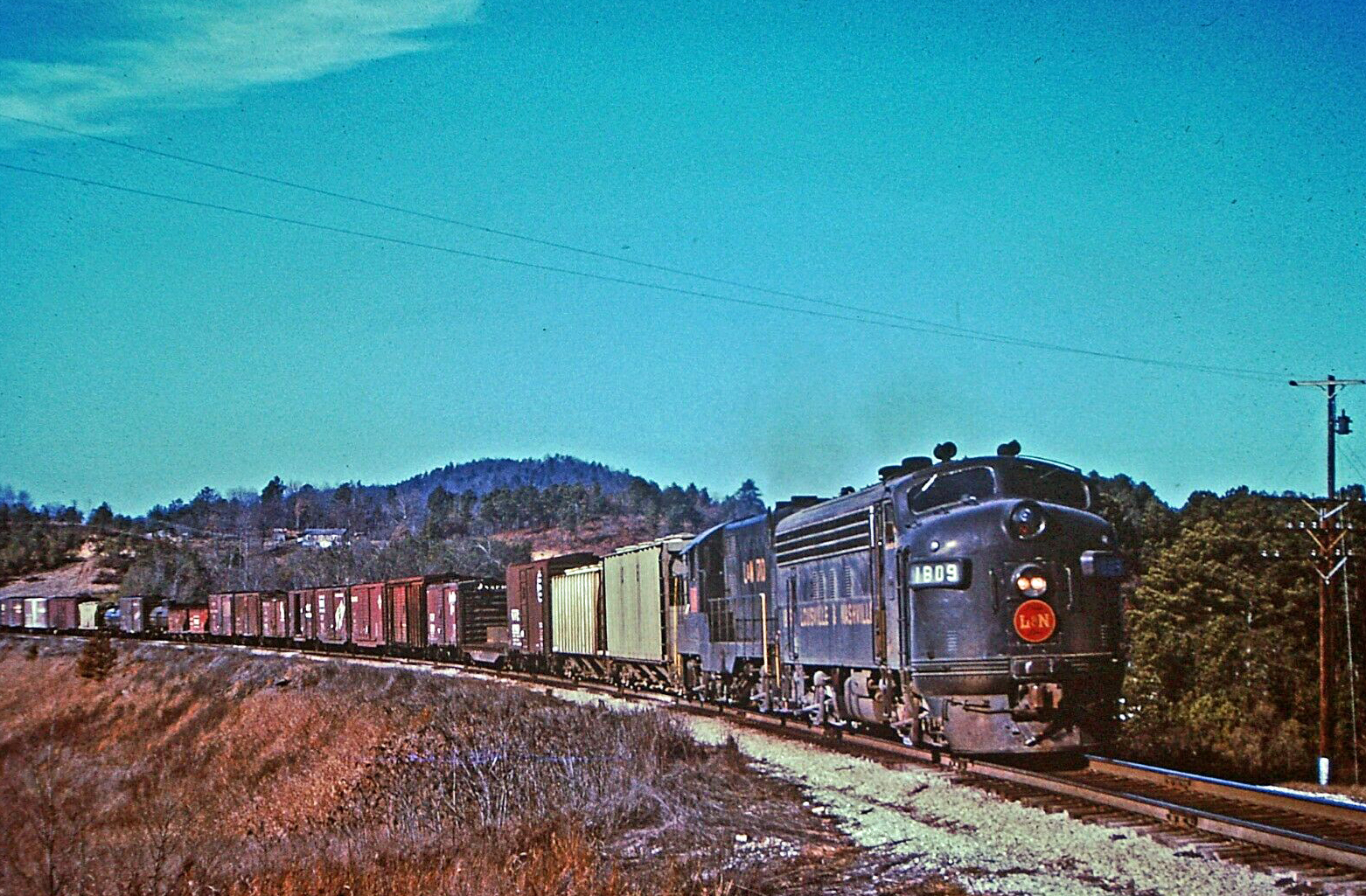 Louisville & Nashville F7A #1809 has a long manifest freight working its a way over the old Nashville, Chattanooga & St. Louis near Emerson, Georgia in February, 1959.
If you have a particular interest in working within the railroad industry but are not very familiar with how it operates then you may want to take the time to first learn more. I must admit that even I am only providing second-hand information from what I have both read and heard here. That is because I thought I wanted to work in transportation until realizing how much time one spends away from home. While the pay is excellent on Class I railroads in the end I decided it just was not for me. If you are still deciding yourself be sure to learn as much as you can about a career in the industry before making a decision.
Also, if you are a college student or plan to attend college both CSX and Norfolk Southern offer either scholarships or summertime internships for eventual management careers with their companies.   Please do not attempt to contact me regarding available positions. I do not mean to sound brash but there is simply not a lot which I can do to help. You will need to contact the individual railroad regarding possible employment opportunities (larger operations such as Genesee & Wyoming, Watco, and Patriot Rail requests that all potential job seekers visit the employment page at their respective websites).

Class I Railroads/Amtrak
Short Lines

Athens Line, LLC: This short line is operated under contract to the Great Walton Railroad albeit its assets are owned by the city of Athens. The road operates 38 miles between Madison and Junior State. For information regarding employment please visit Great Walton's website. The Athens Line's address is: 1096 North Cherokee Road, Social Circle, Georgia 30025. 

Chattahoochee Bay Railroad: The Chattahoochee Bay is a 25-mile short line serving Dothan, Alabama and reaching the Georgia state line at Hilton where it interchanges with NS. It is owned by the Genesee & Wyoming. 

Chattooga & Chickamauga Railway: The C&C is a Genesee & Wyoming subsidiary operating 49 miles from Chattanooga, Tennessee south to Lyerly. Its freight currently consists of chemicals, metals and plastics. 

Chattahoochee Industrial Railroad: This former Georgia-Pacific property was acquired by Genesee & Wyoming in 2004. It currently operates 15 miles connecting with CSX and Norfolk Southern lines near the Chattahoochee River. 

First Coast Railroad: This short line began in 2005 over property leased from CSX between Fernandina Beach, Florida and Seals, Georgia where it interchanges with CSX. The 32-mile line is operated by Genesee & Wyoming.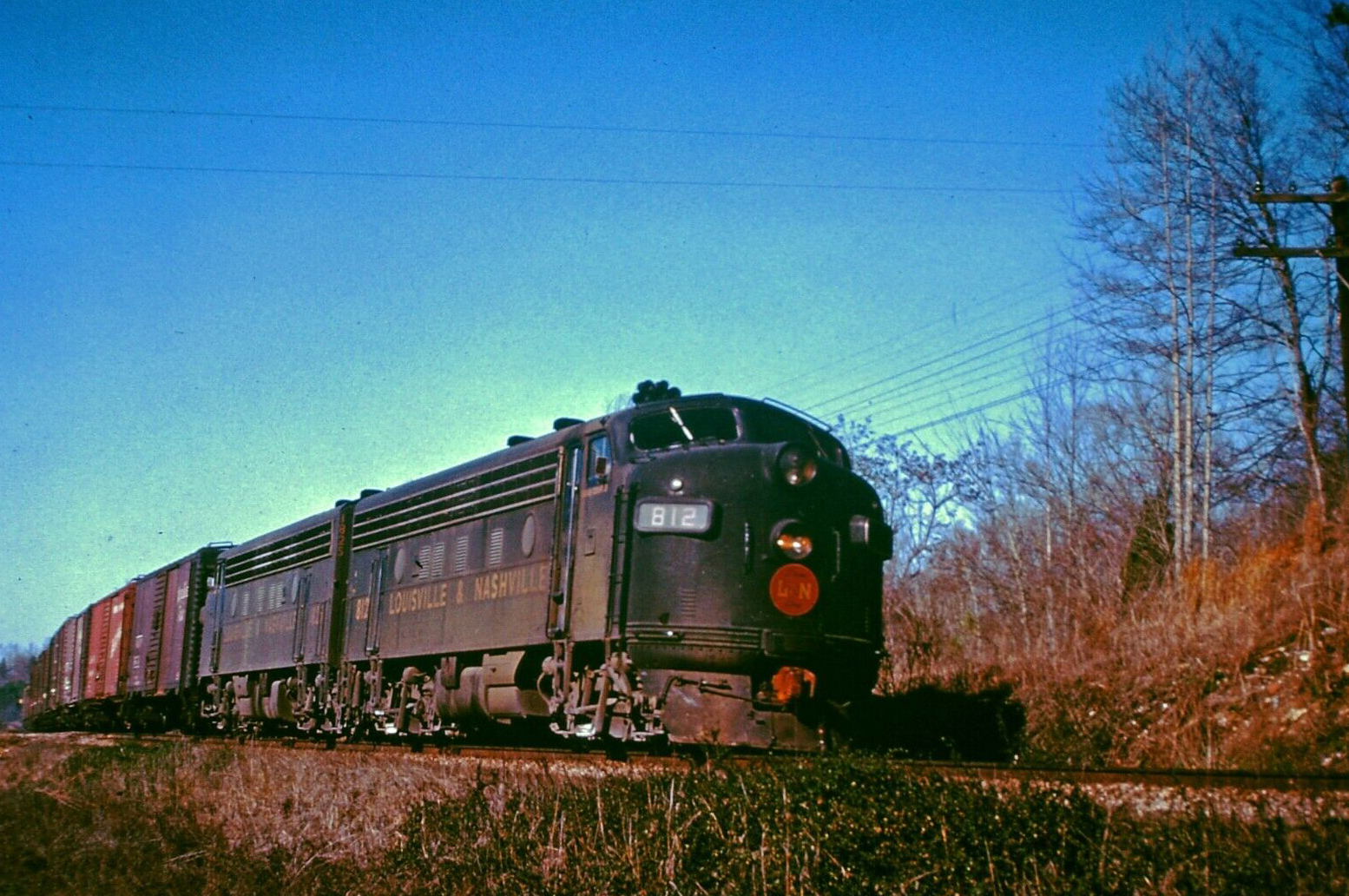 A pair of Louisville & Nashville F7A's are running the old Nashville, Chattanooga & St. Louis with a long freight train heading south through Kingston, Georgia in March, 1963.
Fulton County Railway: This OmniTRAX property began service in 2004, currently operating about 20 miles of trackage serving the Fulton County Industrial Park. For employment information please visit the railroad's web page or contact them at: 600 Wilson Mill Road Southwest, Atlanta, Georgia 30331. 

Georgia & Florida Railway: This large short line operates around 264 miles of trackage running from Albany, Georgia to Foley, Florida. It is currently an OmniTRAX property and handles a large variety of freight. For job opportunities please visit the railroad's web page or they may be contacted at: 1019 Coastline Avenue, Albany, Georgia 31705. 

Georgia Central Railway: This large short line is a property of Genesee & Wyoming over trackage formerly of SCL heritage. The route is 171 miles in length connecting Macon with the coast at Savannah. 

Georgia Northeastern Railroad: This privately-owned short line uses part of the former Louisville & Nashville's famed "Hook & Eye" route. It currently runs more than 100 miles in length. The company does operate its own website. They can also be contacted at: 109 Marr Avenue, Marietta, Georgia 30060. 

Georgia Southwestern Railroad: This large short line, owned by Genesee & Wyoming, is primarily based in western Georgia but also extends into eastern Alabama at Eufaula. The road operates more than 230 miles of track. 

Georgia Southern Railway: This Pioneer Railcorp property was formerly known as the Georgia Midland prior to 2010. The system currently operates three disconnected lines. Its current freight is quite diversified. For employment information please visit their webpage. They can also be reached at: 200 East Main Street, Fort Valley, Georgia 31030. 

Georgia Woodlands Railroad: This short line, currently owned by OmniTRAX, has been in service since 1988 operating just over 17 miles between Washington and Barnett. For information regarding employment please visit the company's web page or they may be contacted via 195 Harris Road, Washington, Georgia 30673. 

Golden Isles Terminal Railroad: This small terminal road, a Genesee & Wyoming property, began service in 1998 over trackage formerly owned by the Colonel's Island Railroad. It operates a total of 13 miles on main line and primarily serves the Georgia Port Authority at Brunswick. 

Great Walton Railroad: The small, independent Great Walton has been in service since 1987 and currently operates 10 miles between Monroe and Social Circle. The trackage was once owned by the Georgia Railroad, part of the West Point Route.  For employment information please visit the railroad's website. 

Hartwell Railroad: This historic short line dates back to its chartering in 1878 as a three-foot, narrow-gauge that would eventually connect Hartwell and Bowersville (10 miles). It later became a Southern property. Today, the Hartwell is contracted out to the Great Walton which operates freight service on the line. To contact the railroad please visit the Great Walton's website. 

Heart of Georgia Railroad: This railroad is privately owned by Atlantic Western Transportation. It has been in service since 1999 operating 177 miles between Mahrt, Alabama and Vidalia, Georgia. Please visit their website for employment opportunities. 

Riceboro Southern Railway: The Riceboro Southern, a Genesee & Wyoming property, operates between Richmond Hill (south of Savannah) and Riceboro on trackage once owned by SAL. 

Sandersville Railroad: The privately owned Sandersville Railroad, also known as the "Kaolin Road," dating back to its chartering in 1893 soon completing its route from Sandersville to Tennille, where it interchanged with the Central of Georgia (3 miles). To learn more about employment opportunities please visit the company's website. 

Savannah Port Terminal Railroad: This small terminal road is owned by Genesee & Wyoming that first began service on June 9, 1998 over property formerly owned by Savannah State Docks Railroad. It operates about 18 miles of main line track in the Savannah area. 

---
---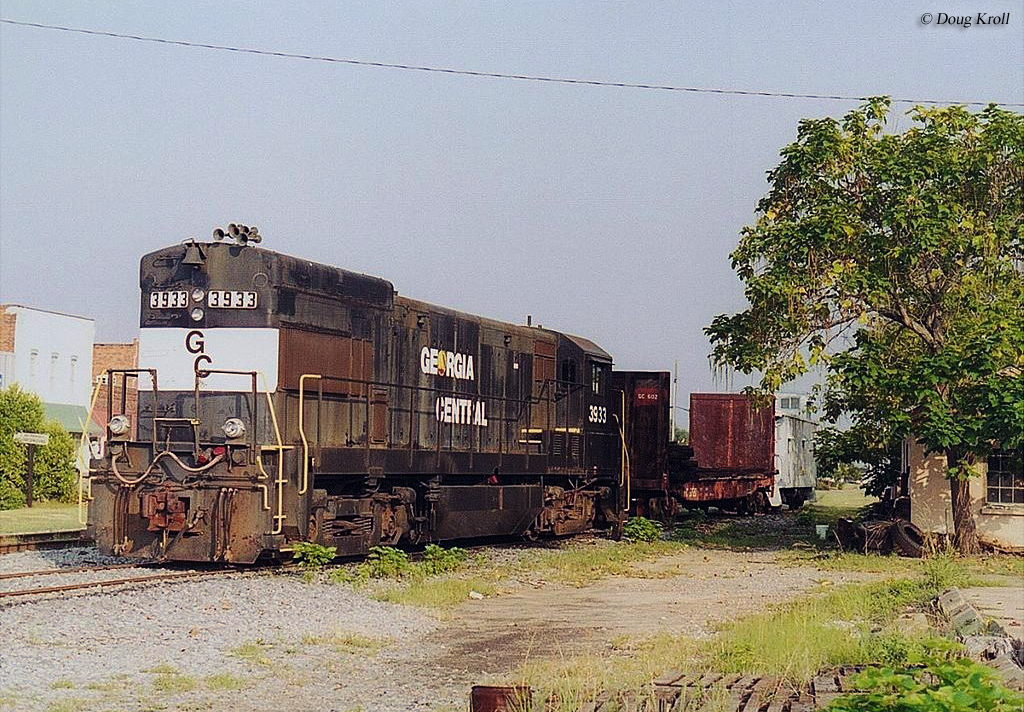 St. Marys Railroad: The historic St. Marys Railroad has been in operation since it was renamed in 1939 from property originally known as the St. Marys & Kingsland Railroad of 1865. The small line has always served the St. Marys area, running to Kinglands (10 miles) where it currently interchanges with the First Coast Railroad. For many years the company served a burgeoning paper mill but today has no freight customers although it has developed a successful excursion business. For information regarding employment please visit their website. 

Valdosta Railway: The Valdosta Railway has been in service since 1992 running from Clyattville to Valdosta (10 miles) interchanging with both CSX and NS. It has been under Genesee & Wyoming ownership since 2005.