Iowa Railroad Jobs

Last revised: April 28, 2023
Railroad jobs in Iowa are predominantly home to Class I railroads as four of the seven operate there. 

These include Union Pacific, BNSF Railway, Canadian National, and Canadian Pacific (through its ownership of the Dakota, Minnesota & Eastern).
Norfolk Southern also operates into Iowa but only via trackage rights. Along with a handful of Class III, short lines and one Class II, regional (which only account for about 35% of the state's trackage), Amtrak also operates through the state.
Please note, contacting me regarding possible openings or inquiries about various positions; you will need to contact the railroad(s) itself. 
Iowa has always held a special, and unique, place within railroading; it was the eastern gateway of the Transcontinental Railroad which formerly began at Council Bluffs. 
In addition, several important companies maintained through, east-west routes across the state including Illinois Central, Milwaukee Road, Chicago & North Western, and the Rock Island. 
Finally, its location in the central Heartland meant numerous secondary branch lines were built to serve the state's agricultural industry. 
Today, many of these have been abandoned, and even a few of the through routes but Iowa continues to play an important role within the industry.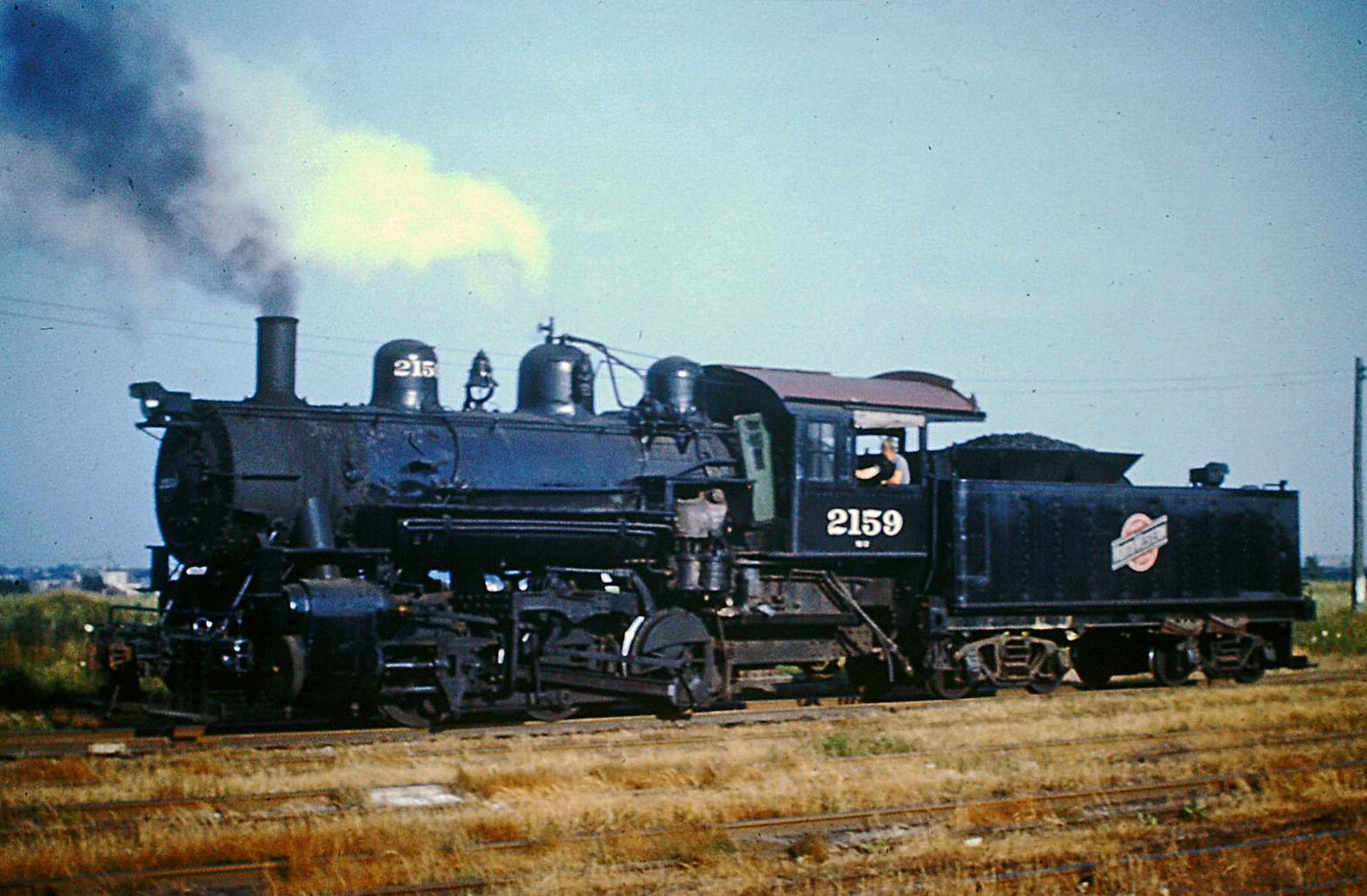 A handsome little Chicago & North Western 0-6-0 performs switching work in Council Bluffs, Iowa during the summer of 1953.
If you are seriously considering of have an interest in becoming a railroader please be aware that the work can be quite demanding.
While railroading has always been a job that requires at least some physical ability, with so much mechanization now available the biggest issue affecting railroaders, especially train crews, is fatigue.
This most often occurs on Class I railroads whose systems stretch half way across the country resulting in crewmen/women to spend 12 hour days in the cab of a locomotive for days, and days, at a time (not to mention the time spent in hotels away from home).
Of course, the pay is excellent along with retirement and benefits.  
However, this drawback is something to really consider if time with your family is very important to you or you simply don't think such long hours are worth it.
Smaller railroads, like short lines and regionals, offer better and more normal working hours although the pay is not quite the same.
Also, for college students interested in management positions many Class Is offer graduate or internship summer programs to get your foot in the door. 
Class I Railroads/Amtrak
Short Lines And Regionals

Burlington Junction Railway: This small terminal-like railroad operates four, very short disconnected lines in Iowa, Missouri, and Illinois. It began operations in 1985 and its handles about 3,000 carloads annually. To contact the company about job openings please visit their website. 

Cedar Rapids & Iowa City Railway: What became known as the "The CRANDIC Route" and dates back to 1904 became a successful freight line following discontinuance of all passenger service in 1953.
Today, it operates 60 miles between its own property and former Milwaukee Road and Rock Island trackage. Please visit the company's website regarding job openings. 
Davenport Industrial Railroad:  This short line, began operations on January 1, 2020, maintains 2.8 miles to serve the city of Davenport's Davenport Transload Facility. It connects with the Dakota, Minnesota, & Eastern/Canadian Pacific in Davenport.

D&I Railroad: Also known as the Dakota & Iowa Railroad this system is owned by L.G. Everist, Inc.
The short line operates between Sioux City, Iowa and Dell Rapids, South Dakota with a branch to Beresford, South Dakota. This totals 138 miles. To learn more about job openings please visit the D&I's official website. 

Iowa Interstate Railroad: This successful Class II regional operates a 375-mile section of the Rock Island's former Chicago-Council Bluffs main line.
What started out handling only a few thousand carloads annually has turned into a profitable company that now boasts more than 110,000 carloads of freight each year. For information regarding employment please visit the company's website. 

Iowa Northern Railway: The Iowa Northern operates the former Rock Island between Manly and Cedar Rapids, 163 miles as well as the ex-Chicago Great Western between Cedar Falls and Oelwein with another disconnected branch running between Forest City and Belmond. Please visit the company's website for contact and job information. 
Iowa Southern Railway:  Formerly known as the Appanoose County Community Railroad prior to 2016, this short line originally began service in 1983 and currently operates 35 miles between Centerville and Albia.
It utilizes components of the former Wabash/Norfolk & Western (Albia-south of Odell), a short segment of the former Rock Island from south of Odell to south of Centerville, and finally a former component of the Chicago, Burlington & Quincy/Burlington Northern into Centerville.
Iowa Traction Railway: The last interurban in the country which still serves freight customers, the Iowa Traction dates back to the late 19th century when it was then known by a different name.
Today the railroad continues to operate the original route between Emery and Clear Lake Junction running 10.4 miles. It is now a Progressive Rail subsidiary, which can be contacted regarding job openings. 

---
Keokuk Junction Railway: This short line began in the early 1980s by acquiring just 4 miles of the Rock Island's former yard in Keokuk, Iowa to provide switching and terminal services. Since then it has steadily grown into a 126 mile system.
The railroad also has trackage rights to Fort Madison, Iowa where interchanges with UP. In 1996 it was acquired by Pioneer Railcorp and features a traffic base of freight that is highly diversified.