Illinois Railroad Jobs

Last revised: May 4, 2023

If you are interested in Illinois railroad jobs the Prairie State has its fair share. All seven Class I railroads operate within the Illinois, along with Amtrak.
Additionally, Illinois is home to more than three dozen smaller Class II and Class III railroads (regionals and short lines).
For any historian who has studied railroads, however, this is not surprising as Illinois has always historically been the epicenter of rail activities with companies converging at Chicago, which still holds true today.
You can also find commuter trains operating around Chicago including Metra, the Chicago Transit Authority, and the venerable "South Shore Line." 
A career in the railroad industry offers excellent pay and benefits; entry-level positions on Class I carriers working as either a conductor or member of the maintenance-of-way gang start out in the high $30,000's to $50,000's. 
After a number of years in it is not uncommon to near near, at, or over $100,000 annually.  
The information provided here offers job searchers details regarding those railroads currently operating within the state.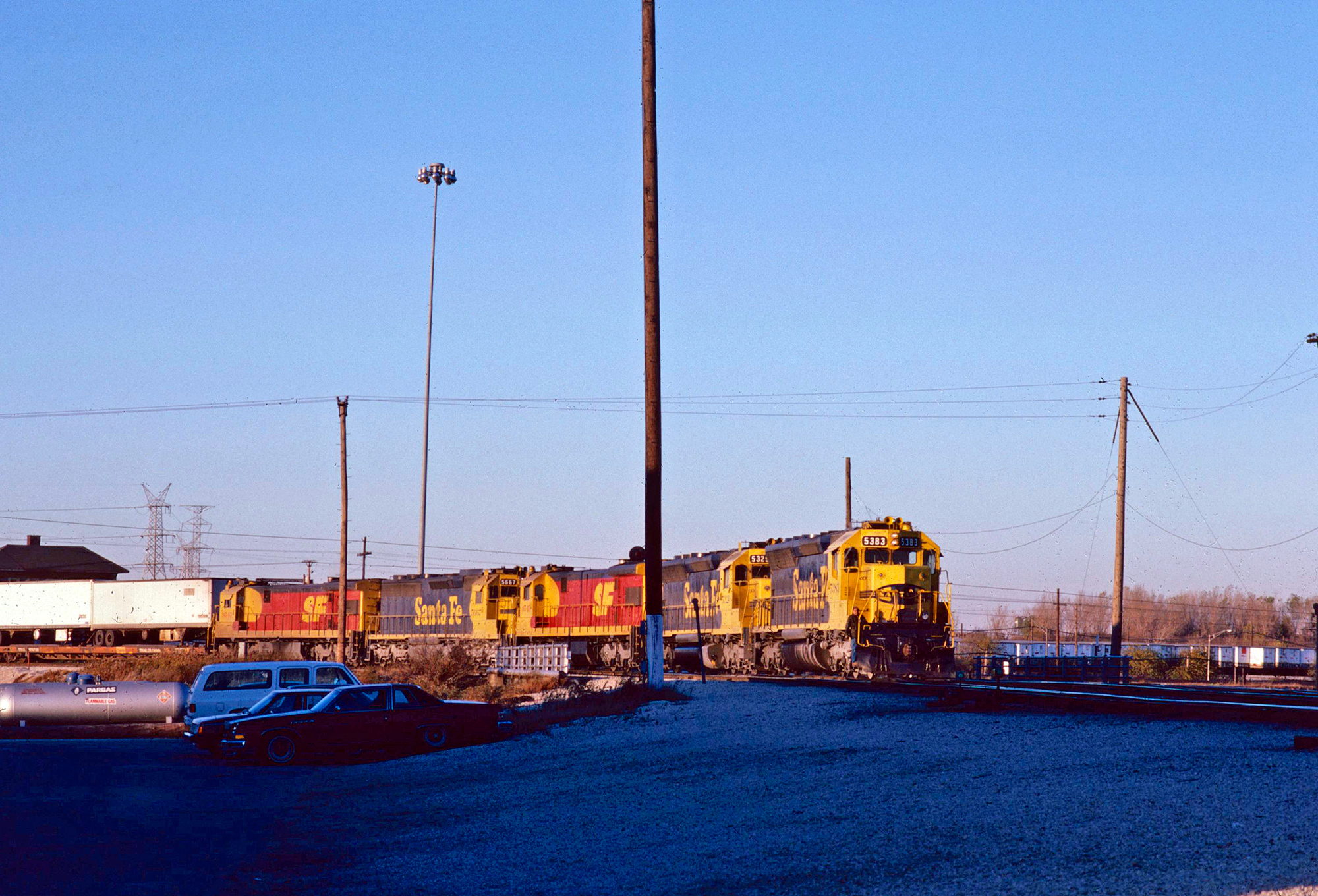 Several Santa Fe units, led by SD45u #5383, ease a string of trailers through Chicago in November, 1986. Richard Panek photo. American-Rails.com collection.
It may be a good idea to have a better understanding of the railroad industry if you are rather unfamiliar with it all. A career in either transportation or maintenance (which includes positions such as conductor, engineer, signal maintainer, or general track maintenance) can be fairly difficult.
These days railroading is almost entirely mechanized although that does not mean the work can not still be pretty physically demanding at times.
Additionally, fatigue is a major issue affecting train crews as they can be away from home for days at a time. While if you hire on with a smaller railroad this latter issue is not quite as serious they do not offer the same level of excellent pay as Class Is. 

Also, if you are a college student or plan to attend college most Class I railroads offer either internships, graduate work, or scholarships.
Finally, please do not contact me regarding potential job openings or questions regarding such as there is not a lot of help I can provide in answering those inquiries. You will need to contact the individual railroad to see about job openings (larger short line conglomerates such as Genesee & Wyoming, Watco, and Patriot Rail all request that applicants visit the employment page at their respective websites). 

Class I Railroads/Amtrak
Short Lines And Regionals
Alton & Southern Railway: The historic Alton & Southern dates back to 1910 as the Alton & Southern Railroad. It was incorporated by the Aluminum Company of East St. Louis (later Aluminum Company of America or Alcoa) to provide better switching/terminal service at its plant in East St. Louis.
Today, the A&S is wholly-owned of Union Pacific. For employment opportunities please visit the company's website. 

Belt Railway of Chicago: The history Belt Railway is a long-time terminal switching carrier serving the Chicago area that traces its roots back to 1882.
Today, it continues to provide these services within the Windy City operating 28 main line miles and a total of 300 miles in all where it interchanges with every major railroad in the region.
The company operates their own website and direct potential applicants to please visit their employment page regarding any openings. 

Bloomer Shippers Connecting Railroad: This road, also known as "The Bloomer Line," has been in service since 1985 when it acquired the Illinois Central Gulf's line between Colfax to Kempton.
It later purchased a section of former Wabash property between Strawn and Gibson City. Address: 1306 West 8th Street, Gibson City, Illinois 60936. 

Burlington Junction Railway: This small terminal-like railroad operates four, very short disconnected lines in Iowa, Missouri, and Illinois.
It began operations in 1985 and its traffic currently consists of agriculture products, chemicals, and fertilizer. For employment opportunities please visit the company's website. 
Chicago, Fort Wayne & Eastern Railroad: This very large short line began operations in 2004 under the RailAmerica banner, and subsequently acquired by Genesee & Wyoming in 2012.
It operates a total of 323 miles, most of which is the former Pennsylvania Railroad main line from Crestline, Ohio to Chicago via Fort Wayne, Indiana (formerly the Pittsburgh, Fort Wayne & Chicago).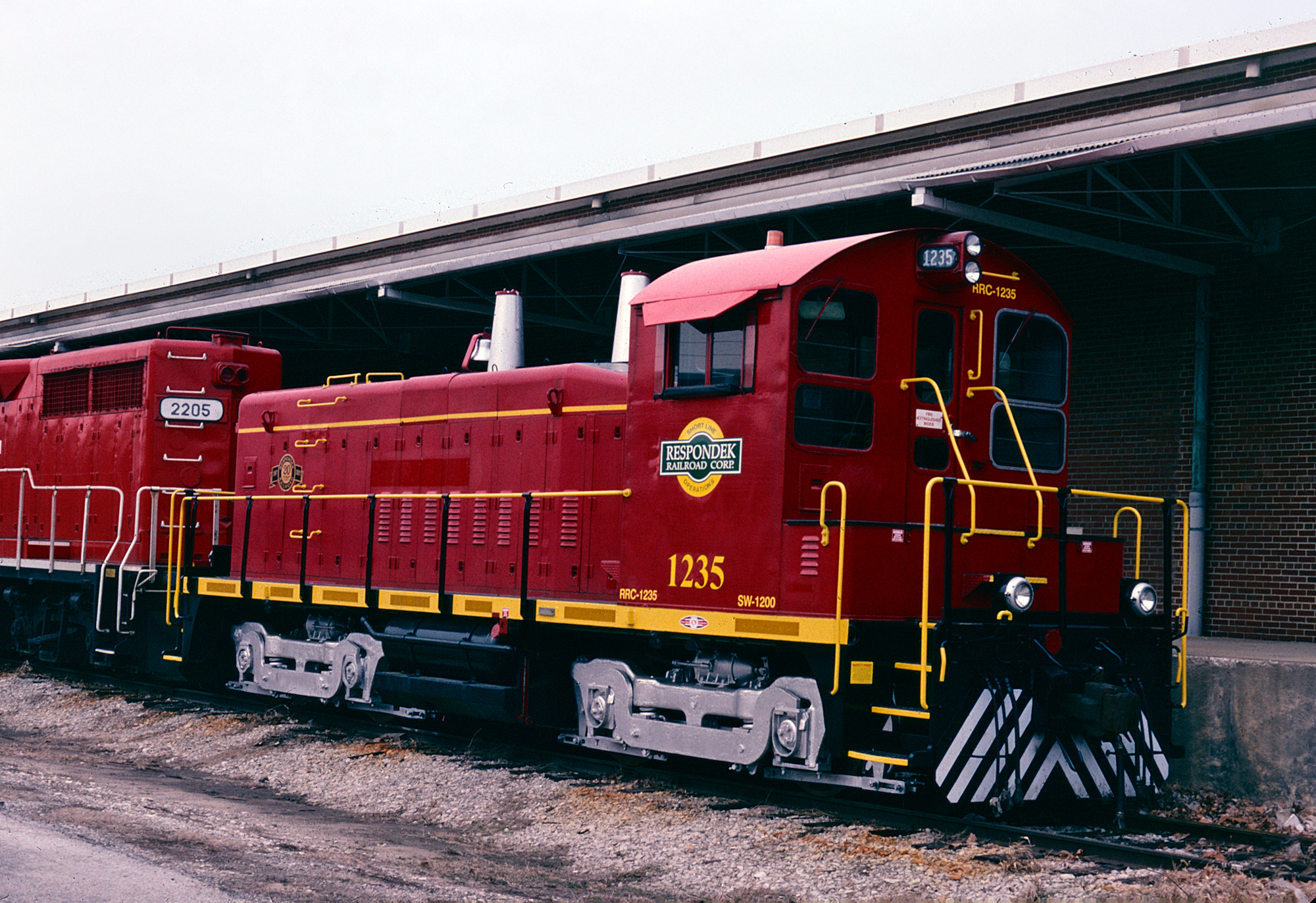 Respondek Railroad SW1200 #1235 (built as Terminal Railroad Association of St. Louis #1235 in 1965) lays over with slug #2205 at Granite City, Illinois in December, 2010. American-Rails.com collection.
Chicago, SouthShore & South Bend Railroad: This historic system traces its roots back to an interurban.
In 1989 the South Shore was able to completely drop passenger service, handed over to the Northern Indiana Commuter Transportation District.
Today, the road is owned by the Anacostia & Pacific Company, continuing to operate its original main line with traffic highly diversified.
Chicago, St Paul & Pacific Railroad:  This Progressive Rail short line operates the former Chicago Terminal Railroad that served the Bensenville Industrial Park. 
It began operations in 2019.  It takes its name from the Chicago, Milwaukee, St. Paul & Pacific, the fabled Milwaukee Road whose primary shops were located in Bensenville.
Chicago Junction Railway:  A Progressive Rail property that was formerly the Chicago Terminal Railroad, this short line serves the Centex Industrial Park in Elk Grove Village, Illinois. 

Chicago Port Railroad (reporting mark, none):  This small switching/terminal line began service in 2006 operating just 1.3 miles serving the Calumet River Yard and local transload facility at Chicago's Torrence Avenue and 117th Street.  It connects with Chicago Rail Link.
Chicago Terminal Railroad: This road is a Iowa Pacific operation, utilizing former Milwaukee Road trackage in northwest Chicago. It acts as a terminal/switching line while also offering car storage capabilities and has been in service since early 2007. 

Chicago Rail Link: The Chicago Rail Link is a division of OmniTRAX and operates 72 miles of trackage along the South Side of Chicago.
The company serves a multitude of businesses. To learn more about employment please visit their web page. Address: 2728 East 104th Street, Chicago, Illinois 60617. 
Cicero Central Railroad:  A division of Watco, this short line began in 2015.  It operates only a half-mile of track in Stickney, Illinois to serve the Koppers chemical plant.  Interchange is provided with Canadian National.

Coffeen & Western Railroad: This privately owned short line, 13 miles in length, was created on February 5, 2004 as a division of the Ameren Corporation to serve its power plant at Coffeen, Illinois. The company's address is believed to be: 1500 Eastport Plaza Drive, Collinsville, Illinois 62234. 

Crab Orchard & Egyptian Railroad: The CO&E began service on July 2, 1971 operated by the American Rail Heritage Ltd. as an excursion, tourist line from the Illinois Central depot in Marion to nearby Ordill and back.
It later became a freight hauler and still operates the 8.5 miles between Marion and Ordill carrying a wide range of traffic. Today, it is a division of Progressive Rail, Inc. For job opportunities please visit Progressive's website. 
Decatur & Eastern Illinois Railroad:  Launched in 2018 and a division of Watco, this large short line maintains 182 miles that radiates in all four directions away from Chrisman, Illinois; branches extend to Decatur, Neoga, and Georgetown with additional branches reaching into Indiana at Hillsdale and Terre Haute.

Decatur Central Railroad:  Launched in late 2016 by OmniTRAX this short line is a joint venture by the railroad,
The Broe Group, and Topflight Grain Cooperative, Inc. to handle grain from processing companies along the 13.5-mile route to an interchange at Decatur with the Canadian National.  It will also serve the Midwest Inland Port.  The property is ex-Illinois Central trackage.

Decatur Junction Railway: This short line, a Pioneer Railcorp property, first began service during September of 1993 on 38 miles of trackage between Assumption and Cisco, Illinois. Please visit their web page to contact the company regarding job openings. Main offices: 308 South Chestnut Street, Assumption, Illinois, 62510. 

Effingham Railroad: The little Effingham Railroad operates as a 400-foot, terminal switching road in the town of Effingham where the main lines of CSX and Canadian National also pass through.
Its primary traffic includes switching a 200,000 square-foot warehouse as well as a breakfast cereal company and cement company. To learn more about job openings please visit the company's website.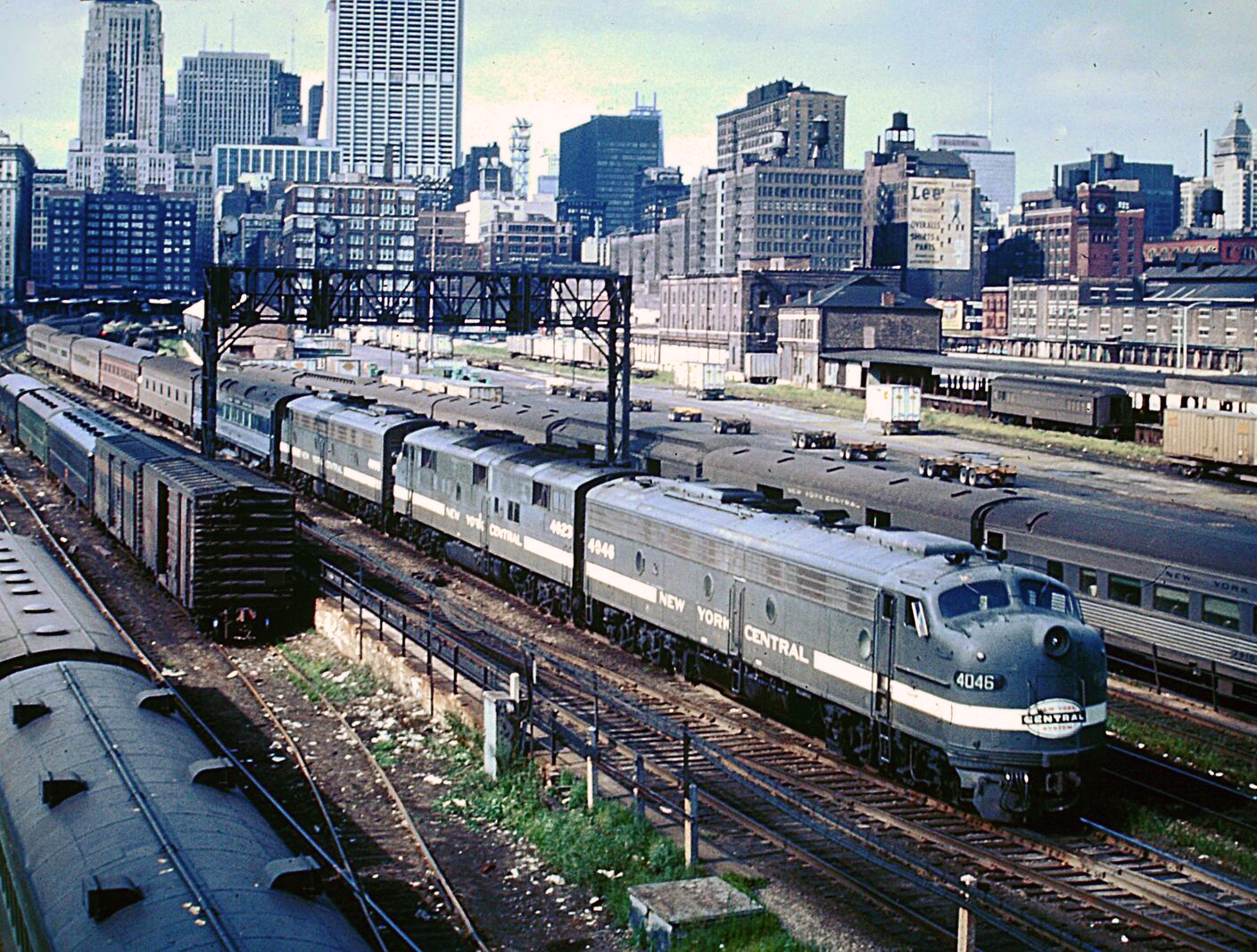 A busy scene at Penn Central's LaSalle Street Station and coach yards as an eastbound train departs the facility on August 17, 1968. Note Dearborn Station's clock tower can be seen at right.
Elwood Joliet & Southern Railroad:  This short line, a Watco property, began service in 2020 operating 2 miles of former Elgin, Joliet & Eastern trackage in Crest Hill, Illinois along the Des Plaines River that serves various industries.  Its traffic consists of plastics and chemicals.

Evansville Western Railway: This short line is a division of P&L Transportation and operates 124.5 miles between Evansville, Indiana and Okawville, Illinois.
The property was acquired from CSX in 2005 with service commencing on January 1, 2006. To contact the company please visit their website. 
Gateway Industrial Railway:  This private short line is owned by the Avatar Corporation.  It began operations in early 2019, serving just o.46 miles of trackage (including a transload facility) in University Park, Illinois.  Interchange is established with the Canadian National.

Illinois & Midland Railway: This road was formally known as the historic Chicago & Illinois Midland, a system with roots dating back to the Pawnee Railroad of 1888.
In 1996 Genesee & Wyoming acquired the line and renamed it as the Illinois & Midland. Today, about 97 miles of the original C&IM is still operated by Genesee & Wyoming. 

Illinois Railway: Formerly known as Illinois RailNet and owned by OmniTRAX this short line has been in service since 1997 operating four disconnected lines in the western suburbs of Chicago that total 113 miles.
Please visit the railroad's web page for contact information. Main offices: 430 West Madison Street, Ottawa, Illinois 61350. 

Illinois Western Railroad: This short line is owned by Charles W. Barenfanger Jr., who also owns the small Effingham Railroad.
This carrier is also a terminal/switching road located near the town of Greenville and serves a 700 acre industrial park. The small company does operate its own website and can be contacted there regarding potential job openings. 

Indiana Harbor Belt Railroad: This historic terminal road traces its history back to 1907 when it was created through the mergers of several small systems in the Chicago area.
Today, the switching line remains jointly owned by CSX, NS, and Canadian Pacific operating 320 miles. The company requests potential job applicants visit their website.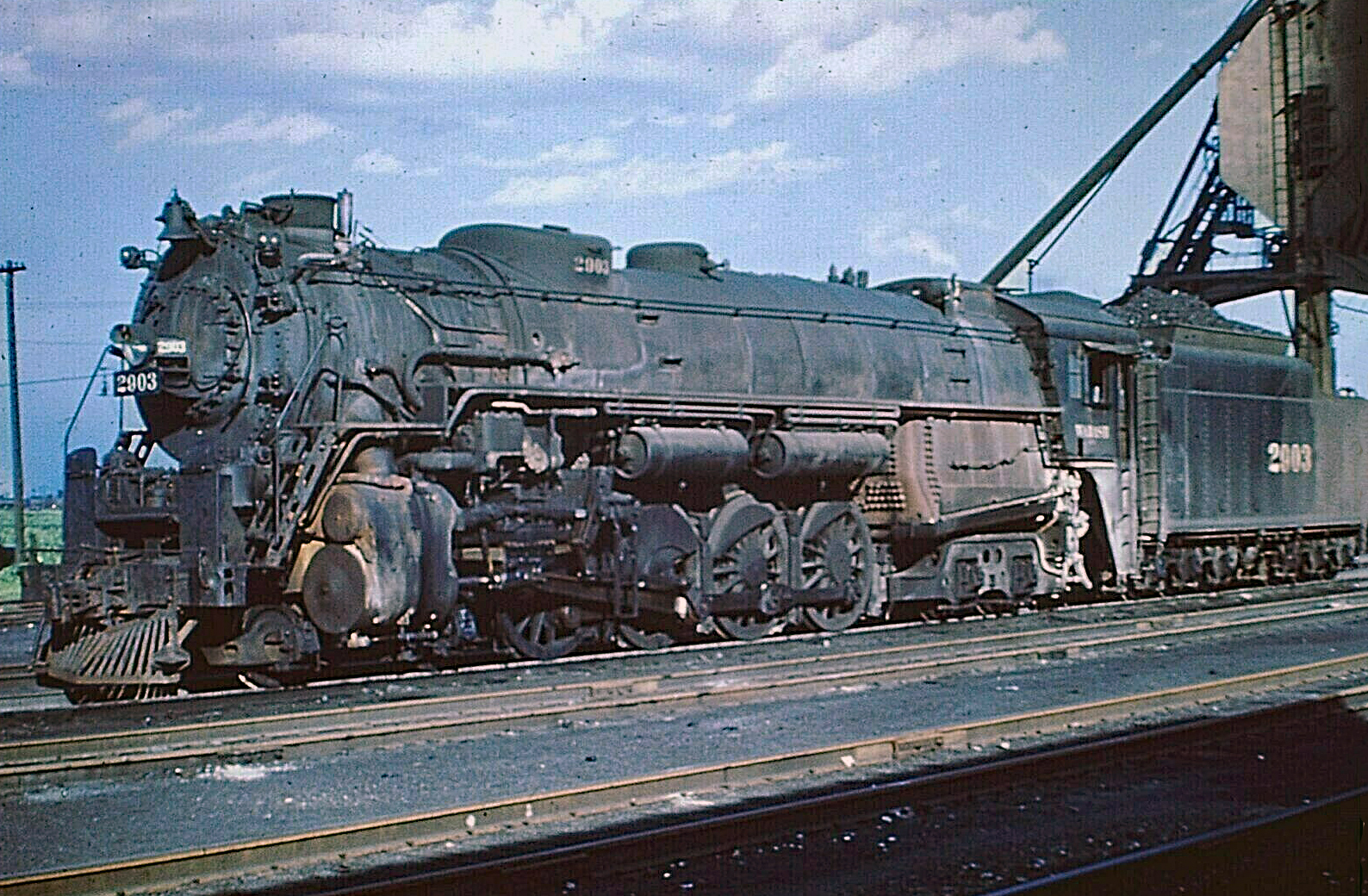 One of the Wabash Railroad's fine 4-8-4's (O-1), #2903, manufactured by Baldwin in 1930, is seen here at Brooklyn, Illinois following refueling on August 6, 1950. A few years later the entire class (2900-2924) was retired and scrapped.
Indiana Rail Road: This now large, profitable, and successful Class II regional began humbly in 1986 when it acquired 155 miles of former ICG property between Indianapolis, Indiana and Newton, Illinois.
Today, it owns or has trackage rights on some 500 miles reaching Chicago, Louisville, and Newton, Illinois. For potential job opportunities please visit the company's website. 

Iowa Interstate Railroad: This now successful, Class II regional started out in 1982 as the Iowa Railroad when this little short line purchased 375 miles of the Rock Island's former Chicago-Council Bluffs main line between the latter city and Bureau, Illinois.
It currently operates from Chicago (via trackage rights over CSX) to Omaha with a branch to Peoria. Please visit the company's website to learn about possible job openings. 

Joppa & Eastern Railroad: Originally incorporated on April 4, 1990 this is another privately owned short line of the Ameren Corporation. It serves a power plant near Joppa, Illinois. Main offices: 2001 West Main Street, Carbondale, Illinois 62901. 

Kankakee, Beaverville & Southern Railroad: This short line began service in 1977 over former New York Central trackage between Sheldon and Kankakee, Illinois acquired from Conrail.
Today, the KB&S operates roughly 155 miles connecting Kankakee, Danville, and Lafayette. To learn more about possible job openings please visit the company's website. 
Kaskaskia River Railroad: This short line runs from a connection with the Canadian National at Lenzburg to the Kaskaskia River.  It is operated by the Kaskaskia Regional Port District.

Keokuk Junction Railway: This short line has its beginnings in 1980 when it acquired roughly 4 miles of the Rock Island's former yard in Keokuk, Iowa to provide switching and terminal services.
Since then it has steadily grown into a 126 mile system between Peoria, Illinois and Keokuk, Iowa as well as between LaHarpe and Lomax, Illinois. For employment opportunities please visit the railroad's web page.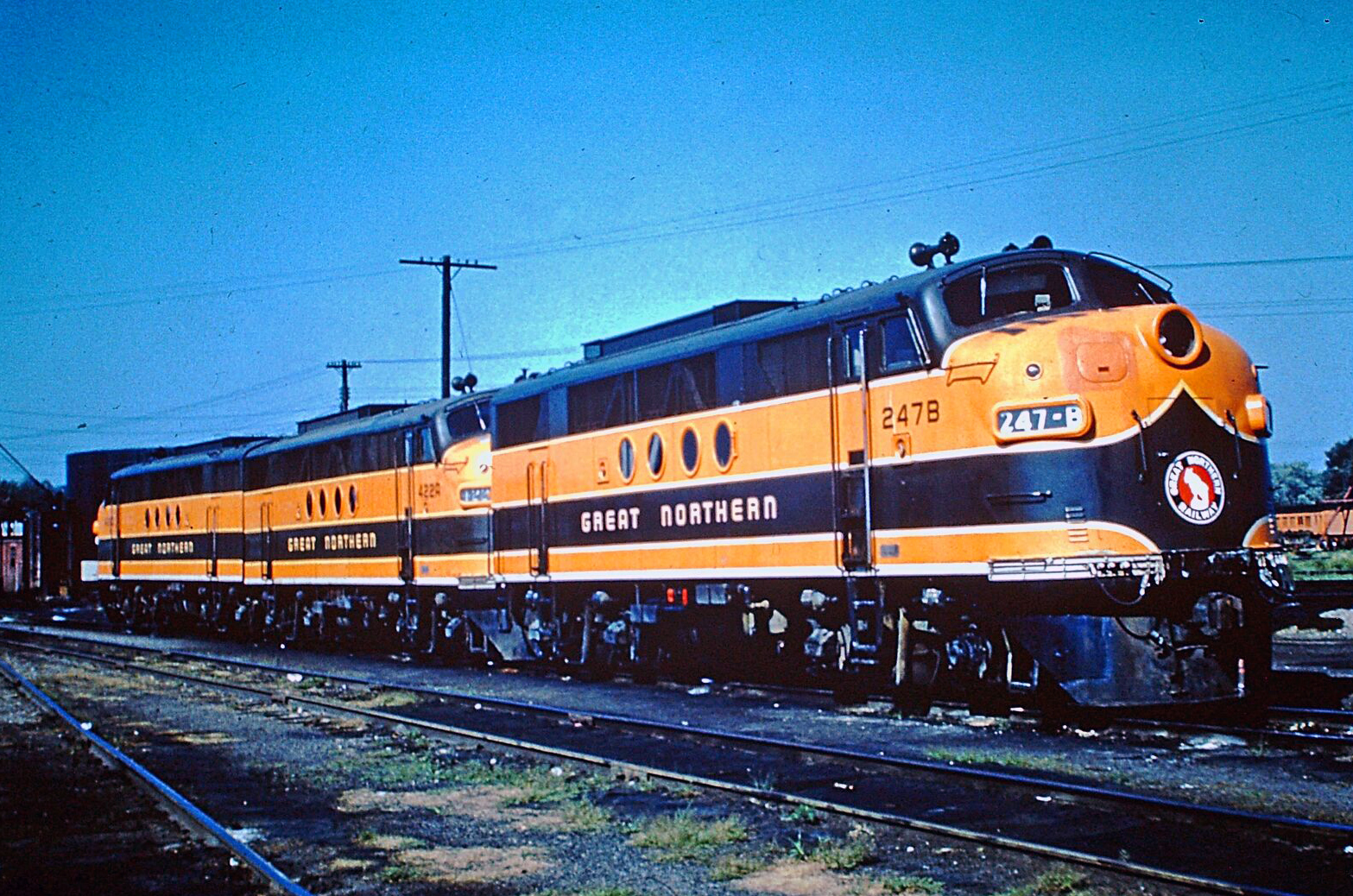 After more than a decade of service a trio of Great Northern FT's still look good glistening in the sun at Chicago, Burlington & Quincy's Galesburg, Illinois terminal on July 25, 1959.
Manufacturers Junction Railway: This terminal road dates back to its incorporation on January 28, 1903 and it opened for service in 1906. Today, it is a subsidiary of OmniTRAX and operates about 6 miles of trackage. 
Peru Industrial Railroad: A subsidiary of OmniTRAX, this short line maintains 3 miles of track to serve customers at the Peru Industrial Park in Peru, Illinois.  It interchanges with BNSF and the Illinois Railway.

Pioneer Industrial Railway: The Pioneer Industrial Railway is another Pioneer Rail Corporation property operating 8.5 miles of trackage between Peoria and Peoria Heights that was historically owned by the Peoria & Pekin Union. Please visit the railroad's web page for job opportunities. 
Port Harbor Railroad:  Located in in Granite City, Illinois, this 5.2-mile short line serves the industrial port district known as America's Central Port.  Operations began in 2004.  Its traffic primarily consists of steel, aluminum products, food products, lumber, paper, chemicals, minerals, and grains.
The Prairie Line: This operation is based in O'Fallon, Illinois and according to the company they provide a long list of services including switching services, logistics and route planning, track maintenance, car repair, and industrial site development.

Riverport Railroad: This small terminal/switching road serves the Savanna Army Ordinance Depot and operates a total of 72 miles of trackage including main lines, spurs, and sidings. The company maintains its own website where contact information is available regarding employment. 

Shawnee Terminal Railway: This railroad is yet another Pioneer Rail Corporation short line operating just 2.5 miles of trackage near Cairo at 17th Street Yard for car cleaning and storage capabilities. Please visit the company's web page for any job opportunities. 

South Chicago & Indiana Harbor Railway: This system traces its history back to the Chicago Short Line Railway incorporated on December 8, 1900 and began service in 1903. In April of 2002 the property was acquired by International Steel Group, which renamed it as the South Chicago & Indiana Harbor Railway. Today, the SC&IH operates 27 miles of track. Main offices: 9746 Avenue North, Chicago, Illinois 60617. 

Tazewell & Peoria Railroad: This small short line, a Genesee & Wyoming property serves a terminal system around Peoria operating 24 main line miles with 100 miles in total including yards, sidings, and spurs. It serves a wide variety of customers and handles about 100,000 carloads annually. 
Terminal Railroad Association Of St. Louis:  This historic short line has been in operation since 1889-1890, and handles switching assignments for industries in East St. Louis, Madison, and Granite City, Illinois as well as St. Louis, Missouri.  
The railroad was originally owned by the major railroads to serve the St. Louis area including Missouri Pacific/St. Louis, Iron Mountain & Southern; Wabash; Ohio & Mississippi Railroad (Baltimore & Ohio); Louisville & Nashville; Cleveland, Cincinnati, Chicago & St. Louis Railway (New York Central); Rock Island.
Today, it is owned by BNSF, Canadian National, CSX, Norfolk Southern, and Union Pacific.
Toledo, Peoria & Western Railway: This historic system dates back to its formation in 1887 through the merger of the Peoria & Warsaw Railway and the Logansport, Peoria & Burlington.
In time the TP&W came to operate a system stretching from Logansport, Indiana to Fort Madison, Iowa with a branch reaching Keokuk, Iowa and Warsaw, Illinois. Today, it is owned by Genesee & Wyoming running between Peoria and Logansport. 
TransDistribution Brookfield Railroad: This little short line operates just 0.46 miles of track to handle the Sweetener Supply Company's Brookfield Transload Facility in Brookfield, Illinois.  Interchange is provided with the BNSF Railway.

Vandalia Railroad: This small short line is a Pioneer RailCorp property (since October of 1994) operating just 3 miles north of Vandalia. For job opportunities please visit the company's web page. Main offices: 609 West Main Street, Vandalia, Illinois, 62471. 

---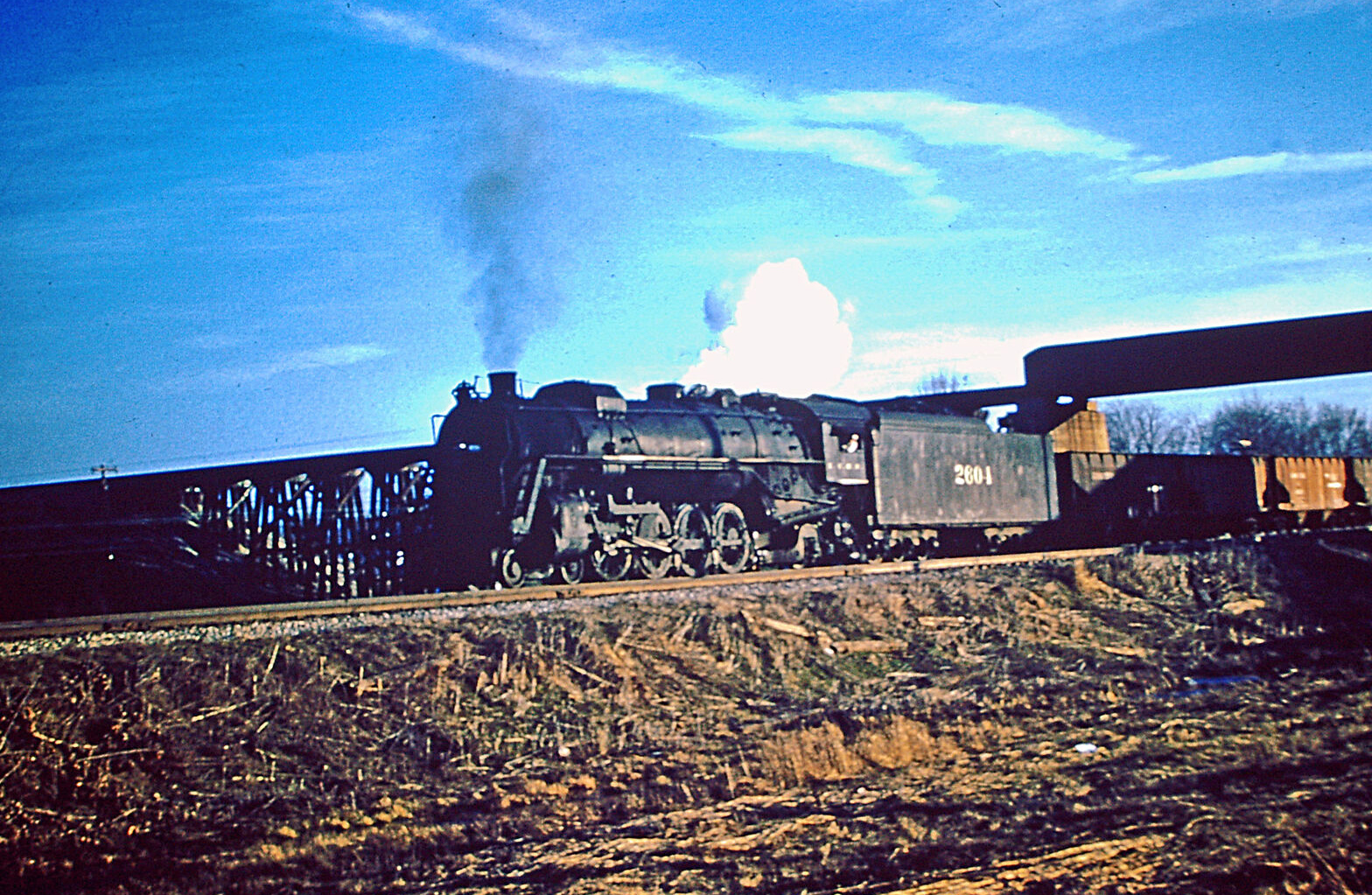 Illinois Central 4-8-2 #2604 (manufactured by the railroad's Paducah Shops in 1942) hustles southbound as the train passes beneath the Missouri Pacific at DeSoto, Illinois on December 22, 1958.
Vermilion Valley Railroad: This small short line operates about 6 miles of track between Danville, Illinois and Olin, Indiana on trackage once owned by the NYC. It was acquired from CSX by the Indiana Boxcar Corportion in 2003. Main offices: 916 Vine Street, Connersville, Indiana 47331. 

Wisconsin & Southern Railroad: This large, profitable Class II regional has been successful in resuscitating many secondary, left-for-dead branch lines in the state of Wisconsin and northern Illinois that once belonged to the Milwaukee Road and Chicago & North Western.
It began service in 1980 and today operates more than 700 miles of track, some of which is owned by the state of Wisconsin.
The company, currently owned by Watco since 2012, plans to continue resurrecting lines in the region it sees as a potential profitable ventures. Any job applicants need to visit Watco's website for more information.