Other Train Rides By State Not Listed
Within this website are articles offering a brief overview of tourist trains and excursions listed by state (to learn more about these please click here).  However, some states have few, if any, such rides available and do no warrant full pages to highlight.  As a result, the information included here provides complete information about the rides available in these states, hidden gems in such places as Wyoming (the Heber Valley Railroad), South Dakota (the "1880 Train" operated by the Black Hills Central Railroad), and Vermont (home of the Green Mountain Railroad which takes visitors on trips over the historic Rutland Railroad).  If you are interested in learning more about these rides please read on below.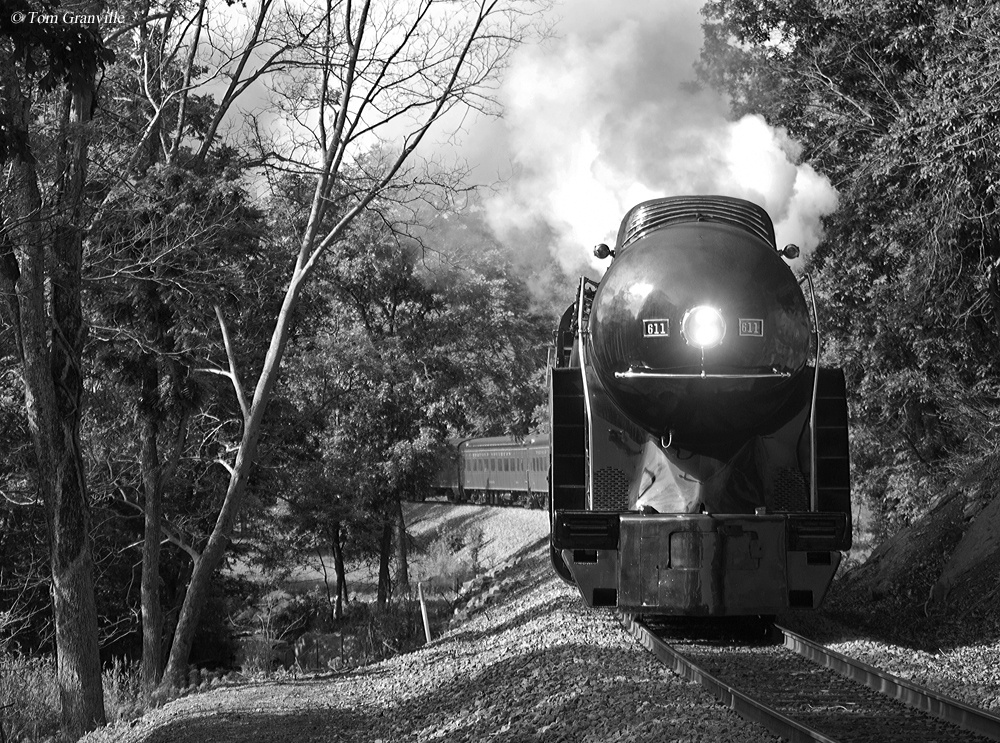 Excursion train rides have grown into a popular attraction over the years, especially since the 1970s after private railroads ended regular service and the industry began to spin off secondary/unprofitable trackage from their networks.  These two events offered the opportunity to launch what are sometimes referred to as "heritage railways," or non-profit operations managed and maintained by a group of individuals for the express purpose of providing train rides to the public via historic equipment and locomotives.  Today, many remain as small organizations although some are quite large, profitable, and enjoy hundreds of thousands of visitors each year (such as the Strasburg Railroad and White Pass & Yukon Route in Alaska).  The guide information highlights each state not covered elsewhere on the site.
Delaware Train Rides
Wilmington & Western Railroad:  This tourist line has grown into a popular since 1966 when it first began simply as something fun by operating steam-powered trips on a former Baltimore & Ohio branch.  Today it operates 10.2 miles between Wilmington and Hockessin and still uses steam locomotives.  They also host several special events throughout the year.
Idaho Train Rides
Canyon County Historical Museum:  Located in Nampa this museum, which highlights the region's local history, is housed inside the historic Union Pacific brick depot, constructed by the railroad between 1902-1903.  Admission is free.
Northern Pacific Depot Railroad Museum:  This museum, located in the Northern Pacific Railway's beautiful former Wallace, Idaho brick depot built in 1901, houses a small collection of railroad artifacts related to the local area and that of the railroads which operated there. It is not a large museum but for anyone interested in history and or railroads a visit should very much be in order if you have a chance. Perhaps what the museum is most well known for is its annual Depot Days event, which celebrates transportation and is highlighted by a car show.
Thunder Mountain Line (Defunct):   Between 1998 and 2016 the short line Idaho, Northern & Pacific offered excursion trains for the public known as the "Thunder Mountain Line."  The tourist railroad traveled roughly sixty miles north from Montour, following the Payette River to Cascade next to beautiful Lake Cascade.  There were three different trips offered including the Horseshoe Bend Route (Horseshoe Bend to Banks), Montour Route (Montour to Horseshoe Bend), and the Cabarton Route (Smiths Ferry to Cascade).  Unfortunately, sagging patronage resulted in the service being suspended in 2016.
Louisiana Train Rides
DeQuincy Railroad Museum:  Located in the restored brick Kansas City Southern depot built in 1923 it is opened most of the year with many historic artifacts to peruse.  The building is also home to the local Chamber of Commerce.
Louisiana Steam Train Association:  The LSTA does not offer regular excursions service but they do maintain an operational steam locomotive at Jefferson, Louisiana, Southern Pacific/Texas & New Orleans 2-8-2 #745.  The Mikado was constructed by the railroad's Algiers Shops in 1921 and was classed as an MK-5.

Old Hickory Railroad:  This nearly-full scale train ride is based in Jackson and is open from March through November.  It began service in 2000 and currently operates a 6.2-mile route through the local area with four stops along the way.
Mississippi Train Rides
McComb City Railroad Depot Museum:  This museum is located within the town's restored Illinois Central depot   Among their historic displays and artifacts is 4-8-2 #2542 (built by IC"s Paducah, Kentucky shops in 1951), an IC refrigerator car (reefer), an office car built in 1883, a Railway Post Office car (RPO) constructed in 1914, and an original wrecking derrick.  They are open much of the year.
Water Valley Casey Jones Railroad Museum:  Located at 105 Railroad Avenue in Water Valley this museums tells the heroic story while preserving the memory of Illinois Central engineer Casey Jones.  It is located within the town's restored IC depot and houses a collection of artifacts and railroad displays.
Montana Train Rides
Alder Gulch Short Line:  The Alder Gulch Shortline is a 30-inch narrow gauge tourist railroad owned by the state of Montana.  It was constructed in 1964 by Charlie Bovey using the dredge tailings along Alder Gulch and connects Virginia City with Nevada City, a distance of about 1.5 miles.
Charlie Russell Chew-Choo Dinner Train:  The state's most popular excursion train, the Charlie Russell Chew-Choo utilizes a section of the former Milwaukee Road's Northern Montana Lines, taking passengers on trip from Lewistown to Denton and back.  Their schedule runs from May through October.
Izaak Walton Inn:  The Izaak Walton Inn, located at the entrance to the breathtaking Glacier National Park is not a railroad museum but simply a historic hotel.  The inn was originally built to provide temporary relief for Great Northern Railway train crews who worked in helper service over the railroad's stiff Marias Pass and also during the frigid winter months. 
North Dakota Train Rides
Fort Lincoln Trolley:  Located in Mandan (across the Missouri River from Bismarck) this organization offers a 9-mile trip along the Heart River to Fort Lincoln State Park carrying passenger in restored streetcars.
Midland Continental Railroad Transportation Museum:  The museum is housed within the two-story depot of the Midland Continental Railroad, the last of its kind still in existence.  The depot feature exhibits which tell the history of the MCRR as well as trace the career of Peggy Lee and her connection to Wimbledon. 
North Dakota State Railroad Museum:  The state's official railroad museum located in Mandan is housed within the former Northern Pacific's yard office.  The organization has also preserved the former NP wooden depot from Steele, North Dakota which sits on display.  Along with artifacts the museum has a collection of equipment to peruse on the grounds.
Old Soo Depot Transportation Museum:  Located inside the restored Soo Line brick depot (constructed in 1912) in Minot.  It is open during weekdays throughout the year.
Railroad Museum Of Minot:  Also located in Minot this museum preserved the history of railroads serving the town from 1886 until present day.  They are open during much of the year and have a nice collection of historic artifacts and displays.
Rhode Island Train Rides
Newport Dinner Train/Old Colony & Newport Railway:  Located in Newport this excursion service operates between Newport and Portsmouth.  It has been in service since 1997 and along with dinner trains the railroad also hosts specials and charter trips during the year.
Rhode Island Railroad Museum:  This museum is housed within the restored New York, Providence & Boston (later New Haven) depot built in 1875 located in West Kingston.  Its artifacts tell the area's history railroads.
South Dakota Train Rides
Black Hills Central Railroad: The state's only notable excursion line, the "1880 Train" features historic steam locomotives and one of the only places in the country that utlizes the "Mallet" compound design (2-6-6-2T #110).  The railroad's trackage is former Chicago, Burlington & Quincy's Keystone Branch between Hill City and Keystone, South Dakota.  They also offer a number of specials during the year, includingthe Holiday Express; a Christmas-decorated train allowing kids to see Santa and receive a small gift.
Prairie Village:  This historic museums is located near Madison, South Dakota on the shores of Lake Herman.  It spans 120 acres and more than 40 buildings that house artifacts from the turn of the 20th century.  They also operate the "Prairie Village, Herman & Milwaukee Railroad" utilizing about 2 miles of track, pulled restored 0-6-0 #29, originally built by the Lima Locomotive Works in 1944 for the Duluth & Northeastern Railroad.
South Dakota State Railroad Museum:  Located in Hill City the state museum ties in with the "1880 Train" it has been in operation since 1990.  There are several historic artifacts as well as preserved pieces of equipment on the grounds.
Utah Train Rides
Golden Spike National Historic Site:  Located at Promontory Summit where the famous meeting occurred between the Central Pacific and Union Pacific railroads this museum and visitors center remembers the historic event and is open throughout much of the year.
Heber Valley Railroad:  Utah's most popular excursion is the Heber Valley, which has utilized the Rio Grande's 28-mile Provo Canyon Branch (Heber City to Provo) since the 1990s.  Its trains are usually steam powered using either a former Union Pacific or Great Western Railway of Colorado 2-8-0.  During the year the railroad plays host to special events, such as the North Pole Express which takes kids on a magical ride to see Santa aboard the train.
Ogden Union Station:  This preserved building is the third to occupy the location, completed in 1924 and built in the Spanish Colonial Revival style.  It was served by Union Pacific, Southern Pacific, and the Rio Grande.  Today, it houses a prominent museum with exhibits, events, and an art gallery open year-round.
Tooele Railroad Museum:  Based in Tooele within the restored brick depot built by the Tooele Valley Railway (1909) this museum highlights the area's history with mining and railroads (specifically the Tooele Valley).  On the ground is preserved Tooele Valley Railway 2-8-0 #11, built by the American Locomotive Company in 1964.
Western Mining & Railroad Museum:  This museum is based in Helper, Utah within the preserved Old Helper Hotel built in 1913 - 1914.  As its name implies the organization preserves the history of railroads and mining operations within the region.
Vermont Train Rides
Green Mountain Railroad:  The state's most popular excursions and one of the best known across the country the Green Mountain hosts trips through the beautiful Vermont countryside along segments of the venerable Rutland Railroad.  It has been in continuous operation since 1964, soon after the Rutland shutdown.
New England Institute & Transportation Museum:  This museum is based in White River Junction and highlights the transportation history throughout New England as it name implies.
Shelburne Museum:  This museum is located in Shelburne and has been in operation since 1947.  They house a wide collection of artifacts that span several different subjects.  A few of their railroad pieces including Central Vermont 4-6-0 #220 (built by Alco in 1915), 0-2-2 vertical boiler track inspection car named "Gertie Buck," and an 1890 private business car.  In addition they have a preserved Rutland wooden depot constructed in 1890.
Virginia Train Rides
Buckingham Branch Railroad: New! Located in Central Virginia, the Buckingham Branch offers several seasonal excursions throughout the year. During the month of October, they host fall foliage trips taking you on a scenic ride through the beautiful countryside. You can choose to sit in a climate controlled car or enjoy the views from an open air car. Either way, you are sure to have a wonderful time on this 3.5 hour excursion through Buckingham County and over the James River.
Carson Branch, Appomattox Regional Library:  Located within the preserved Atlantic Coast Line wooden depot originally situated in Kings Crossing and constructed between 1888-1891.  The museum houses historic artifacts and has a preserved Norfolk & Western wooden caboose on the grounds.
C&O Railway Heritage Center:  Based in Clifton Forge, a once important yard and terminal of the Chesapeake & Ohio Railway, the heritage center offers likely the best example of preserved C&O equipment and artifacts on-hand for the public to visit.  Among its current collection is a replica 1891 depot, interlocking tower (or "cabin" as the C&O referred to them), and 4-8-4 "Greenbrier" (J-3a) #614.
Eastern Shore Railway Museum:  As its name suggests this museum is located on Virginia's Eastern Shore, housed within the preserved in the former Pennsylvania Railroad depot from Hopeton.  They house a collection of artifacts and displays inside as well as a few railcars outdoors.
Fairfax Station Railroad Museum:  Located in Fairfax Station within an original wooden depot built by the Southern Railway in the late 19th century the museum houses historic artifacts along with a preserved caboose on the grounds.  They are open during much of the year and host special events on select dates.
Historic Cambria Depot & Scale Cabinetmaker Museum:  This museum is located within the restored depot originally constructed by the Virginia-Tennessee Railroad in 1867 and opened in 1868 (built in the Tuscan Italianate style), later taken over by the Norfolk & Western.  Much of the building displays The Scale Cabinetmaker miniature pieces.
O. Winston Link Museum:  Located in Roanoke, Virginia which was the long-time important locomotive shops of the Norfolk & Western Railway this museum highlights the acclaimed photographs of O. Winston Link, the master of shadow and light, which made the N&W famous during its late steam era in the 1950s taking hundreds of legendary black and white scenes.
Richmond Railroad Museum:  Opened in 2011 this museum, operated by the Old Dominion Chapter NRHS, is housed within the Southern Railway's brick depot in Richmond constructed during the early 20th century.  Outdoors they have two preserved steam locomotives originally owned by the Albemarle Paper Company; 0-4-0F (fireless) #836 built by H.K. Porter in 1936 and 0-6-0T #1 also built by H.K. Porter, in December of 1942 as US Army Corps of Engineers #5019.  Additionally, inside they have many displays, photos, and artifacts.
Suffolk Seaboard Station Railroad Museum:  Housed within the town's restored Seaboard & Roanoke Railroad brick depot completed in 1885, which later became part of the Seaboard Air Line.  The museum has a preserved caboose on the grounds and displays inside.  It is also home to the local chamber of commerce.

U.S. Army Transportation Museum:  This facility is located at Fort Eustis and tells the history of the United States military's use of vehicles and craft it has employed over the many years to move men and materials.  Included within its collection are various pieces of rolling stock.
Virginia Museum of Transportation:  The VMT is certainly Virginia's best known railroad attraction, located in Roanoke.  Originally opened in 1963 and displaying many types of transportation equipment their priced pieces are railroad locomotives, including operational Norfolk & Western 4-6-4 #611 (J) and 2-6-6-4 #1218 (A).  Visitors can see these locomotives housed under the outdoor pavilion along with the other rolling stock on the grounds.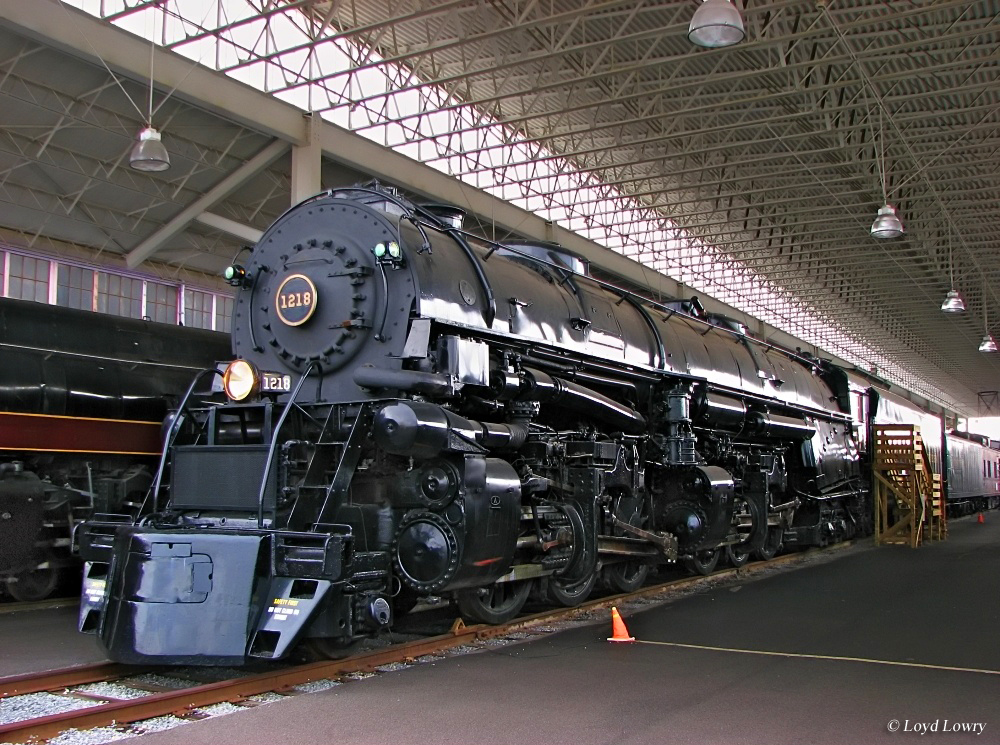 Wyoming Train Rides
Cheyenne Depot Museum:  The Cheyenne Depot Museum, also known as the Wyoming Transportation Museum, is located in the former Union Pacific depot in Cheyenne. The museum was created as a means of preserving and presenting both the City of Cheyenne's railroading past and that of the Union Pacific, which has been operating through Cheyenne for well over a century.  The museum is one of, if not the biggest draws to the city's downtown area and was recently named a National Historic Landmark. The former UP depot in which the museum is housed, is a very ornate structure designed and built by the architect Henry Van Brunt. The depot was completed in 1887 with a Richardsonian Romanesque design and towering clock tower as its centerpiece design. Today, only one other such distinctive railroad station designed by Van Brunt still stands, Union Station in Portland, Oregon.
Douglas Railroad Interpretive Center & Depot Museum/Douglas Visitor Information Center:  Located near the Douglas Chamber of Commerce the museum is housed within the former Fremont, Elkhorn, & Missouri Valley Railroad depot built in 1886 and later became part of the Chicago & North Western.  Among its collection is preserved Chicago, Burlington & Quincy 4-8-4 #5633 (O-5a) built by the company's West Burlington Shops in 1940.
Union Pacific Roundhouse:  This facility was originally built by UP in 1871 along with a machine shop and other auxiliary buildings.  It was vacated by the railroad in 1971 and since 2004 the city has been restoring the complex for several reuses such as public events and the city hall.