Michigan Railroad Jobs

Last revised: April 28, 2023

The Great Lakes State is steeped in railroad history with a number of historic railroads still operating there.
If you are interested in Michigan railroad jobs four of the seven Class I operate through the state (CSX, Norfolk Southern, Canadian National, and Canadian Pacific) while Amtrak's "Michigan Services" serve a number of cities, connecting them with Chicago.
Additionally, Class II's Indiana & Ohio and Great Lakes Central serve Michigan along with more than a dozen Class III, short lines. 
In the end, railroading is a career that you will have to decide if it's the right for you.
If you are a college student, or plan to attend after graduating high school, and are interested in the management field you may want to see what some Class I's have to offer in the way of internships and graduate programs. Many offer these during the summer months.
The information provided here is to aid job searches in highlighting those railroads which currently operate within the state.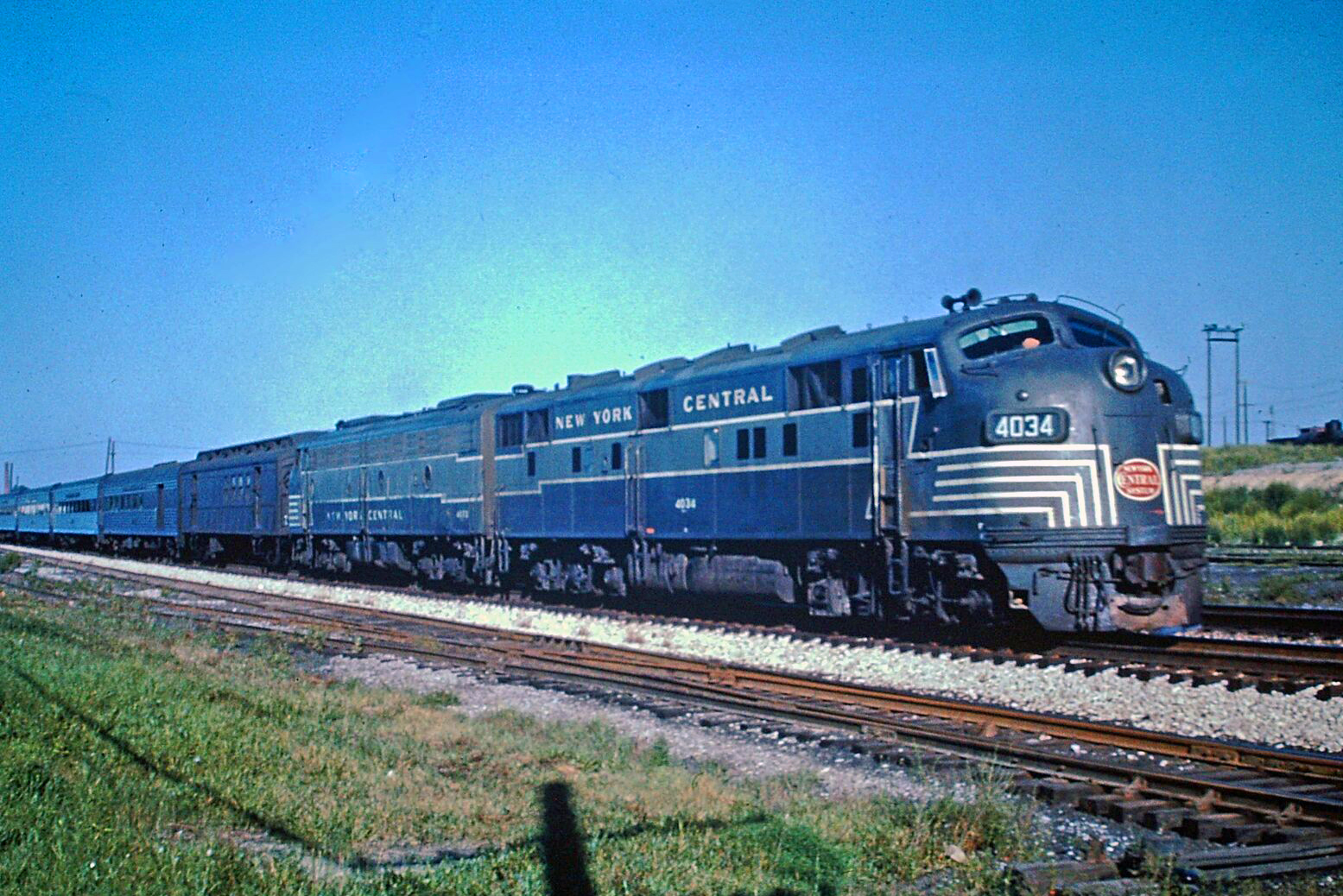 New York Central E7A #4034 and an E8A departs Detroit with train #357, the westbound "Twilight Limited" (Detroit-Chicago) on the early evening of August 17, 1962.
If railroading is not very familiar to you, you may want to take the time to learn much more about it before deciding if a career in the industry is right for you.
The idea of being a railroader is often glorified by Hollywood and the general public as being thrilling, exhilarating, and entertaining.
While this is sometimes the case for the most part it has been extremely exaggerated. In truth, working in maintenance or transportation can be physically demanding requiring one to work very long hours for days at a time, particularly on a Class I railroad.
This means being away from home and your family for days at a time. Of course, Class Is pay very well and also offer excellent benefits and retirement. 

Class I Railroads/Amtrak
Short Lines And Regionals

Adrian & Blissfield Rail Road/Charlotte Southern Railroad/Detroit Connecting Railroad: The A&B, Charlotte Southern, and Detroit Connecting are all under common ownership operating five disconnected lines in Michigan and has operated since 1991.
To the general public the railroad is also well known for its popular Old Road Dinner Train. You can contact the company through the Adrian & Blissfield website. 

Ann Arbor Railroad: The history of Ann Arbor traces back to 1895 when it was born through the reorganization of predecessor systems operating between Toledo, Ohio and Frankfort, Michigan. The present-day Ann Arbor, a corporate entity since 1988, has been a part of Watco since 2013. 
Delray Connecting Railroad: This historic short line has been in service since 1904 serving Michigan's Zug Island and presently serves the Great Lakes Works steel mill. It is currently a division of Transtar (a U.S. Steel subsidiary), which may be contacted regarding employment and job openings. 
Escanaba & Lake Superior Railroad: The historic, independently-owned E&LS was born in November of 1898 serving timber interests in the Upper Peninsula.
In time, ore also became an important source of freight and it grew into a 65-mile system. Today, the road operates more than 300 miles. Please visit the company's website for employment information. 

Grand Elk Railroad: The Grand Elk Railroad is a Watco short line and has been in operation only since 2009. A large short line, it operates 151 miles between Grand Rapids, Michigan and Elkhart, Indiana. Please visit Watco's website for career opportunities. 

Grand Rapids Eastern Railroad: The Grand Rapids Eastern Railroad is a Genesee & Wyoming short line operating 20 miles between Grand Rapids and Lowell. 

Great Lakes Central Railroad: This short line has been in service since 2006 running on the original Ann Arbor between Ann Arbor and Yuma.
It also utilizes former NYC and Chesapeake & Ohio/Pere Marquette trackage. In all it operates about 400 miles. To learn more about job opportunities please visit the railroad's website. 

Huron & Eastern Railway: This system began service in 1986 over former C&O/PM trackage near Bay City. The road is owned by Genesee & Wyoming, operating more than 380 miles and handling more than 34,000 carloads annually. 

Indiana & Ohio Railway: This short line has been in service since 1985. Today, the I&O operates about 570 miles within the states of Ohio, Indiana, and Michigan. It is a subsidiary of Genesee & Wyoming. 

Indiana Northeastern Railroad: This short line traces its history back to 1992. Today, the company has blossomed into a 120-mile system serving northeastern Indiana, southern Michigan, and northwestern Ohio. To contact the railroad please visit their website. 

Lake States Railway: The Lake States began service in 1992 operating the former Detroit & Mackinac and Michigan Central/NYC lines in northern Michigan. Today, the system spans about 300 miles. The company maintains its own website where contact information may be found. 

Lake Superior & Ishpeming Railroad: This historic short line traces its roots back to 1892. At its peak the LS&I operated more than 200 miles but today utilizes just 16 miles running from the Empire-Tilden Mine to Ishpeming. Ore still remains its primary freight traffic. Address: 105 East Washington Street, Marquette, Michigan 49855. 

Lapeer Industrial Railroad: This very small industrial railroad operates just 1.5 miles of track performing switching duties near the town of Lapeer for local industries. It is owned by the same company which operates the Adrian & Blissfield. 

---
Marquette Rail: This system is a Genesee & Wyoming property, operating 126 miles of former PM/C&O trackage between Grand Rapids and Ludington/Manistee. It has been in service since 2005. 

Michigan Shore Railroad: This road has been in operation since 1990 utilizing 52 miles of trackage between Fremont and Pigeon Lake via Grand Haven. It is a division of Genesee & Wyoming. 

Michigan Southern Railroad: This short line is owned by Pioneer Railcorp operating about 17 miles of track between White Pigeon and Sturgis. The road began service in 1989. Please visit the Pioneer Railcorp website to learn more about career opportunities. 

Mid-Michigan Railroad: This Genesee & Wyoming property first entered service in 1987 as a RailTex subsidiary. The short line currently operates about 32 miles between Alma and Saginaw and moves agricultural-related freight traffic.