Minnesota Railroad Jobs

Last revised: April 28, 2023

Regardless of the company you may ultimately work for, railroad jobs in Minnesota can be unforgiving due to the weather as the state's winters are notorious for being downright nasty.
In addition, snow can fall from early October until spring.  If you live in Minnesota and are interested in a railroad career the state is home to four of the six Class Is (Union Pacific, BNSF, Canadian National, and Canadian Pacific) along with two Class II, regionals and a handful of smaller Class III, short lines. 
As such, you have a very good opportunity at landing a job with one of these companies (most likely a Class I or Class II). 
For history's sake the Class I's operate trackage originally part o the Chicago & North Western, Soo Line, Milwaukee Road, and Duluth, Missabe & Iron Range Railway.
The information provided here offers job searchers information regarding those railroads currently operating within the state.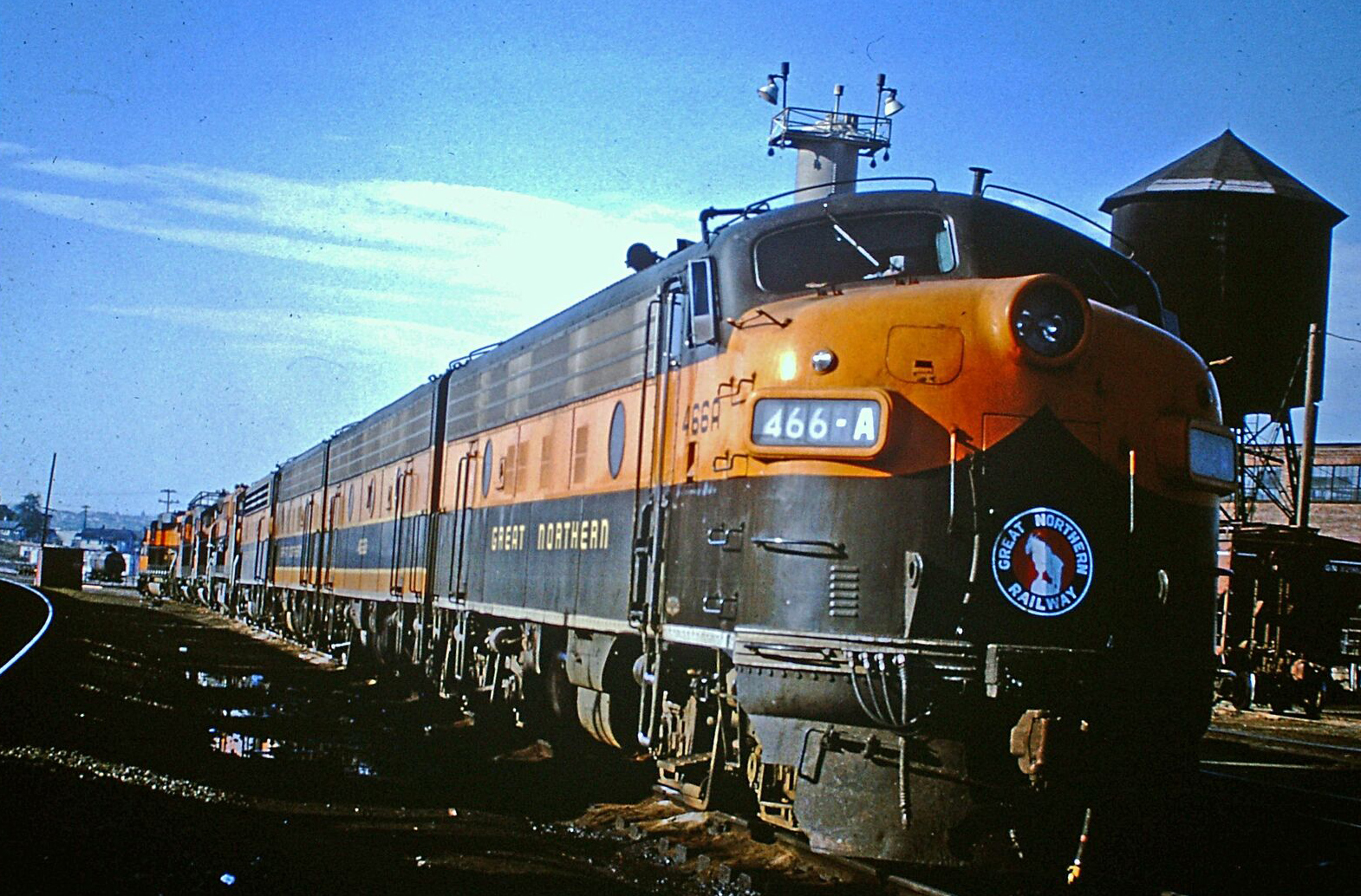 Great Northern F units and Geeps, including a new GP30, layover at the road's terminal in St. Paul, Minnesota during September, 1965.
Working within the railroad industry really becomes a way of life, particularly if you hire on in with a Class I in either transportation or maintenance where one is constantly out on the road.
Couple this with the harsh weather Minnesota has to offer and you really may want to think long and hard if a career in railroading is right for you.
Typically, railroaders not only work long, 12-hour days but they also spend many nights away from home and in a hotel.
While smaller railroads do offer a more predictable schedule they cannot match the excellent pay, benefits, and retirement of Class Is. In the end, you will have to weigh the pros and cons yourself in deciding if becoming a railroader is something you want to do. 
For college students who may be researching a career in railroading, several Class Is offer internship and graduate programs in either management or business to get your foot in the door early.

Class I Railroads/Amtrak
Great Northern E7A #503 has just departed St. Paul Union Depot with train #24, the northbound/eastbound "Badger" (St. Paul-Duluth), at around 8 AM on May 30, 1968. By this time the train's accommodations included only reclining seat coaches. Note the Lafayette Bridge (U.S. Route 52) under construction. It opened later that year.
Short Lines And Regionals

Cloquet Terminal Railroad: This short line has been in service since 2002, providing switching services for the large Sappi paper mill and a few other customers in Cloquet. Address: 315 Saint Louis Avenue, Cloquet, Minnesota 55720. 
Ellis & Eastern Railroad:  Best known for its operations in South Dakota, this short line expanded service into Minnesota in 2017 by acquiring the Minnesota Southern Railway which operated between Manley and Agate, Minnesota.
Interchange is provided with BNSF at Manley and Union Pacific at Agate.  In all, there are about 41 miles in use.  The property was shed by C&NW in 1988, acquired by the Buffalo Ridge Regional Railroad Authority, and operated by Nobles Rock Railroad until 2000 when the Minnesota Southern took over service.
Minnesota Commercial Railway: The Minnesota Commercial has been in operation since 1987 operating nearly 150 miles of railroad in the Twin Cities with traffic being widely diversified. Please visit the company's website to learn more about career opportunities. 

Minnesota, Dakota & Western Railway: This short line dates back to 1910 and is currently owned by Boise, Inc. Today, it serves paper mills in International Falls, Minnesota and Fort Frances, Ontario. Address: 101 2nd Street, International Falls, Minnesota 56649. 

Minnesota Northern Railroad: This large short line operates more than 200 miles of track in the western areas of the state handling primarily agricultural products. Address: 1420 South Main Street, P. O. Box 705, Crookston, Minnesota 56716. 

Northern Plains Railroad: This independently-owned, short line railroad is mostly concentrated in North Dakota, operating 400 miles of track and traffic consisting of agricultural products. Please visit the company's website for job information. 

Minnesota Prairie Line: The MPL is a subsidiary of the Twin Cities & Western operating nearly 100 miles of track between Granite Falls and Hamburg. To learn about career information please visit the TC&W website.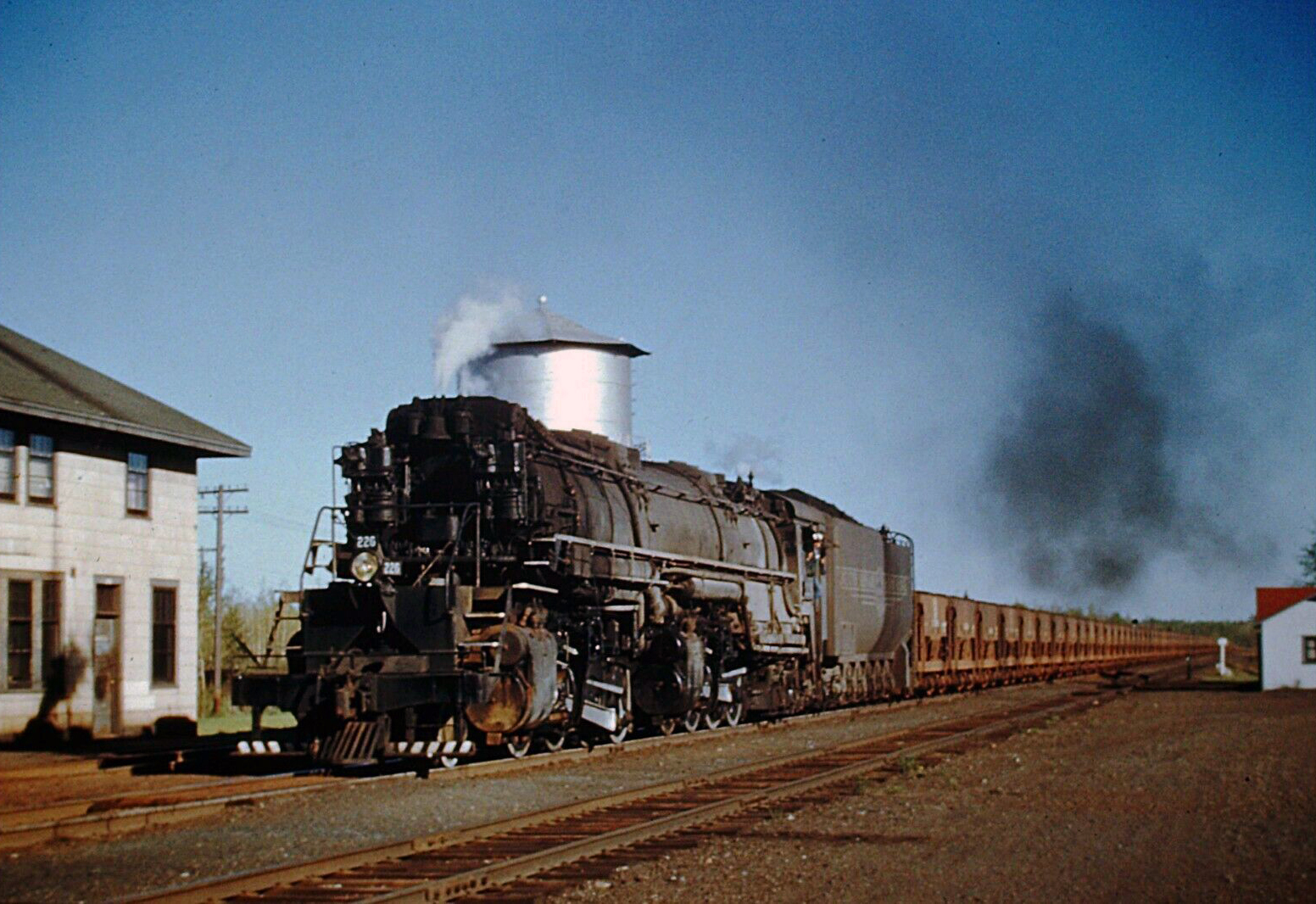 Duluth, Missabe & Iron Range 2-8-8-4 #226 has a long string of empty ore jennies heading northbound at Alborn, Minnesota in May, 1959.
Northern Lines Railway: This rather small short line is owned by Anacostia & Pacific operating about 25 miles of track between St. Cloud and Cold Spring with a branch to St. Joseph. Please visit Anacostia's website regarding job inquiries. 

Otter Tail Valley Railroad: This short line is part of Genesee & Wyoming's large family of railroads operating about 81 miles of track between Fargo and Fergus Falls, with a westerly extension running from the latter town. 

Progressive Rail, Inc.: Progressive Rail operates trackage in three different states and takes its paint scheme from the historic Minneapolis, Northfield & Southern Railway, also known as The Dan Patch Line (whose former trackage it also operates). Please visit Progressive Rail's website for career and contact information. 
Rapid City, Pierre & Eastern Railroad:  This Genesee & Wyoming property began operation in 2014 when in picked up 670 miles of former Dakota, Minnesota & Eastern trackage between  Tracy, Minnesota, and Rapid City, South Dakota. 
It also maintains branches north to Colony, Wyoming and south to Dakota Junction, Nebraska.  Finally, trackage rights also provides access to Aberdeen, South Dakota.  The railroad handles tens of thousands of carloads annually.
Red River Valley & Western Railroad: Under common ownership with the Twin Cities & Western, the RRV&W is a 600+ mile system mostly located in North Dakota northwest of Wahpeton with lines stretching into extreme western Minnesota. To learn more about job opportunities please visit TC&W's website. 

---
This scene, taken from the Raymond Avenue Bridge in St. Paul, Minnesota features a westbound Chicago & North Western freight, led by FP7 #217 (ex-Chicago Great Western), on March 14, 1976. The train is about to pass St. Anthony Tower.
St. Croix Valley Railroad: This independently-owned railroad operates about 36 miles of track between Hinkley and North Branch. The system began service in 1996 and was once owned by RailAmerica. Address: 175 West 4th Street, Rush City, Minnesota 55069. 

Twin Cities & Western Railroad: This independently-owned short line began service in 1991 acquiring the ex-Milwaukee Road main line west of the Twin Cities. Today, the carrier operates about 360 miles and also operates a few subsidiary systems. Please visit the TC&W website regarding employment information.