Montana Railroad Jobs

Last revised: May 4, 2023

For the state's beauty and vastness, Montana railroad jobs are mostly relegated to only the two Class Is which operate there, BNSF Railway and Union Pacific (the BNSF itself makes up nearly 60% of the state's trackage).
Additionally, Montana is home to a few Class II, regionals (Dakota, Missouri Valley, & Western and Montana Rail Link) along with just a small handful of Class III, short lines.
Of note, Amtrak's famous and historic Empire Builder also operates through Montana.
Despite the state's lack of railroads (years ago it was home to many more, notably the Milwaukee Road) it does originate a lot of freight tonnage with coal making up 68% of the total. 
Montana has a rich history with railroads, peaking at over 5,000 miles of tracks in the 1920's. 
This total has since declined by over 1,300 miles but the state continues to play an important role as a through route to the Pacific Northwest for BNSF Railway. 
The information provided here is to aid job searches in highlighting those railroads which currently operate within the state.  
In this publicity photo, a handsome set of new Great Northern FT's, leading a string of new 40-foot boxcars, pose on Two Medicine Bridge near East Glacier, Montana in the summer of 1944. Author's collection.
Being a railroader is a tough job all by itself but add to this Montana's brutal winter months and it makes the task that much more difficult.
Because the state is mostly home to Class Is, or large Class IIs, if you hire on expect to work long hours and be away from home regularly.
It's these issues, in particular, that either drive many away from railroading or not stick with the job. In truth, it's not for everyone which is why many railroaders say it's as much a lifestyle as it is a career.
There are some very nice benefits to being a railroader, however, including outstanding pay and retirement.  In the end, you will have to decide for yourself if you think a career in the industry is something you truly want to do.
On a related note, if you are either in college or plan to attend and are interested in the field of business (such as management) you may want to check into the summer internship and graduate programs many Class Is have to offer (some also offer scholarships).

Class I Railroads/Amtrak
A trio of new Northern Pacific U33C's appear to be receiving fuel during a quick stop in Missoula, Montana with an westbound freight on July 28, 1969. Ron Nixon photo. Author's collection.
Short Lines And Regionals

Butte, Anaconda & Pacific Railway: The BA&P is a historic short line based in Anaconda, Montana that dates back to 1892.
The railroad was once electrified until 1967. Today, the company is owned by the Patriot Rail Corporation, which acquired the property in 2007.
It continues operating 25.7 miles between Anaconda and Butte with traffic consisting of primarily copper and metals. To learn more about job opportunities please visit Patriot Rail's website. 

Central Montana Rail, Inc.: This short line has operated since 1985 running from Moccasin to Geraldine on former Milwaukee Road trackage.
The company predominantly handles agriculture while also offering excursions to the public during select times of the year. Address: 100 West Railroad Avenue, Denton, Montana 59430. 

Dakota, Missouri Valley & Western Railroad: This large, independently-owned system operates more than 500 miles of trackage in the states of North Dakota, South Dakota, and Montana.
It began service in 1990 and primarily hauls agricultural products. Please visit the company's website for contact information and job opportunities. 

Mission Mountain Railroad: This short line has been in operation since 2004 and operates 40 miles of disconnected trackage The property is currently a Watco subsidiary. Please visit Watco's website to research careers and job openings. 

---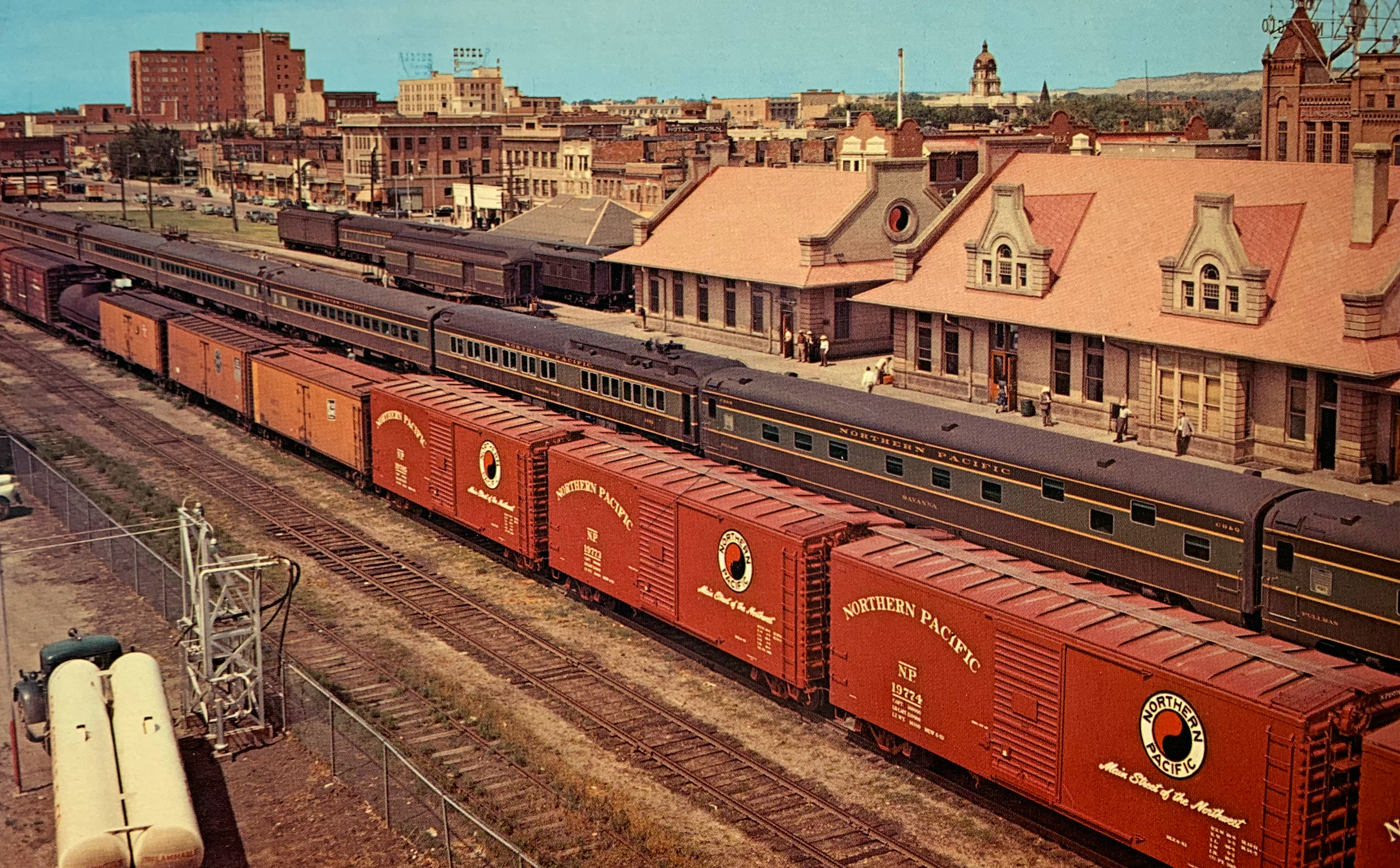 A Northern Pacific publicity photo depicting a busy scene at the beautiful depot in Billings, Montana in the mid-1950s. Stopped in front of the building is train #25, the westbound "North Coast Limited."
Montana Rail Link( Defunct):  This large, Class II regional had been in service since 1987 when it leased a large segment of the former Northern Pacific main line between Montana and Washington from then-Burlington Northern. 
At its peak, MRL operated between Huntley, Montana to Sand Point, Idaho with trackage rights stretching to Spokane, Washington.  There were also a handful of branches under its ownership.  In all, MRL maintained more than 900 miles and moved over 400,000 carloads annually.
On January 10, 2022, MRL announced it would terminate its lease with successor BNSF Railway and the Class I would reacquire its property.
Yellowstone Valley Railroad: Another Watco short line, the Yellowstone Valley Railroad operates more than 170 miles between northeastern Montana while also stretching into North Dakota.
It began service in late 2005 and handles traffic related to the fast growing natural gas industry such as oil and frac sand.
For information regarding jobs please visit Watco's website, which includes career information and any openings.