Massachusetts Railroad Jobs
Last revised: April 28, 2023

If you are interested in railroad jobs in Massachusetts the state is home to at least three medium sized railroads along with a handful of short lines.
These larger railroads include Class I, CSX Transportation and Class II, regional Providence & Worcester.  Of note, the former is now controlled by conglomerate Genesee & Wyoming while the latter was acquired by CSX. 
Additionally, Amtrak operates intercity and regional services to the state (their very busy Northeast Corridor terminates at Boston) and there are more than a half-dozen Class III, short lines serving Massachusetts. 
Historically, Massachusetts was an important manufacturing center and served a multitude of railroads in comparison to its small size.  As the 20th century progressed this industry collapsed and many lines were abandoned.
The information provided here is to aid job searches in highlighting those railroads which currently operate within the state.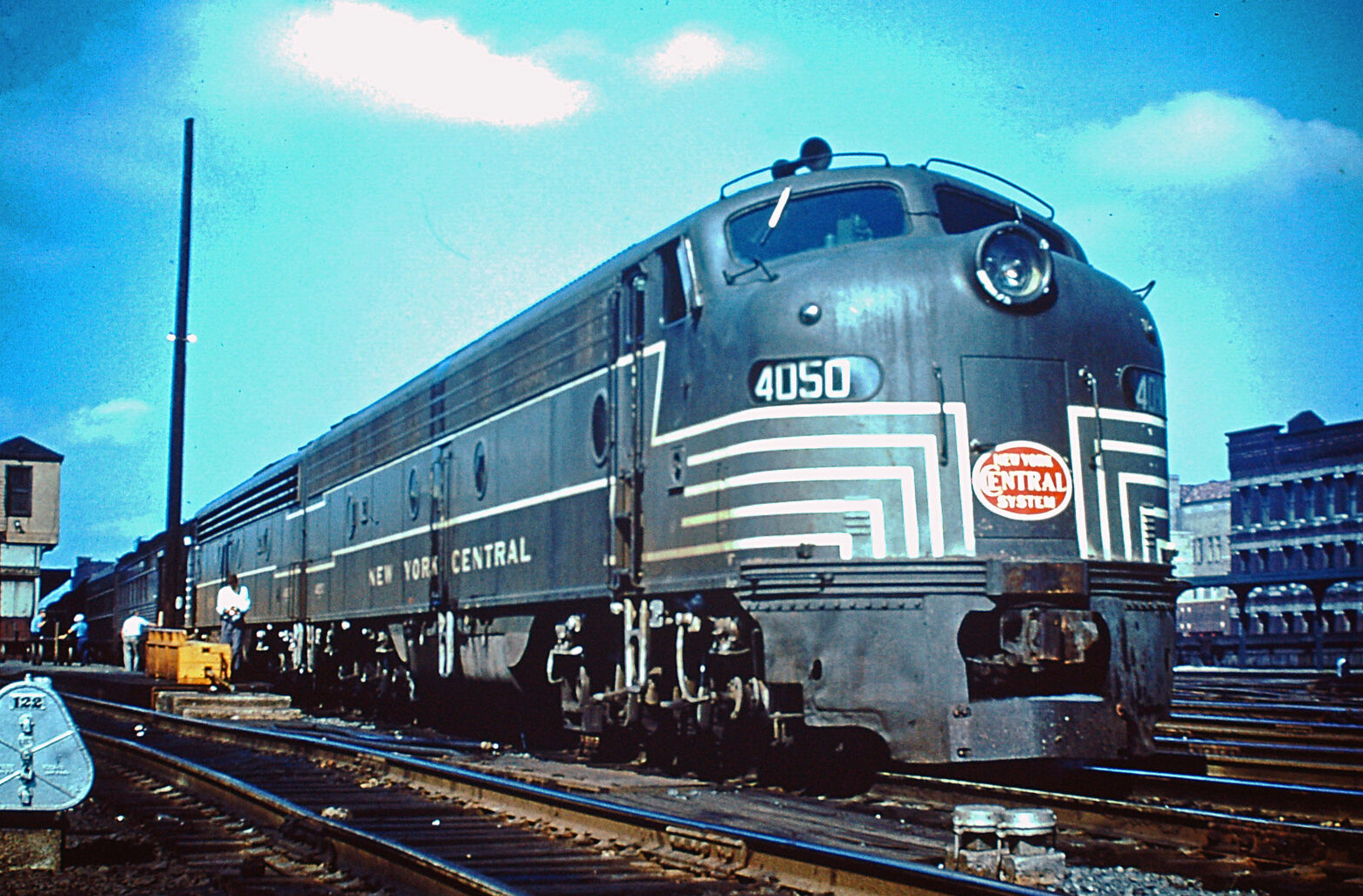 Running over subsidiary Boston & Albany, New York Central E8A #4050 is boarding with its train at Springfield, Massachusetts on July 22, 1956.
Being in the heart of New England, Massachusetts can be an unforgiving place during the fall and winter months.
However, despite the bad weather you must get used to working outdoors in whatever Mother Nature has to offer if you plan to become a railroader.
Since CSX is the only Class I railroad operating within the state you are probably just as likely to hire on with a smaller company.
As such, you will probably not be working the grueling 12-hour days common on the larger railroads.  However, there is a good chance that your schedule will still vary from day to day. 
Please keep in mind when deciding on a career in the railroad industry, it can be very difficult work and is not for everyone.  

Class I Railroads/Amtrak
Short Lines And Regionals

Bay Colony Railroad: This small short line serves the area southwest of Boston on former New Haven trackage. It began service in 1982. 
Connecticut Southern Railroad:  This short line traces its history back to 1996 when it acquired former New Haven trackage from Conrail that year.  In 2000 it was purchased by RailAmerica whose assets were taken over by the G&W in 2012. 
Today, the road operates about 42 miles of track hauling such freight as steel beams, construction debris, lumber, malt liquors and pulpboard.
East Brookfield & Spencer Railroad: This independently-owned short line serves about 4 miles in the East Brookfield area providing switching/terminal service.   Address:  22 Phillip A. Quinn Memorial Highway, Route 49, P.O. Box 209, East Brookfield, Massachusetts 01515.
Fore River Transportation Corporation/Fore River Railroad: Owned by the Massachusetts Water Resources Authority (MWRA) and operated under contract by the Fore River Transportation Corporation. Address: 145 East Howard Street, Quincy, Massachusetts 02169. 

Grafton & Upton Railroad: The historic Grafton & Upton began in 1873, then chartered as the Grafton Center Railroad.
Originally a narrow-gauge operation the G&U was born in 1887 and by 1889 and connected Grafton with Milford (16.5 miles).
After nearly being abandoned today it is owned by Jon Delli Priscoli, who has greatly revived service and turned the business around. The company maintains a website and may be contacted there. 

Housatonic Railroad: The historic Housatonic Railroad has been around since its chartering in 1840. Today, the short line operates much of the original route between New Haven and Pittsfield with a western extension to Newburgh, New York.
It remains independently owned moving a wide variety of freight. Please visit Housatonic's website for career information. 

Massachusetts Central Railroad: This road first began service in the 1970s over former B&M and B&A (New York Central) property, which would have otherwise been abandoned.
The trackage is owned by the state and leased to the railroad. The company's address is believed to be: 2 Wilbraham Street, Palmer, Massachusetts 01069. 
Massachusetts Coastal Railroad: Also known as the Mass Coastal Railroad this short line operates much of the former New Haven in the state's eastern peninsula. For career information please visit the company's website. 

New England Central Railroad: The New England Central has been in service since 1995 when it acquired the assets of the historic Central Vermont Railway. Today, the Class II, regional operates 394 miles and is a subsidiary of Genesee & Wyoming, handling an array of different freight. Please visit G&W's website for career information. 
---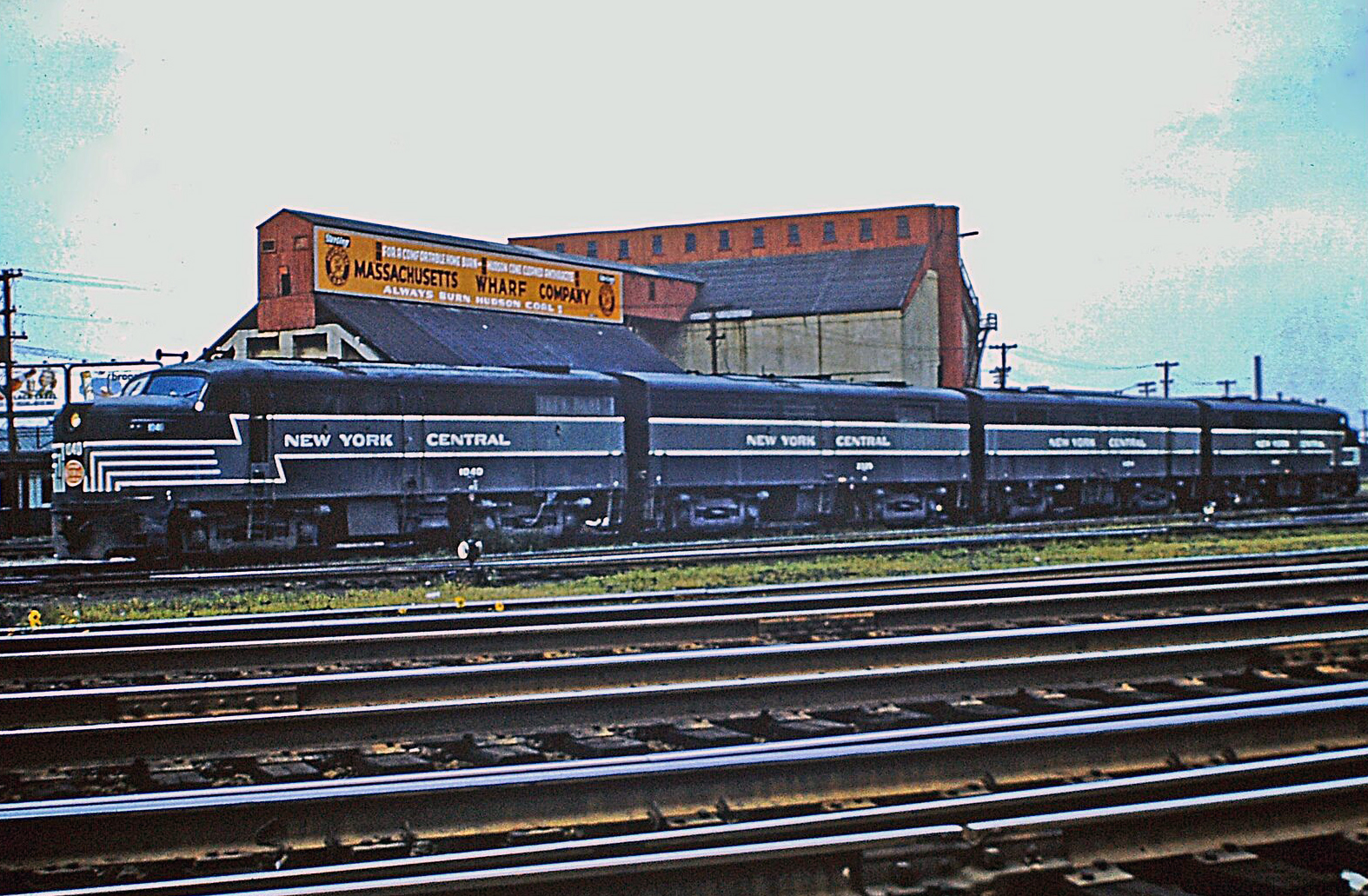 A handsome set of New York Central FA and FB units, products of American Locomotive, layover between assignments on subsidiary Boston & Albany at Allston, Massachusetts on August 13, 1956.
Pioneer Valley Railroad: The Pioneer Valley Railroad is owned by the Pinsly Railroad Company operating a short stretch of trackage in southwestern Massachusetts. For job information please visit Pinsly's website. 
Providence & Worcester Railroad: The P&W is another historic system spun-off following the Penn Central collapse. It began in 1847, eventually opening its original line between Worcester and Millville, Massachusetts.
It remained under various control for more than a century until 1973 when it regained its independence.
Today, it handles thousands of carloads annually and continues to maintain its independence. Please visit the company's website for contact information.