New York Railroad Jobs

Last revised: May 4, 2023

If you are interested in New York railroad jobs, the state has a lot to offer with two Class Is found there (CSX Transportation and Norfolk Southern), four Class IIs (Buffalo & Pittsburgh; Pan Am Railways; New York, Susquehanna & Western; and Providence & Worcester), and more than three dozen Class III short lines.
The state is also home to more than a half-dozen commuter rail agencies and Amtrak operates extensive services throughout New York, and New England in general.
Today, the state has lost more than half of its peak rail mileage although it still originates important freight such as chemicals and other merchandise. 
In addition, New York still contains many railroads of all shapes and sizes thanks to several key cities, none more important of course than New York itself.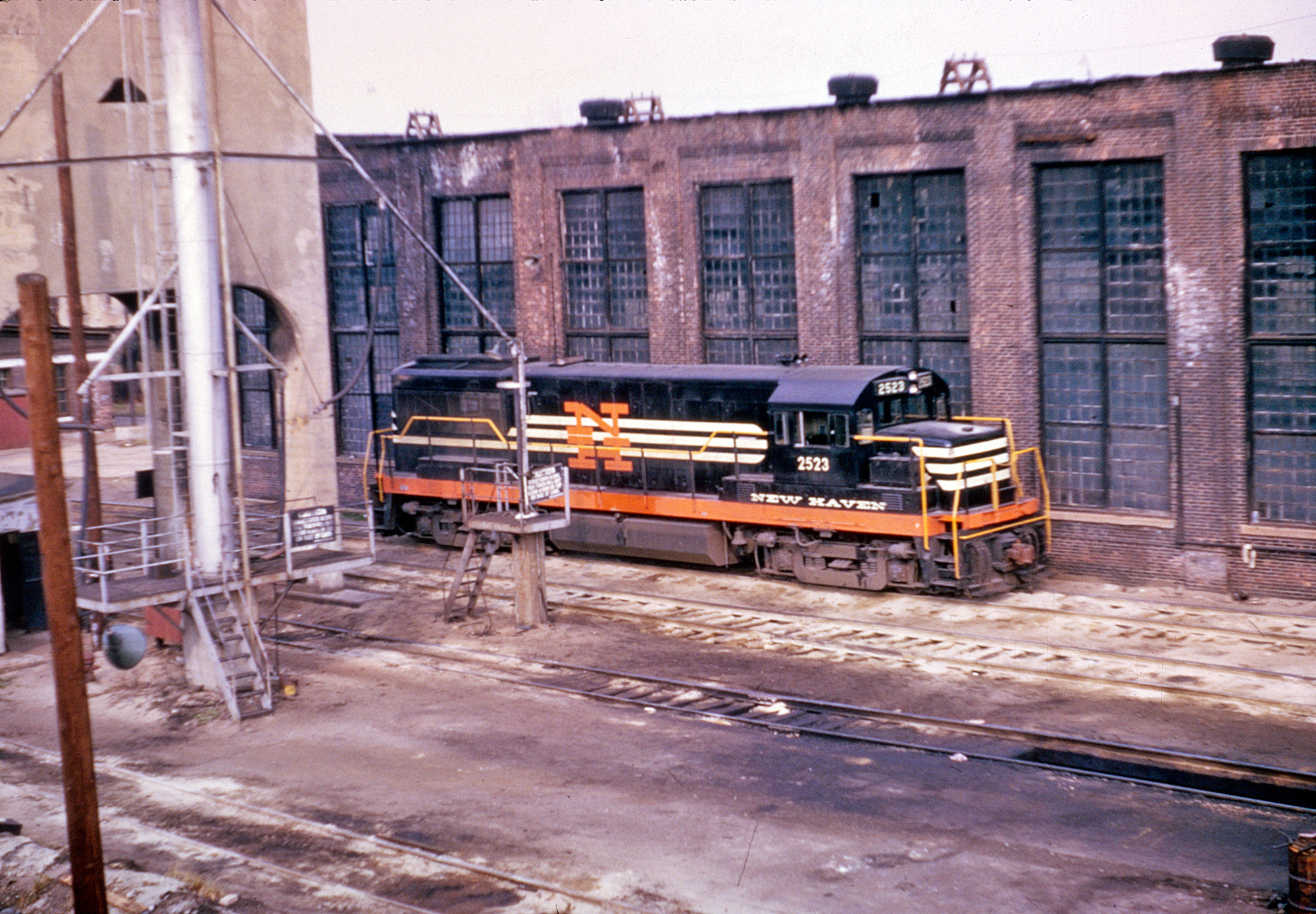 New York, New Haven & Hartford U25B #2523 is between assignments at Maybrook, New York, circa 1966. American-Rails.com collection.
A career in the railroad industry offers excellent pay and benefits; entry-level positions on Class I carriers working as either a conductor or member of the maintenance-of-way gang start out in the high $30,000's to $50,000's. 
After a number of years it is not uncommon to earn $100,000, or more, annually. 
The information provided here offers job searchers information regarding those railroads currently operating within the state. 
It takes a special breed to make a career out of railroading. The work can be physically demanding, require long hours, and force one to be away from home for days at a time.
Perhaps more than any other factor railroaders are constantly fighting fatigue and couple this with New York's sometimes brutal winter weather and you can begin to see why the job is not for everyone.
Typically, long hours are required on Class Is and while smaller railroads offer a more predictable schedule their pay cannot match that of their larger counterparts.
In the end, you must decide for yourself if this is an industry you truly want to be a part of. 

Of note, if you are attending higher education (college) you might be interested in the internship or graduate programs some Class I railroads offer during the summer months.
These management-related programs help potential applicants get an early head start and learn the intricacies of managing and running a railroad.
Finally, I cannot completely guarantee the below information is accurate although it is to the best of my knowledge. 

Class I Railroads
Short Lines And Regionals

Albany Port Railroad:  This terminal road, jointly owned by CSX/CP, is located at the Port of Albany and primarily switches a grain facility. 

Arcade & Attica Railroad: The historic Arcade & Attica has been in operation since 1917. Today, the A&A operates only between Arcade and North Java providing freight service as well as excursion trips over the line. For contact information and job opportunities please visit the A&A's website. 

Batten Kill Railroad: This short line has been in operation since 1982 operating roughly 34 miles between Eagle Bridge and Salem via Greenwich Junction. The company's address is believed to be: 1 Elbow Street, Greenwich, New York 12834. 
B&H Rail Corporation: This historic short line, a division of the Livonia, Avon & Lakeville was formerly known as the Bath & Hammondsport from 1872-1996.
As its name implies, it originally linked Bath with Hammondsport, New York and for many years was under the Erie Railroad's control (later Erie Lackawanna).  After 1976 it was a component of Conrail and the line to Hammondsport was abandoned after 1994.
It was acquired by the LA&L in 1996.  Today, only about a mile north of Bath remains active with interchange provided there via the parent road.
Brookhaven Rail Terminal:  This terminal line began operations in 2011 on Long Island.  Using a pair of GP38's it serves at transload facility in Yaphank with interchange provided via the New York & Atlantic, which handles freight traffic on the Long Island Rail Road.

Buffalo & Pittsburgh Railroad: This regional is part of the Genesee & Wyoming's large family of railroads, operating 368 miles of trackage in northwestern Pennsylvania and western New York.
It handles a wide variety of freight. Please visit the G&W website to learn more about careers with the company.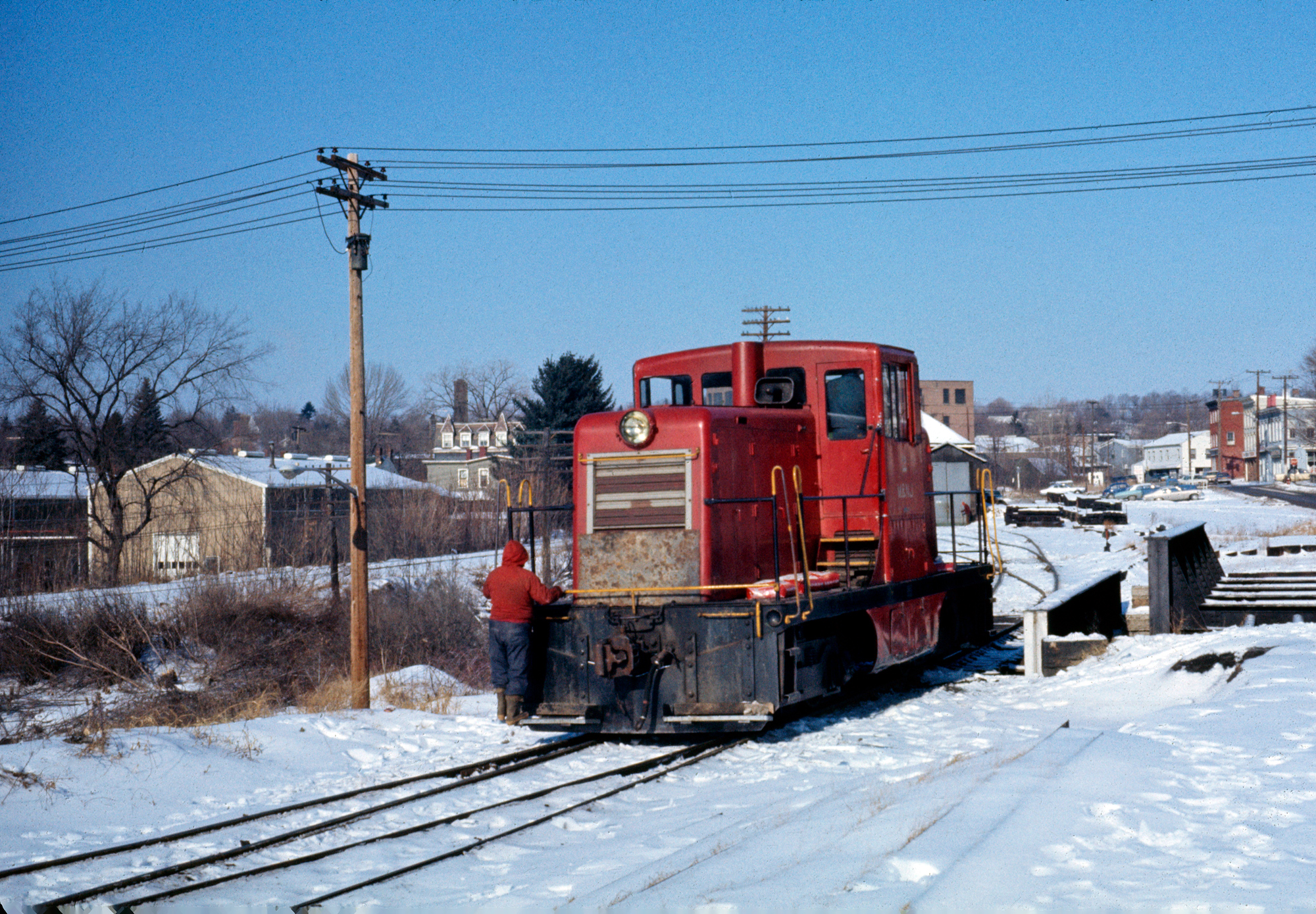 Middletown & New Jersey 44-tonner #2 has just left the engine house and nears the small depot in downtown Middletown, New York in December, 1976. American-Rails.com collection.
Buffalo Southern Railroad: The Buffalo Southern began operations in 1982 between Buffalo and Gowanda. The history of the line dates back to the Erie Railroad. Please visit the Buffalo Southern website for contact information and job opportunities. 

Central New York Railroad: This medium-sized short line operates about 123-miles leased track between Binghamton and Port Jervis owned by NS.
The railroad began in 1972. Since 2004 it has operated the current stretch of trackage and maintains its own website where contact information may be found. 
Clarendon & Pittsford Railroad (reporting mark, CLP):  A division of the Vermont Railway since 1972 this short line's history can be traced all of the way back to 1885.  It serves a limestone processing plant near Florence, Vermont.

Depew, Lancaster & Western Railroad: This short line is a Genesee Valley Transportation (GVT) property that has been in service since 1989, operating lines between Lancaster and Cheektowaga and between Lockport and Brockport, totaling about 14 miles. For contact information please visit the Genesee Valley website. 

Falls Road Railroad: Another GVT property, the Falls Road has been in service since 1996 operating 45 miles of former Conrail trackage in western New York.

Finger Lakes Railway: The Finger Lakes began in 1995 when it acquired 118 miles south and west of Syracuse known as the "Geneva Cluster" by Conrail.
Today, its system totals more than 150 miles. To learn about possible employment opportunities please visit the railroad's website. 

Housatonic Railroad: The historic Housatonic Railroad has been around since its chartering in 1840. It eventually grew into a rather substantial system serving western Connecticut, and southwestern Massachusetts.
Today, the short line operates much of the original route between New Haven and Pittsfield with a western extension to Newburgh, New York.
It remains independently owned moving a wide variety of freight. The company does have a website and asks to visit its career page regarding employment opportunities. 
Ithaca Central Railroad:  This Watco-owned short line began service in 2018 over 49 miles of leased Norfolk Southern trackage between Sayre, Pennsylvania and Ludlowville, New York via Ithaca.  The line is former Lehigh Valley trackage that originally extended to Auburn and Fair Haven, New York.
Kodak Park Railroad: This privately-owned short line controlled by the Eastman Kodak Company services the Kodak Park in Rochester, New York.  It handles about 15,000 carloads annually moving coal, forest products, plastics, and chemicals.

Livonia, Avon & Lakeville Railroad: This long-operating short line traces its history back to 1964. Today, it operates over 400 miles in western New York and northwestern Pennsylvania handling thousands of carloads annually. 

Massena Terminal Railroad: This terminal road is a property of Genesee & Wyoming since 2012 with a history dating back to 1900. Today, it serves the Alcoa plant near Massena and moves primarily aluminum and petroleum products. 

Middletown & New Jersey Railway: Dating back to 1947 this short line operates 43 miles of disconnected trackage between Middletown and Slate Hill as well as between Walden/Montgomery and Warwick (with trackage rights between Campbell Hall and Hudson Junction). Please visit their website for contact information. 

Mohawk, Adirondack & Northern Railroad: This short line is another GVT property, operating 124 miles between Utica and Lyons Falls as well as between Lowville and Newton Falls. The road also serves the Griffiss Industrial Park in Rome. 

New York & Atlantic Railway: This short line is an Anacostia Rail Holdings property that began service in 1997 to provide freight service over the historic Long Island Rail Road trackage, 269 miles. For career information with Anacostia stop by their website. 

New York & Lake Erie Railroad: This short line has been in operation since 1978 using former Erie trackage between Buffalo and Waterboro with a branch to Cattaraugus.
Aside from freight trains the lines also play host to public excursions. Please visit the NY&LE website for contact information. 

New York New Jersey Rail, LLC: This terminal railroad, in operation since 2006, provides switching services between Jersey City, New Jersey and Brooklyn, New York. It is the last surviving carfloat railroad remaining on the harbor. Please visit their website for employment information. 

New York, Susquehanna & Western Railway: This historic regional, also affectionately known as the "Susie-Q", dates back to 1881 and today connects New Jersey, New York, and northeastern Pennsylvania.
It handles a wide variety of freight business. The company maintains its own website and can be contacted regarding employment. 

Ontario Midland Railroad: This railroad has been in operation since 1979 running from Hannibal to Webster as well as between Hojack and Newark. Its trackage totals about 60 miles. The carrier maintains its own website where contact information is available. 

RJ Corman/Owego & Harford Railway (reporting mark, OHRY):  This Corman property was acquired in August, 2020 from Steve May. 
This short line leases nearly 27 miles of trackage from the Tioga County Industrial Development Agency between Owego and Harford Mills.  The road first began service in 1992 and handles over 4,000 carloads annually.  The property also hosts excursions as the Tioga Scenic Railroad.
Rochester & Southern Railroad: This Genesee & Wyoming property is one of the company's earliest dating back to 1986. It currently operates between Buffalo, Irondequoit and Dansville, about 58 miles. 

SMS Rail Service, Inc.: Also known as SMS Lines, this short line provides rail service for the Bridgeport, New Jersey region as well as Guilderland, New York.
It has been in operation since 1994 and is known for its use of historic Baldwin road-switchers, all of which are now more than a half-century old. Please visit the company's website for contact information. 

---
Baltimore & Ohio 0-8-0 #783 carries out switching work at East Salamanca, New York on June 7, 1953. Homer T. Newlon, Jr. photo. Author's collection.
Wellsboro & Corning Railroad: The Wellsboro & Corning Railroad, a Genesee & Wyoming property, operates a 38-mile system connecting its namesake cities. It first began service in 1993 and today handles traffic related to the Marcellus Shale natural gas industry. 

Western New York & Pennsylvania Railroad: This large, independently-owned system currently operates some 330 miles in northwestern Pennsylvania and western New York, south of Buffalo. To learn about any employment openings with the company please visit the WNY&P website.